Top 20 Fastest Growing Franchises in the US [2023 Updated]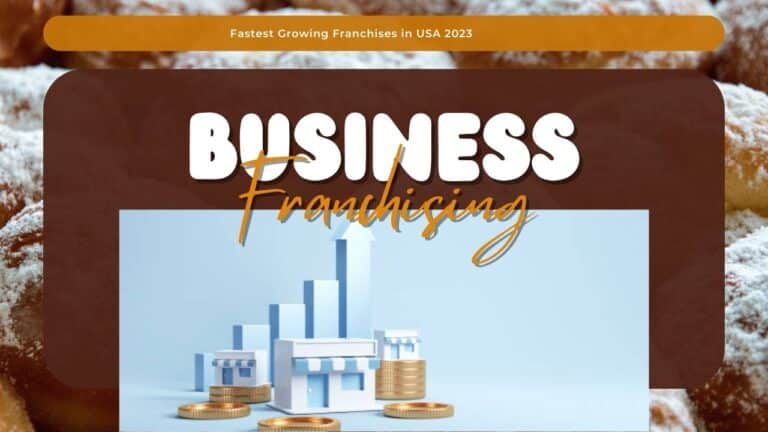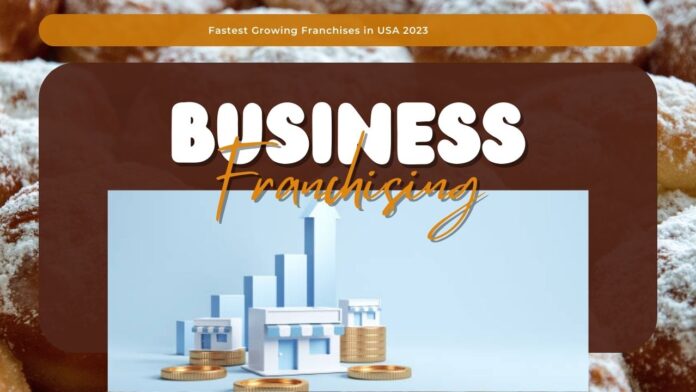 In this piece, we're diving into the top fastest growing franchises in USA 2023 on a global scale. Instead of delving deeply into intricate analyses of these franchising enterprises, we'll take a more streamlined approach to exploring their rapid expansion.
Franchising Prospects
As per the 2023 Franchising Economic Output Report by the International Franchise Association (IFA), around 790,492 franchise establishments were in operation in 2022. These businesses directly provided jobs for nearly 8.4 million individuals. Remarkably, the franchising sector contributed a substantial $825.4 billion to the U.S. economy, making up 3% of the nation's GDP.
Although the COVID-19 pandemic did impact the franchising industry to some extent, it swiftly rebounded in the subsequent years. Encouragingly, 2023 is projected to bring robust growth for the industry. The President and CEO of IFA shared their perspective on this matter:
"Despite the current economic challenges, franchises are on an upward trajectory, generating additional well-compensated employment opportunities and actively engaging with their local neighborhoods. Following a remarkable year of expansion during the recovery phase after the pandemic, the franchise industry's scale is set to surpass its pre-pandemic status in 2023. This underscores the effectiveness of the business model for aspiring entrepreneurs, particularly when there's a collaborative effort between franchisors and franchisees."
By 2023, it's anticipated that the count of franchise establishments will rise by 1.9%, reaching a total of 805,436. Job opportunities within the industry are projected to grow by 3%, reaching 8.69 million. These developments are poised to contribute significantly to the US economic output, with an estimated value of $860.144 billion, as per the IFA's projections.
Among the various sectors, quick-service restaurants (QSR) have consistently held sway in the franchise industry. In 2022, around 192,057 establishments fell under this category, and their growth is expected to continue at an impressive rate of 2.5% in 2023. The QSR segment is poised to maintain its lead, projected to account for 45.3% of the total direct employment in franchising and generating a substantial $289.6 billion in the same year.
Following closely is the retail food, products, and services segment, expected to contribute significantly to the industry's workforce, making up 13% of the direct employment. This segment is projected to yield an economic output of $134.1 billion.
A Franchise Owner
When it comes to owning a franchise, each business sets its own specific terms. These usually encompass an initial franchise fee, a minimum requirement for net worth, and a minimum requirement for liquid assets. Additionally, each business has a basic fee along with an advertising royalty fee, both of which can vary significantly from company to company. Many businesses have simplified the process by offering online franchise applications, accessible through their respective websites. These applications often give potential franchisees an approximate understanding of the initial investment needed to kickstart the franchise.
In the United States alone, there's a vast array of businesses extending franchising opportunities to individual entrepreneurs and investors. In our compilation of the 20 Most Profitable Franchises in the World, we've spotlighted some of the standout options. This list includes heavyweights such as RE/MAX Holdings, Inc. (NYSE: RMAX), Marriott International, Inc. (NASDAQ: MAR), McDonald's Corporation (NYSE: MCD), and a handful of subsidiaries under the Yum! umbrella.
Approach We Follow
To compile this roster, we drew upon the insights of six reputable sources (1, 2, 3, 4, 5, 6). Each of the entries highlighted in our article secured a spot within the top 16 rankings in at least one of these sources. Our approach involved tallying the number of instances each company appeared across these sources. Additionally, we determined the collective standing of each of these companies by considering their individual placements in each of the sources.
While arranging the companies in ascending order of their 3-year growth, we hinged our decision on Entreprenuer.com's data. However, we opted not to rely solely on their growth percentage as a basis for selection. This is because using the percentage alone might not yield accurate results. For instance, a business expanding from 10 to 15 units in three years would display the same percentage growth as a business growing from 1000 to 1500 units in the same time frame.
Top Fastest Growing Franchises in USA 2023
1. Koala Insulation
3-year growth: 15,550.0%
Hailing from Florida, Koala Insulation stands as a company that extends comprehensive insulation services across the entirety of the United States. Notably, each of the company's locations functions as an independently owned franchise. Aspiring franchise owners looking to step into the Koala Insulation fold are expected to meet certain financial criteria – a minimum net worth of $250,000 alongside liquid capital of $100,000. The company takes steps to facilitate potential franchisees by offering financing options and comprehensive training.
According to the information on the company's official website, the investment outlay necessary to initiate and sustain a Koala Insulation franchise falls within the range of $145,813 to $190,138. Koala Insulation initiated its franchising endeavors in 2020, and in the span of just two years until December 2022, the company achieved an impressive feat – boasting a total of 313 operational units.
2. All Dry
3-year growth: 11,500.0%
All Dry specializes in assisting homeowners with post-disaster restorations. Their comprehensive range of services encompasses restoration work following water, fire, smoke, and storm damage. Additionally, they offer solutions for odor removal, mold cleanup, sewage cleanup, and even leak detection services.
To venture into ownership of an All Dry franchise, certain financial benchmarks need to be met. Prospective franchisees are required to possess a minimum net worth of $200,000, along with $75,000 in liquid capital. According to the information detailed on their official website, the investment essential for establishing a company franchise falls within the range of $86,949 to $212,000. As part of their support system, All Dry extends training opportunities for new franchise proprietors, and they also provide a veteran discount.
With its inception in 2014, All Dry began its journey. Subsequently, in 2020, the company set its foot into the franchising realm. The company's home office finds its base in Jupiter, Florida.
3. Dog Training Elite
3-year growth: 1,104.8%
Originating from Utah, Dog Training Elite stands as a prominent dog training entity that operates on a nationwide scale across the United States. Their repertoire of services extends beyond basic training, including in-home sessions, service dog training, and therapy dog training. According to insights provided in the company's 2023 Franchise Disclosure Document, their franchise locations witnessed an average net profit of $187,237, with average gross sales reaching $973,756 in 2022.
Having embarked on their franchising journey in 2015, Dog Training Elite follows specific financial prerequisites for potential franchisees. Aspiring individuals are expected to boast a net worth of $150,000, coupled with a minimum liquid asset value of $50,000. The initial franchise fee tallies up to $84,500. As for the venture's startup phase, initiating a Dog Training Elite franchise necessitates an initial investment ranging from $126,900 to $147,750.
4. Temporary Wall Systems
3-year growth: 180.0%
Temporary Wall Systems specializes in the installation of non-load-bearing modular wall containment units, catering to a diverse clientele including educational institutions, medical facilities, and construction sites, among others.
For those eyeing ownership of a Temporary Wall Systems franchise, certain financial benchmarks come into play. Prospective franchisees are expected to exhibit a minimum net worth of $400,000. The initial entry fee to join the franchise stands at $49,900, while the startup investment range spans from $131,925 to $328,975, as indicated on the company's official website. A royalty fee of 8% is applicable, and an encouraging $5,000 veteran discount is extended on the initial franchise fee. Notably, Temporary Wall Systems presents a unique opportunity for semi-absentee ownership, fostering passive involvement in the franchise.
5. Stratus Building Solutions
3-year growth: 62.3%
Stratus Building Solutions specializes in an array of cleaning services, catering to both commercial and specialized sectors. Their service portfolio encompasses commercial cleaning, post-construction cleaning, medical-grade cleaning, and disinfection services, among others. Operating within the United States and Canada, the company's reach is extensive.
The franchise model of Stratus Building Solutions takes two distinct forms: the Janitorial Unit Franchise, tailored for smaller operations, and the Master Franchise, designed for experienced franchisees. To step into ownership of a company franchise, specific financial prerequisites come into play. Aspiring franchisees are expected to hold a net worth ranging from $5,000 to $40,000, accompanied by liquid assets ranging from $2,000 to $20,000. The initial franchise fee spans between $3,600 and $69,000, while the initial investment required falls within the range of $4,450 to $79,750.
6. Floor Coverings International
3-year growth: 40.6%
Floor Coverings International specializes in providing convenient in-home flooring solutions to its clientele. Notably, the company goes beyond just the products, offering the expertise of design associates to guide customers through their flooring choices.
For those aspiring to own a Floor Coverings International franchise, specific financial prerequisites come into play. Prospective franchisees are expected to demonstrate a minimum net worth of $200,000, alongside liquid assets totaling $50,000. The initial franchise fee stands at $50,000, while the required initial investment falls within the range of $151,400 to $220,100.
7. Kona Ice
3-year growth: 15.9%
Established in 2007 and headquartered in Kentucky, Kona Ice stands out as a mobile shaved ice enterprise. With a robust presence boasting over 1,500 units sprawled across the United States, the company offers a tantalizing opportunity for entrepreneurs.
Acquiring ownership of a Kona Ice franchise demands a financial threshold of around $20,000 in available cash. Initiating this venture involves an initial franchise fee of $15,000, coupled with an initial investment requirement spanning approximately $149,995 to $189,300. The franchise agreement, which spans a decade, can be renewed at the end of its term for a fee amounting to $7,500.
In addition to the initial financial considerations, prospective franchisees should be prepared for ongoing financial commitments. These include annual royalty fees ranging from $3,000 to $4,000, along with an additional $500 allocated for ad royalty fees.
8. Budget Blinds
3-year growth: 13.6%
Founded in 1992 and headquartered in Irvine, California, Budget Blinds stands as a versatile provider of an array of products, including blinds, shutters, shades, drapes, rugs, and decorative grills. These offerings cater to both residential and commercial clients. The company's reach is extensive, spanning over 1,400 franchise territories that span across more than 10,000 cities in both the US and Canada.
For individuals considering ownership of a Budget Blinds franchise, specific financial prerequisites come into play. Potential franchisees are required to commit a minimum investment of $250,000, along with having $84,500 in liquid capital. The initial franchise fee rests at $19,950, and a commendable 15% discount is extended to veterans.
As the operation progresses, ongoing financial commitments encompass both royalty and ad royalty fees, ranging from $300 to $2000 per month for the former, and $1000 to $1500 per month for the latter. Furthermore, the necessary investment to establish a functional Budget Blinds franchise spans from $140,500 to $211,750, encompassing various aspects of startup and operation costs.
9. Dream Vacations
3-year growth: 13.0%
Dream Vacations operates as a travel company, catering to customers seeking cruise vacations, resort getaways, guided tours, and an array of additional travel services. Positioned as one of the most cost-effective franchises on our roster, it offers an enticing opportunity.
Entering the realm of Dream Vacations franchise ownership entails specific financial prerequisites. The initial franchise fee falls within the range of $495 to $10,500, while an initial investment spanning from $1,795 to $21,000 is necessary. An attractive proposition awaits veterans, with the company extending a 30% discount on franchise fees. Additionally, there's an advantageous offer of complimentary training for business partners and the first veteran/military spouse associates.
Dream Vacations goes the extra mile by facilitating aspiring franchisees with in-house financing options specifically designed to cover the franchise fee. This thoughtful approach adds a layer of accessibility to the opportunity, making it more attainable for interested individuals.
10. Taco Bell
3-year growth: 10.7%
Hailing from California, Taco Bell stands as a well-known fast-food restaurant chain. It operates under the umbrella of Yum! Brands, Inc. (NYSE: YUM). By the close of December 2022, the company had established a robust global presence, boasting nearly 8,000 units worldwide. A noteworthy aspect is that more than 90% of these units are managed by independent franchisees.
For those aspiring to become a Taco Bell franchisee, specific financial criteria come into play. Prospective franchisees are expected to possess a minimum net worth of $5 million, along with $2 million in liquid capital. The initial entry point into the franchise requires an upfront fee ranging between $25,000 and $45,000. Beyond this, initiating the operation of a Taco Bell franchise demands an initial investment that spans from $575,600 to $3.37 million.
The franchise agreement term for a Taco Bell stretches across 25 years. However, it's noteworthy that this agreement isn't renewable beyond this duration. This characteristic adds a distinct element to the franchise arrangement, shaping the operational timeline and commitment for potential franchisees.
11. The Maids
3-year growth: 9.4%
Operating across more than 90 cities spanning over 45 U.S. states and 3 Canadian provinces, The Maids takes the spotlight as a residential cleaning enterprise. Noteworthy figures showcased on the company's website indicate substantial revenue potential for franchisees. On average, a company franchise in good standing generated annual revenue surpassing the $1 million mark. Impressively, top-performing franchises raked in revenues exceeding $6.3 million in 2021.
For individuals seeking to dive into the realm of The Maids franchise ownership, specific financial components come into play. The initial pathway necessitates an upfront license fee amounting to $12,500. Furthermore, an initial territory fee ranging between $19,000 and $95,000 is required. When considering the comprehensive scope of initial expenses, including start-up costs and operational expenditures for the first three months, the total investment range spans from $81,700 to $197,250.
As of the present moment, the company website signals the presence of 21 franchising opportunities across the United States and Canada. This offers potential franchisees a glimpse into the availability and accessibility of this venture within specific regions.
12. Papa John's International, Inc. (NASDAQ:PZZA)
3-year growth: 7.7%
Papa John's International, Inc. (NASDAQ: PZZA) stands tall as one of the leading pizza delivery restaurant chains, both within the United States and on a global scale. Its footprint extends across approximately 50 countries worldwide. By the end of December 2022, the company had successfully established a network encompassing over 5,750 units.
Aspiring entrepreneurs eyeing a Papa John's International, Inc. (NASDAQ: PZZA) franchise should take note of the specific financial requisites involved. To embark on this journey, an initial fee of $25,000 is mandatory. Moreover, a comprehensive initial investment spanning from $200,130 to $788,930 is required. To meet these demands, potential franchisees should possess a net worth of $750,000, along with $250,000 in capital assets.
It's important to highlight that the franchise term for Papa John's International, Inc. (NASDAQ: PZZA) spans a decade. And promisingly, the agreement is renewable, offering the potential for extended involvement and continued collaboration with the brand beyond the initial term. This characteristic brings a sense of continuity and stability to the franchise venture.
13. Ace Hardware Corporation
3-year growth: 6.7%
Ace Hardware Corporation stands as the largest hardware retail cooperative on a global scale. In the year 2022, the company achieved remarkable feats, recording sales totaling $9.2 billion, while also distributing patronage sums amounting to $345 million. With its roots tracing back to Chicago, Illinois in 1924, the company has expanded its reach internationally since 1990. Presently, Ace Hardware Corporation operates across North America, Asia, the Caribbean, Latin America, and the Middle East.
For those aiming to become franchise owners under the Ace Hardware Corporation banner, specific financial prerequisites shape the journey. Aspiring franchisees are expected to possess a minimum net worth of $400,000, coupled with liquid capital worth $250,000. Establishing an Ace Hardware Corporation franchise involves an initial investment spanning from $292,000 to over $1.62 million. Notably, the company's unique approach is that it doesn't impose royalty or franchise fees, making the financial arrangement distinctive and potentially more appealing to prospective franchisees.
14. Mathnasium Learning Center
3-year growth: 5.8%
Mathnasium Learning Center, an esteemed American educational enterprise, operates a network of learning centers catering to students from pre-kindergarten to high school levels. Its reach extends across multiple continents, encompassing North America, South America, Europe, the Middle East, and Asia. The company holds a steadfast commitment to enhancing mathematical proficiency among students.
Becoming a franchisee with Mathnasium involves distinct financial considerations. An initial franchise fee of $49,000 is requisite, and a noteworthy 12% discount is extended to veterans—an appreciable gesture. The process further entails an initial investment spanning from $112,860 to $149,155. To step into the role of a franchisee, potential individuals should possess a minimum net worth of $149,110, alongside a liquid capital of $112,750. These financial benchmarks lay the foundation for a partnership with Mathnasium Learning Center, facilitating both educational impact and business success.
15. The UPS Store
3-year growth: 5.8%
The UPS Store stands as a franchised arm of United Parcel Service, Inc. (NYSE: UPS), a prominent American company specializing in shipping and supply chain management. Aspiring entrepreneurs looking to become UPS franchisees encounter distinct financial criteria. While there's no stipulated minimum net worth requirement, a designated liquid capital ranging from $75,000 to $150,000 is essential, contingent on the chosen location.
Initiating a franchise under The UPS Store banner involves specific initial investments, which vary based on the type of location. Traditional setups require an initial investment spanning from $247,306 to $476,993. Rural locations present an investment range of $218,148 to $419,226, while store-in-store setups necessitate an initial investment spanning from $101,818 to $310,779. These financial prerequisites pave the way for potential franchisees to join The UPS Store network, aligning business aspirations with the UPS brand.
16. HomeVestors of America, Inc.
3-year growth: 4.8%
HomeVestors of America, Inc., a prominent real estate investing franchisor hailing from Texas, plays a pivotal role in guiding new investors on their journey to operate real estate businesses as HomeVestors franchisees. Operating across 46 states, the company's extensive reach encompasses over 1,100 franchises.
Stepping into the realm of HomeVestors franchise ownership necessitates specific financial benchmarks. For prospective franchisees, a minimum liquid cash requirement of $80,000 is essential. The company further stipulates a net worth ranging from $80,000 to $456,250, aligning with the initial investment requisite. This initial investment not only covers net worth but also sets the stage for franchise ownership.
The entry pathway involves an initial franchise fee, with the range falling between $39,000 and $80,000. It's worth noting that a commendable 10% discount is offered to veterans. This fee structure takes into account the type of franchise one seeks, whether it's an associate or a full franchise.
Regarding financial commitments moving forward, the royalty fee for a franchise is variable, adapting to the specifics of each individual's franchise setup. Additionally, the franchise agreement term spans a duration of 5 years. Encouragingly, this agreement is renewable, paving the way for continued collaboration and expansion within the HomeVestors network.
Conclusion
In the dynamic landscape of franchising, the USA continues to witness the rapid ascent of several franchises, showcasing Fastest Growing Franchises in USA 2023. These ventures span diverse sectors, from food and retail to education and services.
As we explore the fastest-growing franchises in the USA this year, it's evident that the entrepreneurial spirit thrives across a spectrum of industries. From established giants to emerging players, each franchise on this list signifies the potential for success and innovation. As the year unfolds, these franchises stand as exemplars of industry growth, embodying the drive and adaptability that define the American entrepreneurial spirit. Whether you're an aspiring franchisee or a business enthusiast, these rapidly evolving franchises offer a glimpse into the exciting realm of business expansion and prosperity in the USA.