Sydney's Best Exhibitions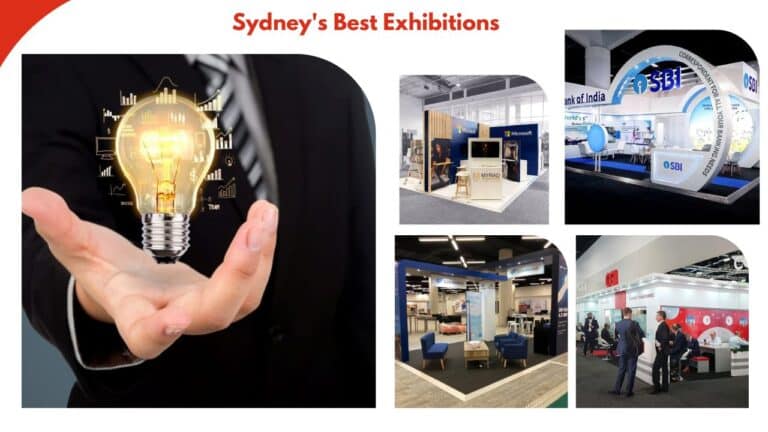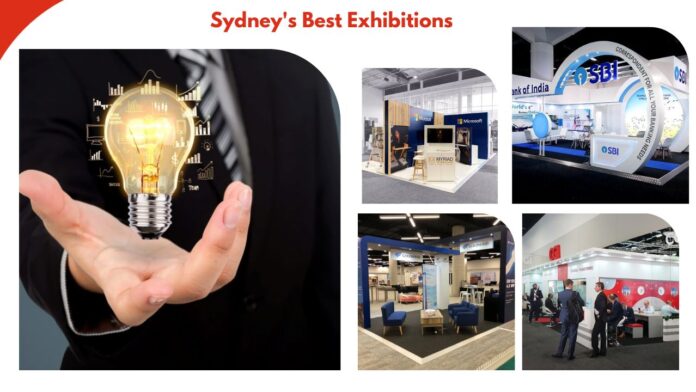 Trade exhibitions are valuable for professionals searching for collaborative opportunities or innovative solutions for their corporate marketing goals and operations.
Professionals get to introduce innovations, launch new products, and get on the radar of aligned market leaders, potential collaborators, and the media.
The primary audience for these events is the decision-makers, who get the opportunity to interact face-to-face and build trust and solid long-term business relationships.
Participants also scope out the competition and see what's happening in the industry.
Here's an interesting fact: 70% of the businesses attending a trade exhibition generate new leads and brand awareness.
So, whether the professionals decide to team up with some experts to whip up custom exhibition stands or have a crack at it themselves—regardless of the effort involved—it's totally worth it.
But where can one find such trade exhibitions related to their niche and industry to put their business in the spotlight it deserves in Sydney? That's what we're going to help you with.
Here are the top upcoming exhibitions in Sydney, Australia:
TECHSPO Sydney 2023
Dates: September 20th to 21st, 2023
Location: Accor Stadium, Sydney
Exhibition Type: Tech trade show
Exhibition Details
TECHSPO Sydney is where professionals from the tech industry come together to collaborate and put their companies under the spotlight.
These professionals include developers, marketers, designers, and innovators. It's an excellent opportunity to put their offerings in front of a diverse crowd.
As part of TECHSPO Sydney, there's another event called DigiMarCon Australia Digital Marketing, Media, and Advertising Conference, which requires limited attendance and a separate fee.
While the conference focuses on learning, theory, and inspiration, the TECHSPO is where you can partake in testing, networking, and hands-on product interaction.
Who is it for?
TECHSPO is the must-attend event for exhibitors wanting to expose their business to a mix of consumers and top-tier investors.
The professionals also get to put their business in front of media hordes, the talent everyone wants, and a heap of tech enthusiasts all excited to celebrate the latest and most fantastic products on the scene.
Exhibits at a glace
Here are the top tech businesses and organisations participants have the opportunity to interact with at the exhibition:
Accounting Business Expo Sydney
Dates: November 22nd to 23rd, 2023
Location: Accor Stadium, Sydney
Exhibition Type: Finance and Accounting trade show
Exhibition Details
The Accounting Business Expo is the real deal in the world of accounting, business, finance, and money. It places a strong emphasis on the cloud and digital transformation.
The two-day event brings together regular everyday people, keen buyers, and clients to connect with solution providers and swap ideas, products, and services from all over Australia and around the world.
Who is it for?
The Accounting Business Expo is for sharp business owners, savvy investors, managers, accounting and bookkeeping pros, and financial decision-makers.
They'll join forces with leading vendors and advisors to explore new digital accounting and see how it can improve efficiency, effectiveness, and profit margin.
Exhibits at a Glace
Here are the top exhibitors that participants can connect with at the Accounting Business Expo Sydney:
Wiki Finance Expo Sydney 2023
Date: November 16th, 2023
Location: 1 Martin Place #Lobby Level Sydney, NSW 2000 Australia
Exhibition Type: Fintech expo
Exhibition Details
WikiExpo is the world's premier financial exhibition and fintech conference brand. They host major summits each year in buzzing hubs like Singapore, Sydney, Dubai, Hong Kong, and Bangkok.
Their mission? To unite top-tier resources from across the globe for exhibitors and participants (enterprises, up-and-coming startups, project pioneers, savvy investors, and professionals in blockchain, fintech, and forex) alike.
WikiExpo creates tons of chances for industry collaboration each year, paving the way for innovation.
Who is it for?
WikiExpo is for people interested in blockchain, crypto, fintech, NFTs, and more. With over 3,000 attendees, 60+ stalls, and 50+ speakers, it's an excellent summit right here in APAC.
And it's free to attend the conference and expo. The attendees can interact with thought leaders from the corporate sector, startups, and professionals who will share their industry vision with the audience. 
Exhibits at a Glace
Participants at the WikiExpo can connect with some of the top fintech and crypto exhibitors. Here are a few notable ones:
SIDCON
Dates: From March 20, 2024 to March 23, 2024
Location: International Convention Centre Sydney (ICC Sydney), New South Wales, Australia
Exhibition Type: Medical & Pharma trade show
Exhibition Details
ADA NSW and ADIA have teamed up to organise the first Sydney International Dental Conference, SIDCON.
Dental practitioners will have a chance to improve their professional skills, explore some great industry exhibits, and enjoy a bit of a chat at various social and networking gigs.
Who is it for?
The SIDCON is primarily intended for dental professionals and practitioners in Australia. It's a networking and educational event to bring together the dental community for collaboration and innovation.
The event targets dentists, dental students, dental industry professionals, and stakeholders. Attendees can expect to benefit from live and in-person learning opportunities, access to industry exhibits, and networking at social events. 
Exhibits at a Glace
Some of the notable exhibition stands the eventgoers will see when attending this event will be from the following organisations:
32 Byte
Wrapping Up
For professionals looking for opportunities to collaborate, innovate, and network with some of the top industry experts to boost their business, exhibiting or at least attending events like the ones mentioned in the article is a must.
Doing so opens doors to tons of opportunities one doesn't even know exist. Sure, one needs to find a professional exhibition stand designer, book your space, and jump through many other hoops.
But the result is always worth the effort—they'll get their business the spotlight it needs to make it in a competitive market.
Want to be an exhibitor at any of these upcoming exhibitions? You'll need to partner up with experts from an exhibition company in Sydney to get more attention from the attendees. Drop us a line, and we'll help you out.