Eddie Murphy Net Worth With Full Biography [Latest Updates 2023]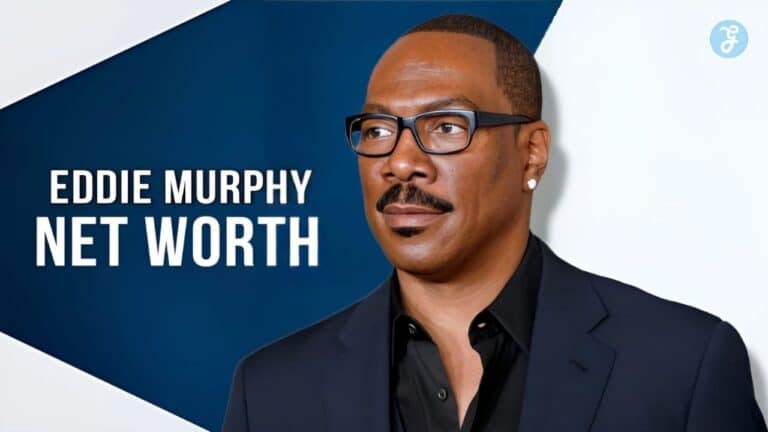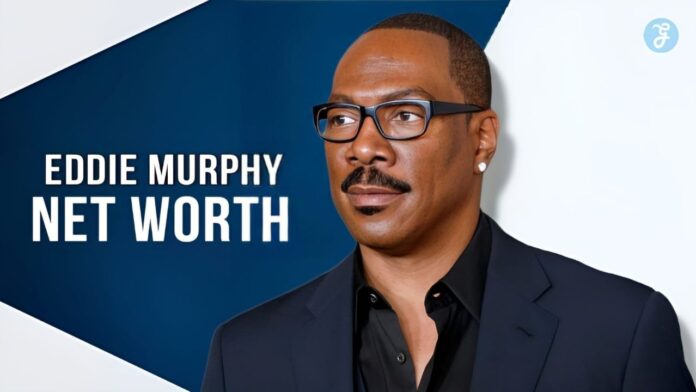 Curious about the wealth amassed by one of America's most beloved comedians, Eddie Murphy? Highly renowned for his versatility in acting, stand-up comedy, and singing, Murphy enjoys a staggering net worth of $200 million as of 2023.
This comprehensive article will delve into Eddie Murphy net worth, exploring various income sources and high-value assets that contribute to his impressive fortune. Intrigued? Let's dive deep into the world of Eddie Murphy, filled with humor, success, and luxury!
Content Highlights
Eddie Murphy's net worth is estimated to be $160 million to $200 million, making him one of the wealthiest actors in Hollywood.

His sources of income include acting in movies and TV shows, stand-up comedy performances, producing and directing projects, endorsements and sponsorships, voice acting for animated films, royalties from his past works, and investments in real estate and business ventures.

Some of Eddie Murphy's highest-grossing films include the animated Shrek series and classics like "Coming to America" and "Beverly Hills Cop." These films have greatly contributed to his financial success.
Eddie Murphy's Early Life and Career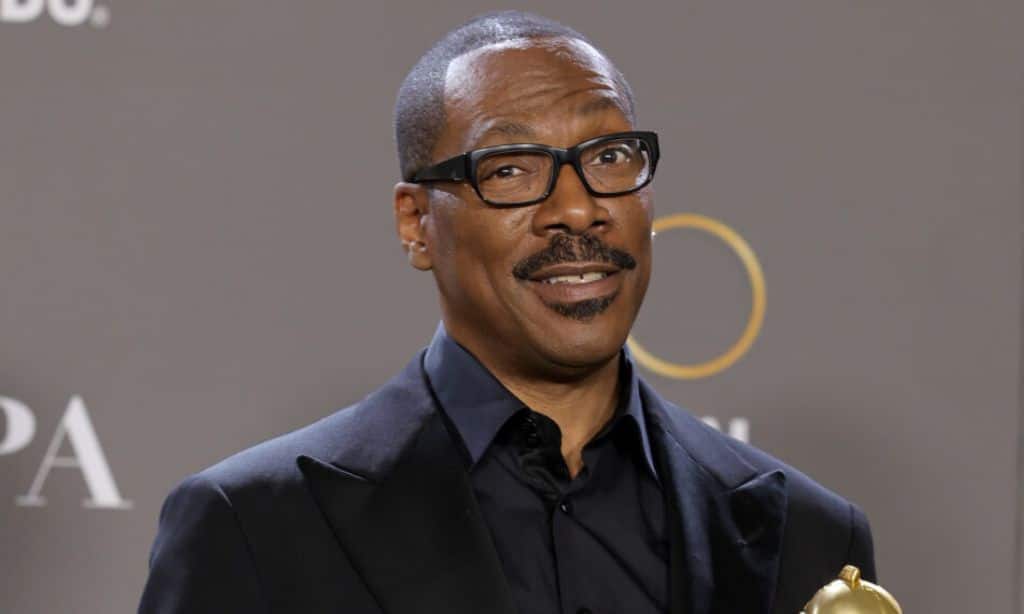 Eddie Murphy's early life was shaped by his upbringing in Brooklyn, New York, where he discovered his love for comedy at a young age.
Early Life and Upbringing
Eddie Murphy, born on April 3, 1961, experienced a humble beginning in the projects of Bushwick, Brooklyn. His parents played significant roles in his early life – Charles, a police officer, and Lillian, a telephone operator.
Having Vernon Lynch as a stepfather also impacted his upbringing. Instead of immersing himself in academics during his younger years, Murphy found passion and purpose in comedy stand-up routines and impressions.
Breakthrough on Saturday Night Live
Eddie Murphy exploded onto the comedy scene with his iconic appearances on Saturday Night Live. Not just another cast member, he set himself apart with a unique blend of razor-sharp wit and hilarious impersonations.
Despite initially earning only $4,500 per episode, these performances served as a crucial stepping stone in Murphy's career. Over time, he became one of the most beloved cast members in the show's history, and his stand-out sketches like "Mr.
Robinson's Neighborhood" catapulted him to superstardom. While still young, this exposure paved the way for key opportunities shaping his illustrious career in film and stand-up comedy.
Successful Film Career
Eddie Murphy's film career took off as he transitioned from "Saturday Night Live" to the big screen. His comedic style came to life in fan-favorite movies such as "48 Hrs", "Beverly Hills Cop," and "Coming to America."
These films gained significant box-office success, solidifying Murphy's reputation as a first-rate comedian.
Despite being known for comedy, Eddie Murphy also explored other genres. He shined in diverse roles ranging from voice acting in animated films like "Shrek" to playing multiple characters in movies like "The Nutty Professor."
One of his most notable performances was in the fantasy-comedy film "Dr.Dolittle," which bagged him several accolades. Murphy exhibited impressive versatility and craftsmanship with each role, whether making audiences laugh or leading them on an unforgettable adventure.
Eddie Murphy Net Worth and Earnings
Eddie Murphy's net worth is estimated to be $160 million to $200 million, making him one of the wealthiest actors in Hollywood.
Characteristic
Value
Name
Edward Regan Murphy
Birthdate
April 3, 1961
Birthplace
Brooklyn, New York
Occupation
Actor, comedian, singer, producer
Net worth
$200 million
Properties
Multiple properties in Los Angeles, New York, and Miami
Social media fan followers
10.2 million on Twitter, 49.8 million on Facebook, 13.2 million on Instagram
Awards
4 Golden Globe Awards, 2 Emmy Awards, 2 Grammy Awards, Mark Twain Prize for American Humor
Families
Parents: Charles Edward Murphy (father) and Lillian Murphy (mother).
Siblings: Charlie Murphy (brother) and Valerie Murphy (sister). Children: Eric Murphy, Bria Murphy, Myles Murphy, Shayne Murphy, Zola Murphy.
Relationships
Married to Nicole Mitchell Murphy (1993-2006)
Married to Paige Butcher (2012-present)
Current Estimated Net Worth
Eddie Murphy's estimated net worth in 2023 is $600 million US dollars. With a career spanning over four decades, he has amassed incredible wealth through his talent and success in the entertainment industry.
As one of the wealthiest comedians and actors in the world, Eddie Murphy's net worth continues to grow, solidifying his status as an influential figure in Hollywood.
Sources of Income
Eddie Murphy earns his income from various sources, including:
Acting in movies and television shows

Stand-up comedy performances

Producing and directing projects

Endorsements and sponsorships

Voice acting for animated films

Royalties from his past works

Investments in real estate and business ventures
Highest-Grossing Films
Eddie Murphy has demonstrated his remarkable versatility and comedic brilliance in a series of high-grossing films that have greatly contributed to his net worth. Let's have a closer look at some of his highest-grossing films.
| | | |
| --- | --- | --- |
| Movie | Year | Worldwide Gross |
| Shrek 2 | 2004 | $928,760,770 |
| Shrek the Third | 2007 | $813,367,380 |
| Shrek Forever After | 2010 | $752,600,867 |
| Coming to America | 1988 | $288,752,301 |
| Beverly Hills Cop | 1984 | $316,360,478 |
As seen from the table, Murphy's voice-over role as Donkey in the animated Shrek series made these films some of the highest-grossing in his career. Additionally, his iconic roles in classics like 'Coming to America' and 'Beverly Hills Cop' garnered substantial box office earnings, further enhancing his professional stature and financial standing.
Read More: Byron Allen Net Worth
Eddie Murphy's Assets and Properties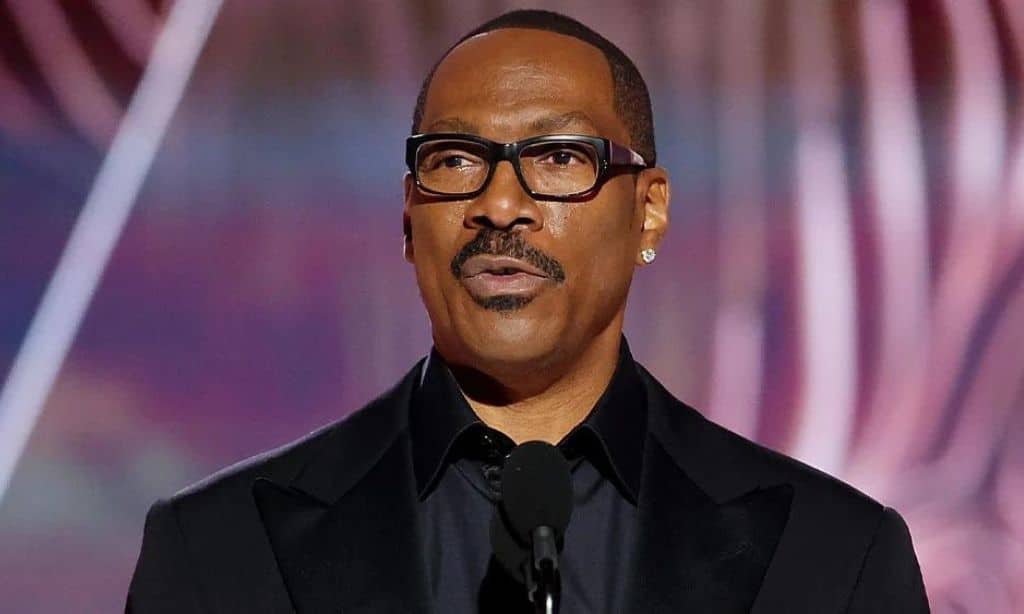 Eddie Murphy's lavish lifestyle includes a collection of luxury cars, impressive real estate investments, and an extensive lineup of expensive watches. Find out more about his extravagant assets and properties here.
Luxury Cars Owned by Eddie Murphy
Eddie Murphy, the iconic actor, and comedian, has a taste for luxury cars. Here are some of the extravagant vehicles he owns:
A brand-new Ferrari Portofino worth $700,000

A sleek Mercedes – Benz GLA
Properties and Real Estate Investments
Eddie Murphy's properties and real estate investments have contributed significantly to his overall assets. Here are some of the properties that he owns:
A luxurious mansion located in Beverly Hills, California.

A beachfront villa in Maui, Hawaii.

An extravagant penthouse apartment situated in the heart of New York City.

A sprawling estate in New Jersey with multiple guesthouses and a private golf course.
Expensive Watches Collection
Eddie Murphy's love for luxury extends beyond his cars and properties – he also boasts an impressive collection of expensive watches. With a net worth of $200 million, it's no surprise that he has indulged in some extravagant timepieces. Take a look at some of the stunning watches in Eddie Murphy's collection:
Patek Philippe Nautilus: Known for its timeless design and exceptional craftsmanship, it is a favorite among watch enthusiasts. Eddie Murphy owns several variations of this iconic model.
Rolex Day-Date: A symbol of success and elegance, the Rolex Day-Date is often called the "President's watch" due to its popularity among world leaders. Eddie Murphy is the proud owner of this prestigious timepiece.
Audemars Piguet Royal Oak: This avant-garde watch is celebrated for its distinctive octagonal shape and bold design. Eddie Murphy appreciates its unique style and can be seen wearing different versions of the Audemars Piguet Royal Oak.
Richard Mille RM 011: Renowned for their cutting-edge technology and innovative materials, Richard Mille watches are highly sought after by collectors. Eddie Murphy possesses this high-performance timepiece in his luxurious collection.
Hublot Big Bang: With its modern aesthetics and fusion of materials, the Hublot Big Bang is a statement piece that exudes sophistication. This striking watch finds its place among Eddie Murphy's cherished possessions.
Eddie Murphy's Personal Life
Eddie Murphy's personal life encompasses his relationships, marriages, and children while highlighting his philanthropy efforts.
Relationships and Marriages
Eddie Murphy's personal life has been as eventful as his career. He was previously married to Nicole Mitchell, with five children. Their marriage lasted from 1993 to 2006, and their divorce settlement amounted to an impressive $15 million.
Currently, Eddie Murphy has been engaged to Paige Butcher since 2018. With ten children from various relationships, it is clear that his personal life has played a significant role in shaping his net worth and public image.
Children
Eddie Murphy is a proud father of ten children, each with a unique background and story. Five of his children, Bria, Myles, Shayne, Zola, and Bella, are from his marriage to Nicole Mitchell.
The remaining five children are from various relationships throughout Eddie's life. The family has always been an important part of Eddie Murphy's personal life, and he cherishes the bond he shares with each of his children.
Philanthropy Efforts
Eddie Murphy has always been passionate about giving back to the community. Through his charitable foundation, the Yeah! Foundation, he has been involved in various philanthropy efforts.
The foundation aims to support causes such as helping the homeless and providing scholarships for school. Eddie Murphy's commitment to making a difference is evident in his ongoing dedication to these initiatives.
He understands the importance of using his success and platform to create positive change and uplift those in need.
Eddie Murphy's Career Highlights and Achievements
Eddie Murphy has achieved numerous career highlights and accolades, including winning a Golden Globe Award for his role in "Beverly Hills Cop" and receiving multiple nominations for his iconic performances.
Awards and Recognition
Eddie Murphy has received numerous awards and recognition throughout his career, solidifying his status as one of the industry's most talented performers. Some of his notable honors include:
Grammy Award for Best Comedy Album in 1984

Emmy Award for Outstanding Writing in a Variety or Music Program in 1983

Mark Twain Prize for American Humor in 2015

Golden Globe Awards for Best Actor – Motion Picture Musical or Comedy for performances in "Beverly Hills Cop" and "The Nutty Professor"

People's Choice Award for Favorite All-Around Male Entertainer
Iconic Film Roles
Eddie Murphy has had several iconic film roles throughout his career. These include:
Axel Foley in the "Beverly Hills Cop" series

Prince Akeem Joffer in "Coming to America"

Billy Ray Valentine in "Trading Places"

Sherman Klump and various other characters in the "Nutty Professor" films

Detective Scott Roper in "Metro"

Rudy Ray Moore in "Dolemite Is My Name"
Stand-up Comedy Specials
Eddie Murphy has achieved great success in stand-up comedy throughout his career. He is ranked number 10 on Comedy Central's list of the 100 Greatest Stand-ups of All Time. Here are some highlights from Eddie Murphy's stand-up comedy specials:
Delirious (1983): Eddie Murphy's first solo stand-up special released as a concert film. It became one of the most popular and influential comedy specials ever.
Raw (1987): Another highly successful stand-up special by Eddie Murphy showcasing his unique style and hilarious observations.
Saturday Night Live appearances: Eddie Murphy's impressive comedic skills were first recognized during his stint on Saturday Night Live, where he delivered memorable characters and sketches that showcased his talent for making people laugh.
Read Also: Val Kilmer Net Worth: The Untold Story of His Wealth
Quotes and Inspirations from Eddie Murphy
Discover some of Eddie Murphy's most memorable quotes on success and life and the inspirational moments from his career that have made him a true icon in the entertainment industry.
Memorable Quotes on Success and Life
Eddie Murphy has shared memorable quotes on success and life throughout his career. Here are a few of his inspiring words:
"Everybody's got their voice, and when you find it, you start to stand out."

"I've made so many mistakes, so I know what not to do now. That's what being successful is all about – growth."

"Don't wait for the perfect time or conditions when you have an idea. Just go for it."

"You can't be afraid to fail. It's part of the process of becoming great."

"Success doesn't just happen overnight; it takes years of hard work and determination."

"Don't let anyone define your worth or limit your dreams. You have the power to create your destiny."

"Life is too short to waste time worrying about what others think. Do what makes you happy."
Inspirational Moments from His Career
Eddie Murphy's career is filled with inspirational moments that have resonated with audiences worldwide. Here are some highlights:
Eddie Murphy's groundbreaking success on "Saturday Night Live" showcased his comedic genius and paved the way for his future accomplishments.

His role in "Beverly Hills Cop" solidified his status as a leading actor, breaking box office records and earning critical acclaim.

Despite facing criticism and setbacks, Murphy pushed boundaries and challenged himself creatively, taking on diverse roles in films such as "Coming to America" and "Dreamgirls."

His ability to seamlessly transition between comedy and drama demonstrated his versatility as an actor, inspiring others to explore different genres.

One of the most inspiring moments of Murphy's career was when he returned to stand-up comedy after a long hiatus, proving that talent never fades and reigniting his connection with fans worldwide.
Lessons to Learn from Eddie Murphy's Success
Eddie Murphy's success teaches us the importance of persistence, taking risks, and staying true to oneself. Find out more about his inspiring journey by reading the full biography.
Persistence and Hard Work
Eddie Murphy's extraordinary success can be attributed to his relentless persistence and unwavering work ethic. He has consistently demonstrated a strong commitment to honing his craft and taking on new challenges throughout his career.
Despite facing setbacks and obstacles, Murphy never gave up on his dreams. His tireless determination is evident in the countless hours he has spent perfecting his comedic timing, creating memorable characters, and delivering outstanding performances.
Through sheer persistence and hard work, Eddie Murphy has achieved unparalleled success in the entertainment industry, inspiring aspiring actors and entertainers worldwide.
Taking Risks and Exploring Different Genres
Eddie Murphy has never been one to shy away from taking risks and venturing into different genres throughout his career. From comedy to drama, action to family-friendly movies, Murphy has showcased his versatility as an actor.
His ability to navigate various genres has undoubtedly contributed to his long-standing success in the entertainment industry. Aspiring actors can learn a valuable lesson from Eddie Murphy's story – the importance of stepping out of their comfort zones and exploring new territories.
By embracing new challenges and being open to different genres, they, too, can find their path to success in Hollywood.
Read More: Bobby Brown Net Worth
Staying True to Oneself
Eddie Murphy's remarkable success in the entertainment industry can be attributed to his unwavering commitment to staying true to himself. From his early years on Saturday Night Live to his iconic film roles, Murphy has always embraced his unique talents and individuality.
By remaining authentic and genuine, he has been able to connect with audiences worldwide and build a loyal following. This authenticity not only contributed to his immense wealth but also inspired aspiring actors and entertainers looking to make their mark on the world.
Eddie Murphy's success story is a testament to the power of staying true to oneself and following one's passion, showing that it can lead you down paths beyond your wildest dreams.
Latest Updates and Projects in Eddie Murphy's Career
Eddie Murphy works on several exciting projects, including upcoming films and a highly anticipated Netflix comedy special.
Upcoming Films and Projects
Eddie Murphy is a busy man with several exciting projects lined up for the near future. Here's a glimpse into what we can expect from this talented actor and comedian:
Murphy is set to star in the highly anticipated film "Triplets," which is a sequel to the 1988 comedy "Twins." He will reunite with Arnold Schwarzenegger and Danny DeVito for this hilarious new adventure.

Fans of Eddie Murphy's iconic character, Axel Foley, will be delighted to hear that he is returning for another installment of the "Beverly Hills Cop" franchise. The fourth film in the series is currently in development.

In addition to his work on the big screen, Murphy has signed a deal with Netflix for an upcoming comedy special. This highly anticipated event will bring his unique brand of humor directly to your living room.

Eddie Murphy has also expressed interest in directing and producing more projects in the future. While specific details are yet to be announced, it's clear that he has no plans of slowing down anytime soon.

Beyond acting and stand-up comedy, Murphy has shown proficiency as a voice actor, lending his talents to animated films such as "Shrek" and its various sequels. There is speculation about his involvement in future animated projects as well.
Netflix Comedy Special
Eddie Murphy recently returned to stand-up comedy with a highly anticipated Netflix special. This marks an exciting addition to his already successful career in the entertainment industry.
The Netflix special has received positive reviews, showcasing Murphy's comedic talent and reminding audiences of his remarkable entertainment ability. It is one of the latest updates and projects in Eddie Murphy's ongoing journey as he continues to captivate audiences with his unique humor.
Future Plans and Aspirations
With his incredible talent and success in the entertainment industry, Eddie Murphy has exciting plans and aspirations for the future. As a versatile performer, he is constantly looking to push boundaries and take on new challenges.
Whether it's through his acting, stand-up comedy, or producing projects, Murphy aims to continue entertaining audiences worldwide with his unique brand of humor. With several upcoming films and projects in the pipeline, fans can eagerly anticipate more laughter-filled moments from this legendary comedian.
Not only does Eddie Murphy strive for personal growth in his career, but he also aspires to make a positive impact on society. Known for his philanthropic efforts throughout the years, he remains dedicated to giving back to needy communities.
Read More: Carlos Alcaraz Net Worth
Frequently Asked Questions (FAQs)
You can check below if you still have queries about Eddie Murphy's net worth.
1. What is Eddie Murphy's net worth in 2023?
As of the latest updates in 2023, Eddie Murphy's net worth is estimated to be around $160 million.
2. How did Eddie Murphy amass his wealth?
Eddie Murphy has amassed his wealth through a successful comedy, acting, and producing career. He gained popularity as a cast member on Saturday Night Live and went on to star in hit movies such as "Beverly Hills Cop" and "Coming to America." He also ventured into stand-up comedy tours and has produced several films.
3. What are some notable achievements or milestones in Eddie Murphy's career?
Some notable achievements and milestones in Eddie Murphy's career include receiving multiple Emmy Awards for his work on Saturday Night Live, being nominated for an Academy Award for Best Supporting Actor for his performance in "Dreamgirls," and being honored with the Mark Twain Prize for American Humor.
4. Is there any information available about Eddie Murphy's personal life?
Yes, Eddie Murphy has had a well-documented personal life. He has been married twice and has ten children. He is known for keeping his personal life private but has occasionally made headlines with high-profile relationships and family events.