The 23 Best Driving Gloves for Comfort and Style
Listen to the Podcast:
Up until the last 60 years or so, driving gloves were an important part of everyday driving. Mark Vaughn, the West Coast editor of Autoweek, says, "They used to be necessary when fighting kickback through the steering wheel was considered part of the art of driving, but cars and front-end systems are so good now that gloves aren't really needed."
For racing, you do need special gloves, but normal driving gloves are just for show. The show is pretty cool in this case. With a new pair of cool motorsport gloves, you can feel like you're racing through the Italian countryside or taking a nostalgic drive along a coastal road.
We think that anything that makes driving more fun is worth having, and a nice pair of driving gloves is one of those things. So there's nothing wrong with feeling like you're steering a big wooden car down a winding road, even though you're not. Put them on and you'll see for yourself.
History of Driving Glove
In the 1890s, the first driving glove was made. At the time, most steering wheels were made of bare metal or wood. All cars were convertibles, so there was no way to heat the car from the inside, and an open metal steering wheel would be cold in the winter and could be slippery in the summer. Gloves could keep splinters from getting into the driver's hands if the steering wheel was made of wood.
The used gloves were usually lined, which means that they had a layer of wool, fur, or lambskin on the inside. In the beginning, when there was no power steering, it wasn't as important to have a lot of feel and contact with the steering wheel. Instead, it was more important to have a firm grip on the wheel and drive in a straight line.
In the early days of racing, the steering wheels were taken straight from street cars. Most of the time, these wheels were made of wood, which meant that drivers had to wear gloves. From the Silver Arrows to the Grand Prix to the gloves used today, racing gloves have changed over time.
Types of Driving Gloves
Lined
As the name suggests, lined driving gloves are made with wool, cashmere, or another insulating material on the inside. While driving, they keep your hands warm. But that will hurt the car's grip, its ability to turn, and the way it feels to steer.
Full-Fingered
These driving gloves have full-length fingers, round openings at the knuckles, and a clasp at the wrist. They are a classic and stylish style. Fingers are often perforated for ventilation.
Finger-Less
The fingers on these driving gloves are open, and they may have a mesh back. They don't protect your hands, as well as full-fingered gloves, do, but they are easier to hold and steer with.
Traditional 
The traditional pair of driving gloves are made of leather and has no lining. This style has holes in the knuckles and straps around the wrist.
Unlined
Driving gloves that aren't lined are thinner and lighter than those that are. They are meant to fit the driver better and give him or her a better grip and feel. Most stitching is done on the outside of the glove to make it more comfortable and easy to feel.
23 Best Driving Gloves You Can Buy
1. Dents Men's Cotton Crochet Back Driving Gloves – Cognac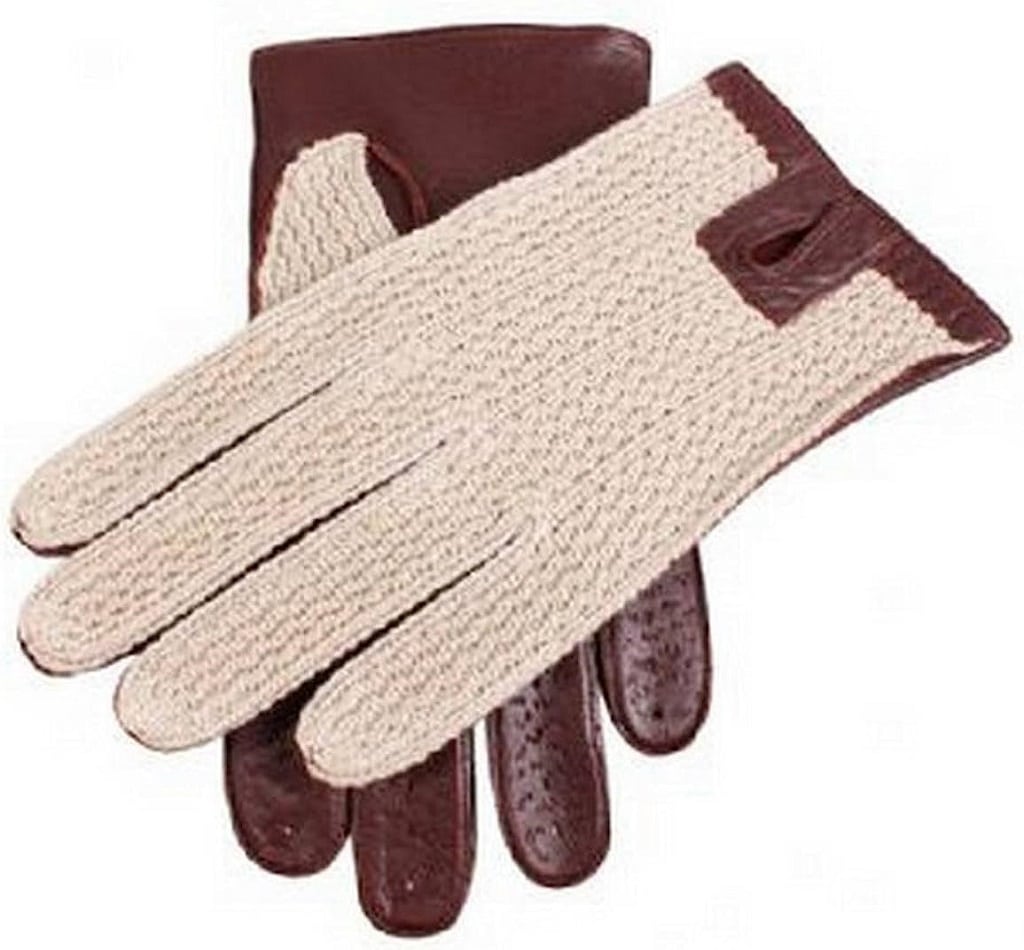 Dents are one of the oldest fashion companies in Britain. It is known for making perfect leather goods that last for decades. Their gloves have been worn by British royals and have been in a number of movies, including the Bond movie Skyfall from 2012. These driving gloves were made by a well-known British company out of soft hair sheep leather and crocheted cotton. The extra vents on the top make it easy to get a good fit around the wrist for the most comfort. These classic gloves are a throwback to the early to mid-20th century. They were made to be worn on a slow weekend drive in a classic roadster.
2. OZERO Winter Thermal Gloves Men Women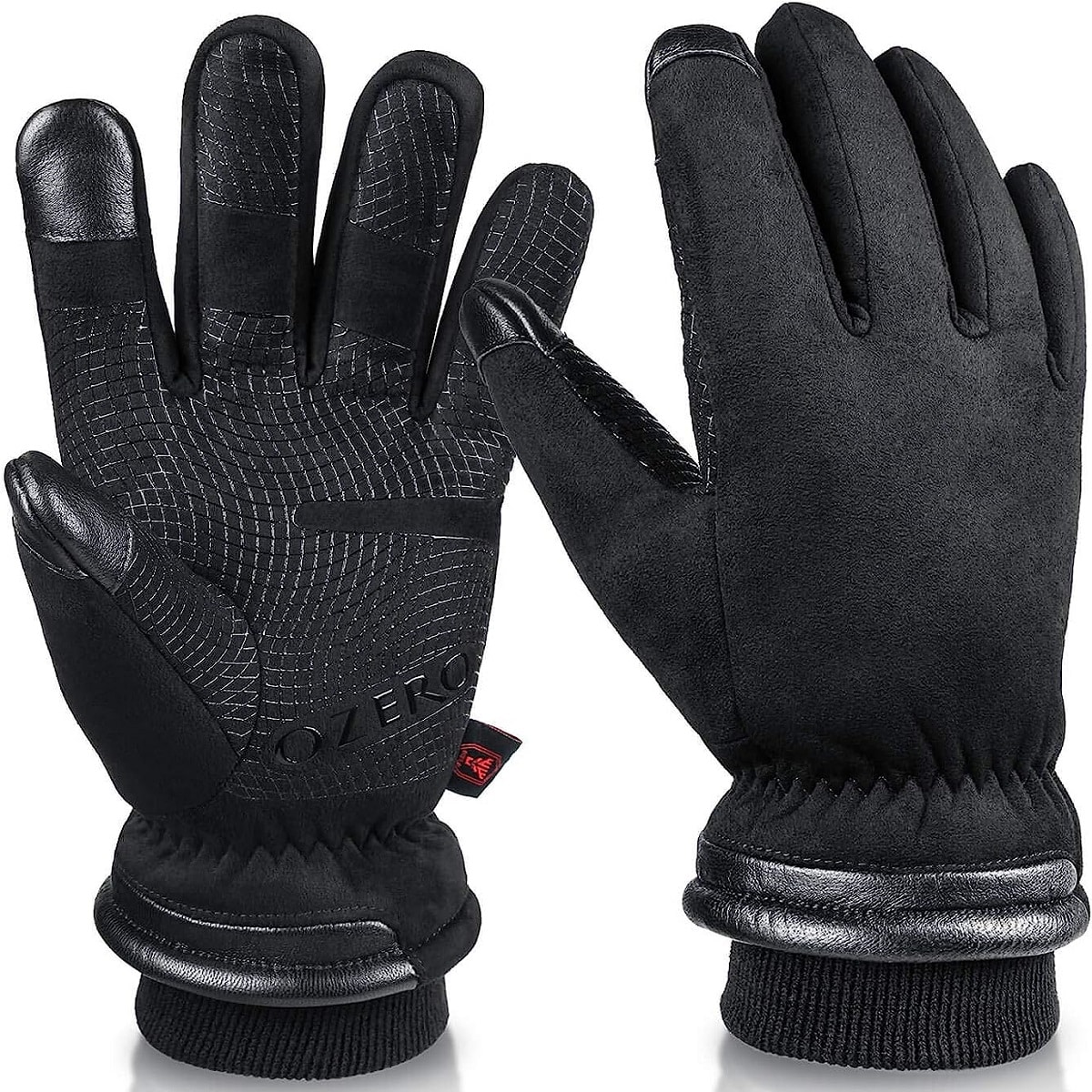 While you're using your devices, keep your fingers warm and dry. On the thumb and index finger of OZERO texting gloves, a conductive fabric is used. This makes it easy to tap and swipe. A good water-resistant shell keeps your hands dry in snow or light rain, and a waterproof TPU part keeps cold wind and water from getting on your skin. Please note that the fabric of the shell is waterproof, but the seams and the tips of the thumb and index finger are not. This means that you can't leave the gloves in water for a long time.
3. Dents Men's the Suited Racer Touchscreen Driving Gloves
Dents, which has been around since 1777, is one of the oldest clothing companies in England. They have a Royal Warrant and made James Bond's driving gloves. These gloves were made in partnership with The Suited Racer. They have a classic look, but they also have elasticized edges and fingertips that work with touchscreens.
4. Riparo Leather Touchscreen Gloves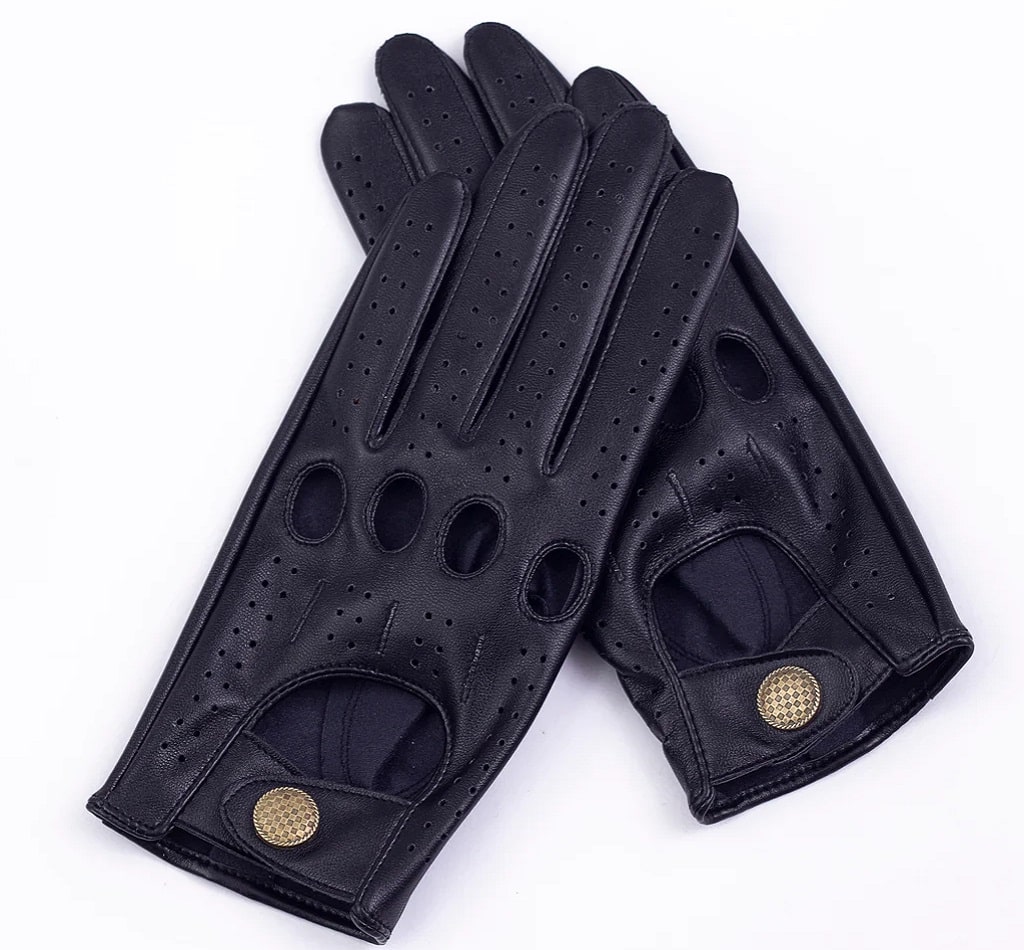 Riparo, based in Seattle, gives a traditional pair of driving gloves a more sporty look. The red stitching stands out against the black leather in a way that is both strong and subtle. This is a great choice for any driver who cares about style and wants to add some colour and personality to their car without being too flashy. The soft deerskin leather makes it possible for the wearer to use touchscreen devices with full dexterity and without any restrictions.
5. Men's Touchscreen Three-Colour Leather Driving Gloves
The Grand Prix is our most colourful driving glove ever. Get ready to buckle up! These unique driving gloves come in three different colours. They were made to look like the bright colours of old racing teams. One is on the palm and strap, the other is on the back of the glove, and the keyhole back of the third has an eye-catching cameo.
These gloves have all the fine details of driving gloves, and they also have touchscreen technology that lets you use your phone with them. As an online-only item, these gloves are perfect for motorsport fans, stylish drivers who want their car and gloves to match, and trendy men who like to stand out. A classic in the making with a lot of colours.
6. Riparo Men's Genuine Leather Reverse Stitched Full-Finger Driving Motorcycle Riding Gloves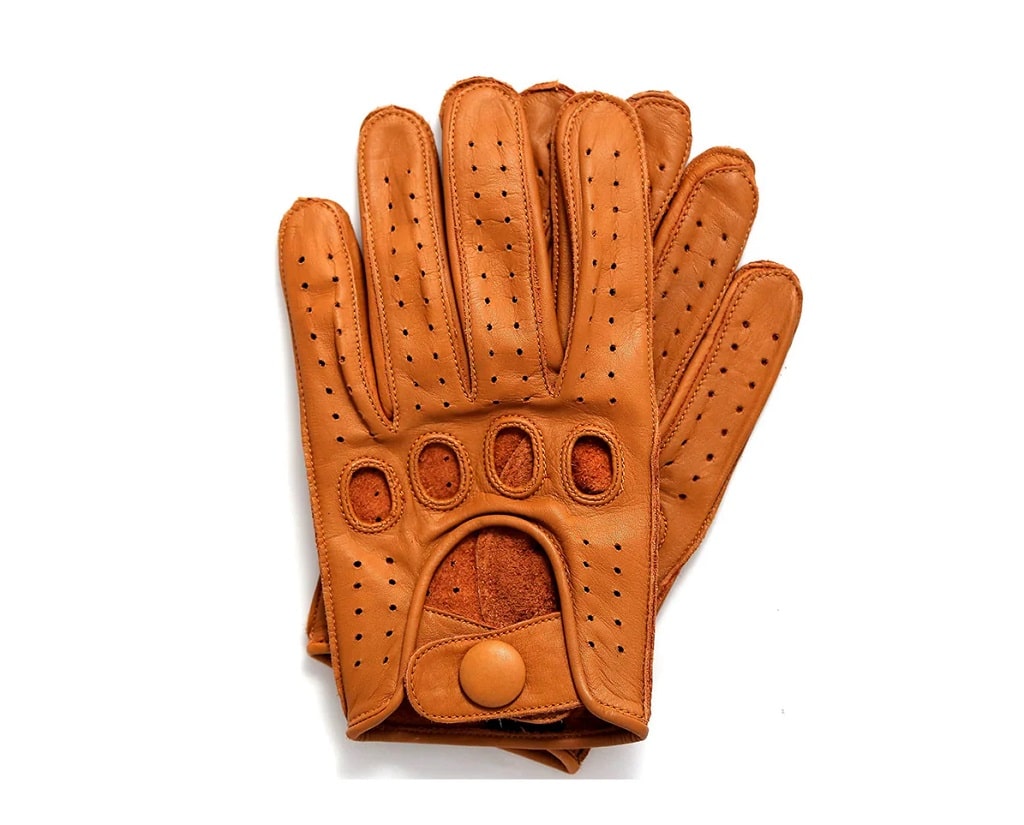 These genuine leather reverse-stitched driving gloves have the quality and features you would expect from a good pair of driving gloves, like soft, supple leather, knuckle holes, and a snap closure on the wrist strap. The classic look is kept while the reverse stitching and new design make it more comfortable and easy to hold.
7. Momentum Men's Touchscreen Leather Driving Gloves by Pratt and Hart RS6768
The touchscreen version of our best-selling leather driving gloves for men lets you use your phone or tablet without any problems. These driving gloves have all the features you'd expect from driving gloves, like soft, supple leather, knuckle holes, an elastic gather at the wrist, and a snap closure on the wrist strap. These are Driving Gloves, but please don't use your phone while driving.
8. Mustang Gloves Classic Lambskin Leather Driving Gloves for Men with Touchscreen Technology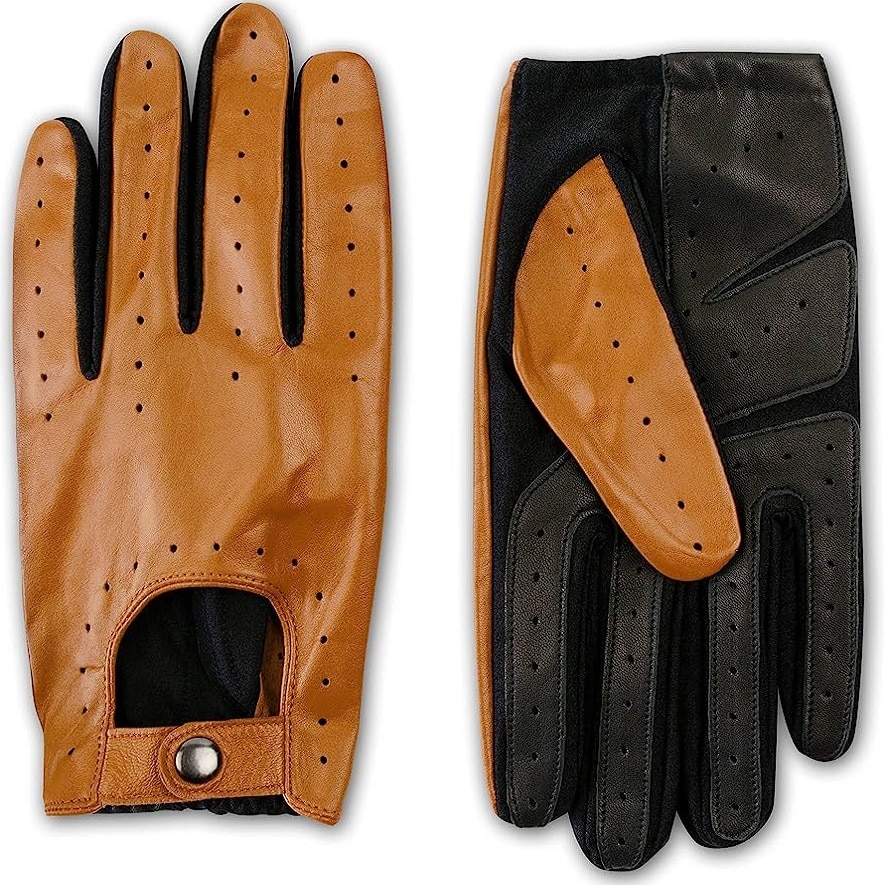 The many holes in these gloves make them very breathable, making them a great choice for people who might need more airflow. The two-tone combination of light brown and black makes a statement while still being classy. Because they are made of smooth lambskin, these driving gloves will last a long time and stay comfortable.
9. Harssidanzar Men's Leather Driving Gloves Deerskin Unlined Upgrade, Tan, XS
These cheap driving gloves from Harssidanzar are made of tough goatskin and have fingers that are already bent to fit the shape of your hand for a better grip on the wheel.
10. Barbour Burnished Leather Thinsulate Gloves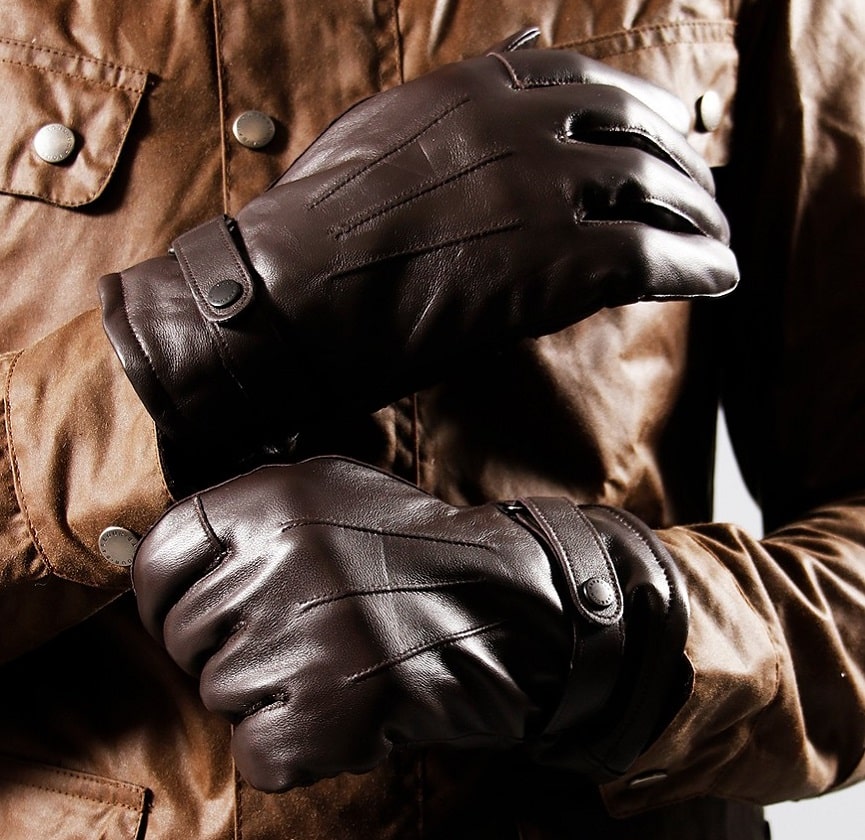 These gloves are made of soft leather and fleece on the inside to keep your hands warm and comfortable. The Barbour Burnished Leather Thinsulate Gloves have stitching on the outside and wrist straps that can be adjusted with studs to get the right fit.
11. Carhartt Men's Leather Driver Work Glove
The full-grain cowhide leather used to make these gloves is strong and gives you a good grip on the steering wheel. The outer shell looks like it can't be broken, but it gives just enough to let you move.
12. Alepo Genuine Sheepskin Leather Gloves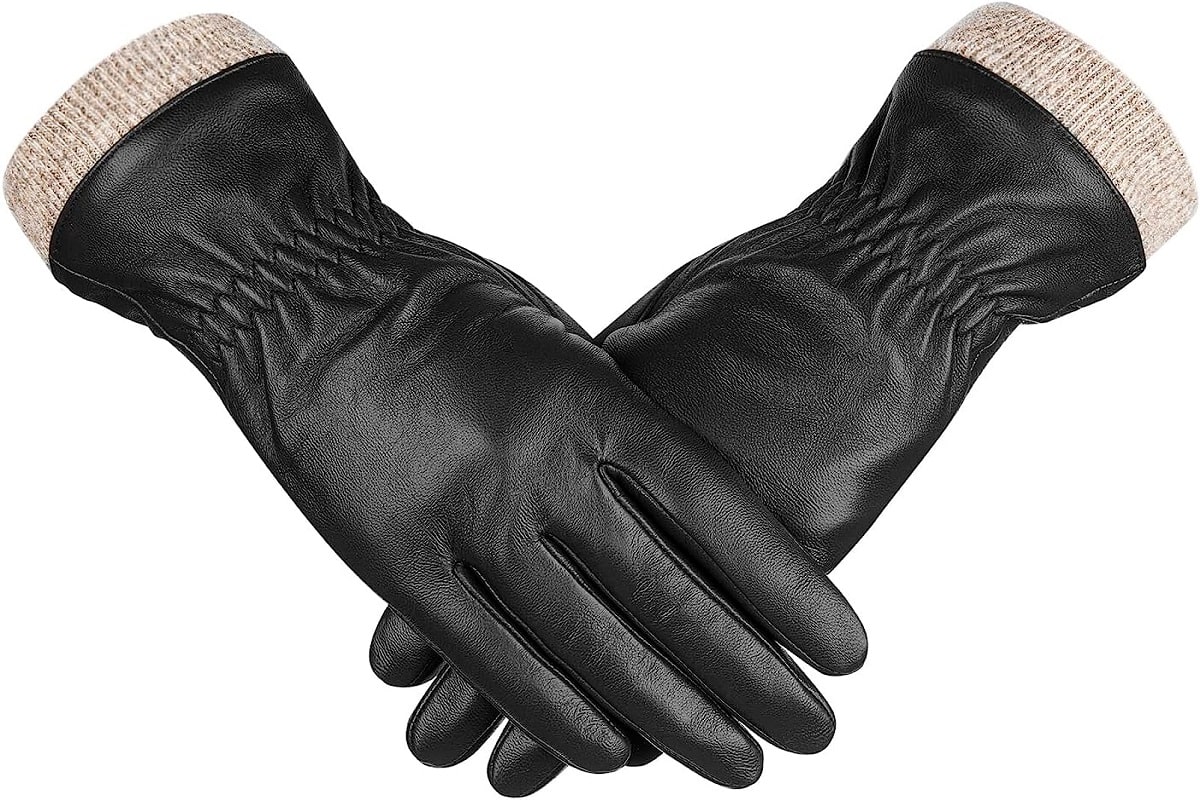 The Alepo driving gloves can be a great addition to your other driving gear. These gloves are soft, flexible, and strong because they are made of high-quality sheep leather. The cashmere on the inside of these driving gloves will keep your hands warm in the winter, and the pull-on style makes them even easier to use.
The reason we gave these driving gloves the "User-Friendly" award is that they have a 360-degree touchscreen feature that lets you use all your electronic devices without having to take your gloves off. Because these driving gloves don't slip, you can get a good grip on the steering wheel. They're a good choice overall that you can't go wrong with.
13. isotoner Women's Spandex Shortie Touchscreen Gloves
With a modern twist, these are our original chevron-style gloves. These isotoner Women's Spandex Shortie Gloves are the height of fashion without sacrificing your ability to move your fingers. With SmartDRI protection, water just rolls off the fabric, so your hands stay dry and you can stay outside longer. SmarTouch technology lets you use touch screens, so your hands don't get cold (and in touch). The chic chevron pattern on the back of each glove gives them a stylish look that can be worn to work or on a cold night out.
14. Alpinestars TECH-1 START V2 Gloves
The Tech-1 Start v2 Glove has inside seams on all five fingers for excellent comfort, fit, and feel. The fingers are made without fourchettes for an anatomically optimized, streamlined fit made for the tight space of the cockpit. Other cool design features include a silicon-printed zone on the palm surface for better flexibility and control and straight, long cuffs that fit snugly and close securely. This glove also has heat transfer logos that make it lighter and a new silicone print on the palm that makes it grip better and feel better.
15. OMP First EVO Racing Gloves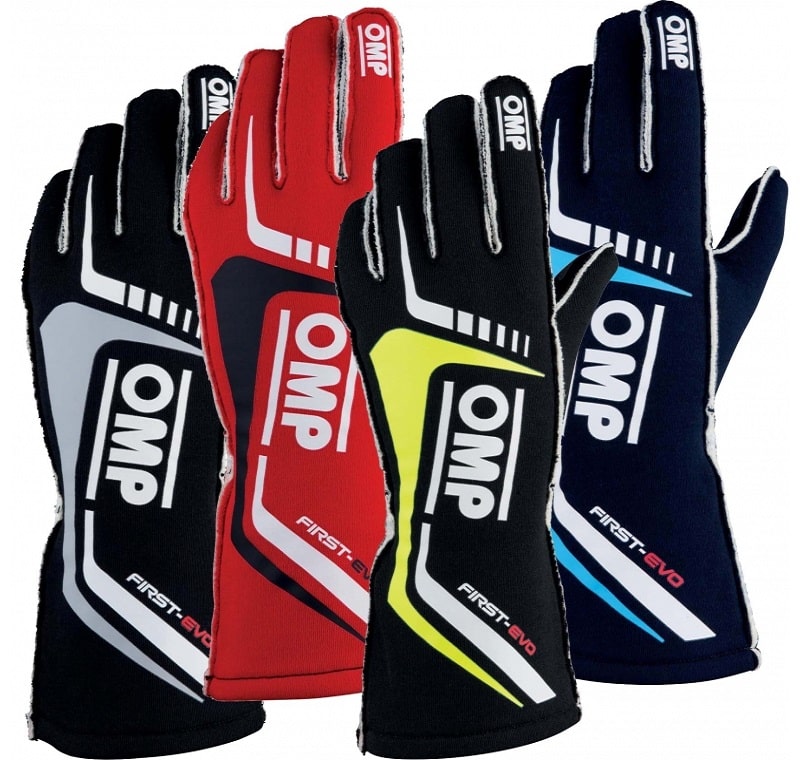 Since the 1980s, OMP has made good racing safety gear, and that experience has carried over to the present day. One of our editors thought that these gloves from an Italian company were a step up from beginner gloves. They are comfortable and good at the wheel because they have internal seams and high-grip silicon rubber pads.
16. Pratt and Hart Barcelona Fingerless
Fingerless driving gloves are a good choice for full movement because they don't get in the way. Since these gloves are made of sheepskin leather, they are naturally stretchy. This means that they will move with your hands and make long drives more comfortable. These fingerless gloves by Pratt and Hart are comfortable, stylish, and not too expensive.
17. SEABIRR Thin Black Leather Gloves
These leather driving gloves from SEABIRR are sleek and stylish. They are black in colour. There are three different styles of these driving gloves, and each style is good for a different task. The sizes of these gloves follow the standard American sizing system, so you should be able to find a size that works for you.
These driving gloves are made of lambskin and are soft and durable. They have holes in the knuckles and a wrist strap with a metal button closure, but the warranty is what we like best about them. If you don't like the product, the company that made it will give you discounts of up to 40%, a free exchange, or even a full refund.
18. Sparco Land Racing Gloves
The Land is Sparco's first-level racing glove. It has an affordable price and is approved by both the FIA and the SFI. One of our editors said that they are a great choice for budget-conscious racers and track day shenanigans. For best performance, the palm has new suede grips that don't slip and are stitched more securely.
19. Hot Shot Rag Wool Pop Top Mittens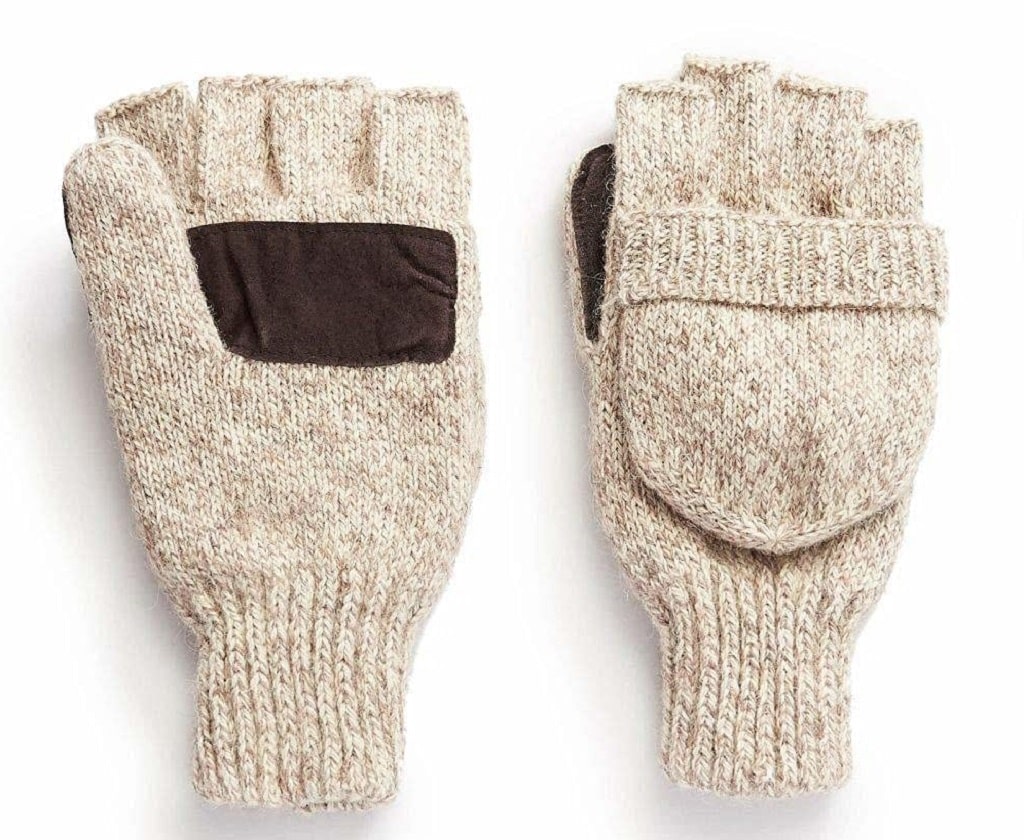 If you want to stay warm, check out Hot Shot's wool pop-top mittens in an old-fashioned style. One of our editors liked them and said that the leather padding on the palm was good for cruising. The pop-top feature can help you use a touch screen, which is a must-have in cars these days.
With a blend of 85% wool and 15% acrylic, the oatmeal colour has a classic look. When you're outside hunting, camping, hiking, fishing, shooting, skiing, snowboarding, and doing other things, Hot Shot Rag Wool Pop gloves will keep your hands warm and comfortable.
20. Elma Winter Leather Gloves
Most people agree that these gloves from Elma are one of the best in their price range. It's made of hair sheep leather, so it can bend and last for a long time. You can choose between cashmere and fleece for the inside material. Cashmere is usually warmer and softer, while fleece is warmer but lasts longer. Either way, these gloves look great and keep your hands warm for a fair price.
21. IceBreaker Merino Quantum Gloves
These Ice Breaker driving gloves aren't as much about style as they are about function. They are made of a soft, stretchy, and wrinkle-resistant fabric called Merino terry. The fingers are made so that they can touch screens. They can also be washed in a machine.
22. Dents Men's Delta Classic Leather Driving Gloves English Tan S
The best men's driving gloves combine refinement, style, and functionality into one cool package. This pair from a classic brand fits that bill with its rich wine colour and high-quality construction (Dents is also a James Bond-approved merchant).
23. Riparo Fingerless Driving Gloves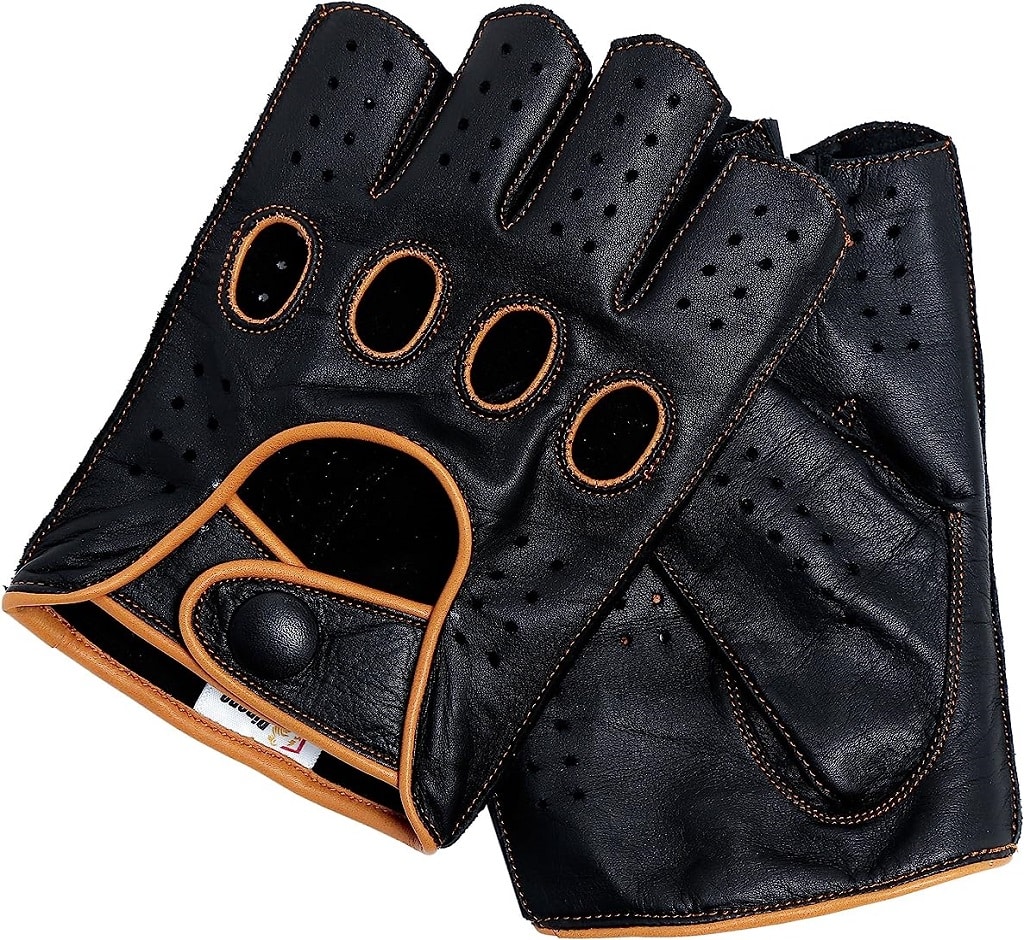 These genuine leather reverse-stitched driving gloves have the quality and features you would expect from a good pair of driving gloves, like soft, supple leather, knuckle holes, and a snap closure on the wrist strap. The classic look is kept while the reverse stitching and new design make it more comfortable and easy to hold.
Driving Gloves Testing Process
A member of the team tried each product on a car and made notes about how well it fits, how well it gripped, and how comfortable it was to wear. Based on these things, each pair of driving gloves was given a rating out of 5 stars.
Fit: Our team member decided how well the gloves fit by looking at how true to size they were and how tight they were on his or her hands.
Grip: This could be the most important thing to think about when looking for driving gloves, so we tested it by seeing which pair had a better grip. We thought about how gloves might be too sticky and make it hard for people who drive manual cars to move their hands between the gearshift and the wheel.
Comfort: We wore these gloves for a few weeks to see if they were comfortable to wear for long periods of time and on road trips.
Factors to Look at When Buying Driving Gloves
Material
Most driving gloves are made of leather, but they can also be made of synthetic materials. When it comes to driving gloves, leather is the obvious choice because it is durable and flexible. Once leather gloves are broken in, they tend to fit better and can also help keep your hands warm in the winter. They are also easier to clean than other kinds of driving gloves.
Comfort is also affected by the type of leather. Go for thin leathers like lamb or sheep leather, but you can also get driving gloves made of nylon, lycra, or cotton if you want cruelty-free or vegan leather products.
Design
The main options are lined or not lined, and full fingers or no fingers. Think about what kind of driving you'll be doing and what the weather will be like. In the end, driving gloves are more about style than they are about function. So, there's nothing wrong with looks being the most important thing.
Size

 
When it comes to making sure driving gloves are comfortable and useful, size is a key factor. When worn for a long time, a glove that is too tight will stop blood flow and leave marks. On the other hand, a glove that is too big can be very uncomfortable and not do its job.
Flexibility 
For a good grip and control of the wheel, a driving glove needs to be flexible. Many things, like knuckle holes and the type of material, add to the flexibility.
Touchscreen Compatibility
If you're driving a new car, it probably has a touchscreen that lets you control important car functions. Even if you aren't driving a new car, you can still use your phone to find your way. It's better to have gloves that work with touchscreens than to have to take them off.
Colour 
How you like your driving gloves to look is all up to you. Most of the time, people choose driving gloves that match the interior of their cars. This isn't necessary, though, so if you'd rather use brighter, more vivid colours, go for it!
Is it Worth Investing in a Pair of Driving Gloves?
It's a good idea to buy a pair of driving gloves if they have a classic, simple style and are made of good leather. Also, make sure to take care of your gloves by putting them away horizontally to keep them from getting creased and out of direct sunlight to keep them from fading. By following these simple rules, you can be sure that your gloves will last longer.
Frequently Asked Questions (FAQs) about Driving Gloves
Do driving gloves do anything?
Driving gloves keep your hands from getting tired by reducing vibrations from the steering wheel. A pair of driving gloves will help keep your hands warm when it's cold outside. The driving gloves are basically an insulator that keeps your body's heat in.
Why are they called driving gloves?
A driving glove is a covering for your hands that is usually made of thin, soft leather. It is used to make it easier for a driver to steer and change gears by making the steering wheel and gear stick easier to hold.
Why do people wear driving gloves?
People wear driving gloves for many reasons, but mostly to protect their car's interior, get a good grip on the steering wheel, keep their hands from getting burned, and keep their hands from getting tired.
Why do people wear white gloves when driving?
Drivers liked white gloves because they made their hands easier to see. Before trains and cars had automatic signals, people in charge had to use their hands to show where they wanted to go.
What are driving gloves made from?
Thin leather is used to make most driving gloves. But they can also be made of materials like polyurethane, polyvinyl chloride (vinyl), or silicone that looks like leather. If you want to buy driving gloves, it's best to get ones made of natural leather because they are both comfortable and durable.
How do you clean leather driving gloves?
Leather driving gloves should be washed by hand with saddle soap or another product made to clean leather. The directions on the label should be followed. Most of the time, this means making a lather with a small amount of soap and then rinsing them briefly under cold running water. Then, hang them up to dry, preferably in a place with a breeze and no direct sunlight.
Why do driving gloves have holes in the knuckles?
Also, driving gloves have an open back and open knuckles, which is a dead giveaway. These places are left open so that people can move around more easily. The small holes along the fingers let air in and also keep the very thin leather from getting too strained.
Why do rich people wear gloves?
This style choice was a way to show how well off you were. Rich women wore gloves on both hands to keep their hands covered and to show that they could pay other people to do hard work for them. During this time, women always wore these items out in public, especially to formal events.
How tight should driving gloves be?
Gloves should be comfortable and not too tight. It's important to pay attention to the length of the fingers because if the gloves aren't long enough, your fingertips can get very cold. The fingers of the gloves should be loose, and they should fit your palm well.
Subscribe to Our Latest Newsletter
To Read Our Exclusive Content, Sign up Now.
$5/Monthly, $50/Yearly