Dhaka Metro Rail MRT 6: A New Era of Connectivity and Convenience in Bangladesh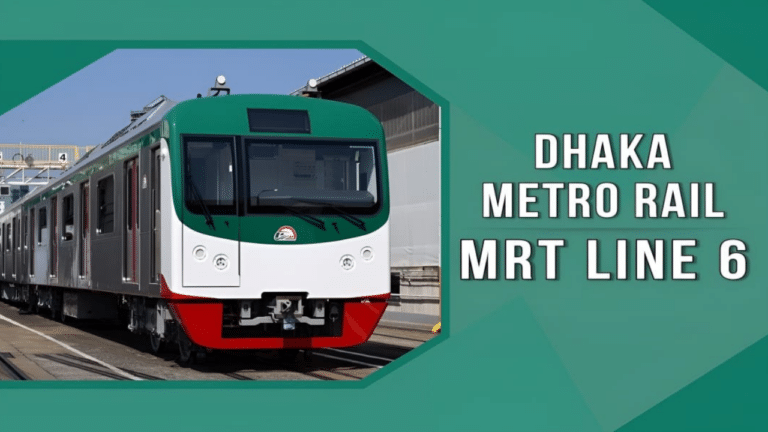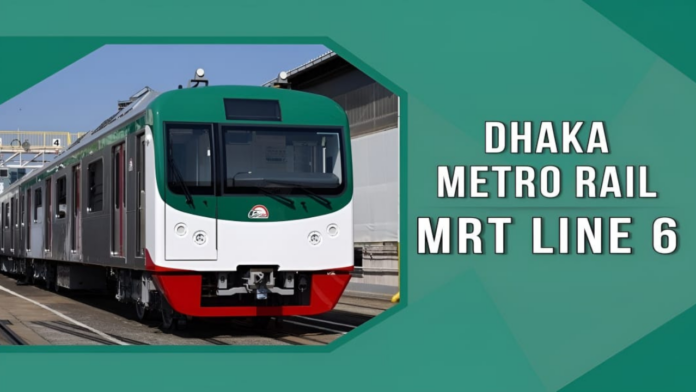 The second phase of Dhaka Metro Rail's MRT Line 6 is set to transform transportation for the bustling capital of Bangladesh from tomorrow. Prime Minister Sheikh Hasina is set to inaugurate the Dhaka Metro Rail MRT 6 (Agargaon to Motijheel link) today. The fully elevated rapid transit line will be the first of its kind for the country. Spanning 20 kilometers from Uttara North to Motijheel when complete, the 16-station line aims to provide a modern, efficient way for residents to traverse the mammoth city. However, only 12 stations are fully operational by now.
The idea for a mass rapid transit system in traffic-choked Dhaka originated from a strategic transport plan review. Japan International Cooperation Agency experts further developed proposals for metro lines, including the north-south Line 6. Construction faced delays from route disagreements, security issues, and the pandemic but persevered.
Extensions to Kamalapur and beyond are planned, as are future lines crisscrossing Dhaka. Though not without growing pains, Line 6 marks a major step towards a more connected, livable city.
In this blog post, we offer an overview of MRT Line 6 in order to help commuters understand its network expansion and operational lines before using it themselves. We will also discuss the timeline of construction, financing sources available for investment, and economic impact.
Content Highlights
Dhaka Metro Rail MRT Line 6 is the first mass rapid transit system to run through Bangladesh's densely populated capital city. The first phase (Agargaon to Diabari) was opened on December 28th, 2022, by Prime Minister Sheikh Hasina.
The MRT 6 network 2nd phase includes 7 stations. The stations are – Bijoy Sarani, Farmgate, Karwan Bazar, Shahbag, Dhaka University, Bangladesh Secretariat, and Motijheel. For the first few months, trains will only operate from 7:30-11:30 a.m. and stop at three stations – Farmgate, Bangladesh Secretariat, and Motijheel. The remaining stations will open in phases later on.
The line provides key features for commuters such as off-board fare collection systems, CCTV surveillance on trains & elevated guideway sections, plus automated fare collection systems once completed transforming the ridership experience with enhanced security comfort & convenience along its route in future years ahead into 2030.
Construction on MRT Line 5 North, connecting Savar's Hemayetpur with Bhatara in Dhaka, is slated to start when the Agargaon-Motijheel stretch of Line 6 is inaugurated on November 4, 2023.
History of Dhaka Metro Rail
In 2008, the Strategic Transport Plan for Dhaka, conducted by the Bangladesh University of Engineering and Technology (BUET), strongly recommended developing a metro rail network. This led to further studies by the Japan International Cooperation Agency (JICA) and the formation of the Dhaka Mass Rapid Transit Development Project (DMRTDP) in 2012.
The DMRTDP proposed 4 metro rail lines – MRT Line 1, MRT Line 2, MRT Line 5, and MRT Line 6. After revisions, the construction work began in 2016, with funding from the Bangladesh government.
| Line number | Current status | Number of stations | Total length (km) | Opening date (if operational) |
| --- | --- | --- | --- | --- |
| MRT Line 1 | Under construction | 16 | 20.1 | December 2026 (expected) |
| MRT Line 2 | Planned | 18 | 21.25 | – |
| MRT Line 5 | Planned | 13 | 13.6 | – |
| MRT Line 6 | Operational (partial) | 16 | 20.1 | December 2022 (partial) |
Table: Dhaka Metro Rail all Lines
MRT Line 6, also known as the Dhaka Metro, is a 20.1 km North-South elevated metro route connecting Uttara and Motijheel. Construction began in 2016, undertaken by the Dhaka Mass Transit Company Ltd (DMTCL). The project faced several delays over the years due to various factors.
In December 2021, a stretch of MRT Line 6 was partially opened to the public. More stations came into operation in 2022. The metro currently has 12 stations between Uttara North and Agargaon. Once fully complete, Dhaka Metro's MRT Line 6 will be Bangladesh's first-ever operational metro rail system.
The approximately BDT 217 billion project has been implemented with substantial financial and technical support from the Japan International Cooperation Agency. The Dhaka Metro represents a major step forward in developing modern mass rapid transit infrastructure for the densely populated megacity.
Origins and development
The Dhaka Metro Rail is a mass rapid transit system running through the densely populated capital city of Bangladesh. The project was envisioned in 2009, and plans soon followed, with construction beginning in 2016. (2)
Although similar initiatives had been proposed since the 1990s, it wasn't until recently that the resources needed were made available to begin its development. In order to develop such an ambitious infrastructure project, urban planning had to be integrated with transportation and land-use planning on a large scale involving numerous government agencies as well as private companies and investors across Bangladesh.
This massive collaborative effort has been greatly inspired by other successful rapid transit systems around Asia, particularly Hong Kong's MTR System and Singapore's SMRT Corporation, whose primary goal has always been providing enhanced mobility options for citizens through high-quality public transport services.
Initial phases
The Dhaka Metro Rail project began in 2016 with the first feasibility study conducted by Japan's International Cooperation Agency (JICA). After its positive assessment, JICA provided 250 million USD to help finance construction.
MRT Line 6 is the first metro rail line approved and started under this project. The initial operations of the metro rail service were expected to start in 2022 but were delayed due to infrastructure issues.
The trial and test runs for MRT Line 6 over a ten-kilometer stretch from Uttara North station occurred between August 2021 and March 2022, which saw large crowds of enthusiastic commuters hoping for its launch.
Finally, after almost two decades since the concept of Dhaka Metro Rail first appeared, on December 28th, 2022, the electrifying reality finally came true when Prime Minister Sheikh Hasina inaugurated it with future plans set for further expansion Future plans.
The government of Bangladesh has an ambitious vision for the development of Dhaka's transportation infrastructure over the next decade – with plans for a fully integrated network of six mass rapid transit (MRT) lines across Dhaka City by 2030.
Looking ahead, more operational lines are set to open up, connecting key points within Dhaka and beyond, while additional lines remain under construction or in planning stages before full implementation.
MRT Line 6: An Overview
[Video Credits @Dhaka Mass Transit Company Limited]
The MRT Line 6 is the city's first rapid transit line, consisting of an extensive network with operational lines, under construction and planned routes. It provides a safe, reliable, and efficient mode of transportation for commuters while reducing traffic congestion in Dhaka.
| Feature | Information |
| --- | --- |
| Operator | Dhaka Mass Transit Company Limited (DMTCL) |
| System | Rapid transit metro rail |
| Status | Partially operational (Phase 1 was inaugurated on December 28th, 2022, while Phase 2 will inaugurated today) |
| Locale | Dhaka, Bangladesh |
| Termini | Uttara North – Motijheel |
| Stations | 16 (12 operational) |
| Daily ridership | 60,000 (projected) |
| Opening | 2022 (partial operations) |
| Closure | N/A |
| Technical |   |
| Line length | 20.1 km |
| Track gauge | Standard gauge |
| Electrification | 750 V DC Third rail |
| Operating speed | 110 km/h |
| Train Control | CBTC (Communication-based train control) |
| Rolling stock | CRRC Nanjing Fangchuan Co. metro cars |
| No. of trains | 24 trainsets (6 cars each) |
| Construction |   |
| Began | 2016 |
| Completed | Ongoing |
| Construction cost | BDT 217 billion |
| Financed by | Government of Bangladesh, JICA |
Table: Dhaka Metro Rail MRT Line 6 Details
Network expansion
The Dhaka Metro Mass Rapid Transit System is an ongoing project to expand the city's public transport network. The current plan includes constructing 5 lines serving areas within and outside Dhaka Metropolitan City boundaries.
MRT Line 6, which operates from Motijheel to Uttara North, is part of this major expansion project and was extended in 2019 with new stations at Kamalapur Railway Station. There are also plans to extend it even further east towards Gazipur, covering a total distance of 21.6 kilometers (13 miles).
The proposed additional lines include elevated sections above existing railway tracks with several underground stations strategically located adjacent or close to existing railway stations to help commuters avoid road congestion while traveling within central Dhaka or make intercity train transfers easy and convenient for passengers utilizing both services.
MRT Line 6 Route and Stations
The MRT Line 6 has a total of 16 stations connecting Uttara North to Motijheel. However, a further expansion to Kamalapur Railway Station in the south and Tongi, Gazipur in the north is ongoing. (4)
| | |
| --- | --- |
| SL | Name of Stations |
| 1 | Uttara North |
| 2 | Uttara Center |
| 3 | Uttara South |
| 4 | Pallabi |
| 5 | Mirpur 11 |
| 6 | Mirpur 10 |
| 7 | Kazipara |
| 8 | Shewrapara |
| 9 | Agargaon |
| 10 | Bijoy Sarani |
| 11 | Farmgate |
| 12 | Karwan Bazar |
| 13 | Shahbag |
| 14 | Dhaka University |
| 15 | Bangladesh Secretariat |
| 16 | Motijheel |
Table: Dhaka Metro Rail MRT Line 6 Stations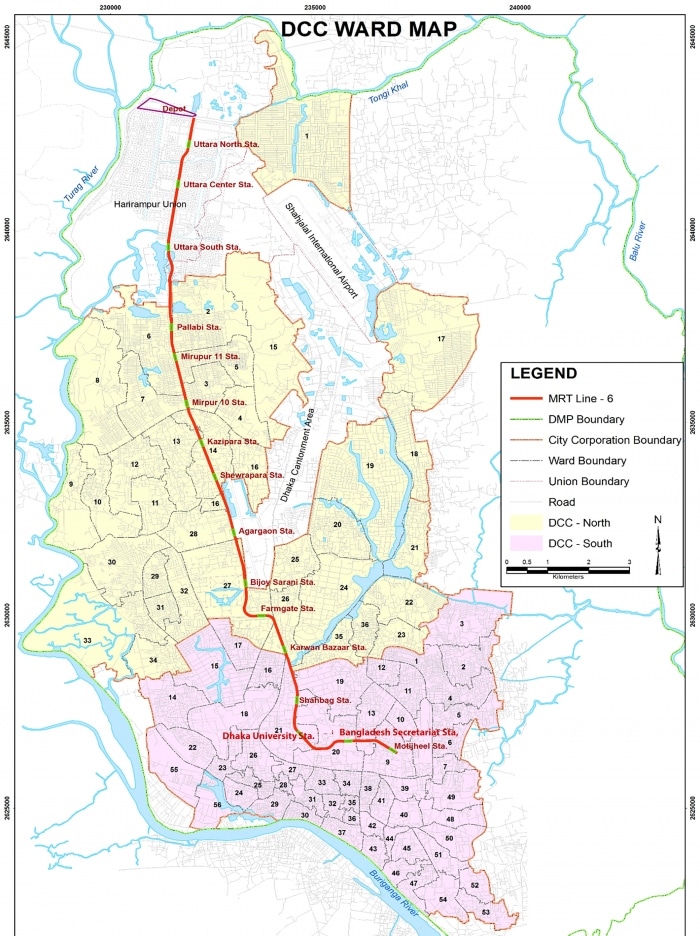 Timeline of MRT Line 6
Get to know the progress and milestones of MRT Line 6 construction and predicted completion dates here! Read more to find out!
| Date | Event |
| --- | --- |
| 2016 | Construction begins |
| 2022 | Trial runs begin |
| 2022 | Phase 1 (Uttara North to Agargaon) opens |
| 2023 | Phase 2 (Agargaon to Motijheel) opens |
| 2026 | Phase 3 (Motijheel to Kamalapur) opens (expected) |
| Future | Phase 4 (Tongi) opens (planned) |
Table: Timeline of Dhaka Metro Rail MRT Line 6
Progress and milestones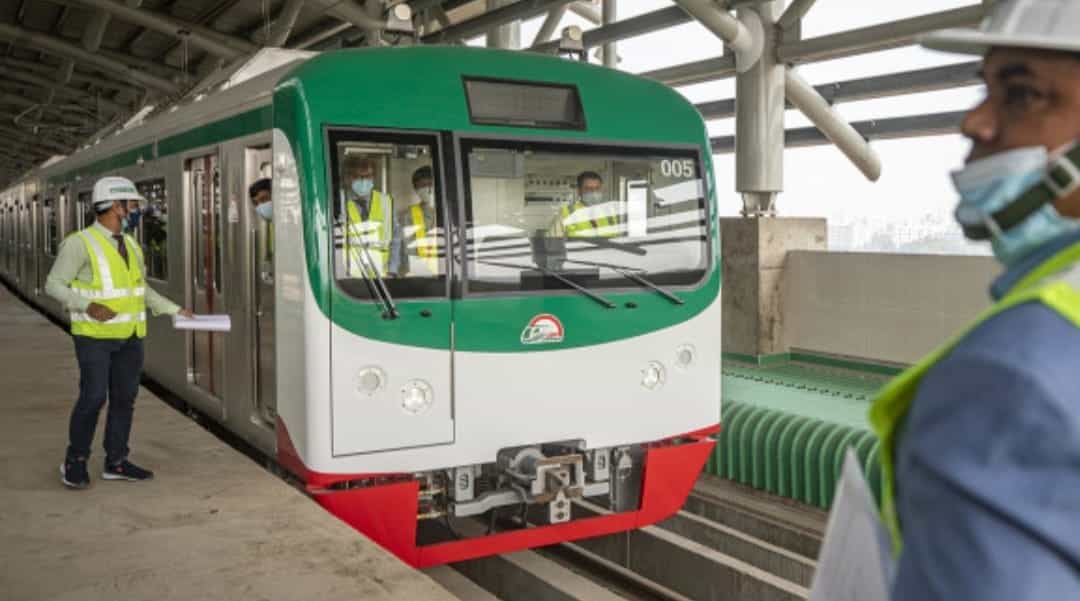 The development of MRT Line 6 has come a long way since its conception in 2005. Over the years, there have been various milestones that mark the progress of this project. In 2012, Dhaka Metro's Master Plan was approved by the cabinet.
Following this, an official groundbreaking ceremony occurred at the Northern Uttara Project Department on March 15, 2016, and construction began soon after. On December 29th, 2022, Prime Minister Sheikh Hasina inaugurated Mass Rapid Transit Line 6 for public use – making it Bangladesh's first rapid transit line! An arguable milestone was achieved in August 2022 when integrated test operations began between Agargaon Station and Banglabazar Station using two trains from China Railway Rolling Stock Corp (CRRC).
With new lines being developed and more stations added to the network each year, the Dhaka MMTS project is well on its way to expanding regional transport across 200 km route networks by 2030!
Expected completion dates
The line 6 of Dhaka Metro Rail is expected to be fully operational in March 2024. This schedule also includes phase three, from Uttara North to Agargaon, which is already functional. Agargaon to Motijheel, which is set to inaugurated by Prime Minister of Bangladesh Sheikh Hasina today. And from Motijheel to Kamalapur, which is due for completion by March 2024.
The other metro lines that are part of the project are slated for completion between 2025 and 2030. The government has allocated funds, and progress has been made on the ongoing construction works and preparation plans such as land acquisition, preparatory drills, technical surveys, etc. Investment from both domestic and international sources has allowed authorities to accelerate projects significantly although there is still much work to be done before passengers can start using the new services across Dhaka City's metropolitan region.
Financing of MRT Line 6
A detailed assessment of the financial sources and investments required to build MRT Line 6 and its subsequent economic impact on Dhaka. (1)
Sources of funding
The Government of Bangladesh has signed a deal with the Japan International Cooperation Agency (JICA) to construct MRT Line 6, with JICA providing approximately 75% or $2.13 billion of the funding.
Other Development Partners such as France's Agence Francaise De Development (AFD), USAID, Germany's KFW bank, and the Asian Development Bank (ADB) have provided more than $390 million in key development loans for MRT Line 6's rolling stock and associated infrastructure projects.
The Government of Bangladesh plans to contribute additional funding from its own budget or through state-owned entities such as the Power Development Board (PDB).
Private sector entities may be involved in order to finance sections of the project that are capable of generating revenue, such as advertising alongside rail stations or within train carriages.
Investment and economic impact
The Dhaka Metro Rail MRT Line 6 project is expected to have a significant impact on Bangladesh's economic growth, with its estimated total investment of $2.8 billion. The Japan International Cooperation Agency (JICA) provides approximately 75% or $2.13 billion of the investments, while the Government and other public sources will provide the rest.
This major venture into railway infrastructure aims to strengthen Bangladesh's transportation capabilities, drastically increasing efficiency in intercity travel over long distances and providing shorter routes for commuters going within cities and between adjoining suburbs/towns surrounding Dhaka city center.
This much-needed connection within pathological congestion points throughout the country has been earmarked not only to provide improved local transit but also to bolster open economic activities both in Bangladesh and among countries around it through better access for foreign businesses seeking opportunities along Dhaka metro rail corridors and lines such as line 6.
Infrastructure of MRT Line 6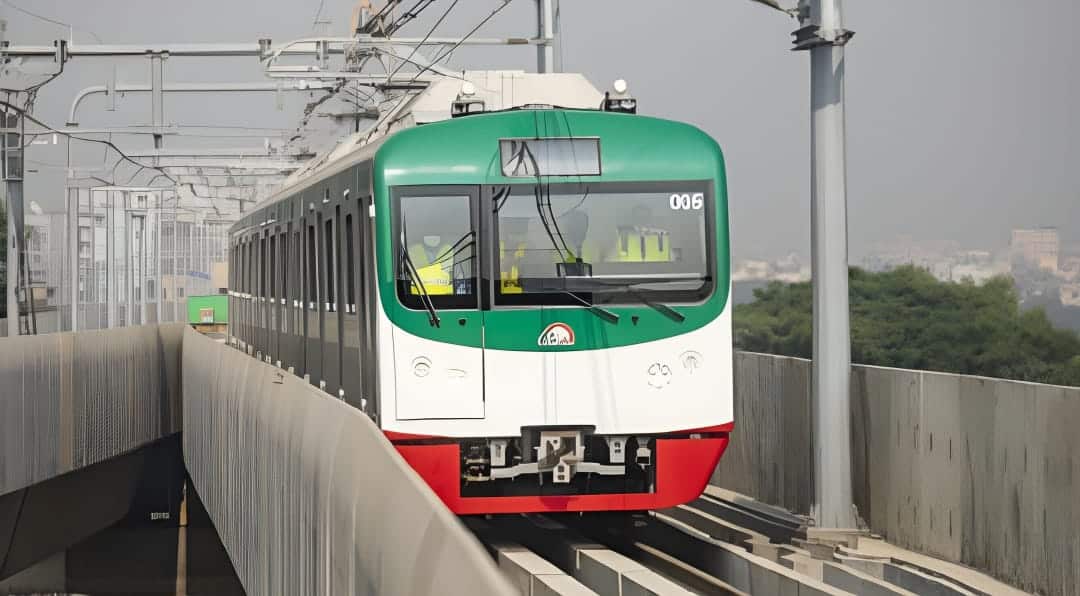 Rolling stock, depot, and station features are key components of this exclusive metro rail line that would greatly improve transportation in Dhaka. Learn more about its development, timeline, and operational services by reading further!
Rolling stock
Rolling stock is a collective term used to refer to vehicles operated on a railway, such as locomotives and passenger cars. Rolling stock plays an important role in the functioning of the Dhaka Metro Rail (MRT) line 6.
Japan-based Kawasaki Heavy Industries and Mitsubishi Corporation have been contracted by Bangladesh Railway to supply rolling stocks for this new metro line of the Dhaka transportation system.
Kawasaki has shipped out six rolling stock cars from Kobe Port destined for the Bangladesh MRT Line-6, while Mitsubishi will ship 10 more by July 2024. The advanced trainsets consist of high-performance features, including improved acceleration speed, automated driverless systems, electrically regulated air conditioning, etc., which are beneficial both energetically and economically.
Depot
The Dhaka Metro Rail project has several components, including the Depot. The depot ensures efficient functioning and maintenance of Dhaka's MRT Line 6 by providing storage for rolling stock and other necessary centre-to-end facilities to maintain peak performance levels.
Taking up 22 acres of land along the route of MRT Line 6 that will connect Uttara North to Motijheel, this facility can accommodate over 16 MRT coaches every 150 long meters in length.
It comprises multiple sections – a wheel workshop for wheel/axle checkup; an engine section with 2 pit lines for inspection; a paint shop; storing & washing hangars equipped with steam cleaning equipment as well and toilets designed according to METRO standards.
The entire depot is adjoined by 2 yards – a dead-end yard that allows movement within the yard without technical reversals – allowing trains entering or leaving the depot to be cleaner than regular operation days while keeping noise pollution at bay.
Simultaneously, a loop line yard enables the maximum possible utilization of existing track resources & offers flexibility in testing any new rolling stock using less track resources whilst not affecting mainline running operations.
Station features
Station features on MRT Line 6 are designed to provide commuters with a pleasant and convenient experience. All stations will be fully air-conditioned to ensure comfort in the humid climate of Dhaka, equipped with digital information systems providing real-time updates for passengers.
The Dhaka Metro Rail MRT 6 stations have a number of features designed to make them comfortable and convenient for passengers, including:
Accessibility: All stations are fully accessible to disabled passengers, with ramps, elevators, and accessible restrooms.
Security: All stations have CCTV cameras and security guards to ensure the safety of passengers.
Information: Each station has information displays and customer service counters where passengers can get help with directions, fares, and other questions.
Amenities: Stations have a variety of amenities for passengers, including vending machines, ATMs, and public restrooms.
Comfort: Stations are air-conditioned and have comfortable seating areas for passengers to wait for their trains.
In addition to these general features, some MRT 6 stations also have specific features, such as:
Uttara North Station: This is the largest station on the line, and it has a number of features to accommodate its high volume of passengers, such as multiple entrances and exits, wide platforms, and a large concourse area.
Farmgate Station: This station is located in a busy commercial area, and it has a number of features to make it convenient for commuters, such as direct access to shopping malls and office buildings.
Motijheel Station:

 This station is located in the heart of Dhaka's business district,

 and it has a number of features to make it convenient for business travelers,

 such as a direct connection to the city's main railway station.
Operation and Services of MRT Line 6
The MRT Line 6 will offer commuters convenience, reliability, and safety with its integrated ticketing system, automated fare collection, scheduled timetables, and modern stations.
Benefits for commuters
MRT Line 6 will bring major improvements to the public transportation system of Dhaka, with great benefits for commuters. Below is a list of key advantages that this project will provide:
Ridership statistics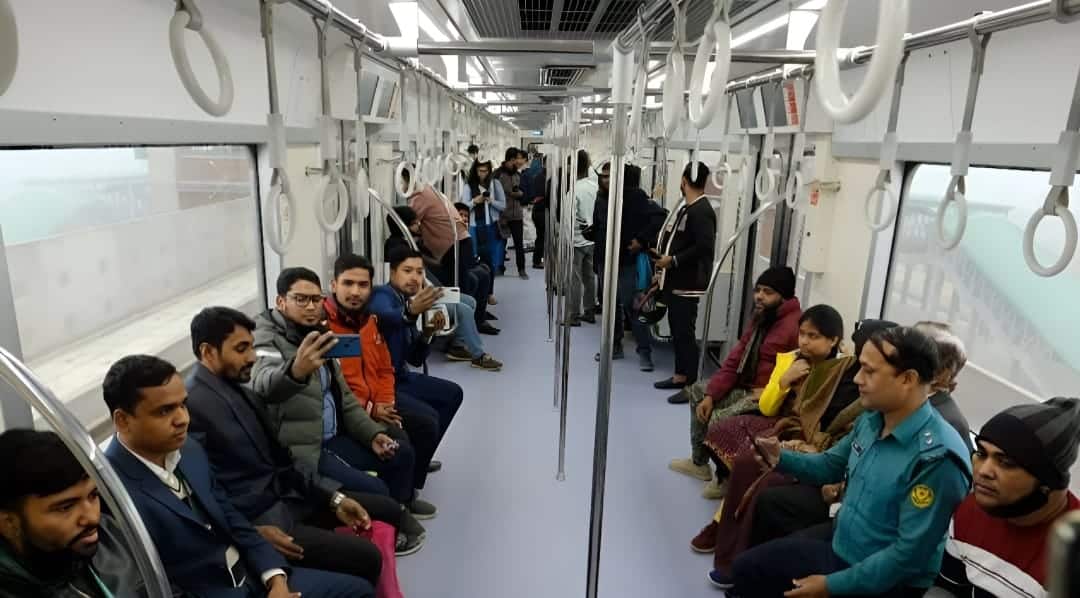 The ridership statistics for the MRT Line 6 paint an impressive picture of its impact on transportation in Dhaka. An increasing number of passengers utilize this metro line for their daily commutes, reinforcing its role as a reliable and efficient transportation option.
For a clear understanding, let's look at the ridership data:
| Year | Number of Passengers | Impact on Transportation |
| --- | --- | --- |
| 2022 | Estimated 1 million | Significant reduction in travel time and congestion in Dhaka city |
| 2023 (Projected) | More than 2 million | Expected to alleviate traffic congestion further and improve connectivity |
| 2024 (Projected) | Around 3 million | Further enhancement of public transportation efficiency and a decrease in carbon emissions |
| 2025 (Projected) | Over 5 million | Major impact on land use planning and environmental sustainability in Dhaka |
Table: Predicted Passengers over the years using Metro Rail in Dhaka
This promising trend of increased ridership is a testament to the importance of MRT Line 6 in revolutionizing public transportation in Dhaka. It not only ensures a comfortable commute for millions but also significantly contributes to the city's socio-economic well-being.
Incident management
The incident management system in Dhaka Metro Rail is the backbone of its security and safety operations. Systematic and highly controlled procedures are carried out to maintain optimum efficiency at all times.
Security is provided through a combination of local police, reserve police, and Ansar personnel, and CCTV surveillance cameras placed throughout the stations and tunnels. Fire drills, baggage inspections, and operating guidelines ensure people's safety, along with advanced monitoring systems that use complex data analysis techniques to anticipate potential incidents or risks before they occur.
Additionally, station-based communication systems alert authorities for necessary action during crises, such as accidents or emergencies involving passengers or staff members on board trains within their jurisdiction.
Challenges and Impact of MRT Line 6
Identification and evaluation of challenges posed by MRT Line 6, such as construction obstacles, fare considerations, infrastructure costs, environmental impacts, and other operational issues.
Construction obstacles
During the construction of MRT Line 6 in Dhaka, a number of major obstacles had to be overcome. One challenge was selecting land for the depot needed for the operations and maintenance of the metro rail system.
There were disagreements over the location, which delayed decisions on this vital piece of infrastructure. Another issue faced during Dhaka Metro Rail's MRT Line 6 project development was changes to route alignments due to disputes regarding layouts or existing buildings crossing paths with proposed lines which caused delays and cost overruns.
Furthermore, at various locations along the main route from Uttara North station to Motijheel station, construction sites created dust and noise pollution, which had an adverse effect on public health.
Adding further complications, events such as the July 2016 Dhaka attack posed security concerns causing breaches that resulted in restrictions being enforced, as well as halting other work-related activities temporarily.
Fare considerations
Dhaka Metro Rail MRT 6 is set to become the City's new mass transportation lifeline, providing much-needed relief from the traffic congestion issues. The fare prices of MRT 6 will be key to its success, and so far, there has been no disclosure of what these would be. (3)
Efforts are being made by Dhaka transport authorities to ensure that the fares are pocket-friendly for commuters. This will also encourage users who have previously opted out of it due to unaffordable pricing structures in other forms of public transit.
Measures are also in place to regulate anyone attempting to manipulate the ticketing system or ride without paying on an unnecessary basis in order to keep costs low for everyone involved.
Fares may change depending on varying locations within the network, and potential discounts or concessionary tickets may also be available depending on age and income brackets, among other criteria.
You can check the ticket price of Dhaka Metro Rail if you want a smooth travel experience.
Environmental impact
The MRT Line 6 project is having an undeniable impact on the environment and public health in Dhaka. It is inevitable that large-scale construction works such as this will generate a significant level of dust and noise pollution, particularly during the initial stages of development.
These risks to public safety are being carefully monitored by municipality authorities due to concerns about potential long-term consequences for health, especially with regard to air quality if not properly contained.
Fortunately, rigorous environmental monitoring protocols have been put into place since the early planning phases of the project in order to ensure minimal risk from airborne pollutants.
Takeaway
The Dhaka Metro Rail MRT Line 6 has been a long-awaited addition to the city's rapidly evolving and much-needed transportation infrastructure. It is hoped that this project will prove invaluable in easing traffic congestion by providing a fast and efficient mode of transport for commuters around the city.
With its array of features, such as overhead electric trains, operational lines, station amenities, rolling stock depots, and modern incident management systems, this rail line has the potential to be an economic powerhouse driving growth in the twenty-first century.
It is expected to have broader implications on sustainable development through improvements in air quality due to less vehicular pollution and increased mobility opportunities with direct access from areas like Uttara into other parts of town, including Agargaon or Motijheel.
The existing network is set to expand even further, increasing accessibility within cities and helping alleviate population density challenges facing Dhaka's overpopulation issue today while creating employment opportunities across multiple sectors.
Ultimately being largely financed by Japanese investments, it sends out a strong signal internationally promoting shared prosperity among partner cities and can transform urban transportation landscapes globally, making Dhaka's MRT Line 6 one worth celebrating!
Frequently Asked Questions (FAQs)
If you want to know further about the Dhaka Metro Rail MRT Line 6 Project, check the answers to some commonly asked questions below.
1. What is the Dhaka Metro Rail MRT 6?
The Dhaka Metro Rail MRT 6 is a mass rapid transit system consisting of elevated and underground railways located in Dhaka North and South, Bangladesh.
2. When did the construction of the Dhaka Metro Rail MRT 6 begin?
Construction of the Dhaka Metro Rail MRT 6 began in 2016 and was completed in 2022 partially.
3. How many stops does the Dhaka Metro Rail MRT 6 have?
The Dhaka Metro Rail MRT 6 has 16 stations with four different lines that cover a total distance of more than 20 kilometers.
4. How will this new metro rail improve transportation throughout Bangladesh?
This new metro rail will reduce travel times significantly by reducing traffic congestion and breaking up long journeys into smaller commutes on each line, making it more convenient for commuters to get around quickly without worrying about traffic jams or other interruptions caused by city roads being blocked off for various reasons such as roadworks or protests.
References:
https://en.wikipedia.org/wiki/MRT_Line_6_(Dhaka_Metro)
https://dmtcl.gov.bd/
https://dhakametro.online/
https://dmtcl.portal.gov.bd/site/page/0cb37e4b-becf-4da7-8463-4f1a8c228fc0/MRT-Line-6-Route-Map