The Most Intense Cricket World Cup Rivalries Through History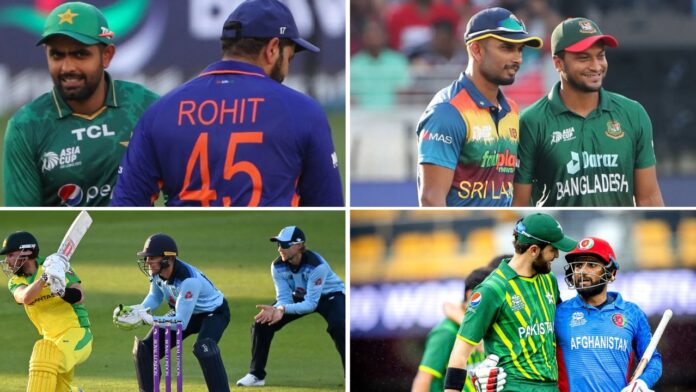 The Cricket World Cup ignites historic and bitter rivalries between cricketing nations. With the tournament's round robin format guaranteeing that all 10 teams will play each other at least once, age-old tensions and newly formed feuds inevitably play out on the pitch. Here's an in-depth look at some of the spiciest matchups in Cricket World Cup history.
India vs Pakistan: A Rivalry Born from Partition
No other rivalry in cricket generates as much hype and anticipation as a matchup between India and Pakistan. Ever since Britain's Partition of the Indian subcontinent in 1947 created the separate countries of India and Pakistan, the two nations have fought multiple wars and maintained mostly frosty diplomatic relations. 
With militarized borders and visa restrictions often preventing citizens from traveling across the border, cricket provides a hugely important outlet for these two rivals to channel their historic tensions.
In Cricket World Cup tournaments, Pakistan is yet to register their first win over India despite leading the overall head-to-head record in both Test matches and ODIs. Whenever India and Pakistan meet at a World Cup, tickets sell out almost instantly, underscoring the immense public appetite for this storied rivalry.
At the 2023 World Cup in India, Pakistani fans have been unable to travel and attend matches due to challenges acquiring Indian visas. But India vs Pakistan matches still create a palpable sense of anticipation and electricity. 
This time, the arch rivals faced off on October 23rd at the enormous Narendra Modi Stadium in Ahmedabad. As expected, all tickets were sold out within an hour of going on sale. Such is the inevitability of this tense and emotionally charged matchup between two bitter neighbors. Additionally, you can also read about- ICC World Cup 2023 India Team Analysis [Key Players to Watch]
Australia vs England: Sparks Fly in the Ashes 
The heated sporting rivalry between Australia and England is one of the oldest in cricket, dating all the way back to the 19th century. It originated when a British newspaper published a mocking obituary about English cricket following the loss of their team to Australia, the first Australian side to visit England on tour. 
The satirical obituary declared that "the body [of English cricket] will be cremated and the ashes taken to Australia". Soon after, the English media dubbed the next tour by Australia as the quest to retrieve "The Ashes", giving birth to one of cricket's most storied rivalries.
While The Ashes is most prominently associated with Test match cricket, the rivalry between Australia and England frequently carries over into their ODI and T20 World Cup clashes as well. England finally broke through for their first ODI World Cup trophy in 2019, beating the Aussies in the semifinals on home soil.
But when looking at the overall ODI head-to-head record, Australia still maintains a dominant edge with 83 wins compared to England's 50. The two sides are scheduled to write the next thrilling chapter in their historic rivalry on November 4th in Bengaluru. If you want you can also read- ICC World Cup 2023 Australia Team Analysis With Predictions
Afghanistan vs Pakistan: A Complex Geopolitical Relationship 
Despite Pakistan's pivotal role in initially nurturing Afghanistan's national cricket team and giving refuge to players during wartime, matches between these two neighboring countries have grown increasingly heated and tense over the past few years. 
While Pakistan still maintains a winning edge in the head-to-head record, surging underdog Afghanistan has rapidly elevated their game and given Pakistan multiple major scares. This has led to some thrilling last ball finishes that didn't go Afghanistan's way, igniting passion amongst their fans.
Tensions between the two reached a boiling point in 2022 when angry Afghan fans vandalized a stadium and threw chairs after a last-ball loss to Pakistan in the Asia Cup. There have also been heated on-field confrontations, including an incident where Pakistan's Asif Ali angrily brandished his bat at Afghanistan bowler Fareed Ahmad.
This complex cricketing rivalry is deeply intertwined with the two nations' complicated geopolitical relationship and shared culture. The next chapter will unfold on October 23rd in Chennai amidst a charged atmosphere.
Bangladesh vs Sri Lanka: The Infamous "Nagin" Dance
In 2018, Bangladesh cricketer Nazmul Islam's signature cobra "nagin" dance celebration sparked an intensifying rivalry with Sri Lanka. When Sri Lanka won the 2018 T20 series against Bangladesh, Danushka Gunathilaka mockingly did his own version of the cobra dance to taunt the Bangladeshis.
A few months later at the Nidahas Trophy, Nazmul busted out the dance again after Bangladesh notched another win over Sri Lanka. In response, the entire Bangladesh team performed an exaggerated coordinated nagin celebration on the pitch, enraging the Sri Lankan squad and fans.
Ever since, this South Asian rivalry has been defined by provocative placards and signs in the crowd, smashed up dressing rooms, and venomous on-field antics. Despite Sri Lanka's overwhelming advantage in the ODI win-loss record, Bangladesh cricket has been rapidly rising. 
When these two bitter rivals meet on November 6th in New Delhi, expect nonstop intensity and animosity from the first ball to the last.
Australia vs India: Clashing Cricket Giants
Test match showdowns have largely fueled the intensifying rivalry between cricketing heavyweights Australia and India. Things moved to another level after India's epic comeback win in the 2001 Eden Gardens Test, when they became just the third team in history to win after being forced to follow-on.
The rivalry became particularly heated once they started facing off in knockout stages of ODI World Cup tournaments. In 2011, India gained revenge for 2003 by beating Australia in the quarterfinals on their way to finally winning a World Cup trophy on home soil. 
Australia returned the favor by thrashing India by 95 runs in the 2015 World Cup semifinals in Sydney, paving the way for their record 5th ODI World Cup title. 
When looking at overall ODI results, Australia narrowly leads the head-to-head with 83 wins compared to India's 50. But India served notice that they are now equals by tying their opening 2023 World Cup matchup, showing this is one of cricket's preeminent modern rivalries between two titans.