Colin Kaepernick Offers to Join Jets, Rodgers Says Team Needs to "Grow Up"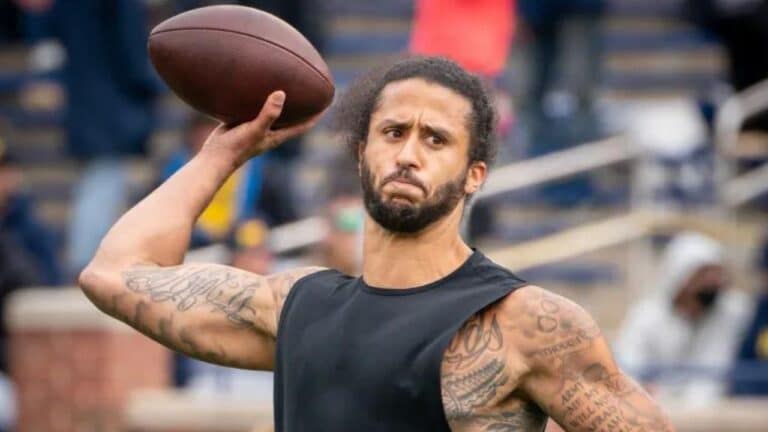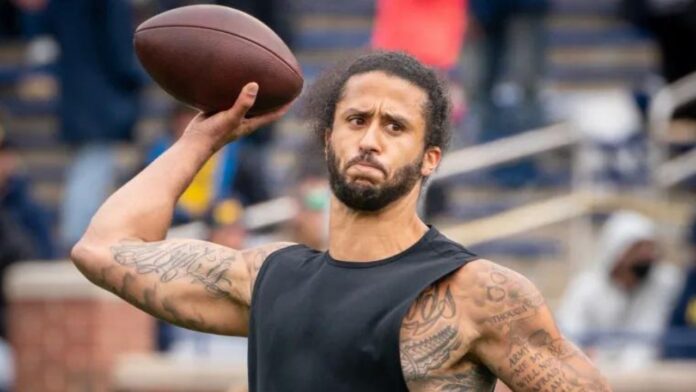 Former NFL quarterback Colin Kaepernick has offered his skills to the failing New York Jets in a letter.
In an Instagram post to Jets general manager Joe Douglas, Kaepernick claims he would be "honored" to join the team and "lead the practice squad" with "the sole mission of getting your defense ready each week."
Following Aaron Rodgers' season-ending Achilles injury in the team's first game of the season, the Jets have been forced to turn to Zach Wilson as their starting quarterback, who has struggled in the position.
"I am sure of my ability to provide you with an elite QB option if, God forbid, QB1 goes down," Kaepernick wrote in a message. "However, I understand that you and possibly others may have reservations about my playing talents.
"I believe that this plan will allow me to be of great service to the team as a practice squad QB while also providing you with a low-commitment opportunity to assess my capabilities to help in any other capacity you may see fit."
"Worst case scenario, you look at what I have to give and aren't impressed. In the best-case scenario, you know you have a real weapon at your disposal in case you ever need it. In either of these scenarios, I would be dedicated to preparing your defense week in and week out throughout the season, and I would wear that obligation as a badge of honor."
Wilson, the former No. 2 overall pick in 2021, has underperformed in his two seasons with the Jets, which was a major reason for Rodgers' offseason purchase.
Wilson has continued to demonstrate why he was benched in favor of Rodgers since being put back into the starting lineup. Despite leading the squad to an opening-week victory over the Buffalo Bills, the Jets have since lost to the Dallas Cowboys and the Patriots, with Wilson appearing flustered and out of sorts.
It has prompted calls for the organization to consider alternative quarterback options, with Joe Namath, the only quarterback to win a Super Bowl with the Jets, becoming the most recent to do so.
"I wouldn't keep him," Namath remarked on 98.7 ESPN New York's The Michael Kay Show. "I've had my fill of Zach Wilson. Is that correct? "I've had enough."
The Jets addressed those concerns in part by adding veteran quarterback Trevor Siemian to the practice squad on Tuesday. Additionally, you can also read about- ​​The Importance of Team Chemistry in the NFL: Building a Winning Culture
The uncertainties about Wilson's permanence at the helm of a team with postseason expectations remain, and Kaepernick says he is willing to assist fill the hole.
The 35-year-old claimed that being added to the practice squad would help the team's defense to better prepare against a mobile quarterback while also allowing team management to evaluate Kaepernick's ability without putting pressure on Wilson.
Kaepernick has not played in the NFL since 2016, when he stirred controversy by refusing to stand for the national anthem before games to protest police brutality and racial injustice while with the San Francisco 49ers.
Kaepernick opted out of his 49ers contract in March 2017 and became a free agent, but no NFL team signed him. In October 2017, he filed a grievance against the NFL, saying that teams were conspiring to keep him from getting a job. In 2019, the quarterback resolved his grievance with the NFL.
In the letter, he addressed the subject of his long absence from the NFL, noting that he has remained ready.
Read More: The Ultimate Ranking: Top 15 Greatest NFL Teams of All Time
"Unlike many of the veteran quarterbacks mentioned in the media, I have never retired or stopped training." For the past six years, my training program has remained consistent: Monday through Friday, 5 a.m.-8 a.m. working on the field and in the weight room. I've been following this training schedule religiously for the past 6 years, hoping that a chance may present itself."
Kaepernick also sent references for Douglas in his letter, including two of his former 49ers head coaches, Jim Harbaugh and Chip Kelly, as well as Las Vegas Raiders owner Mark Davis.
We Need to Grow up a Little Bit
While he can't help on the field, Rodgers is doing his part as a veteran in the locker room by having a soothing effect on the rest of the Jets team.
On "The Pat McAfee Show" on Tuesday, the 39-year-old said he'd like to see the entire squad "take a couple of breaths," while also advocating for more team unity.
"I think too many little side conversations and we need to grow up a little bit on offense, lock in and do our job – everybody – and not point fingers at each other and that's everybody," the four-time NFL MVP stated.
"Don't point fingers at the coaching staff, don't point fingers at each other, just get back to work and get the job done."
"It's more of the side stuff that I don't like," Rodgers continued. I want to see us stick together during the difficult times.
"I told them in the preseason. Our most difficult task is dealing with success. That is, whether we have success or not, it does not mean that we are always winning; you must handle it well. How do we react when we aren't experiencing success? How do we deal with adversity? That includes our fan base and previous players. You're not doing anything to help the cause."
The Jets' schedule does not ease up with a Sunday night game against the reigning champion Kansas City Chiefs.