Why You Need a Cantilever Patio Umbrella?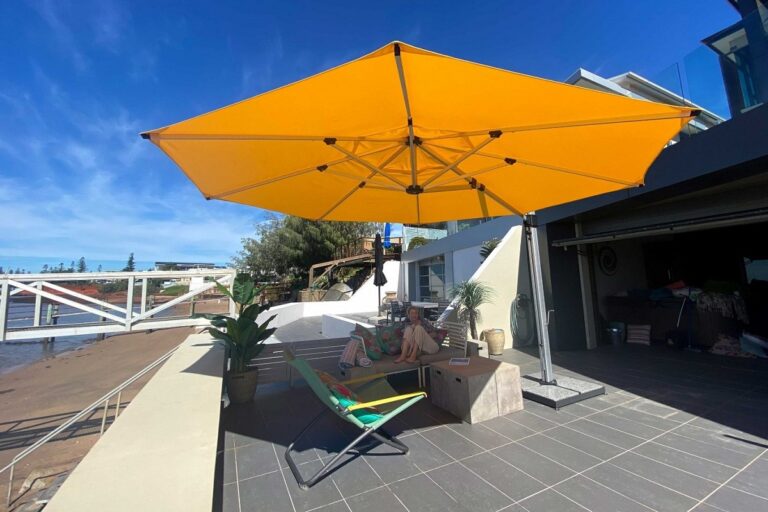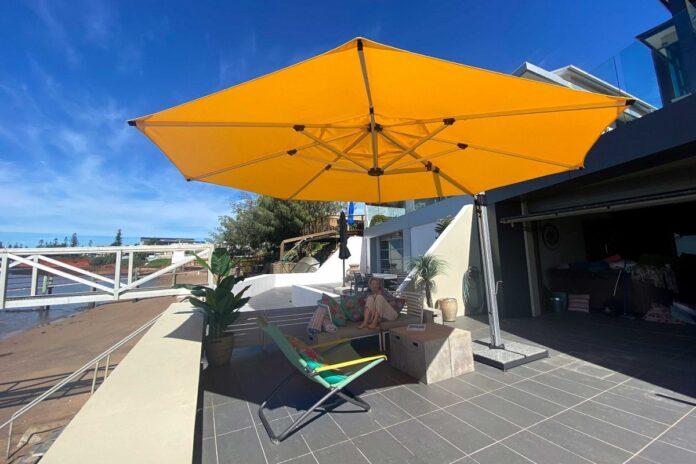 The cantilever patio umbrella is a modern iteration of the classic outdoor umbrella. What sets it apart from all other varieties of the commercial outdoor umbrella is its unique design and functionality. It comes with a sturdy side-post and a canopy attached to it with the help of a swivel arm. You can tilt the canopy and also rotate it 360 degrees around the side-post to track the sun and block it.
Like all other commercial umbrellas for sale, the cantilever patio umbrella comes with canopies that are UV and waterproof. With this cool accessory installed in your patio, you and your guests can lounge outdoors without having to worry about nasty sunburns and the rain.
Outdoor umbrella manufacturers give their customers a lot of bespoke services. Chief among these is the custom printing service. You can choose the color and design of your canopy and really turn it into your own personalized fashion statement.  
Here are some of the key features that make the cantilever patio umbrella a must-have product:
Maximise space utilization: No matter how large or small your patio is the cantilever umbrella provides you optimum shade without taking up unnecessary space in your patio. This leaves you with a lot of room to experiment with your furniture setup and overall décor. You can have cool outdoor chairs and tables that suit your taste and it still leaves room for things like an outdoor kitchen setup or barbeque.
A modern décor: If you are planning to turn your patio into a modern lounge, the cantilever umbrella is the accessory you need. It saves you the cost of building a permanent structure and converts an unutilized patio into a chic lounge that people love. Barbeques and brunches become so much more interesting in the cool shade of a cantilever patio umbrella!
Brand Promotion Tool: A simple and effective brand promotion tool – that's what your cantilever patio umbrella can function as. Ask your umbrella manufacturer to print your brand logo on the canopy, choose your brand colors for the fabric and you have your personalized brand promotion tool at a cost that doesn't burn a hole in your wallet!
Smart mounting options: Cantilever patio umbrellas come with different mounting options. You can choose the fixed-base mount if you have a sprawling patio and don't intend to move around your umbrella. But make sure you do it on firm ground. If space is a constraint, use the wall-mounted cantilever umbrella. This will turn a small patio into a cool lounge.
Easy to install: You don't have to be an expert to install a cantilever umbrella. It's easy to assemble and disassemble when not in use or if you are moving to a new place.
But which cantilever patio umbrella is a perfect match for your outdoor space? Our testers went ahead and tested a whole bunch of custom patio umbrellas and came up with the following options.
1. The Cantilever Square from Flare Shade
This big and robust square canopy umbrella from Flare Shade is a fantastic product when it comes to temporary shade solutions for your patio. You get two canopy sizes – 11'x11' and 13'x13'. The side-post is a boon if you don't prefer the umbrella pole getting in your line of sight. It also gives you a lot of room to experiment with seating arrangements.
The frame of this cantilever patio umbrella is made from polished commercial-grade aluminum. Our testers found this material to be extremely durable and literally weather-proof! The swivel arm attaching the canopy to the post can be used to tilt the canopy and also rotate it 360 degrees so that you can block the sun effectively at any time during the day.
You can choose your canopy fabric from the two available options – Spanish Recasens and Italian Para Tempotest. Both these fabrics are UV and waterproof and retain their color and shine for a very long time. Overall, the Cantilever Square umbrellas from Flare Shade exude class and authentic European style.
Our testers found these umbrellas to be suitable for poolside lounges and cafes.
2. The Cantilever Octagonal from Flare Shade
This cantilever patio umbrella from Flare Shade comes with a classic octagonal canopy of 13 feet in diameter. Like its square canopy sibling, this one too has a side-post that lets you experiment a lot with the seating arrangement. You can choose to have sprawling furniture set up in the shade of this big patio umbrella.
The canopy fabric options are similar to the Cantilever Square – Spanish Recasens and Italian Para Tempotest. The frame is made from heavy-duty polished aluminum and you can expect these umbrellas to last really long.
The Cantilever Octagonal from Flare Shade is bound to amplify the ambiance of your décor.
Conclusion
The cantilever patio umbrella is a fantastic modern innovation. It is not just a shade solution, but a revenue generator as well. Think of this – if you are a café owner and happen to have an unutilized patio on your property, you can easily turn it into a lounge for your customers with a cantilever umbrella. Isn't that cool?