A List of 50 Best Songs in 2023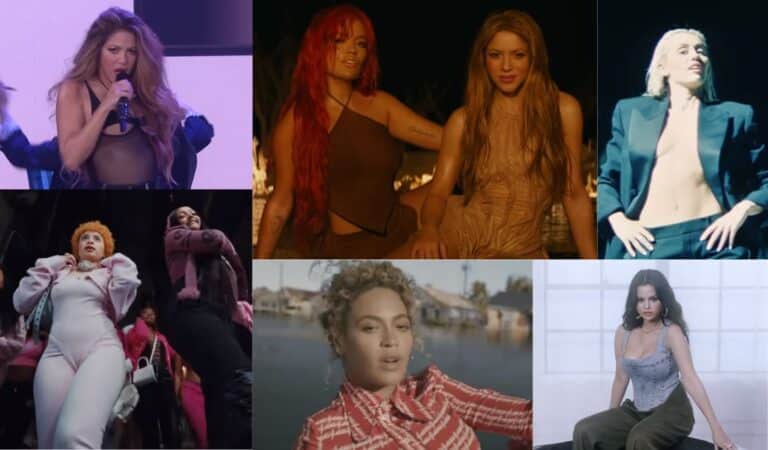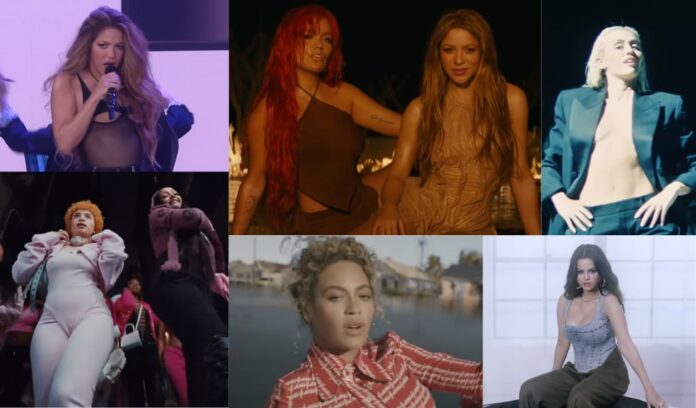 It's kind of funny to make a list of midyear songs in 2023. This year, maybe more than any other, has made us ask, "What does it even mean for a song to be from "this year"?" Because of these things.
With 2023 Hot 100 hits from Lady Gaga, Miguel, and Tyler, the Creator that were all originally released in the 2010s, and a No. 1 from The Weeknd that was a new version of a 2016 deep cut, old is new again on top 40, and there's never been less of a line between old and new. When even Taylor Swift has to change her plans for promoting Midnights to push a song from four albums ago, it's clear that the modern pop timeline is in chaos.
Still, even though the past and the present are always competing with each other, 2023 has given us a lot of new songs that are actually making their debut or popping up on the charts for the first time. This has helped keep us from drowning in loops. Rising stars have had their biggest crossover moments to date, new sounds and scenes have made themselves known around the world, and unexpected artists have worked together to make each other more successful on the charts. Some of the most well-known names are back with both new songs and old ones, showing that they can still go popular without TikTokers having to dig into their back catalog.
Here are the 50 songs that the our team likes best so far this year. We're still sticking to songs that came out or first made a big impact on the charts, but we know that our definitions will have to change as the years go on. In 2023, pop music is weird and unexpected, and we wouldn't want it any other way.
1. Miley Cyrus, "Flowers"
Miley Cyrus' hotly anticipated new song "Flowers" was released at the beginning of the year, much was made of the possible Easter eggs that suggested the song was inspired by her divorce from Liam Hemsworth. These included the fact that the song was released on the actor's birthday and lyrics that alluded to building a home and watching it burn, much like their home did in a 2018 Malibu wildfire. The song's strength, however, lay in its universal themes rather than its particular from the listener's own life.
Gloria Gaynor of "I Will Survive" fame and famous free spirit Diane Keaton, who danced to "Flowers" like no one was watching in a viral video from her backyard, both co-signed the polished pop song. The song, with its sing-along chorus and empowering self-love message, became an overnight breakup anthem. The song's equally popular music video (which has amassed close to half a billion views on YouTube) also features a solo dance party by Cyrus. The video depicts Cyrus enjoying a busy day while strolling in hooded, metallic clothing, stripping off for a swim and a strenuous workout, and then changing into a power suit and dancing under the spotlights of helicopters.
With "Flowers" remaining a dominant eight weeks at No. 1, this culminated in Cyrus' 17-year career's longest Hot 100 chart-topper. Bruno Mars' "When I Was Your Man," which appears to have served as quite literal inspiration here, in particular, seems to be the typical, desperate love song we hear on pop radio that insists romance is the missing piece in life. "Flowers" forcefully refutes this notion by stating that love is, in fact, all you need—it just doesn't have to come from another person. Consequently, is this song about Miley's ex? Nope. Miley is the subject. — K.A.
2 . Bizarrap & Shakira, "Bzrp Music Sessions, Vol. 53"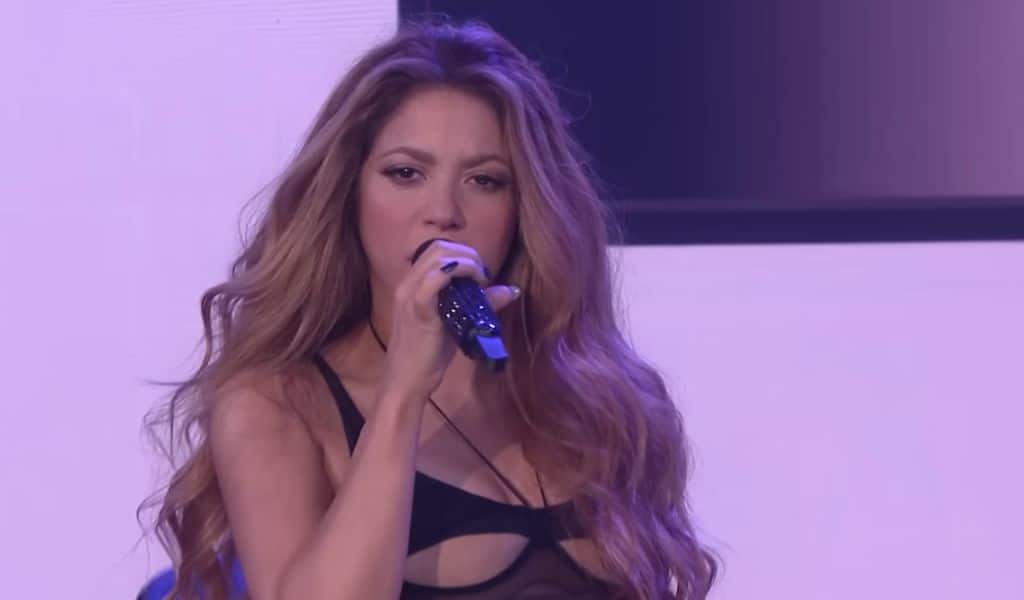 Shakira is renowned for her lyricism, which is strong and driven by real-life experiences and emotions. Her first song of the year is evidence of this. The Colombian artist collaborated with Bizarrap for "Bzrp Music Sessions, Vol. 53," publicizing her breakup with longtime companion Gerard Piqué and even making fun of his new girlfriend Clara Chia Marti in the process. She chants in the nearly four-minute dance-pop song, "I'm not getting back with you, don't cry for me, nor beg me/ I knew that it's not my fault that they criticize you/ I simply make music, sorry that it upsets you. The song debuted at No. 1 on Billboard's Hot Latin Songs chart, becoming Shak's 12th No. 1 on the chart and her first since 2016. Shak emerged from the much-needed therapy session more assertive and empowered than ever. — J.R.
3. PinkPantheress & Ice Spice, "Boy's a Liar, Pt. 2"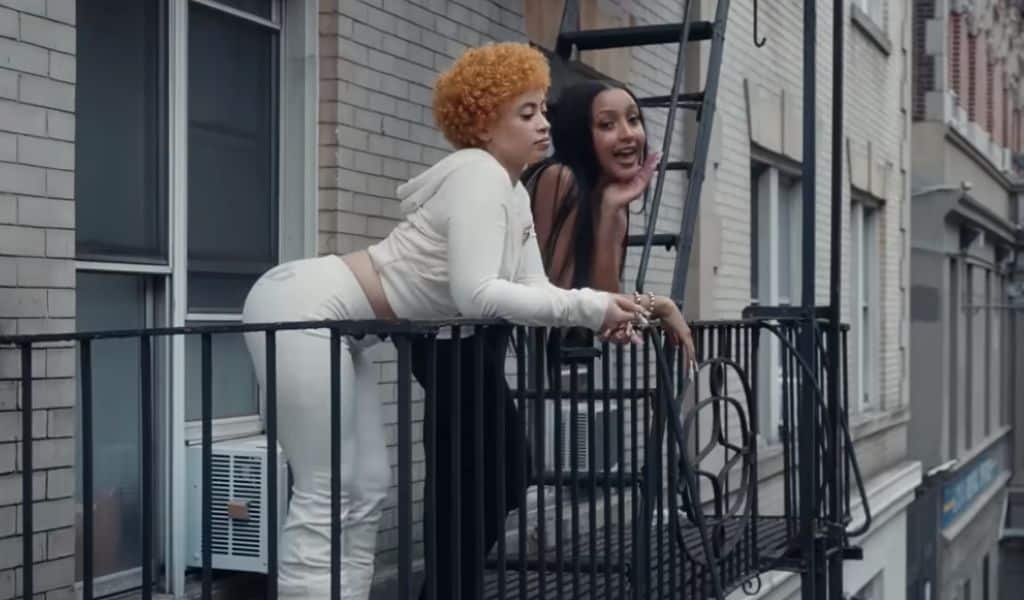 PinkPantheress, a U.K. pop star, had spent two years just below the mainstream with a series of rubbery, forward-thinking, and preternaturally catchy songs and a well-received debut album. She just needed a little push to get to the top, and that came in February with the Ice Spice-featuring version of her 2022 hit "Boy's a Liar." The two viral sensations played off each other's energy, attitude, and excitement to make the infectious heartache anthem, produced by Mura Masa and influenced by both modern East Coast club music and old 8-bit video game music, into one of the year's biggest hits. And luckily, no one tried to deny it: "Liar" shot to No. 3 on the Hot 100, a too-rare case in 2023 of two truly new and exciting young artists finding their way to crossover success. — A.U.
4. Coi Leray, "Players"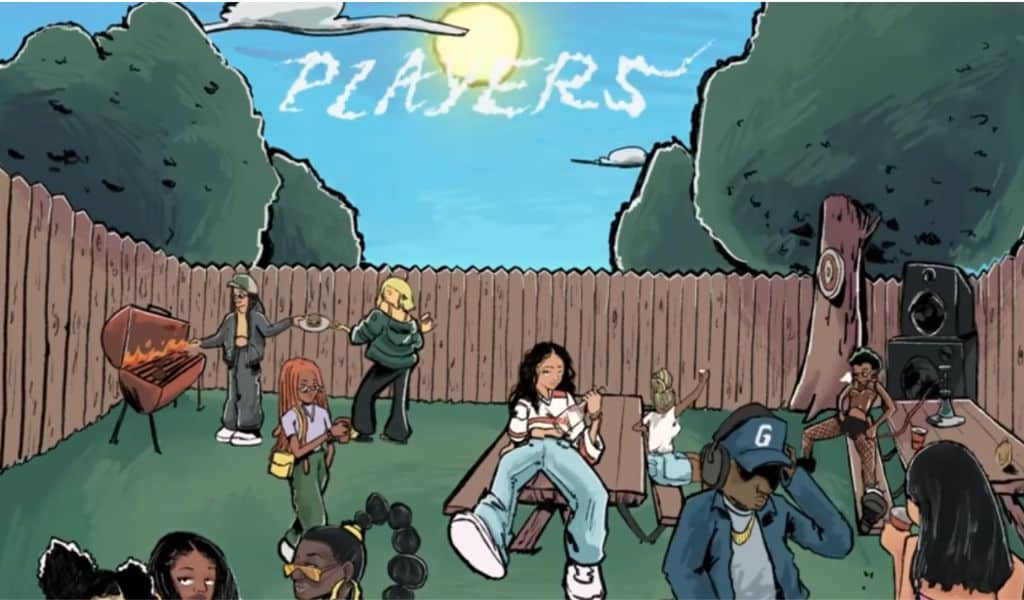 "Players" came out before the weather started getting warmer, but it sounds like it was made for a summer block party or any dance floor that needs a quick wake-up call. "The Message" by Grandmaster Flash & the Furious Five's 1982 hit "The Message" serves as the track's catchy instrumental hook. The track has a throwback groove (Coi has said she was inspired by Mase and Biggie's laid-back flows), but it still feels very modern, thanks to Coi's undeniable charm and clear delivery of her own message: that girls can be players too.
"Players" became Coi's first top 10 hit on the Hot 100 and her first entry without any co-credited acts. The song went viral, and its popularity in the Jersey Club scene was boosted by DJ Smallz 372's popular remix. Even though it's still too early to tell if she'll become a true solo star, there's every reason to think that the smart and sassy MC is a player who won't be disappearing from the radio any time soon. — R.M.
5. Lana Del Rey, "A&W"
The confluence of fact and fiction is purposefully blurred in some of the best tunes. Few modern pop composers are as skilled at fusing fictional and true-life narratives as Lana Del Rey, a.k.a. Elizabeth Grant, a.k.a. Lana Del Ray. In just over seven minutes, "A&W," a lovely two-part song off her Ocean Blvd album, transitions from the brooding, folk-inspired reflections of "American Whore" into the sensual trap-infused moans of "Jimmy." With a careful integration of her own experiences with those of the characters in her songs, Lana examines the contradictions of sexual emancipation in a sexually restrictive and violent society, body image, childhood trauma, drug misuse, and sex addiction. "A&W" is a career high for Lana Del Rey and is a remarkable mashup of psychedelic nihilism and themes from her Born to Die period. — K.D.
6. Eslabon Armado & Peso Pluma, "Ella Baila Sola"
You might refer to it as the song that most clearly illuminated the recent Mexican musical revolution. The song "Ella Baila Sola" (She Dances Alone), written by teenage leader Pedro Tovar of the Mexican American band Eslabón Armado and performed with up-and-coming star Peso Pluma, became the first regional Mexican song to top the Global 200 chart. A crush at first sight is described in the "romantic sierreo" piece, which is famous for its strumming guitars, trombone solo, and Tovar and Peso's contrasting vocals. It also attracted international notice and peaked at number five on the Hot 100 because to its flowing melody. — L.C.
7. Raye feat. 070 Shake, "Escapism"
In her TikTok-fueled, trip-hop-tinged smash "Escapism," starring 070 Shake, British singer-songwriter Raye elegantly unpacks the unpleasant aftermath of a breakup – full of alcohol, bumps, numb wishes, and "dumb decisions." Raye's new journey as an independent woman, who has also discovered freedom in real life after quitting Polydor Records, is highlighted by Mike Sabbath's upbeat but stormy production. And Raye is experiencing the benefits of every creative and professional risk she's made, as "Escapism" became her (and 070 Shake's) first career Hot 100 entry, peaking at No. 22, as well as her first No. 1 in the U.K. — H.M.
8. Beyoncé Feat. Kendrick Lamar, "America Has a Problem (Remix)"
Turn up to 11. The new remix demonstrates that even while brilliance takes time to create, it can nevertheless unfurl at warp speed since it is rooted in the same high-intensity ticking that grounded the original as a deep cut on last year's Renaissance. Kendrick Lamar scorches through a brand-new, tone-setting guest verse that also makes reference to his status as an honorary member of the Beyhive shortly after the song's loud, Kilo Ali-sampling instrumental entrance. The song then basically returns to its Renaissance form, with Lamar adding some more vigor to the "NO"s that characterize the pre-chorus and Beyoncé reveling in the spotlight. — J.G.
9. Rema & Selena Gomez, "Calm Down"
When it came out in early 2022, Rema's hypnotic, rhythmic song was already a hit in the Afrobeats genre. A sensual Selena Gomez version, which came out six months later, gave the song a second life and made it accessible to a wider audience. The two singers' smooth voices fit together perfectly with the new beat. This helped the mesmerizing collaboration rise (slowly) to the top five of the Hot 100, making it the highest-charting hit by an Afrobeats lead act in the history of the chart. — R.A.
10. FIFTY FIFTY, "Cupid"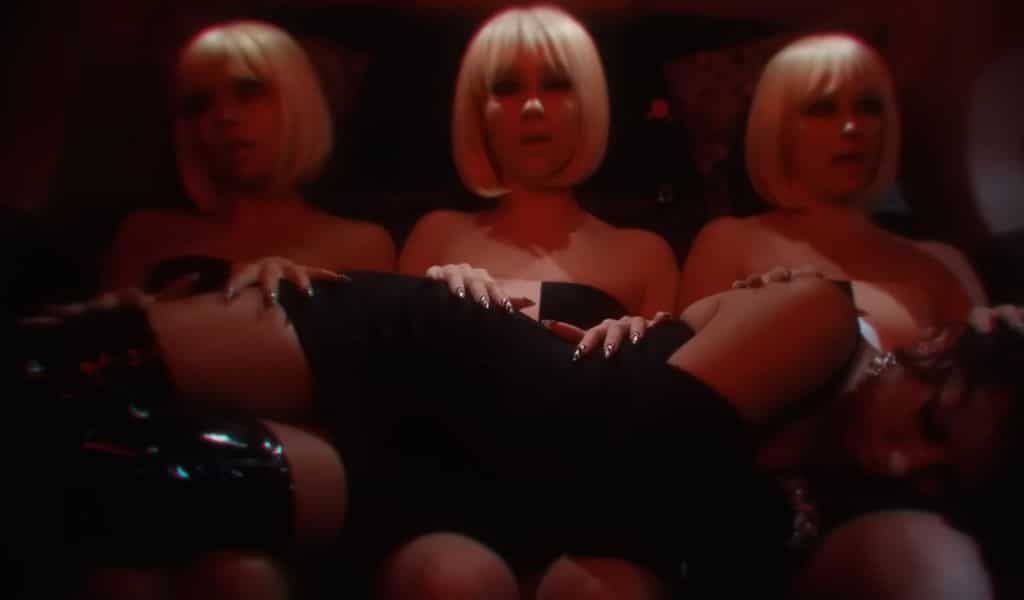 This song, which skillfully combines aspects of modern K-pop with 1960s bubblegum pop and American girl groups, is this year's most delicious piece of ear candy. Previously held by Blackpink and Selena Gomez's 2020 confection "Ice Cream," this charming tune broke the record for the longest-charting K-pop girl group song on the Hot 100. This is mostly as frothy as a milkshake, with a minor hip-hop aspect giving it a little edge. – P.G.
11. Tyler, the Creator, "Dogtooth"
On "Dogtooth," Tyler, the Creator is barred up as usual, but the song shows him in a different bag. The 32-year-old uses the piano-led, backing vocal-heavy production to emulate Lil Wayne's "Fireman" cadence while rapping about his stuff and other things that catch his fancy ("Kelly green wagon look better when the gloom out"). The song peaked at number 40 on the Hot 100 and propelled Tyler's The Estate Sale deluxe reissue of his 2021 album Call Me If You Get Lost back to the top spot on the chart for Top R&B/Hip-Hop Albums, making it the first album to hold that position for three consecutive calendar years. — C.L.
12. Ice Spice & Nicki Minaj, "Princess Diana"
The saucy drill novice and the snarky rap veteran have an undeniable chemistry. The catchy chorus ("They be chattin'/ I don't give a d-n/ And I'm still gettin' money / I know who I am") and campy humor of the song's lyrics ("I'm thick 'cause I be eatin' oats/ B-ches not takin' s-t from me but notes") are animated by their rhythmic flow. This remix of Spice's original January 2023 song from her Like…? EP reached at No. 4 on the Hot 100. It features Nicki. — G.M.
13. Sabrina Carpenter, "Nonsense"
Emails I Can't Send by Sabrina Carpenter may have been one of the most comprehensive pop albums of 2022, but its biggest hit wouldn't come until 2023, a few songs into the album campaign, with "Nonsense" indicating the Hot 100 breakthrough was right there in plain sight. The song "Nonsense" took off on TikTok thanks to its various hooks, including the tongue-tied chorus, the cheeky second verse ("I'm talking wild, wild thoughts!"), and the tossed-off outro. However, "Nonsense" also soars as a whole because Carpenter imbues each melody with the kind of personality that will entice listeners to explore (or revisit) the single's host project. — J.L.
14. Janelle Monáe, "Lipstick Lover"
Janelle Monáe meant it literally when she referred to herself as a "free-ass motherf—ker." The single "Lipstick Lover" serves as something of a theme song for her self-ascribed name because it is drenched in the laid-back groove of a reggae beat and doesn't push itself beyond its limits to convey its queer-focused message of throbbing pleasure. Instead, Monáe lets her words drip with desire as she tells her title-character to "leave a sticky hickie" and "whisper in my ear," compelling you to draw ever closer into her flawlessly conveyed image of physical bliss. — S.D.
15. Karol G & Shakira, "TQG"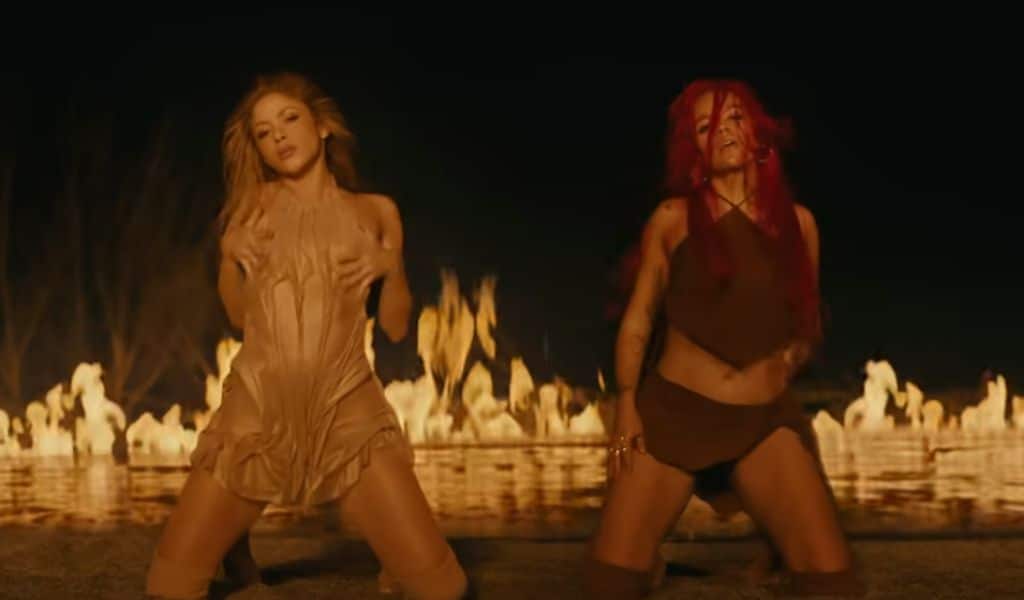 It was too big for you. "TQG" stands for "Te Quedó Grande," which means "It Was Too Big for You." A song called "Sweet Revenge" was made with the help of a star-studded team-up and hard-hitting reggaetón beats. The words were fierce and didn't apologize for being over an ex. The long-awaited collaboration between the two Colombian superstars shows that when it comes to things of the heart, they are not to be messed with. — I.F.
16. Luke Combs, "Fast Car"
Tracy Chapman's 1988 hit about wanting a better life in the face of impossible chances is a tough one to cover, but Combs does it with just the right amount of respect while adding his own twist. Combs, like Chapman, knows that the song's words about broken dreams don't need any vocal drama, so he wisely sings what may be one of the saddest songs ever written in a simple way. It was a surprise Hot 100 top 10 hit for Chapman in 1988. Now, 35 years later, Combs has topped Chapman's chart position while staying true to the original and bringing it to a new generation. — MELINDA NEWMAN
17. Boygenius, "Not Strong Enough"
"Not Strong Enough" is a great example of what makes Phoebe Bridgers, Julien Baker, and Lucy Dacus so great as a group. It's a standout track from boygenius's praised debut LP, the record. Even though each part of the song has its own moment, the three-part harmonies are unbreakable, whether they are sung softly or with a lot of anger. — L.H.
18. Labrinth, "Never Felt So Alone"
The music of Labrinth is what makes HBO's Euphoria what it is, but "Never Felt So Alone," a standout song from the second season, wasn't on the 2022 album. "I sent [show creator] Sam Levinson my album along with the music I wrote for the show, and they used it on the show," Labrinth told Billboard when the song was finally released in April. By then, Billie Eilish's uncredited backing vocals had been added to the track, making it even better. The track was already great, but Eilish's appearance made it even better. — E.R.B.
19. Kali, "Area Codes"
"Area Codes" was Kali's first big hit. It was light and simple, and it got into the top 10 on the Hot R&B/Hip-Hop Songs chart in May. The happy verses list a number of rich suitors who act a lot like ATMs ("I told him, 'You treat me so well.' He said, 'Cashapp or Zelle?'") while the barely-there beat harkens back to the early days of rap with just a few sounds from a drum machine. People on TikTok liked how cocky the song was, and they used it in hundreds of thousands of videos. "I just couldn't not hear myself on social media," Kali told Complex. "When that happened, I thought, 'It's out of here,'" — ELIAS LEIGHT
20. Bad Bunny, "Where She Goes"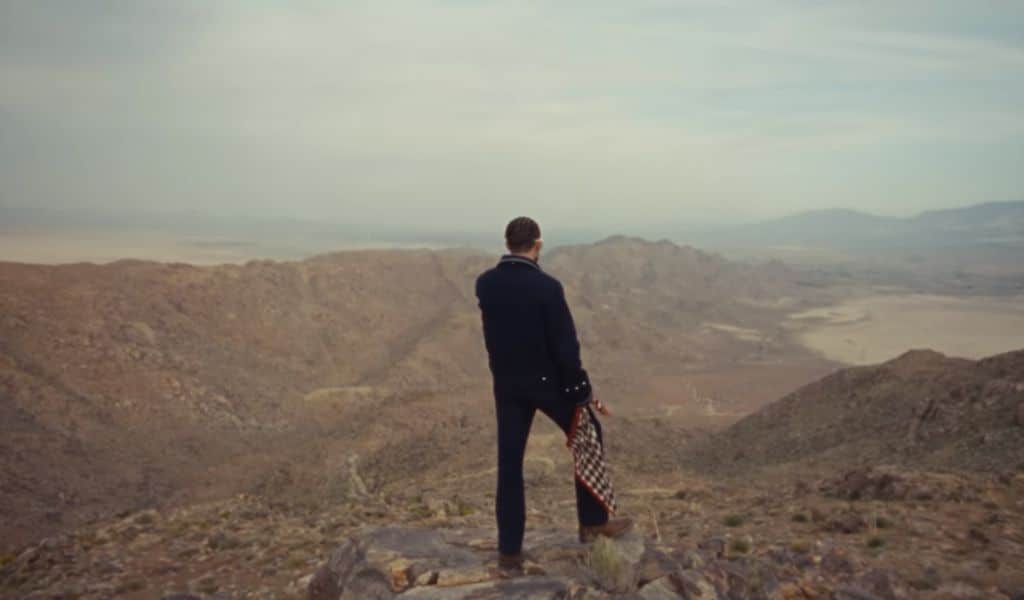 Bad Bunny began 2023 by experimenting with new musical styles, such as cumbia and norteo in Grupo Frontera's "un X100to" and the undeniably catchy party track "Where She Goes." The tune, which was created by MAG, begins with a melancholy synth melody before switching to a beat that is reminiscent of Jersey Club (a fusion of house and hip-hop). The seductive song "Where She Goes" is about chasing after the girl you want and is supported by the Puerto Rican artist's distinctive deep vocals. When the song reached No. 1 on the Billboard Global 200 list on June 3, Bad Bunny became the first solo artist to have three No. 1 singles since the survey's inception. Jessica Rodriguez
21. Baby Keem & Kendrick Lamar, "The Hillbillies"
If you're going to screw up the world, do it on a Monday afternoon, away from the prying eyes of most streaming services, they've been around long enough to know. That's what cousins Baby Keem and Kendrick Lamar accomplished in late May with the YouTube-only release of the "The Hillbillies" song, which samples Bon Iver and is inspired by drills. It was immediately the most energizing, quotable, and euphoric thing either had done in years, with a VHS-styled music video to go along with it. It only just debuted at No. 93 on the Hot 100 due to the song's partial rollout (it appeared in full on DSPs a week later), which meant it didn't receive anywhere near the commercial response you'd expect of a certified jam from two rap stars. However, as a fan, you have to treasure the times when two "too high-profile" artists like Keem and Kendrick are actually flying a little under the radar. (Even if they continue to use a private aircraft.) — A.U.
22. Dua Lipa, "Dance the Night"
Dua, our reigning double clap queen, is back! As is customary for this Barbie, "Dance the Night" includes all the disco flair fans have come to expect from the pop sensation. Even to individuals who do not experience chromesthesia, the Barbie movie's theme song by Greta Gerwig sounds like the bubblegum pink used in the doll's advertising campaign. It's trendy, suitable for party playlists, and either serves as a farewell to the Future Nostalgia era or a sign that more Disco Dua music is on the way. — T.M.
23. Rosalía & Rauw Alejandro, "Beso"
The most interesting pair in Latin music posts a lot of photos of themselves together, but their song "Beso," or "Kiss," may be the best way to show how much they love each other. "Beso," or "Kiss," became the third top 10 for both artists on Billboard's Global 200 chart. "Beso" is the most personal and heartfelt song on their three-song EP, RR. It's truthfulness and directness make it feel very close to the listener. Phrases like "I love it every time you come and hate it when you go" (I love it every time you come and hate it when you leave) are powerful in their simplicity, with the voices glistening over the sparse accompaniment of atmospheric chords. This is love, set to a reggaetón beat. — LEILA COBO
24. Zach Bryan feat. Maggie Rogers, "Dawns"
Even though Maggie Rogers leans into folk and Americana on this truly moving duet, which is a one-off, its impact is still felt by many. "Dawns" was partly inspired by the death of Bryan's mother many years ago. It shows the beauty that comes with any kind of grief over time, like the unexpected changes in tempo, the rough rasp of some lines, and the way that each artist shines on their own but sounds most tender when they work together. — LYNDSEY HAVENS
25. Skrillex, Fred again.. & Flowdan, "Rumble"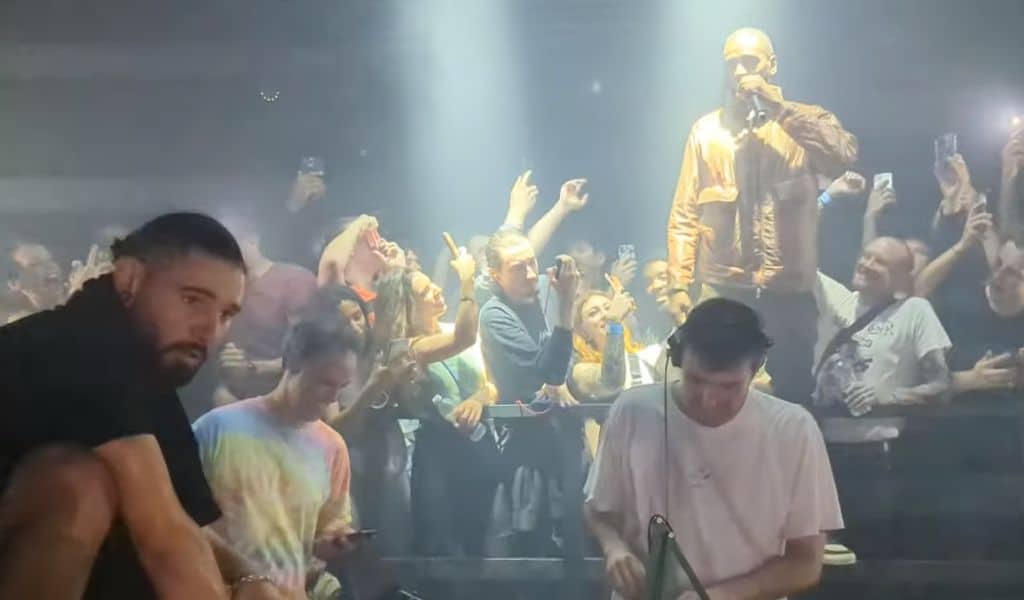 If you want to have a year with two new records, a lot of surprise gigs as part of a new superproducer triumvirate, and a makeover that will make headlines, then… Well, you'd better start with a good song, huh? That song was "Rumble," the first single from Quest for Fire. The bass is so strong that you can still feel it in your chest days later, and the beat sounds like it comes from a crack in the Earth's core. "Hey, listen up! Did you hear that?" asks Flowdan, a guest toastmaster. We did hear it. — A.U.
26. Lizzy McAlpine, "Ceilings"
Lizzy McAlpine's TikTok-powered crossover hit went all the way to the top, reaching No. 54 on the Hot 100. This is something that none of Phoebe Bridgers' signature songs have been able to do yet. It wasn't hard to see why the song was so popular: "Ceilings" is a shiveringly fragile ballad about an imagined relationship that is told in flashbulb moments. The song goes from being heartwarming to heartbreaking when the line "It feels like the start of a movie I've seen before" changes to "It feels like the end of a movie I've seen before." At the very least, the 23-year-old singer-songwriter has a lot of promise. — A.U.
27. Jonas Brothers, "Waffle House"
What greater setting could there be for a song about the growing pains that a family band must endure, both as brothers and as bandmates, than the Internet's most popular public mess? Obviously, the drama of "Waffle House" is resolved much more calmly than the majority of viral videos set there, as it ultimately becomes dispersed, smothered, and covered in sentimentality, with the trio concluding over irresistibly smooth '70s rock keys: "You know, it's always love." That is why admirers continue to request new JoBros songs decades after their debut. — A.U.
28. FLO feat. Missy Elliott, "Fly Girl"
The U.K. R&B band enlisted the original supa dupa fly girl for "Fly Girl" after getting Missy Elliott's endorsement early in their career. The song flips and reverses her 2002 hit "Work It" to create a sentimental yet modern hymn about female strength. A collaboration with Missy seems inevitable given that FLO is paying homage to the early 2000s and demonstrates that not only is R&B alive and flourishing, but also old-school R&B in particular. HERNAN MAMO
29. Hozier, "Eat Your Young"
In this powerful song about sin and corruption, Hozier is returning to give us wise counsel. With Dante's Inferno as its source of inspiration, "Eat Your Young" speaks on the lengths people will go for their greed, pride, and gluttony — which can also be connected to the sins that land you in the third circle of Hell — using a soulful beat and the singer-songwriter's hypnotic voice. — R.J.
30. Jimin, "Like Crazy"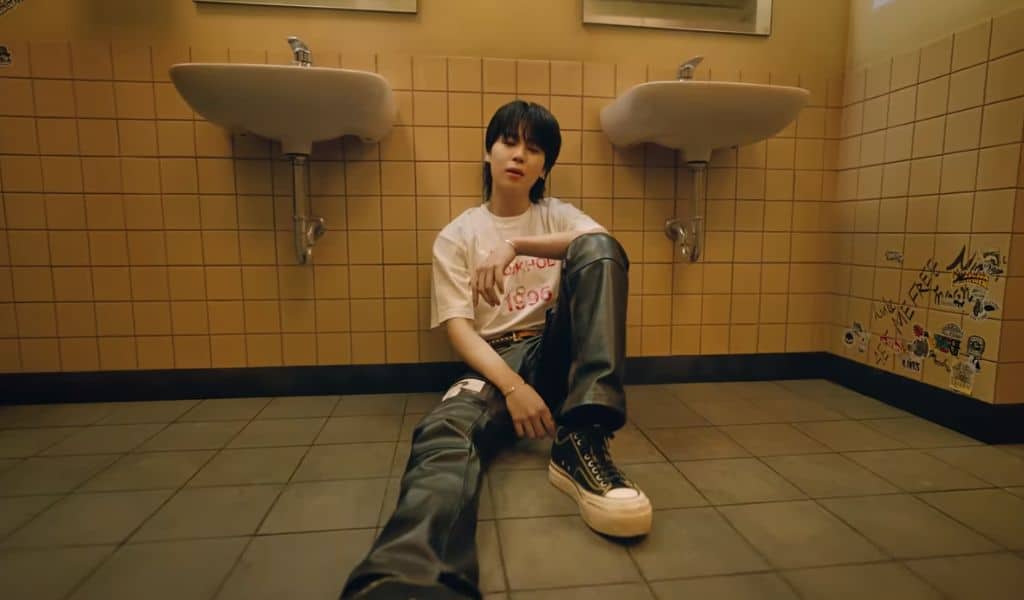 Up until Jimin's chart-topping performance, the K-Pop phenomenon in the U.S. was still mostly connected in the popular culture with groups. The former member of BTS delivered a smooth and lyrical dance-pop song that created history by being the first song by a South Korean solo artist to reach the top of the Billboard Hot 100. After a strong sales start, the song gathered steam as radio and the general public embraced the unmistakable hit, which in 2023 is making more people "crazy" than just die-hard fans. — T.K.
31. Libianca, "People"
After making an appearance on Season 21 of The Voice, Libianca's song "People" served as a sort of introduction to her own music. It was intensely emotional in both its lyrical themes and its moody production, and it immediately caught attention with its earworm plea for someone, anyone, to check in on her in a depressed, inebriated state. The vocal performance is captivating and haunting, and the song itself is lovely, but it's the song's underlying message—check on your friends because you never really know what others are going through—that has given it enduring relevance. It's the kind of gripping lyrics that indicate the singer-songwriter will have a better future. RYS, DAN
32. Lil Yachty, "drive ME crazy!"
"Drive Me Crazy!" by Lil Yachty is unquestionably one of the best pop songs the genre-hopping artist has ever been a part of, and it's conveniently placed in the center of his album-length exploration of the electro-psych-rock cosmos on Let's Start Here. "Crazy" is a brilliant roller-rink break at the planetarium and an always-welcome reminder that genre purity is never worth ruining a good time over. It features an instantly sing-along chorus, a big assist on the verses from guest vocalist Diana Gordon, and a cast of co-writers that also includes indie stalwarts Benjamin Goldwasser of MGMT and Mac DeMarco. — A.U.
33. Jessie Ware, "That! Feels Good!"
There is no denying the cultural impact of disco's resurgence at the top tiers of pop music; just listen to some of the most recent chart-topping singles from artists like Lizzo, Beyoncé, and Dua Lipa. But "That! Feels Good!" by Jessie Ware still seems like a revival of the vintage disco-funk vibe. Ware never attempts to dissect or reframe the sound for a contemporary audience throughout this quivering homage to sexual liberation; instead, she lets it speak for itself, conjuring the soundtrack of the '70s to guide her listeners in their impassioned pursuits. Ware herself sums it up best when it comes to bringing disco back: "If you're gonna do it, do it well." Steven Daw
34. Jelly Roll, "Need a Favor"
The biggest Hot 100 hit for Jelly Roll to date defies categorization: The song has a drifting violin that screams country, a soaring chorus that invokes gospel, and power-ballad chords that are straight out of the arena-rock playbook. That's part of the attraction of "Need a Favor," though, as the song — which also has a lot in common with Everlast's 1998 alt-blues hit "What It's Like" — delivers a stirring, common-man anthem that resonates with music lovers of all hues. [ERIC RENNER BROWN]
35. MUNA, "One That Got Away"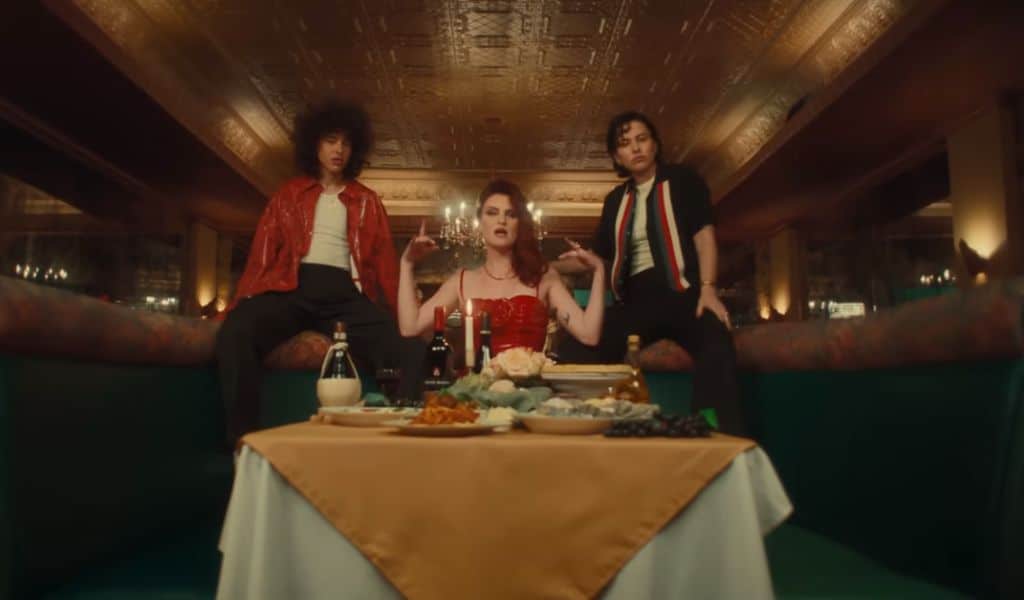 The self-titled album by MUNA from the previous year defied caution and ended up being one of the lustiest and funniest queer albums in recent memory. According to MUNA, gay joy is returning with a vengeance in 2023. After making its live debut at Coachella, the song "One That Got Away" was released in April. Lead singer Katie Gavin brags about being out of reach of the one who walked away from her in the catchy pop song. It's brazen, unrepentant, and hopefully indicative of what we may anticipate from MUNA moving ahead. TRAYLOR MIMS
36. KAYTRAMINÉ feat. Pharrell Williams, "4EVA"
The song "4eva," which was created by Kaytranada and Aminé, is a whole mood. It's a delicious prelude to the stylish pool-party-ready vibes of its parent set, dripping with Kaytranada's distinctive, easy cool and elastic, beat-forward production, supported by Pharrell's hiccuping "that means forever" refrain. Aminé's friendship with his producer partner is evident from the minute he introduces himself, effortlessly slipping lines in Haitian Creole into his bars (a tribute to his collaborator's background). — ABIGAIL MILZOFF
37. Latto, "Put It on da Floor"
Latto made a few sincere attempts to follow up the 2022 breakout success of her "Big Energy" single with another dancefloor-courting, radio-friendly Big Pop Song, but none of them were as fulfilling as the raw aggressive vigor of "Put It on da Floor." It was a brilliant move by Latto to enlist Cardi B for her own original-worthy sequel (the appropriately titled "Put It on da Floor Again") because it features some of the most quotable lines ("Rip me out the plastic/ I been actin' brand new") and the catchiest (and most confrontational) rap hook since "Tomorrow 2." And what do you know? Nevertheless, the Cardi remix drove "Floor" to No. 13 on the Hot 100, giving her the crossover smash. — A.U.
38. Chappell Roan, "Red Wine Supernova"
In a recent interview with Billboard, Roan claimed that she had originally intended for this song to have a "sad, slow" vibe. However, you would never know that from the finished product, which is both buoyant and firmly rooted in the fundamentals of a classic pop smash. The lyrics of this up-and-coming pop cult favorite, which were co-written and co-produced by Dan Nigro (Olivia Rodrigo, Conan Gray, Caroline Polachek), smoothly fly between dancing around the point of this sexual invitation and getting right to it. — JOHN S. GLICKSMAN
39. Grupo Frontera & Bad Bunny, "un x100to"
When Grupo Frontera and Bad Bunny, two "ideal worlds," came together, they created the ideal hymn for heartbreak. The song was the first time the performers had worked together and Bad Bunny had ventured into uncharted terrain. The melancholy cumbia-norteo, supported by acoustic guitars and soft percussion, describes the grief and emotions of someone who has lost their ex. Despite having only 1% battery remaining, they decide to make apologies by calling the ex in a last-ditch effort to ask for forgiveness. However, the outcome of the ex's answer to their sincere request may have to wait for the follow-up. (INGRID FAJARDO)
40. Doechii feat. Kodak Black, "What It Is (Block Boy)"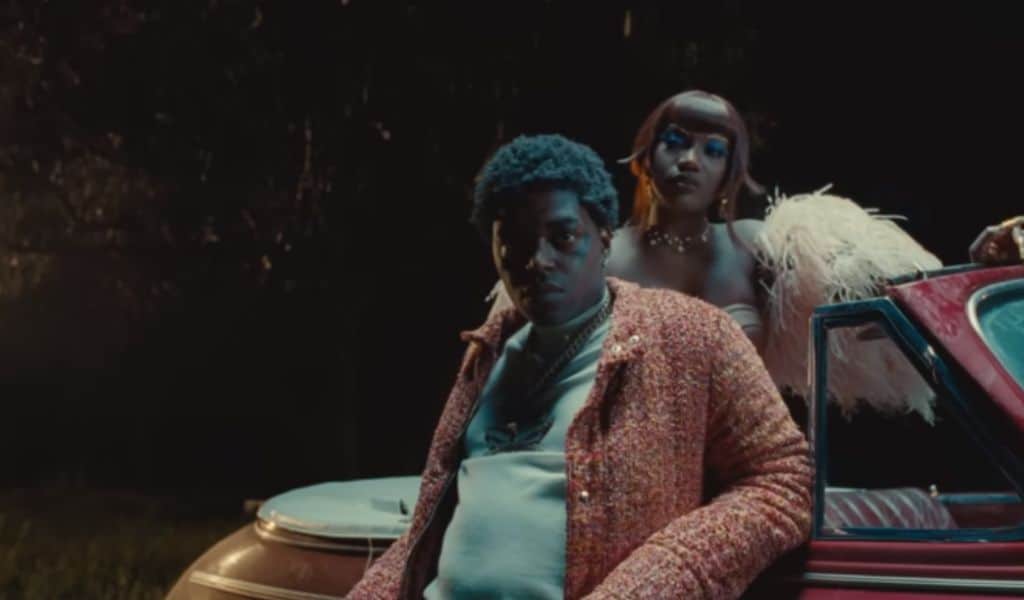 Doechii immediately let us know what was going on with the catchy, early 2000s-era (and Trillville-borrowed) hook of her Kodak Black-assisted hit. Thanks to the melodious interpolation of TLC's "No Scrubs" and its stylish dance challenge on TikTok, the viral song gave the 24-year-old star her first-ever Hot 100 hit and sent good girls all over the world yearning for a little thug (and block boys needing a little love). ANIA ANIFTOS
41. Morgan Wallen, "Last Night"
Most country songs are about a story, but Morgan Wallen's "maybe-breakup smash" One Thing at a Time is all about the beat. Since Eddie Rabbitt's "I Love a Rainy Night" in 1981, this is the first country song by a solo male act to top the Hot 100. It's been No. 1 for 11 weeks that haven't been in a row, just like Wallen and his backing players were locked in on that killer groove. – PAUL GREIN
42. Don Toliver feat. Justin Bieber & Future, "Private Landing"
The three artists on "Private Landing" are not exactly on the same page when it comes to the theme: Don Toliver does drugs and admits that he's "too demanding" of women. Future shops for expensive brands and shrugs off romance, and Justin Bieber is focused on a sleepy-eyed flirtation that's different from what his co-stars are saying. It doesn't matter, because "Private Landing" thumps and sizzles. It's a pop-trap luxury item in which Toliver puts two famous friends over a cool, metallic beat and acts as the glue. By the third time you hear the song, you'll have forgotten all the reasons why it shouldn't work. — JASON LIPSHUTZ
43. Calvin Harris & Ellie Goulding, "Miracle"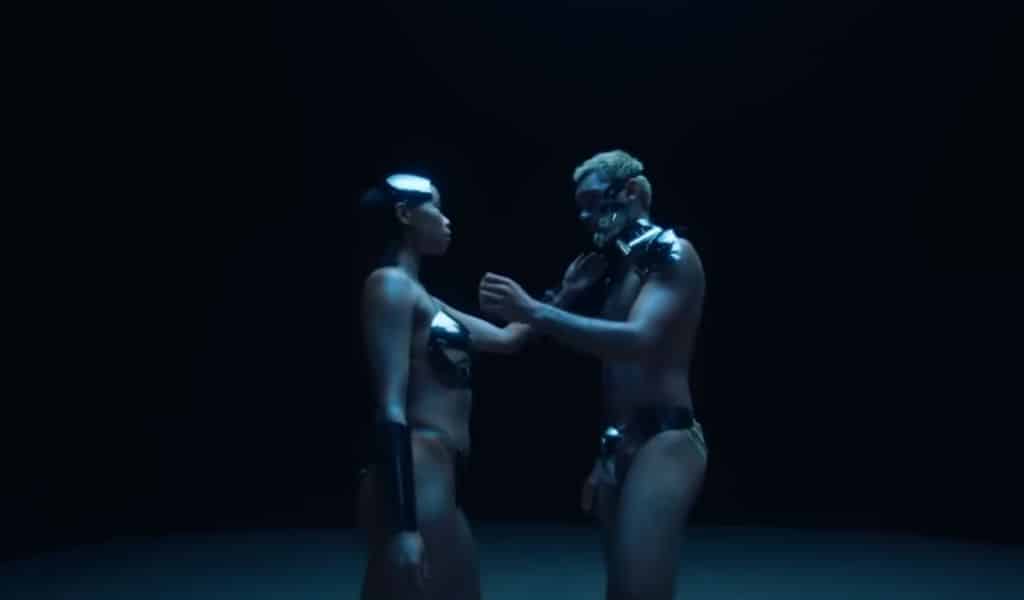 A peak pop-trance throwback with the appropriately named "Miracle" manages to transcend the feeling of being overtly nostalgic and go on to become one of the best and largest global dance singles of 2023, as well as an eight-week U.K. No. 1. Then again, perhaps it isn't so supernatural coming from Calvin Harris and Ellie Goulding, whose voices are just the right blend of airy and winsome to float over gloriously reverbed piano with the same ethereal authority as those less-starry singers for Ian Van Dahl and Alice Deejay did decades earlier. Calvin Harris has thrived for nearly two decades in large part by knowing what buttons to push on the wayback machine. — A.U.
44. Coco Jones, "ICU"
Coco Jones appears in the Disney Channel original film Let It Shine as a pop-rap sensation who was rediscovering her religious roots before she made her television debut as Hilary Banks in Bel-Air. Coco embraces the components of the Black church that ground R&B's more soulful edges in "ICU," her debut Hot 100 smash. Coco taps into her bluesy lower register for the DJ Camper-produced ballad before delivering faultless riffs and soaring belting as the love song builds to its climax. Despite the fact that "ICU" deviates a little from the prevalent sound aesthetics of modern R&B, Coco's unmistakable vocal delivery ensures the song's success. — K.D.
45. Corook & Olivia Barton, "If I Were a Fish"
Even the most hate-filled online troll couldn't help but smile at the thought of Nashville singer/songwriter Corook — with assistance from musician girlfriend Olivia Barton — as a first-prize fish, the skippiest rock, or the happiest sock. This deceptively simple little song is the musical equivalent of "kill 'em with kindness." With its grungy background and kazoo interludes, "If I Were a Fish" would be quite at home on a kids album, but its beautiful central message ("How lucky are we of all the fish in the sea/ You get to be you and I get to be me?") sounds like a lesson people of all ages could benefit from. ATKINSON, KATIE
46. Dave & Central Cee, "Sprinter"
Star U.K. rappers Dave and Central Cee are challenging their American rivals with their new single, "Sprinter." Dave raps, "With bae through thick and thin/ She already thick so I'm halfway there," and Central Cee adds, "She a feminist, she think I'm sexist/ Twisting my words I think she dyslexic." The two float all over the gentle guitar-driven, borderline-drill beat. The spontaneity of "Sprinter," which was unexpectedly released before its parent EP, Split Decision, adds to its appeal because the two rappers not only showcase their rhyming skills but also their natural chemistry. This results in Dave making a splashy comeback and Central Cee keeping up his hot streak. — CYDNEY LEE
47. Scar Lip, "This Is New York"
The powerful "This Is New York" record by Scar Lip, which is steeped in the scorching aggression and unshakeable pride of the Big Apple, is the kind of song that cuts through the noise and single-handedly changes the cultural mood. Being a native of The Bronx, Scar Lip captures the essence of two of the borough's most recognizable figures: Throughout the song, she combines DMX's survivalist attitude with Cardi B's playful sensuality. A assessment of how the city's soul has changed from one generation to the next, "This Is New York" is a significant piece of archival work and a combative response to those who lament the plight of contemporary hip-hop. Kyle Dennis
48. Taylor Swift, "Hits Different"
Breakups are painful, yeah, but in her eagerly awaited breakup banger, Swift reveals the bare honesty of what happens once the relationship ends. We get a dancefloor-ready beat instead of a depressing, dismal piano, along with lines like, "I pictured you with other girls in love, then threw up on the street." As you follow along with the story of getting over someone with the assistance of your friends, you can't help but want to belt out the lyrics. [RYLEE JOHNSTON]
49. Victoria Monét feat. Buju Banton, "Party Girls"
While this may seem like a weird pairing on paper, one listen will have you hitting the repeat button over and over again. First, due to the song's captivating bassline and sensual Caribbean atmosphere. Second, because the contrast between dancehall expert Banton's rough-and-ready rasp and Monét's smooth, flowing voice wonderfully captures the song's empowering-yet-sensual vibe. Third, since you'll be joining in on the duo's hypnotic chorus by that point: "Let's hear it for the party girls out lighting up the world." [GAIL MITCHELL]
50. Halle Bailey, "For the First Time"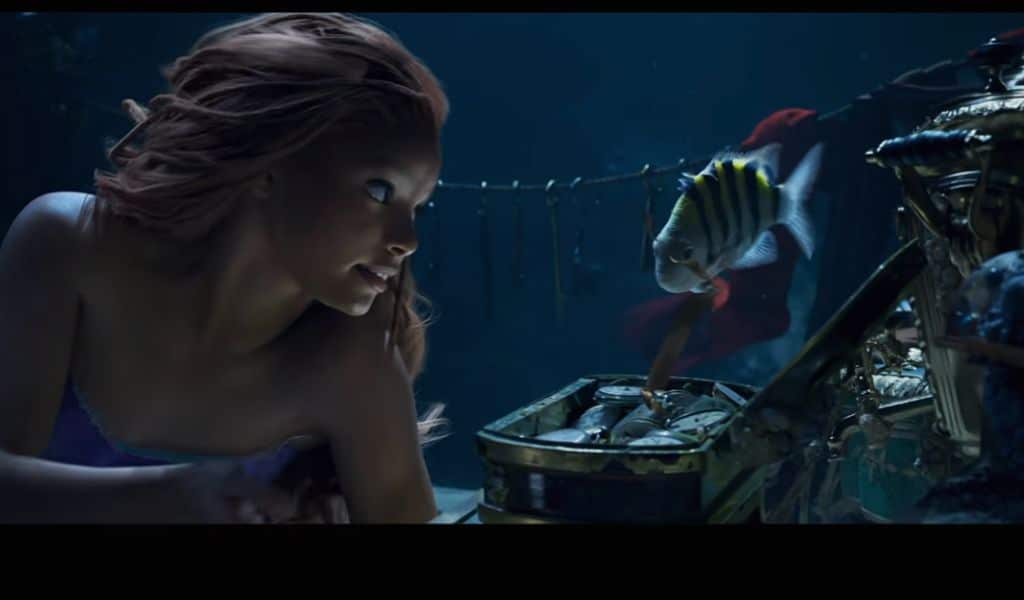 Disney's live-action adaptation of The Little Mermaid was eagerly anticipated by the world. Halle Bailey was cast as Ariel. It was a new original song by Lin-Manuel Miranda that made its way into the soundtrack for 2023: "For the First Time" is the type of fun innocence we expect from Ariel, and Bailey's deeply felt rendition of it lent itself to several viral moments on TikTok shortly after the movie's release. The young singer captivated audiences with the classic "Part of Your World," but it was a new original song by Lin-Manuel Miranda that captured their attention. — TETRIS KELLY
Subscribe to Our Latest Newsletter
To Read Our Exclusive Content, Sign up Now.
$5/Monthly, $50/Yearly