20 Best Dishwashers in 2023: Discover the Gleaming Stars of 2023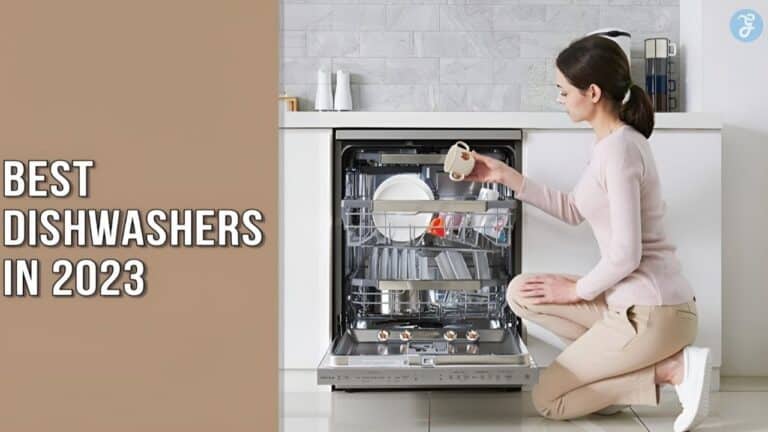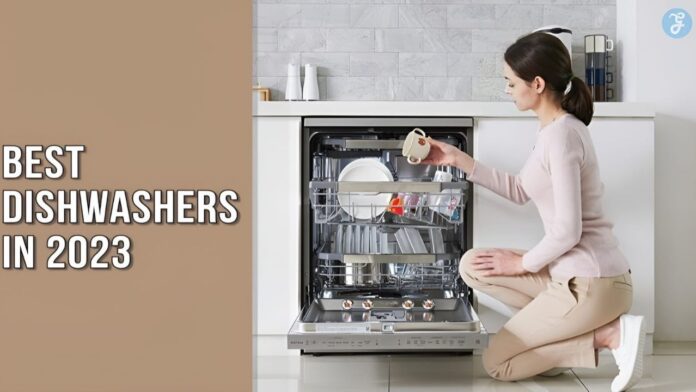 Listen to the Podcast:
Are you tired of spending precious time scrubbing dishes by hand, only to find stubborn stains and stuck-on food still clinging to your cookware? Say goodbye to dishwashing woes and welcome the best dishwashers in 2023!
We've scoured the market to bring you the most efficient, innovative, and reliable dishwashers that will transform your after-dinner cleanup into a breeze. From sleek designs to cutting-edge features, these dishwashers have it all. Get ready to embrace sparkling clean dishes effortlessly, as we unveil the shining stars of the dishwasher world for the year 2023!
What is a Dishwasher?
A dishwasher is an automatic machine designed to clean dishware, cookware, and cutlery. Unlike manual dishwashing, which requires vigorous scrubbing to remove dirt and grime, the mechanical dishwasher uses hot water, usually between 45 and 75 °C (110 and 170 °F), to clean the dishes. Delicate items are washed with lower-temperature water to prevent damage.
The dishwasher operates by pumping a mixture of water and dishwasher detergent through rotating sprayers, thoroughly cleaning the dishes. To conserve water and energy, the cleaning mixture is recirculated during the process. The dishwasher may begin with a pre-rinse, with or without detergent, followed by the main wash using fresh water and detergent. Once the wash cycle is complete, the water is drained, and additional hot water is introduced through an electromechanical solenoid valve to initiate the rinse cycle(s). After rinsing, the water is drained again, and the dishes are dried using various drying methods.
To prevent water spots caused by hard water or other factors, a rinse-aid, a chemical that reduces water surface tension, is often used. The overall process ensures efficient and convenient dishwashing without the need for manual effort.
15 Best Dishwashers in 2023
In the below segment, we're going to show you the 15 best dishwashers in the market right now. 
1. LG QuadWash Pro 24-inch Smart Dishwasher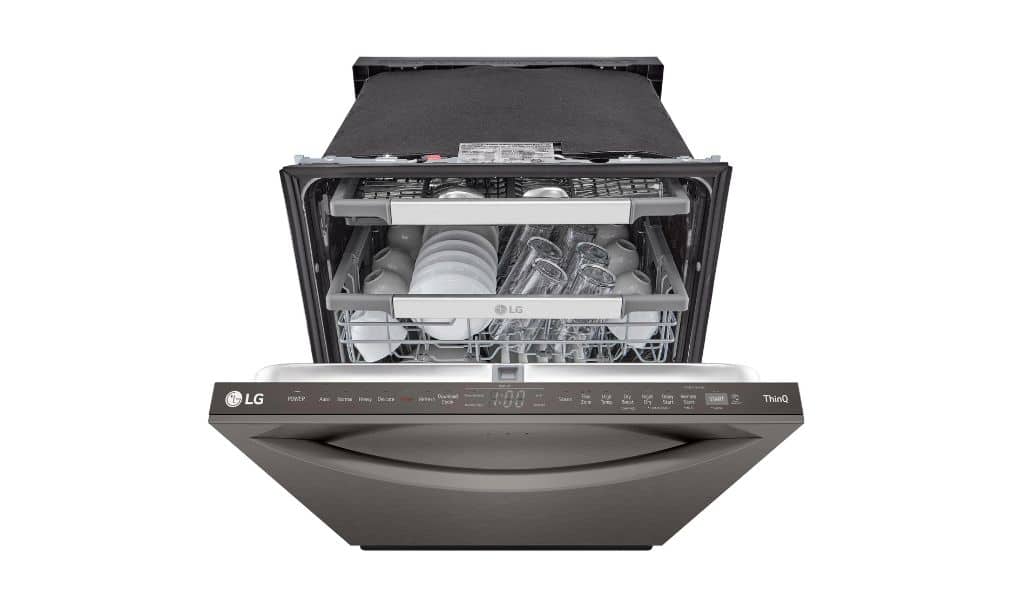 The LG QuadWash Pro 24-inch Smart Dishwasher is a feature-packed and efficient appliance designed to make dishwashing a breeze. With a focus on performance and convenience, this dishwasher is equipped with cutting-edge technology to deliver exceptional results. Its standout feature is the 1-hour cycle, which surpasses most other dishwashers' speed cycles by providing excellent cleaning even for heavily soiled dishes. The dishwasher's high-pressure jets, steam, and bubbles work together to break down stubborn food residue and leave your dishes sparkling clean.
Beyond its impressive cleaning capabilities, the QuadWash Pro offers a user-friendly experience. The interior light makes loading and unloading dishes a breeze, while the adjustable racks and fold-down tines allow you to accommodate dishes of all shapes and sizes. The inclusion of a third rack for utensils adds further convenience. Moreover, the dishwasher employs a powerful and efficient blower system similar to a convection oven for drying, ensuring your dishes are dry every time.
Pros
Exceptional 1-hour cycle for thorough cleaning, even with heavily soiled dishes.

Interior light and adjustable racks make loading and unloading easy.

Efficient drying with a powerful blower system, leaving dishes dry and ready to use.

The third rack for utensils provides additional storage space.

Extremely quiet operation for a peaceful kitchen environment.
Cons
Remote start functionality can be inconvenient, requiring manual activation on the machine itself.
2. Bosch 300 Series Dishwasher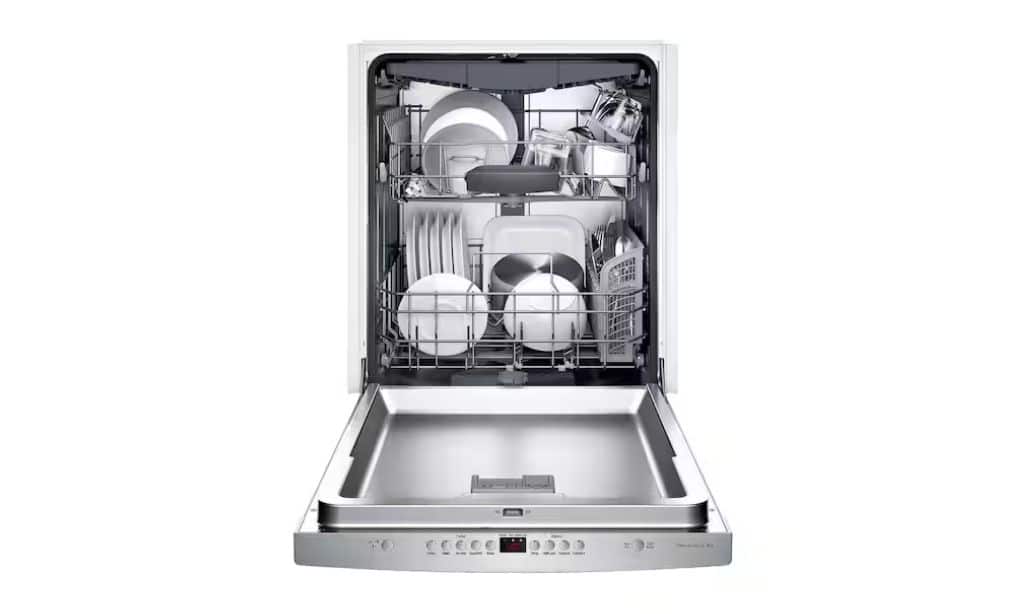 The Bosch 300 Series Dishwasher is a well-designed and versatile appliance that offers superb cleaning performance and efficiency. With its spacious interior and V-shaped third rack, it can accommodate more dishes, making it ideal for large families or those with a heavy dish load. The dishwasher's RackMatic System allows you to adjust the racks easily, providing flexibility for different dish sizes and shapes.
The 300 Series stands out for its quiet operation, making it barely noticeable while running. It features a convenient Speed60 cycle that completes both washing and drying in just an hour, along with a selection of other cycles for various cleaning needs. However, some users have noted that it could improve its drying performance, especially for plastic items.
While the 300 Series offers excellent cleaning and usability, it falls slightly short in terms of reliability compared to its competitors. Reliability data indicates that LG appliances, including the QuadWash Pro, have shown better performance in this aspect. Nevertheless, the 300 Series remains a reasonably priced and reliable dishwasher with a range of features.
Pros
V-shaped third rack provides extra capacity and flexibility.

Quiet operation for a peaceful kitchen environment.

Energy-efficient and time-saving Speed60 cycle.

Adjustable racks for easy loading and customizable storage.

Stellar cleaning performance for various types of dishes.
Cons
Drying performance for plastic items could be improved.

Slightly lower reliability compared to some competitors.
Read Also: How to Wash Dishes as Efficiently as Possible?
3. Bosch 800 Series Dishwasher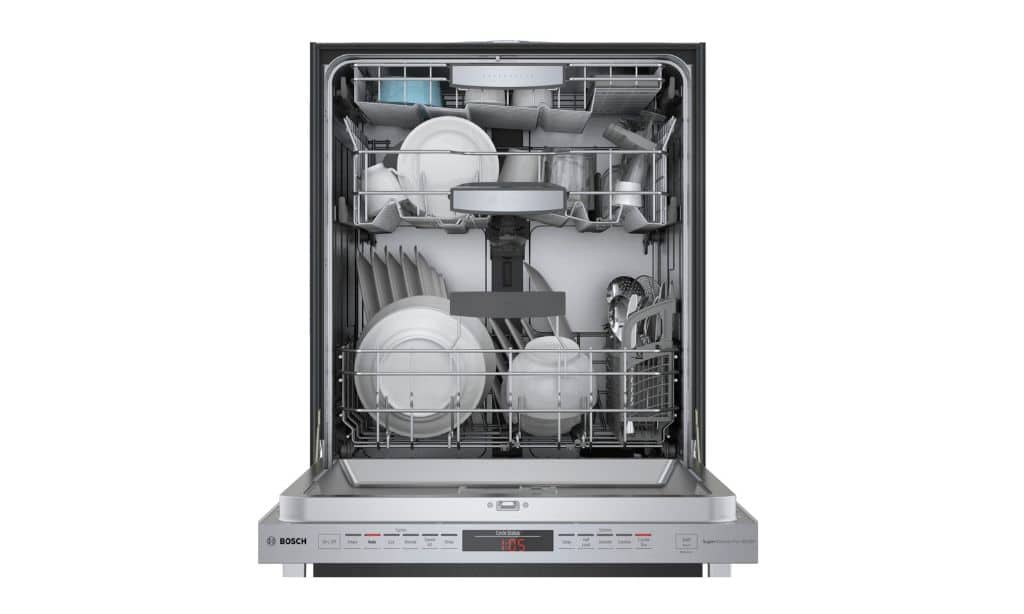 The Bosch 800 Series Dishwasher represents a high-end option with outstanding drying capabilities, making wet dishes a thing of the past. Thanks to its innovative CrystalDry technology, which utilizes zeolite to absorb water and extract moisture, this dishwasher ensures your dishes come out perfectly dry every time. The CrystalDry feature has received high praise for its effectiveness, especially with stubborn plastics.
Apart from its exceptional drying performance, the 800 Series dishwasher boasts impressive stain removal power and is efficient in cleaning greasy pots and heavily soiled dishes. It even includes a sanitize cycle, making it suitable for cleaning baby bottles and sippy cups. The dishwasher also features a half-load setting to reduce water usage when you have fewer dishes to clean.
Though the 800 Series excels in many aspects, the control panel may be a bit confusing for some users. Additionally, it offers multiple variants with different finishes and handle types, with the SHXM78Z55N model being one of the most cost-effective choices, providing adjustable racks and efficient drying performance.
Pros
CrystalDry technology ensures excellent drying performance.

Powerful cleaning for stains and greasy dishes.

Sanitize cycle for hygienic cleaning.

Adjustable racks for versatile loading options.

Energy-efficient and water-saving half-load setting.
Cons
Control panel can be confusing for some users.
4. GE Dry Boost Top Control Dishwasher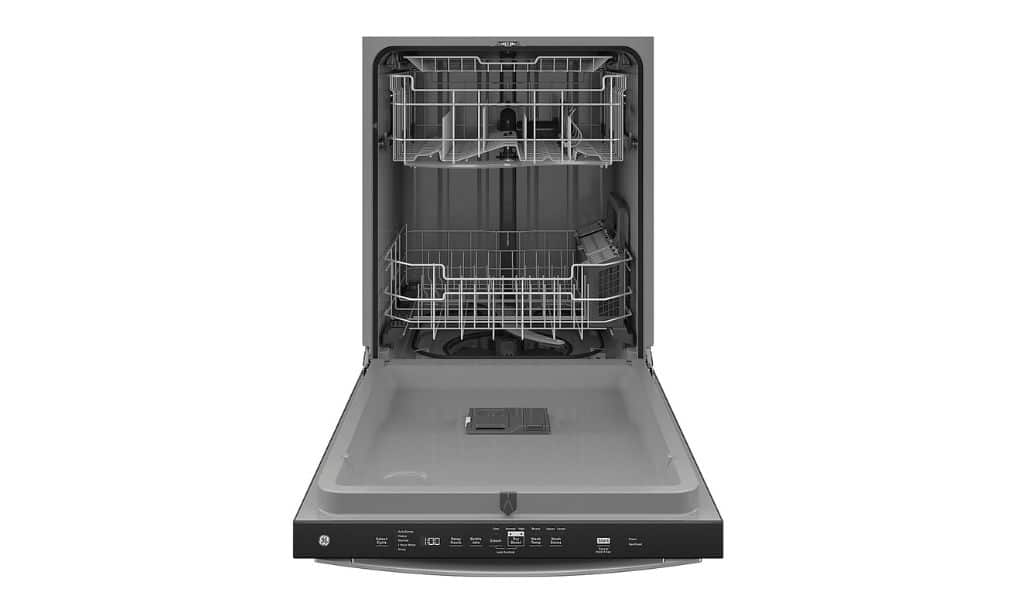 The GE Dry Boost Top Control Dishwasher is an excellent budget-friendly option that offers luxurious features and exceptional cleaning performance. Despite its affordable price, this dishwasher delivers outstanding results, leaving your dishes sparkling clean with its extra-large capacity that can accommodate up to 16 place settings. The sleek and modern design, along with the fingerprint-resistant finish and hidden controls, ensures it complements any kitchen decor.
The dishwasher's cleaning prowess is enhanced by its three wash levels, which guarantee thorough coverage of water and detergent to remove tough stains and food debris. Equipped with an integrated hard food disposer with stainless steel impellers, it pulverizes food particles, leaving no leftover gunk on your dishes even after the fan-assisted heated dry cycle. Additionally, the "Steam + Sani" cycle provides a deep clean, effectively eliminating 99.99% of bacteria. With a soil sensor, the dishwasher adjusts the cycle duration based on debris levels, optimizing efficiency.
Notably, the GE Dry Boost features four bottle wash jets that reach deep within tall items, making it convenient to clean water bottles, narrow glasses, and jars that would otherwise require handwashing. Combining its impressive cleaning capabilities and premium features, this dishwasher stands as an excellent value for those seeking an affordable yet high-performing option.
Pros
Exceptional cleaning performance, rivaling more expensive models.

Integrated hard food disposer for thorough food particle removal.

"Steam + Sani" cycle for deep cleaning and bacteria elimination.

Four bottle wash jets for efficient cleaning of tall items.

Sleek and fingerprint-resistant design with hidden controls.
Cons
The shortest cycle time with drying is 1.3 hours.
5. KitchenAid KDPM604KPS Dishwasher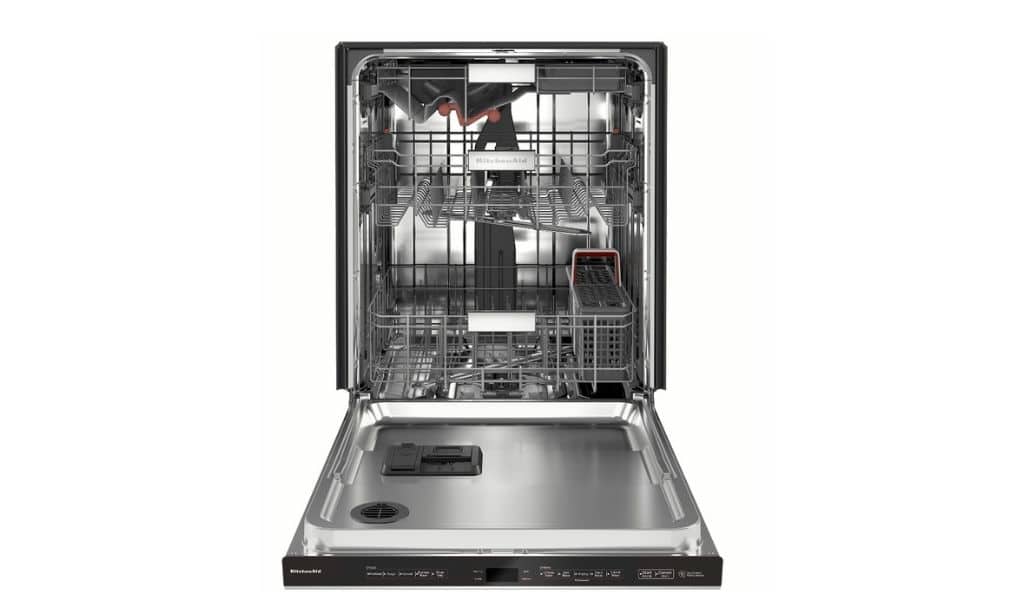 The KitchenAid KDPM604KPS Dishwasher stands out as a feature-packed and efficient cleaning machine with a focus on superior design. Boasting a roomy capacity for 16 place settings, this dishwasher offers an easy-to-load experience with its stainless steel tub and convenient third rack, complete with rotating jets for thorough cleaning of glasses, mugs, and bowls. While the third rack is not as customizable as the Bosch 300 Series, the dishwasher compensates with its ProWash cycle, effectively tackling even the messiest of dishes.
Where the KitchenAid truly shines is its "ProDry" feature, ensuring impeccable drying performance. Utilizing a recessed heating element and a fan, this dishwasher efficiently draws moisture out of the stainless steel tub, leaving your plates dry and ready for use upon unloading. Additionally, the "Clean Water Wash" technology continuously removes food particles from the wash water, preventing any leftover debris on your clean dishes.
Operating at just 44 decibels, the KitchenAid dishwasher runs quietly, allowing for a peaceful kitchen environment. Available in stainless steel and black stainless steel variants, both finishes resist smudges and fingerprints, maintaining a clean and polished appearance.
Pros
Efficient cleaning performance with ProWash cycle.

"ProDry" feature ensures impeccable drying performance.

Deep third rack with rotating jets for optimal cleaning.

Quiet operation at 44 decibels.

Sleek design with smudge and fingerprint-resistant finishes.
Cons
Third rack is not as customizable as some competitors.

Lacks an interior light commonly found in higher-priced KitchenAid dishwashers.
6. Maytag MDB7959SKZ Dishwasher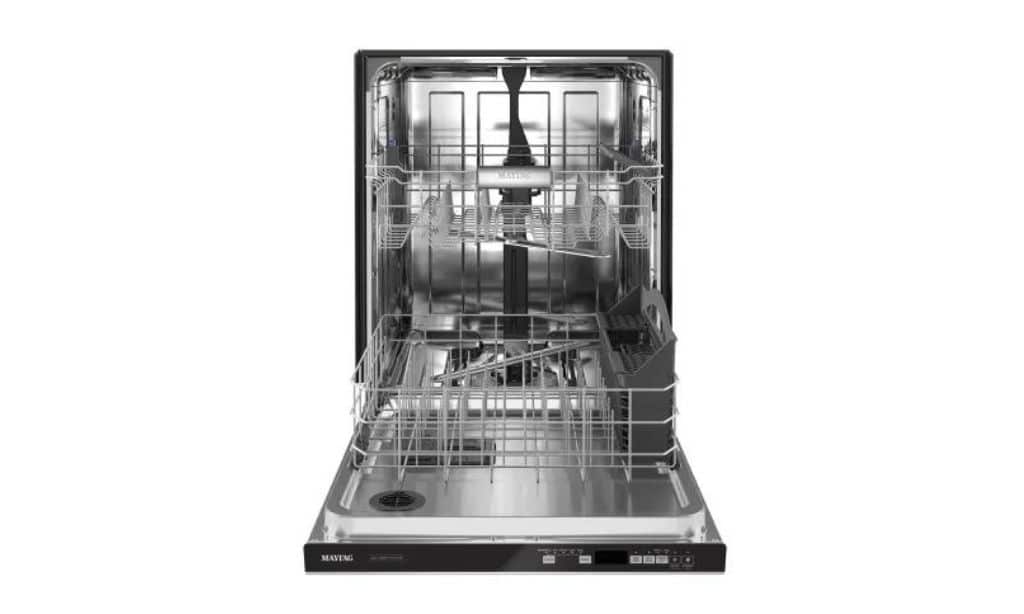 The Maytag MDB7959SKZ Dishwasher is a top-notch option that combines excellent cleaning and drying performance with a sleek and attractive exterior design. While it may not be the most budget-friendly dishwasher, its superior features make it a worthwhile investment. With a capacity for 15 place settings, this dishwasher offers flexibility and convenience with its flexible racks, allowing you to fit plenty of items of various sizes.
In comparison to other models in its price range, the Maytag stands out with its durable stainless steel tub, providing a more reliable and long-lasting option compared to plastic tubs found in some competitors. Despite its notable advantages, the dishwasher is slightly louder at 50 decibels compared to the quieter Bosch 300 Series. Nevertheless, it compensates with a third rack that its predecessor lacked and better drying performance for plastic items.
The Maytag MDB7959SKZ is a dependable choice, supported by a 1-year warranty for parts and labor, along with an additional decade of coverage for the nylon racks, chopper blade, and stainless steel tub.
Pros
Attractive exterior design for a premium look.

Flexible racks accommodating various dish sizes.

Third rack for extra storage and utensil organization.

Durable stainless steel tub for enhanced reliability.

Upgraded filtration system with a blade for efficient food particle breakdown.
Cons
Slightly louder operation at 50 decibels compared to some competitors.
7. Miele G 7156 SCVi SF Dishwasher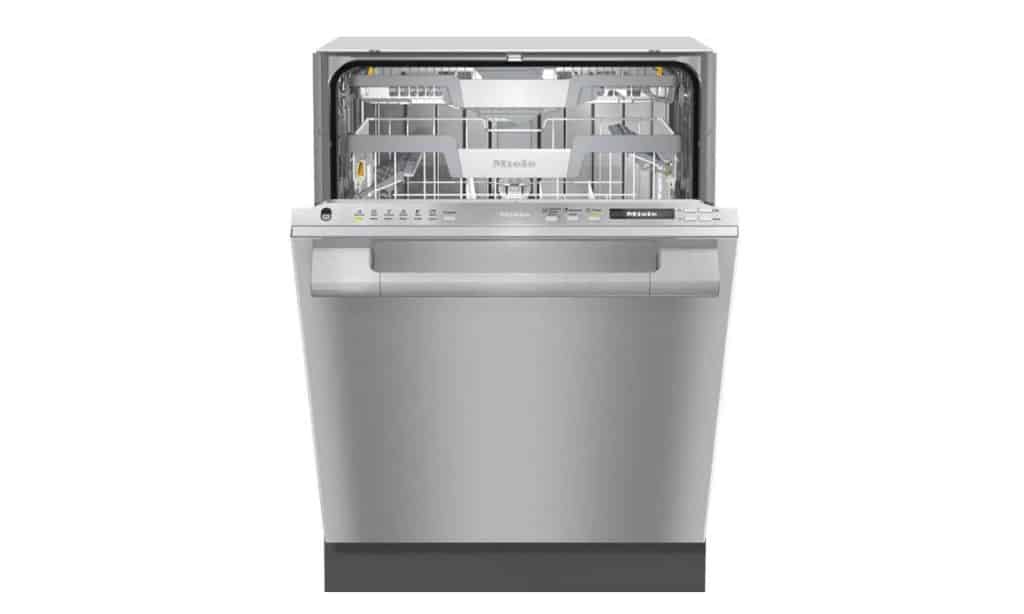 The Miele G 7156 SCVi SF Dishwasher stands as the epitome of reliability and efficiency, earning its reputation as the most reliable dishwasher on the market. With the promise of lasting up to 20 years of average use, Miele appliances are known for their long-lasting performance and excellent customer service, addressing issues promptly and even covering repair costs outside the warranty period.
The dishwasher not only excels in reliability but also impresses with its top-notch cleaning performance and stylish design. Featuring a logo-free stainless steel front and hidden top-mounted controls, it exudes a sophisticated appearance. The dishwasher can be conveniently programmed through a downloadable app to start at pre-set times, and its racks are fully adjustable, providing ample space for various dishes and utensils.
Miele's unique three wash arms ensure superior cleaning performance, delivering sparkling clean dishes after each cycle. The ProDry feature with a recessed heating element and fan guarantees impeccable drying, while the Clean Water Wash technology continuously purifies the wash water, preventing food particles from sticking to clean dishes.
Though the detergent recommended for this dishwasher may be more expensive, it automatically dispenses the correct amount based on the selected cycle, simplifying the washing process. Overall, the Miele G 7156 SCVi SF Dishwasher is a reliable, efficient, and stylish choice for those seeking top-tier performance.
Read More: 7 Kitchen Improvements That Boost The Value of Your Home
Pros
Exceptional cleaning performance with three wash arms.

ProDry feature for impeccable drying performance.

App-based wash start programming for convenience.

Adjustable racks for versatile loading and storage options.

Reliability with a 20-year lifespan on average.
Cons
Recommended detergent can be more expensive than store-bought alternatives.
8. BLACK+DECKER BCD6W Compact Countertop Dishwasher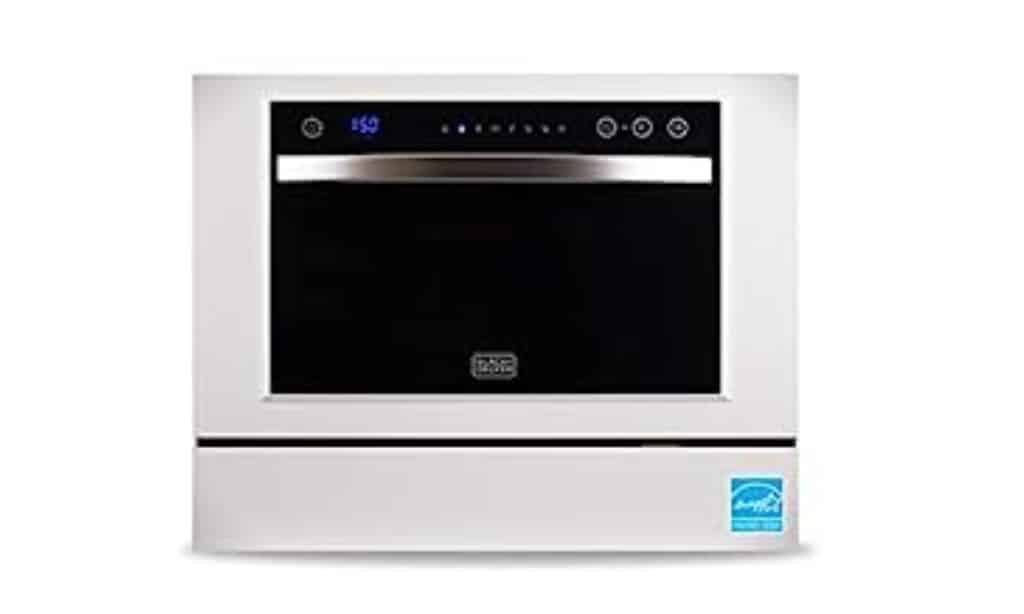 The BLACK+DECKER BCD6W Compact Countertop Dishwasher is an affordable and space-saving solution for small kitchens or individuals in need of a compact dishwasher. Designed to rest on your countertop, this dishwasher offers a sleek stainless steel finish and a single rack accommodating six standard place settings. It also includes a cutlery basket for washing utensils, and its digital control panel allows for easy cycle selection and time monitoring.
Despite its small size, this countertop dishwasher packs a punch with seven wash cycles, including a speed cycle taking just 45 minutes and a Heavy Duty cycle lasting an hour and 40 minutes. The dishwasher operates at a noise level of 54 decibels, maintaining a relatively quiet environment during operation. Furthermore, it offers a delay-start feature and a child safety lock, adding convenience and safety to the washing process.
While the dishwasher performs well for its size and price, users should be aware of the food trap, which may require frequent emptying. As a portable dishwasher, it conveniently connects to your faucet, making it easy to use and ideal for those with limited space.
Pros
Affordable and space-saving countertop dishwasher.

Includes a cutlery basket for utensils.

Digital control panel for easy cycle selection and time monitoring.

Seven wash cycles for versatile cleaning options.

Delay-start feature and child safety lock for added convenience and safety.
Cons
Food traps may require frequent emptying.
9. GE 18-in Freestanding Dishwasher (Stainless) ENERGY STAR, 52-dBA
The GE 18-in Freestanding Dishwasher (Stainless) ENERGY STAR stands as a reliable and efficient option for those in need of a portable dishwasher. Ideal for long-term renters lacking a built-in dishwasher, this 18-inch-wide model from GE offers an attractive stainless steel interior and exterior, providing a durable and stylish option.
With a capacity for 12-place settings, this portable dishwasher may not be the quietest, operating at noise levels of up to 52 decibels. However, its cleaning performance is impressive, rivaling some higher-end fully installed dishwashers. The dishwasher comes equipped with three cycles: Normal, Auto-Sense, and Heavy, catering to different washing needs. Additionally, its wheels allow for easy mobility, making it convenient to roll around your kitchen and connect to your sink. For a more permanent placement, the wheels can be removed.
While this GE dishwasher may use more water than traditional models, its cleaning performance and durability make it a standout option for renters and those seeking a quality portable dishwasher.
Pros
Reliable and efficient portable dishwasher.

Attractive stainless steel interior and exterior.

Impressive cleaning performance, comparable to built-in dishwashers.

Wheels for easy mobility and removable for permanent placement.

Energy-efficient, earning ENERGY STAR certification.
Cons
Limited cycle selection with only three options available.
10. GE Profile Series PDT715SYNFS Dishwasher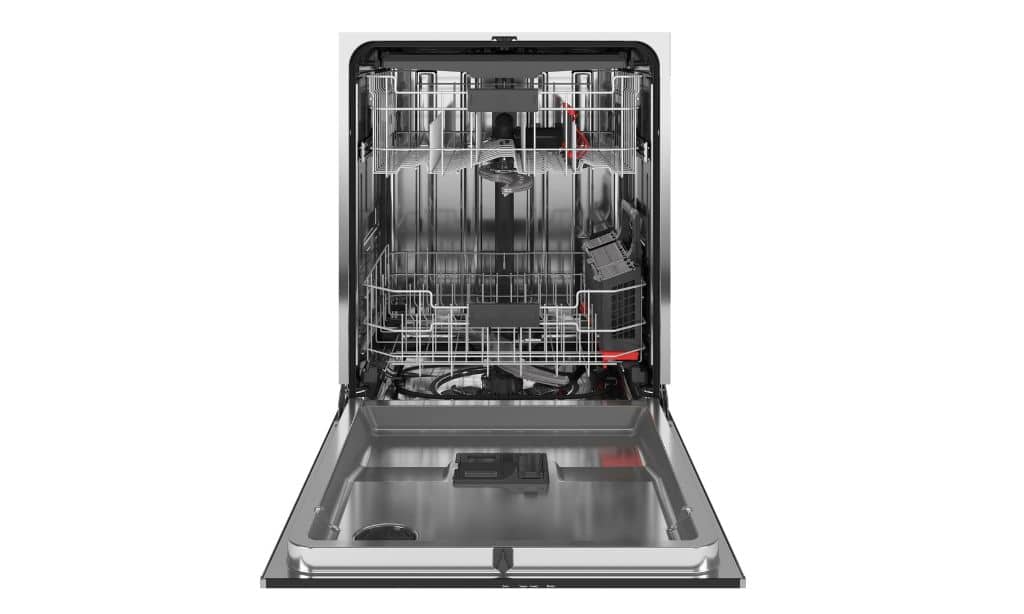 The GE Profile Series PDT715SYNFS Dishwasher offers exceptional quietness, making it the perfect choice for open-concept homes or those seeking a peaceful washing experience. Operating at just 45 decibels, this dishwasher is impressively silent, ensuring you won't be disturbed by its operation. Additionally, its fingerprint- and smudge-resistant exterior maintains a sharp and clean appearance, complementing any kitchen decor
Beyond its quiet performance and sleek design, the dishwasher delivers excellent cleaning and drying results. Equipped with a hard food disposer that pulverizes food particles, you can count on thoroughly clean dishes after each cycle. The third rack provides additional storage space for long, flat items like spatulas, while the dual-fan system ensures better-than-average drying performance without the need for rinse aid.
The GE Profile Series dishwasher includes smart features, a bottle-wash option, and four spray nozzles for efficient cleaning of tall or oddly shaped items. Its steam prewash effectively loosens tough grime, eliminating the need for pre-rinsing. Though it may have a limited cycle selection, the GE Profile Series PDT715SYNFS remains a reliable and efficient choice for those seeking a quiet and high-performance dishwasher.
Read Also: Kitchen Remodeling: 7 Expert Ways to Prepare for a Successful Project
Pros
Exceptional quietness at just 45 decibels.

Hard food disposer for thorough cleaning.

Third rack for additional storage space.

Dual-fan system for superior drying performance.

Smart features and fingerprint-resistant exterior.
Cons
Limited cycle selection with minimal options.
11. Thermador Star-Sapphire Series Dishwasher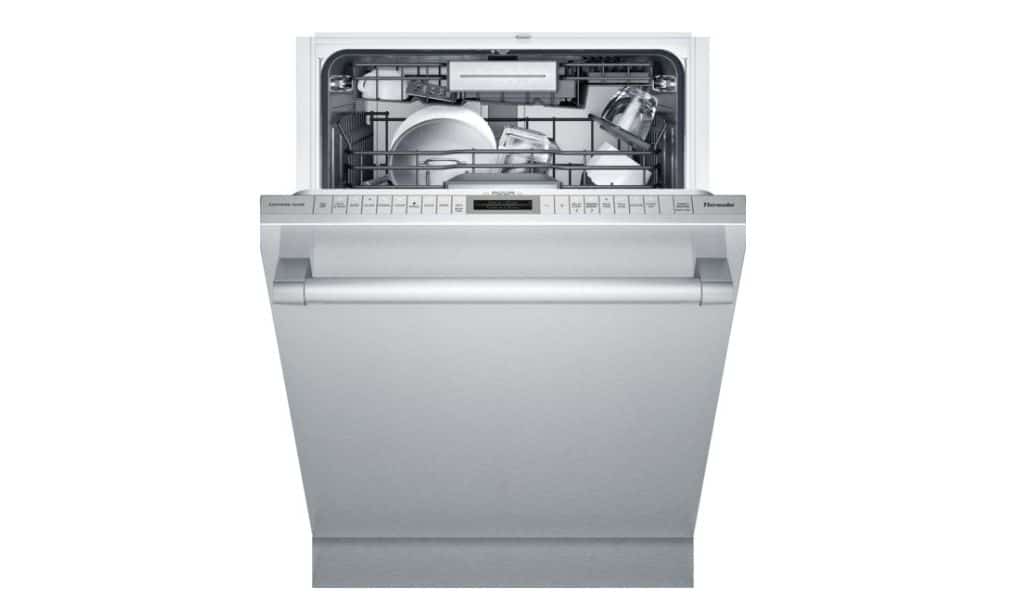 The Thermador Star-Sapphire Series Dishwasher stands out as the fastest dishwasher available, offering a 20-minute washing cycle that fully cleans your dishes in record time. With its high-speed cycle, this dishwasher is a valuable option for individuals who need to wash lots of dishes in a short timeframe. The Star-Sapphire Series also boasts a variety of advanced features, including Wi-Fi connectivity, a touchscreen control panel, and a specific caddy for washing wine glasses.
This top-of-the-line dishwasher features an illuminated stainless steel interior and comes in a panel-ready variant to seamlessly blend with your kitchen cabinets. It utilizes zeolite technology for efficient drying, emitting heat and absorbing water faster than traditional drying techniques. The dishwasher's superior drying performance ensures spotless and dry dishes after each cycle.
In addition to its impressive speed and drying capabilities, the Thermador dishwasher offers numerous special features, such as ultra-quiet operation, floor status indicators, and adjustable racks. Its leak-protection system, AquaStop Plus, automatically detects and handles leaks, preventing water from reaching your floor.
While the Thermador Star-Sapphire Series is undoubtedly a premium choice with its fast cycles and advanced features, it does come with a higher price tag. Nevertheless, for those seeking the best of the best, this dishwasher proves to be an unparalleled investment.
Pros
Super-fast 20-minute washing cycle for quick cleaning.

Wi-Fi connectivity and touchscreen control panel for convenience.

Zeolite technology for efficient and effective drying.

Ultra-quiet operation and floor status indicators for easy monitoring.

AquaStop Plus leak-protection system for added safety.
Cons
Expensive compared to other models.
12. Bosch 300 Series SPE53B55UC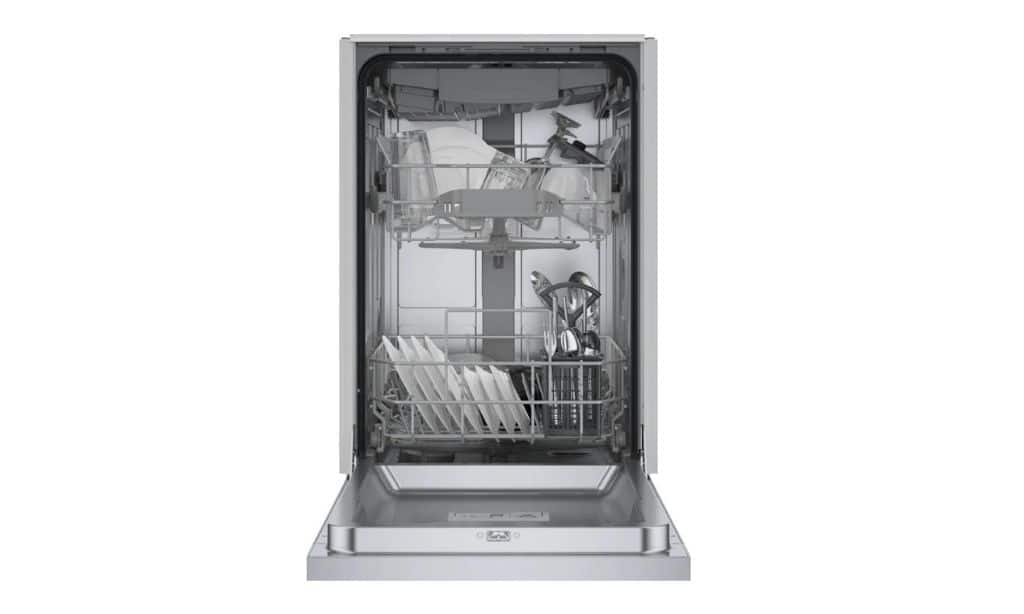 The Bosch 300 Series SPE53B55UC is the best narrow dishwasher option, ideal for kitchens with limited space and an 18-inch-wide cutout. Despite its smaller size, this dishwasher does not compromise on performance, offering a quiet and efficient washing experience. With a capacity for 10 place settings, the Bosch 300 Series features the same RackMatic system found in its full-sized counterpart, providing adjustable racks for versatile loading options.
Similar to the 24-inch Bosch 300 Series, this compact model delivers reliable cleaning results and includes a third rack for bowls and utensils. While it may not be the best at drying plastic items, it excels in quiet operation at just 46 decibels, making it suitable for quiet environments.
The Bosch 300 Series SPE53B55UC is water- and energy-efficient, offering an excellent warranty and a RackMatic system for easy loading and organization. Despite its narrow design, it provides ample space for various dishes and operates quietly, ensuring a pleasant washing experience in smaller kitchens.
Pros
Best narrow dishwasher for tight spaces with an 18-inch cutout.

RackMatic system for adjustable racks and versatile loading.

Reliable cleaning performance and quiet operation at 46 decibels.

Water- and energy-efficient design.

Third rack for additional storage space.
Cons
Comparable in price to full-sized models.
13. Samsung DW80R9950UT Dishwasher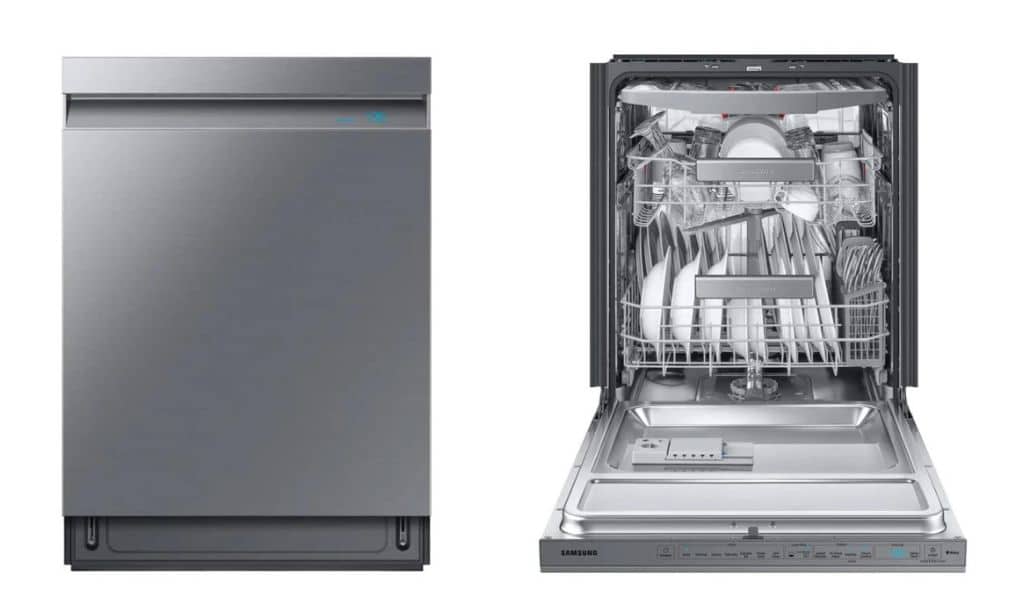 The Samsung DW80R9950UT dishwasher is a powerful and sleek addition to any kitchen. With its cutting-edge technology and innovative features, this dishwasher makes cleaning dishes a breeze. The DW80R9950UT boasts a spacious interior that can accommodate up to 15 place settings, making it perfect for large families or dinner parties. The WaterWall 2.0 technology uses a powerful wall of water to thoroughly clean every dish, leaving no spot untouched. Its Zone Booster feature allows you to target heavily soiled areas for a more intensive clean, while the AutoRelease door feature automatically opens the door slightly after the cycle is complete to speed up the drying process.
Pros
WaterWall 2.0 technology ensures excellent cleaning performance.

Zone Booster feature for targeted cleaning of heavily soiled dishes.

AutoRelease door for faster and more efficient drying.
Cons
The price may be on the higher side compared to some other models.

Some users reported occasional issues with the Wi-Fi connectivity for the smart features.

The interior layout could be more flexible for better customization of rack positions.
14. Frigidaire FGID2479SF Dishwasher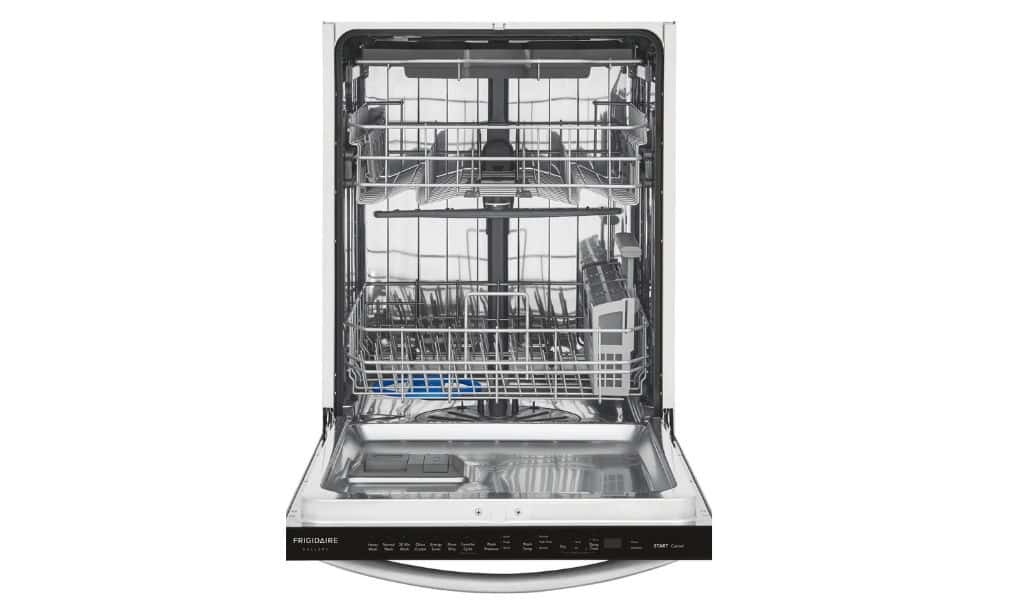 The Frigidaire FGID2479SF dishwasher combines style and functionality to deliver outstanding dishwashing performance. Its stainless steel finish adds a touch of elegance to any kitchen, while the spacious interior can hold up to 14 place settings. The DishSense technology automatically adjusts the cycle time and water usage based on the load's size and soil level, ensuring efficient and effective cleaning every time. This dishwasher features a 30-minute quick wash option for lightly soiled dishes and a top-rack-only cycle for smaller loads. The OrbitClean wash system with four times more water coverage ensures thorough cleaning for even the toughest stains.
Pros
DishSense technology optimizes water and energy usage for efficient cleaning.

30-minute quick wash option for fast cleaning when needed.

OrbitClean wash system provides excellent coverage for spotless results.
Cons
Some users mentioned that the control panel could be more intuitive to use.

The drying performance could be improved for better results.

Occasionally, certain plastic items may not dry completely after the cycle.
15. Electrolux EI24ID81SS Dishwasher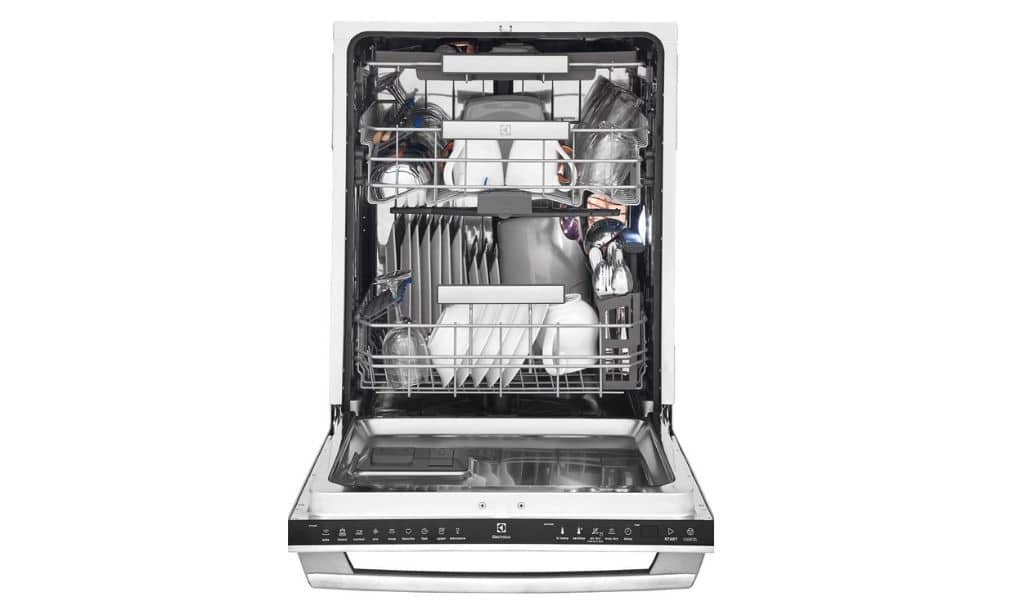 The Electrolux EI24ID81SS dishwasher is a high-end and reliable option that delivers superior cleaning results. Its sleek design complements modern kitchen aesthetics, and the spacious interior can accommodate up to 16 place settings. The dishwasher features a SmartSoil sensor that automatically detects the level of soil on dishes and adjusts the wash cycle accordingly, providing efficient and customized cleaning. The LuxCare Wash Arm offers more water coverage for a thorough clean, while the Perfect Dry System ensures dishes come out spotless and completely dry. The third-level rack provides additional space for small items, further maximizing the dishwasher's capacity.
Pros
SmartSoil sensor for precise and energy-efficient cleaning.

LuxCare Wash Arm with increased water coverage for better results.

The third-level rack offers extra space for utensils and small items.
Cons
This model falls on the higher price range.

Some users noted that the dishwasher's operation can be a bit noisy.

The exterior finish may require frequent cleaning to maintain its shine.
How We Tested the Products?
We conducted a thorough evaluation of dishwashers for this list using a combination of methods. Firstly, we extensively analyzed specifications and user reviews from major retailers like Home Depot, Lowe's, and Best Buy. Our focus was on the bestselling and top-rated models, considering their features in relation to their price point. To be included in our list, a dishwasher had to have a rating of at least 4.5 stars with a minimum of 500 ratings or the highest rating among similar models.
To ensure energy efficiency, we exclusively considered dishwashers that were Energy Star Certified by the Environmental Protection Agency. Delving into user comments and ratings, we meticulously checked for any recurring problems, issues, or complaints associated with specific brands or models.
Although we didn't conduct extensive hands-on testing for this list, we did have the opportunity to examine several dishwasher models in various appliance showrooms. This allowed us to assess the build quality of the units and the user-friendliness of the buttons and controls
Dishwasher Buying Guide
When choosing a dishwasher, several factors should be considered to find the best fit for your kitchen and lifestyle.
1. Dishwasher Size
The size of the dishwasher is an essential consideration, as not all kitchens have ample space to accommodate a full-sized model. Most standard dishwashers are 24 inches wide and about 35 inches high, and many kitchens are designed to house models with these dimensions. However, if your kitchen has limited space, there are slimmer dishwasher options available that can fit into smaller areas without compromising on functionality.
2. Dishwasher Style
Dishwashers come in various styles and finishes to suit different kitchen aesthetics. Stainless steel is the most popular finish, as it blends well with most kitchen motifs and offers a modern look. Additionally, you can find dishwashers in white, black, and other finishes, allowing you to match the appliance with your kitchen's overall design. Some manufacturers, like Samsung, even offer bespoke lines with unique finishes, such as navy steel or brownish Tuscan steel, to add a touch of color and style to your kitchen.
3. Dishwasher Racks and Rack Placement
Often overlooked, the dishwasher's rack configuration plays a significant role in its overall efficiency. Modern dishwashers now include a small third rack at the top, which can accommodate extra silverware, kitchen utensils, and other small items. This feature is a valuable addition if you frequently find yourself filling the standard silverware holder in the bottom rack to capacity. Moreover, some dishwashers feature adjustable racks, allowing you to accommodate dishes and pans of odd or abnormally large sizes, making it easier to load and optimize space.
4. Dishwasher Cycles and Features
Consider the variety of dishwasher cycles and features available in different models. Standard cycles like normal, quick wash, heavy-duty, and delicate are typically found in almost every dishwasher. While fancier units may offer additional specific cycles like mineral-assisted wash or presoak cycle, these niche options may not be used as frequently. It's advisable not to get overly fixated on these extra cycles, as you'll likely find yourself using the standard ones most of the time.
5. Drying Cycles: Condensation vs. Electric Drying
Dishwashers typically have two methods of drying dishes after a wash. Some use a condensation process, where the dishwasher employs very hot water to heat the dishes toward the end of the cycle. As the tub cools down with the hot dishware, condensation occurs, and the water drips off the dishes, leaving them dry. Other dishwashers, like certain models from KitchenAid, use an electric heating element to dry the dishes at the end of the cycle. While this method might provide more thorough drying, it can be less sanitary, less energy-efficient, and may cause plastic items near the heating element to melt.
6. Dishwasher Noise Level
The noise level of a dishwasher can vary, and it may significantly impact your overall satisfaction with a particular model. Most modern dishwashers are designed to be relatively quiet, typically ranging from 40 to 50 decibels. However, some high-end models, like the KitchenAid KDFE204KPS, incorporate advanced technology to keep noise levels as low as 39 decibels during operation. If noise is a concern for you, be sure to check the dishwasher's specifications for the noise level information provided by the manufacturer.
Maintenance Guide for Dishwasher
Regular maintenance is essential for keeping your dishwasher in top-notch condition, just like you maintain your car and lawnmower. Neglecting dishwasher maintenance can lead to issues and leave you hand-washing dishes if it breaks down. To ensure your dishwasher runs smoothly, follow these handy maintenance tips. Remember to consult your owner's manual if you encounter any discrepancies.
1. Clean the Filter
If your dishwasher has a filter, remove it and clean off any food or grime. Food particles can get trapped in the filter and hinder proper cleaning performance.
2. Clean the Door and Seals
Wipe down the rubber seals around the dishwasher door to prevent soil and grime buildup, which could lead to leaks during operation. A damp cloth and a drop of Dawn® will do the trick.
3. Clean the Spray Arm
Regularly wipe down the spray arm with a damp towel. Every six months, consider removing the spray arm to check for any blockages and clear them using a toothpick. Your owner's manual will have detailed instructions on how to do this.
4. Monthly Cleaning
Make it a monthly habit to clean your dishwasher thoroughly. This helps prevent the buildup of germs and maintains the efficiency of the machine.
5. Keep it Running
To keep the motor seals in good working condition, run your dishwasher at least once a week. Even small loads can be efficiently cleaned with a dishwasher, saving water compared to hand-washing.
If you prefer a hands-on approach to maintenance, you can follow our detailed dishwasher cleaning guide. Alternatively, using a dishwasher cleaner like Cascade Platinum Dishwasher Cleaner once a month can make the maintenance process easier. Simply add one pac in an empty wash cycle to enjoy a fresh and clean dishwasher.
Frequently Asked Questions (FAQs)
Now pay look to some FAQs related to the best dishwashers in 2023.
What makes a dishwasher one of the "best" in its class?
The best dishwashers are distinguished by their exceptional cleaning performance, energy efficiency, and innovative features. They should have multiple wash cycles tailored to different dish types, effective soil removal, low noise levels, and adjustable racks to accommodate various dish sizes.
Are high-end dishwashers worth the investment compared to budget-friendly options?
The value of investing in a high-end dishwasher depends on individual preferences and needs. While budget-friendly models can still provide reliable performance, high-end dishwashers often come with advanced technologies, stylish designs, and additional features that enhance user experience.
How do I determine the right dishwasher size for my kitchen?
To find the right dishwasher size, measure the available space in your kitchen where the dishwasher will be installed. Standard dishwashers are typically 24 inches wide and 35 inches high, fitting most kitchen spaces. However, if you have limited space or live in an apartment, consider compact or slimline dishwasher models that are narrower and designed to fit smaller kitchens.
Final Words
As we conclude our journey through the best dishwashers of 2023, we hope you're feeling inspired and excited about the possibilities that lie ahead for your kitchen. With these top-performing machines at your disposal, the tedious task of dishwashing becomes a thing of the past, leaving you with more time to savor life's precious moments.
No more today. That's everything we got for you on the best dishwashers in 2023.
Subscribe to Our Latest Newsletter
To Read Our Exclusive Content, Sign up Now.
$5/Monthly, $50/Yearly