Aries Compatibility: Exploring Relationships with Other Zodiac Signs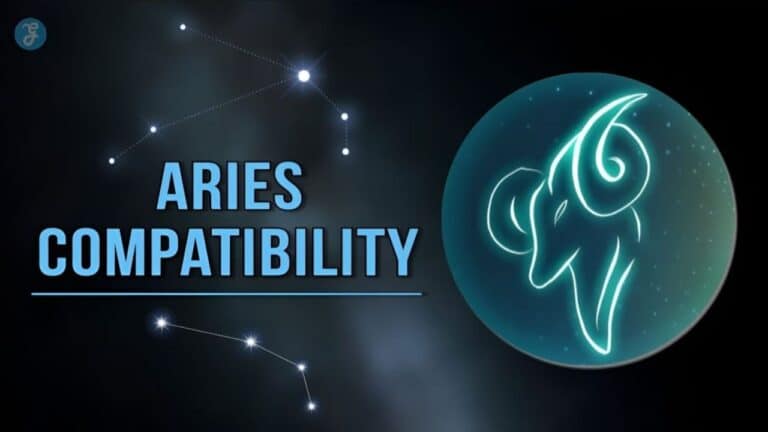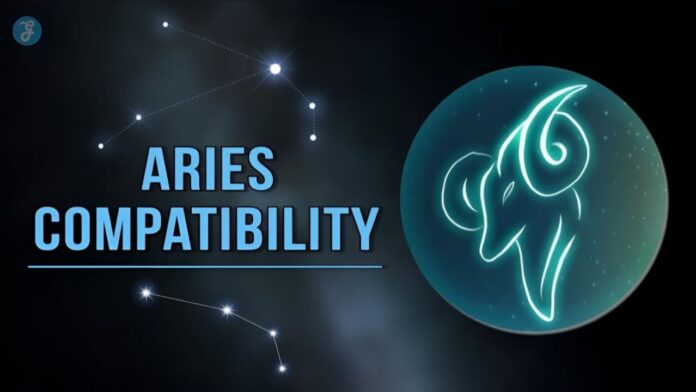 Regarding compatibility in relationships, Aries, the first sign of the zodiac, is known for its dynamic and passionate nature. As natural leaders and pioneers, Aries individuals like to take the lead and exude an energetic and determined aura. There is a lot to discuss about Aries compatibility.
Are you interested to learn more about Aries compatibility? No worries, in this article, we've covered everything on this. So, keep on reading and explore this. 
Aries Zodiac Sign Overview
Aries, the first sign of the zodiac, spans from March 21 to April 20 and is symbolized by the Ram. Governed by the dynamic planet Mars, Aries, known as Mesha in Vedic astrology, embodies an energetic, independent, and courageous nature.
In terms of personality traits, Aries individuals possess a unique individuality that sets them apart. They are known for their boldness, assertiveness, and willingness to take risks. Aries people thrive on challenges and are often trailblazers in their lives.
In matters of love, Aries brings their passionate and enthusiastic energy to relationships. Their desires drive them, and they possess a natural charisma that draws others toward them. Aries partners are known for their spontaneity and love for exciting adventures, making them engaging and thrilling companions.
In their career pursuits, Aries individuals display a determined and ambitious approach. They possess strong leadership qualities and excel in roles that require initiative and independent decision-making. Aries' entrepreneurial spirit often leads them to succeed in business ventures, as they are unafraid to take calculated risks and pursue their goals with unwavering determination.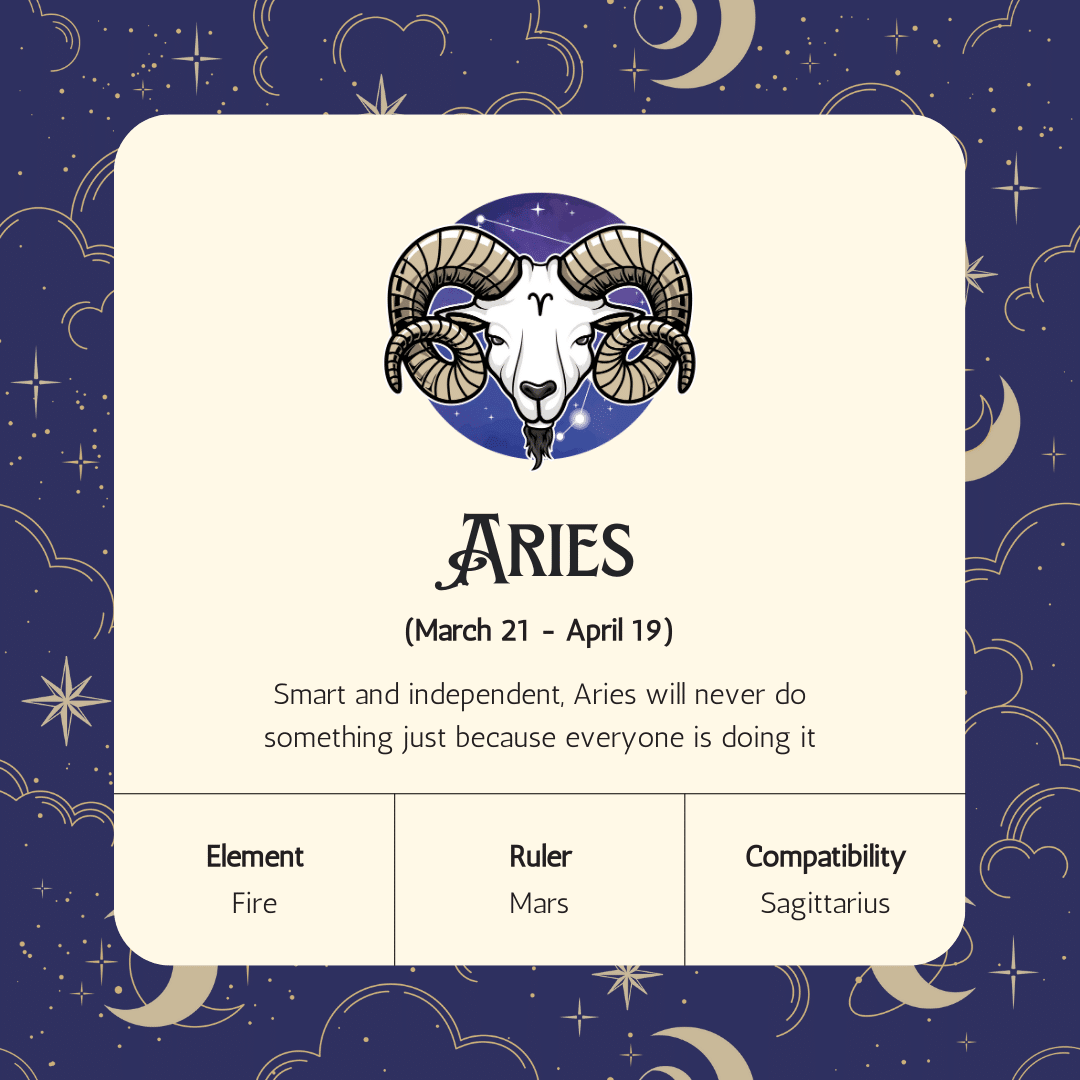 Outside of their professional lives, Aries individuals are known for their energetic and competitive nature. They thrive in active pursuits and participate in sports or other physical activities. Aries' natural drive and competitiveness make them excellent contenders in various competitive arenas.
Aries Compatibility with Other Zodiac Signs: Quick Overview
First, let's start with a quick table showing the compatibility between Aries and other zodiac signs.
| | |
| --- | --- |
| Zodiac Sign | Compatibility with Aries (Ariel) |
| Aries | High |
| Taurus | Moderate |
| Gemini | High |
| Cancer | Moderate |
| Leo | High |
| Virgo | Low |
| Libra | Moderate |
| Scorpio | Moderate |
| Sagittarius | High |
| Capricorn | Low |
| Aquarius | High |
| Pisces | Low |
Aries and Aries Compatibility
There is an undeniable spark and energy in a relationship between two Aries individuals. Both partners are fiery, dynamic, and passionate, creating a dynamic and enthusiastic pairing. They are always up for new adventures and spontaneous activities, ready to take on the world together.
However, their strong personalities and competitive nature may sometimes clash, leading to conflicts and power struggles. Both partners need to learn to balance their own needs with the needs of their significant other and practice effective communication to maintain a harmonious relationship.
Aries and Taurus Compatibility
Aries and Taurus have a semi-sextile aspect in their compatibility, which can create a sense of uneasiness between them. Being a fire sign, Aries is impulsive, fast-paced, and always seeking new experiences. On the other hand, Taurus, an earth sign, prefers a slower pace and finds comfort in stability.
This difference in temperament and approach to life may pose challenges in the relationship. However, suppose both partners can appreciate and understand each other's perspectives. In that case, Aries can bring excitement and adventure to Taurus's life, while Taurus can teach Aries the value of patience and be present in the moment.
Aries and Gemini Compatibility
When Aries and Gemini come together, they form an ideal match due to their friendly sextile aspect. Both signs share a love for speed, playfulness, and spontaneity. They are natural adventurers who enjoy living life to the fullest.
Together, they can plan spontaneous road trips, engage in thrilling activities, and host unforgettable parties in which their social circle will want to participate. The compatibility between Aries and Gemini is characterized by vibrant and dynamic energy, making them a truly compatible and exciting duo.
Aries and Cancer Compatibility
Aries and Cancer have a square aspect in their compatibility, which creates a challenging but activating angle. Both signs are cardinal signs, meaning they are natural-born leaders and initiators. However, their approaches to emotions and decision-making may differ significantly.
Aries, being a fire sign, is driven by passion and fast-paced nature, while Cancer, a water sign, is deeply sensitive and values emotional connection. For this pairing to thrive, both partners must respect each other's emotional processes and balance Aries' fiery energy and Cancer's nurturing nature.
Aries and Leo Compatibility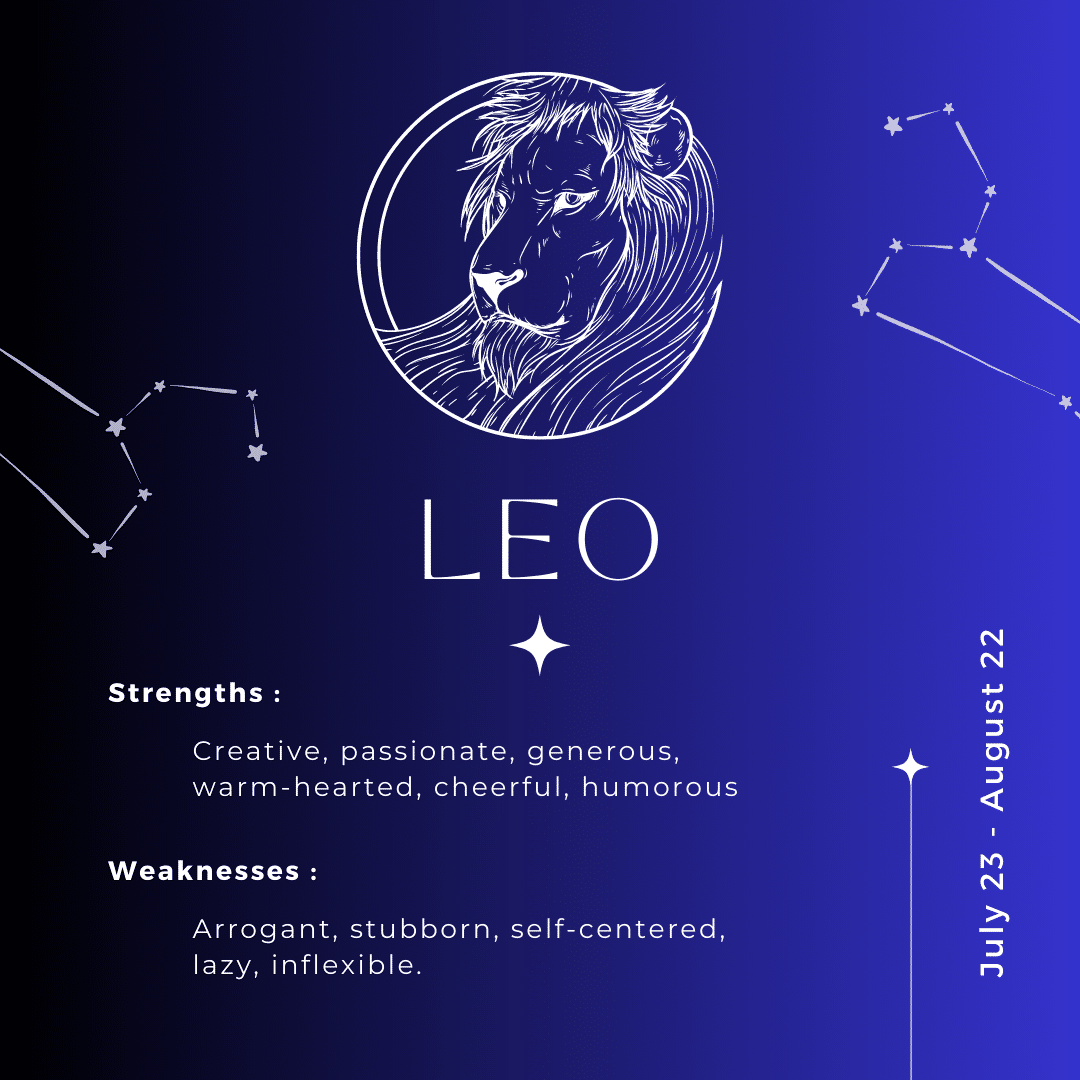 The compatibility between Aries and Leo is characterized by a trine aspect, which usually indicates a harmonious connection. Both are fire signs, sharing a passionate, enthusiastic, and energetic approach to life. They are adventurous and driven individuals who strive to achieve their ambitious goals.
However, their strong personalities and desire for control may lead to power struggles within the relationship. To maintain harmony, Aries and Leo must learn to share authority and take turns leading, allowing their relationship to flourish with mutual respect and understanding.
Aries and Virgo Compatibility
Aries and Virgo have a quincunx aspect in their compatibility, which creates an awkward and somewhat confusing angle. Aries, known for their impulsiveness and competitiveness, may seem vastly different from Virgo, who is more practical and detail-oriented.
However, Aries can admire and respect Virgo's ability to organize and create structure, while Virgo may find Aries' spontaneity and ability to take action mesmerizing. Despite their differences, Aries and Virgo have the potential to inspire each other and learn from their unique strengths.
Aries and Libra Compatibility
Aries and Libra have an opposition aspect in their compatibility, which can lead to a dynamic yet potentially challenging relationship. Aries, ruled by Mars, enjoys competition and is not afraid to engage in conflicts, while Libra, ruled by harmony-loving Venus, prefers to avoid confrontation and seeks peace and balance.
Finding common ground may require both partners to make space for each other's contrasting natures. Aries and Libra can form a powerful and dynamic team if they can balance excitement and harmony.
Aries and Scorpio Compatibility
The compatibility between Aries and Scorpio is characterized by a quincunx aspect, which can create an intriguing but somewhat awkward connection. Both signs share Mars as their ruling planet, meaning they are passionate, driven, and unafraid to go after what they want.
However, they express their desires and emotions in different ways. Scorpio is known for its intense and calculated nature, while Aries is more spontaneous and expressive. If Aries and Scorpio balance their differing approaches, their relationship can be passionate and transformative.
Aries and Sagittarius Compatibility
Aries and Sagittarius have a trine aspect in their compatibility, which sets the stage for a natural, pleasurable, and well-matched pairing. Both are fire signs characterized by their adventurous spirit, enthusiasm, and zest for life. They share a common desire to make the most out of every experience.
The only potential area of conflict may be their pace. Aries tends to be impulsive and seeks shortcuts, while Sagittarius desires a broader perspective and enjoys gathering knowledge. Despite this, Aries and Sagittarius make a dynamic duo that can thrive together.
Aries and Capricorn Compatibility
Aries and Capricorn have a square aspect in their compatibility, indicating a potentially problematic pairing. Being a fire sign, Aries is impulsive and eager to take on challenges, while Capricorn, an earth sign ruled by Saturn, prefers a more practical and step-by-step approach.
However, if both partners can synchronize their pacing and balance Aries' fiery energy and Capricorn's practicality, they can become an unstoppable force capable of achieving remarkable things together.
Aries and Aquarius Compatibility
Aries and Aquarius have a sextile aspect in their compatibility, which forms a friendly and easygoing bond. Both signs are independent and driven to succeed in their unique ways. While Aries quickly jumps on any massive undertaking, Aquarius ensures follow-through and brings innovative ideas. They can support and inspire each other, creating a relationship based on freedom, growth, and intellectual stimulation.
Aries and Pisces Compatibility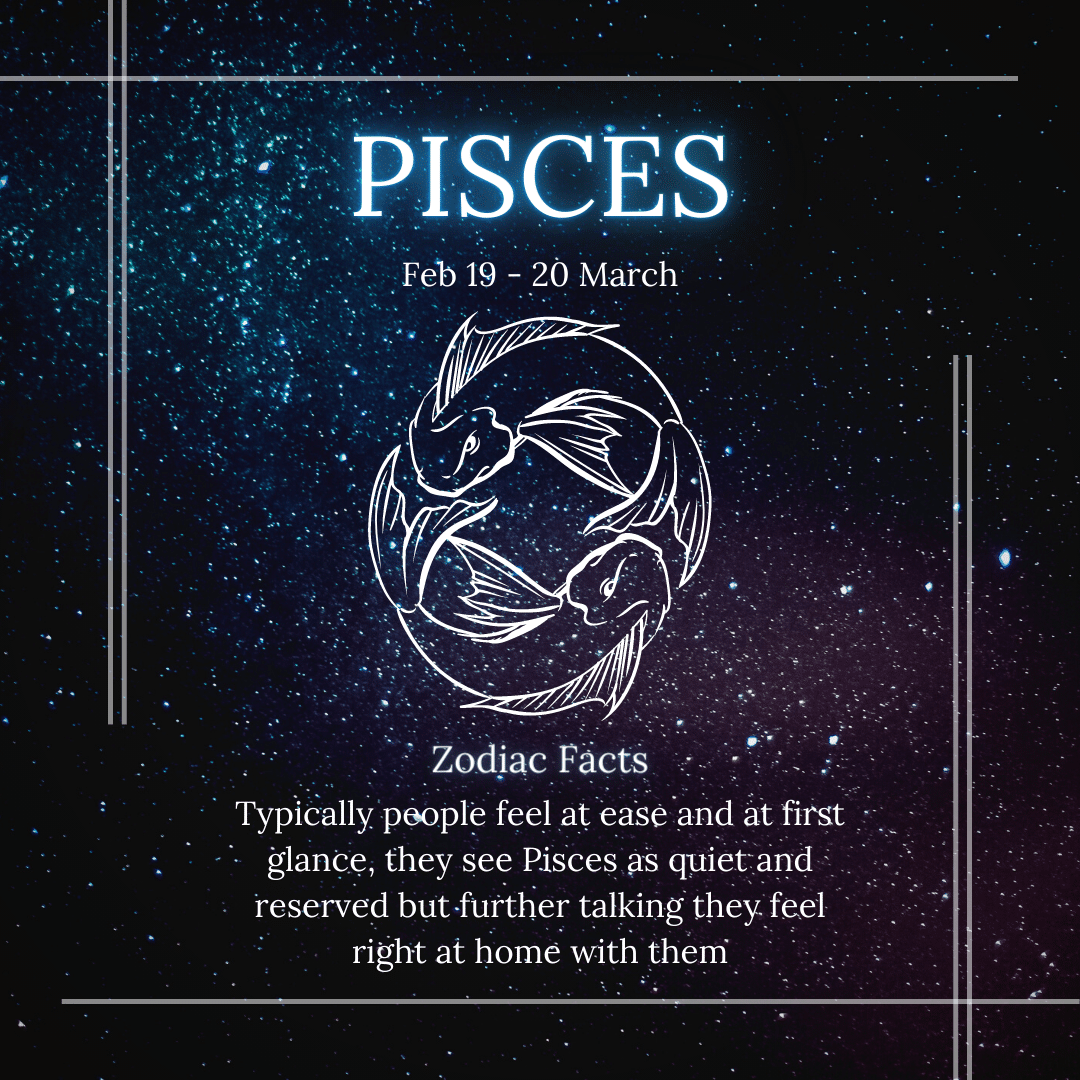 Aries and Pisces have a semisextile aspect in their compatibility, which can create an awkward and challenging connection. Aries, the first sign of the zodiac, is independent, self-motivated, and driven to achieve. As the last sign, Pisces tends to go with the flow, seeking spiritual and emotional connections.
Aries focuses on immediate matters, while Pisces attests to underlying emotions and subtext. Despite these differences, Aries can inspire Pisces to be more self-motivated, while Pisces can teach Aries to tap into their intuition and slow down when necessary.
What Are the Best Compatible Zodiac Signs With Aries?
As the first sign of the zodiac, Aries individuals are known for their pioneering spirit. They are naturally inclined to lead in various aspects of life.
Ruled by the planet Mars, Aries individuals exude an outgoing and determined energy brimming with vitality. Their innate innocence and honesty contribute to their overall compatibility with most other zodiac signs, as long as they are not treated with hostility. However, it is worth noting that impatience is a common trait among Aries individuals, although they have a remarkable ability to forgive and forget easily.
Zodiac Signs with Least Compatibility with Aries
In astrology, a sign is considered least compatible with another sign five signs away from it in the zodiac, indicating a lack of common ground. For Aries, these signs are Scorpio and Virgo. However, it is essential to note that Scorpio and Aries share some common traits that could lead to a successful relationship. Exploring other alignments in your natal chart beyond your sun sign is advisable to gain a more accurate understanding of compatibility.
Aries: Exploring Personality Traits, Challenges, and Relationships
Aries, the first sign of the zodiac, spans from March 21 to April 20 and is symbolized by the Ram. Ruled by Mars, the fiery Aries energy is characterized by individualism, boldness, and bravery.
Personality Traits of Aries
Action-oriented:

Aries initiate and dives headfirst into their passions.

Passionate:

Fueled by desire and intensity, Aries approaches life with fervor.

Bold:

Aries displays courage and fearlessness in pursuing their goals.

Risk-taker

: Aries embraces challenges and is unafraid of taking calculated risks.

Confident:

Aries exude self-assurance and belief in their abilities.

Determined:

Aries are persistent and unwavering in their pursuits.

Direct and straightforward:

Aries communicates openly and honestly.

Brave:

Aries face obstacles with courage and resilience.

Impatient:

Aries can be restless and eager for immediate results.

Impulsive:

Aries tend to act spontaneously without extensive deliberation.
Challenges and Growth Opportunities for Aries
Aries face the risk of burnout due to their intense fire energy. They need to slow down, listen to their bodies, and find balance in their endeavors. Connecting with Venusian energy allows Aries to appreciate leisure, beauty, and sensuality alongside their drive for speed and success.
Aries can benefit from reflecting before acting, avoiding impulsive decisions and negative cycles of thought. Understanding that being present can be decisive is an important lesson for Aries.
Aries in Love, Sex, and Relationships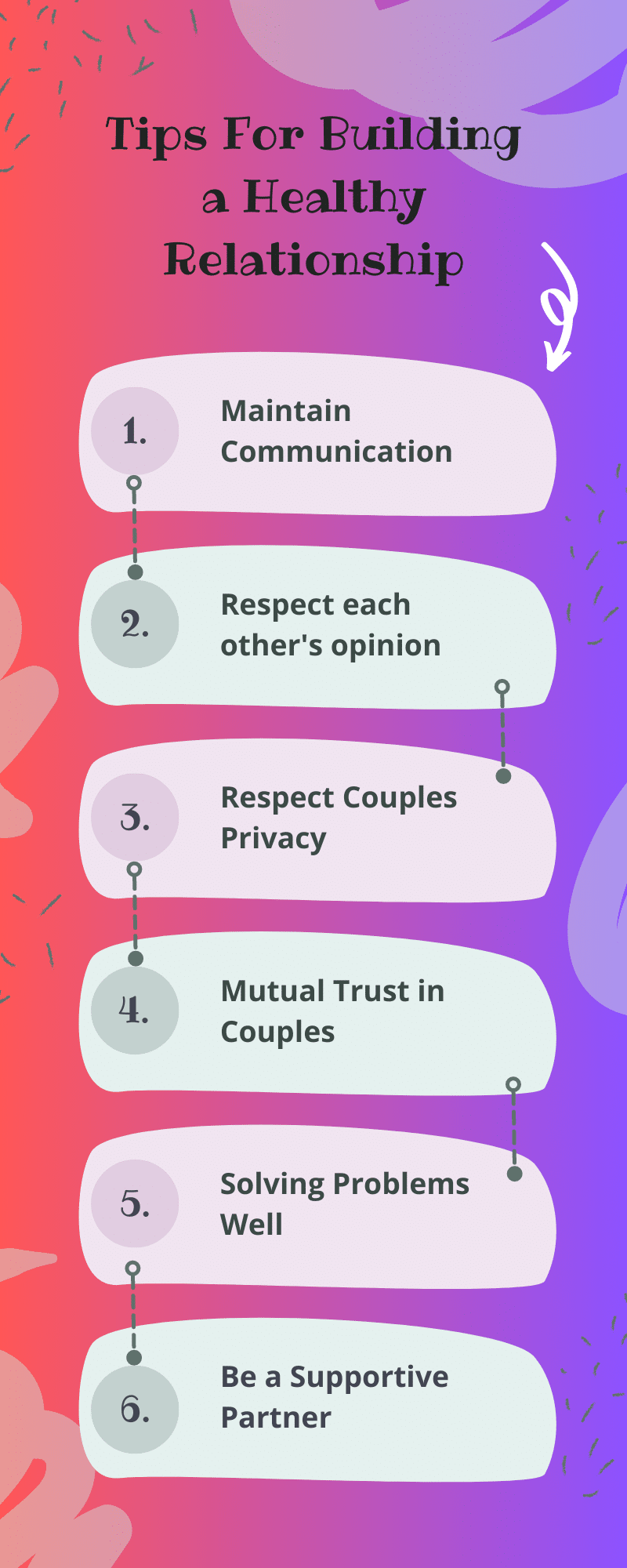 Passionate sex is a creative expression for Aries, who desires intensity and excitement in the bedroom. Aries seek partners who embrace their independent and fiery nature, allowing them to be authentic. Aries' Mars energy fuels a robust protective instinct towards loved ones, driving them to advocate for those they care about.
However, Aries may need to work on finding compromise, as their assertive nature can sometimes lead to a "my way or the highway" attitude in relationships.
In summary, having an Aries as a friend or partner brings excitement, loyalty, and a bold approach to life. Understanding their unique traits and growth areas can help foster harmonious connections with Aries individuals.
Aries in Friendships
Regarding friendships, Aries individuals are known for their straightforwardness and honesty. If you seek a friend who will always speak their mind and provide unfiltered advice, your closest Aries companion will have no qualms about sharing their opinions.
Aries friends are a great choice if you crave excitement and adventure. Their spontaneous nature ensures you'll never have a dull moment, but be prepared to keep up with their boundless energy.
These individuals have a natural ability to make friends easily, although it's not uncommon for them to drift apart or explore different friend groups. Aries thrive on novelty and enjoy seeking new experiences to keep life interesting.
While occasional conflicts may arise (Aries can be prone to temper outbursts), they are generally quick to forgive and move on, as loyalty is essential. However, they do expect the same level of loyalty and dedication in return from their friends. If you're interested, you can also read the signs that your husband doesn't value you.
Aries in Career and Finances
Independence is a central theme for Aries regarding their career and finances, mirroring their approach to love and romance. Aries individuals are not known for taking orders well and often prefer to be their bosses.
Due to their natural leadership qualities, Aries can excel in positions of authority. Leaders foster a culture of risk-taking, visionary thinking, and fearlessness when leading a team.
A career that aligns with Aries' fiery nature is ideal, mainly if it allows them to fight for a cause they believe in or involves athleticism and physicality. Mars, their ruling planet, emphasizes the importance of physical movement.
Aries is also well-suited to freelancing or independent contracting since the autonomy of the DIY lifestyle resonates with their temperament.
However, one challenge for Aries individuals is maintaining long-term commitment. While they possess a knack for starting projects, they may struggle with follow-through. Throughout their careers, Aries individuals must discover what ignites their inner passion and find ways to sustain it.
Bottomline
In summary, Aries individuals are trailblazers driven by passion, courage, and a desire for independence. Their charismatic and adventurous nature extends to their personal and professional lives, making them dynamic and inspiring individuals. 
Subscribe to Our Latest Newsletter
To Read Our Exclusive Content, Sign up Now.
$5/Monthly, $50/Yearly