Editorialge CEO Sukanta Kundu Selected for CXO 2.0 Conference Outstanding Leadership Award 2024
Renowned digital entrepreneur, poet, journalist, social activist, and the founder & CEO of Editorialge Media LLC, Sukanta Kundu (also known as Sukanta Parthib), has been selected for 'CXO 2.0 Conference Outstanding Leadership Award 2024' on September 4, 2023. He is the first Bangladeshi and Bangalee who has been selected for the prestigious award.
Sukanta Kundu Parthib was chosen from thousands of candidates worldwide for this 8th annual leadership award. The award function will be held at Intercontinental, Dubai Festival City in Dubai, UAE from February 20 to 22, 2024.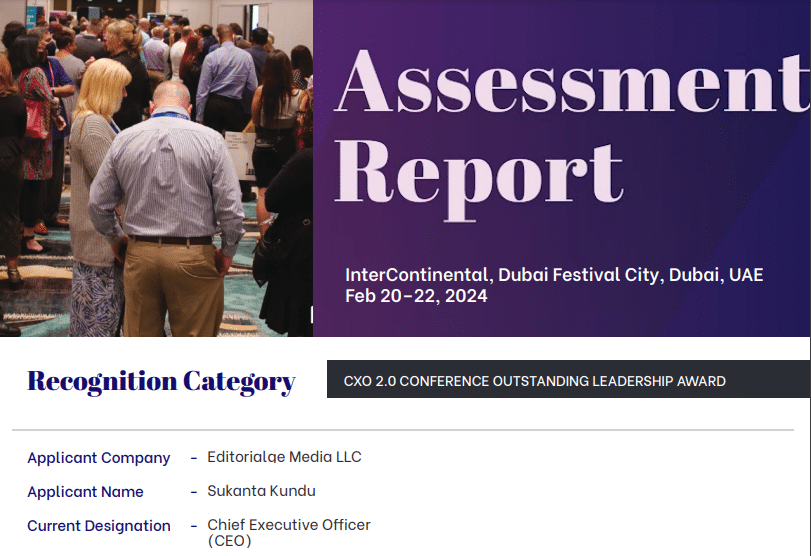 Sukanta Kundu's Journey as an Entrepreneur
Sukanta Kundu's path to triumphant entrepreneurship and esteemed leadership accolades have been characterized by a remarkable vision, unwavering determination, and a solid dedication to instigating transformative shifts.
The launch of Editorialge in 2019 marked Sukanta's transition to entrepreneurship. He founded the company to create opportunities for freelance professionals across content writing, digital marketing, mail outreach, graphic design, video editing, web development, and more.
Sukanta overcame initial obstacles through determination and decisiveness. Despite difficulties in the early days, he persevered to establish Editorialge as a top website. His vision and innovative thinking allowed him to identify and fulfill an unmet need in the industry.
Growth and Global Expansion of Editorialge Media LLC
Sukanta started as a freelance writer and journalist in Bangladeshi media in 2007. He has written poems, short stories, and novels for 23 years. He has taken Editorialge.com and other web portals, including Articleify.com, Techidea.net, Techyfilm.com, and Techidate.com, to the top of the globe as an entrepreneur. He launched Editorialge.com on October 30, 2019; ever since he hasn't looked back and has been growing his business to new heights of success.
In under four years, Sukanta expanded Editorialge from scratch into a global powerhouse with offices in Bangladesh, India, the United States of America, and the United Kingdom. His visionary leadership and strategic planning were key factors in the company's meteoric rise to success.
Under Sukanta's direction, Editorialge also became a vehicle for meaningful job creation. The company has employed over 40 previously unemployed youth worldwide, with plans to hire 100 more in the coming year.
CXO 2.0 Conference Recognition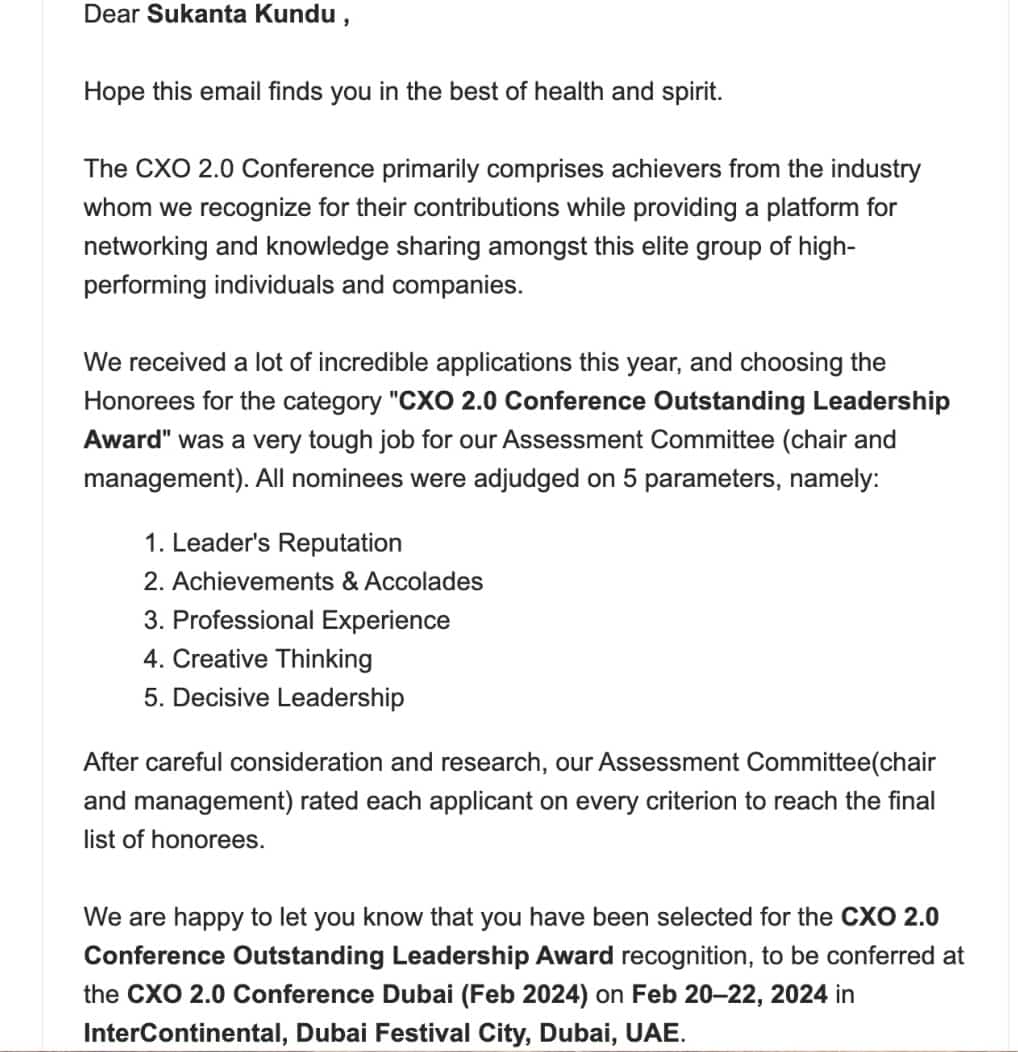 Sukanta's transformative work as an entrepreneur and contributor to Bangladesh's economic and digital progress led to his selection for the 'CXO 2.0 Outstanding Leadership Award'. The selection recognizes his innovation and social impact.
Sukanta Kundu believes the award selection confirms his years of hard work to build a profitable company, provide jobs for youth, and transform the world via entrepreneurship. It inspires us more to follow his legacy in the future.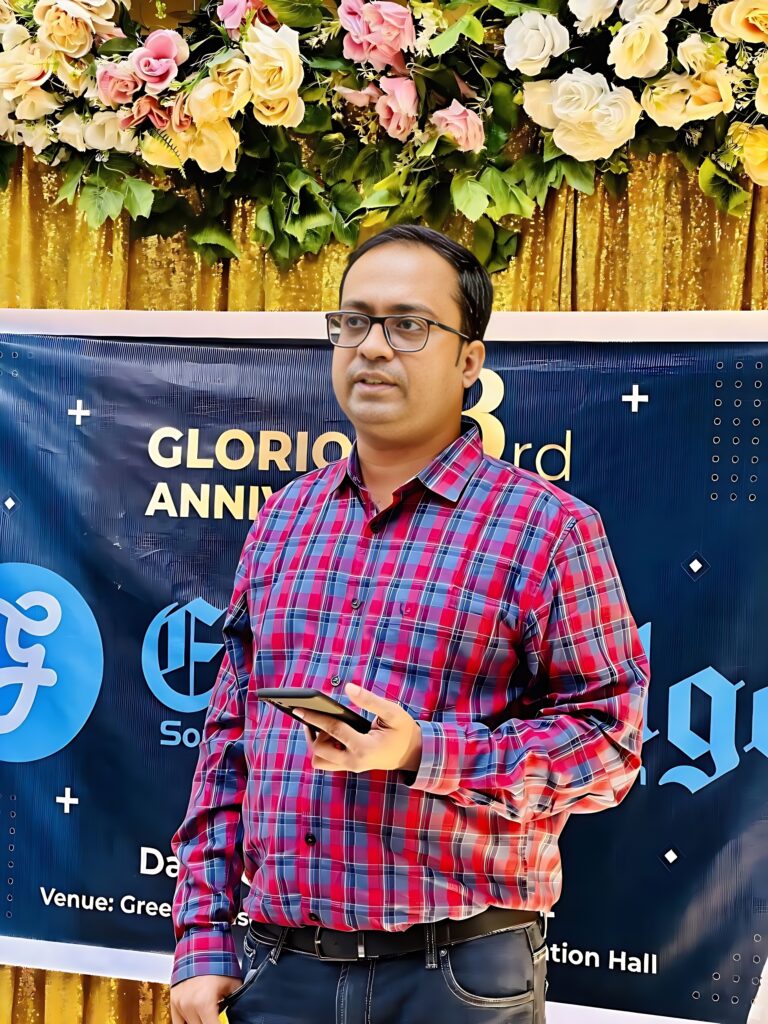 How Sukanta Kundu Celebrates this Achievement?
After hearing about the achievement, Sukanta Parthib stated that being chosen from hundreds of outstanding experts worldwide is humbling. He hopes his platforms and businesses make a difference, and this selection highlights his country, Bangladesh.
He also stated that awards motivate him to work more, not to celebrate past accomplishments. This honor will inspire him to innovate in media, blogging, advertising, and freelancing.
He hopes this milestone boldly enriches Bangladeshi media and tech. He wants to encourage Bangladeshi and Indian subcontinent youth to follow their aspirations.