Putin Vows to Punish Organizers of Rebellion, Calls it a 'Stab in the Back'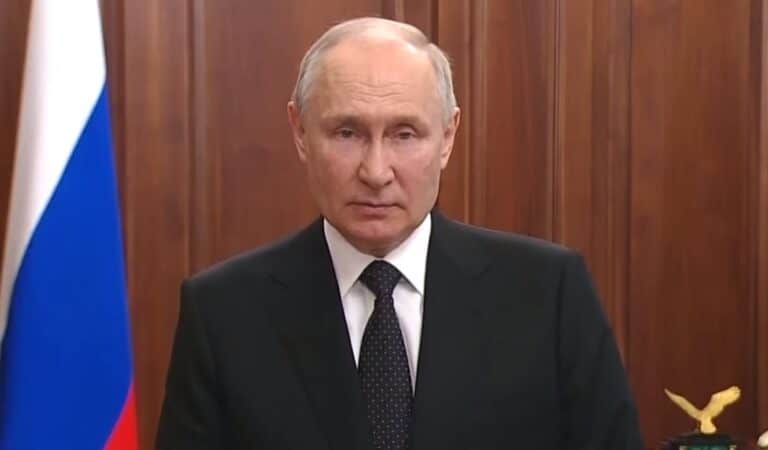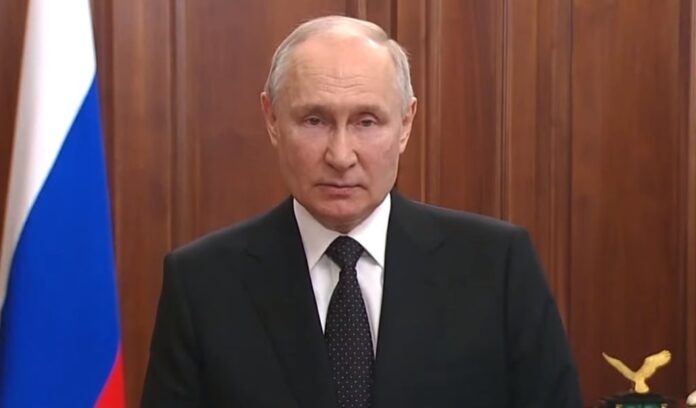 On Saturday, Russian President Vladimir Putin said that he would protect the country from a mercenary leader's armed revolt, which Putin called a "stab in the back" to Russia.
"Everyone who helped plan the uprising will get what they deserve. Putin said in a televised speech to the country that the army and other government agencies have been given the orders they need.
The owner of a private military company, Prigozhin, said Saturday morning that he and his troops had crossed the border from Ukraine into a key Russian city.
Prigozhin shared a video of himself at the Russian military headquarters in Rostov-on-Don, which is in charge of the fighting in Ukraine. He said that his troops were in charge of all the military sites in the city, including the airfield. Other videos shared on social media showed tanks and other military equipment on the streets.
Putin spoke out against the uprising while Russia was "fighting the toughest battle for its future" in Ukraine. Putin said, "The whole military, economic, and information machine of the West is fighting us."
Prigozhin said that young conscripts didn't fight back at checkpoints and that his troops "aren't fighting against children."
"But we will destroy anyone who stands in our way," he said in one of a series of angry video and audio recordings he posted on social media starting late Friday. "We are moving forward and will keep going until the end."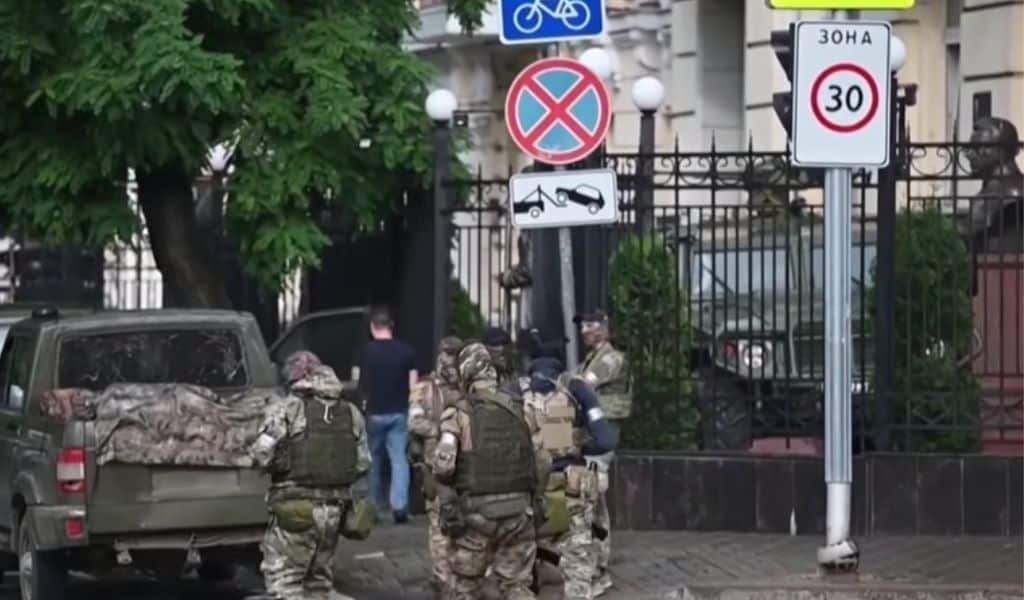 When Prigozhin said there would be an armed rebellion, Russia's security forces asked for him to be arrested. Security was tightened in Moscow and Rostov-on-Don, which shows how seriously the Kremlin took the threat. It wasn't clear right away how he got into the city in southern Russia or how many soldiers he had with him.
Prigozhin said that rockets, helicopter gunships, and artillery fire were used to hit Wagner field camps in Ukraine on orders from the head of the General Staff, Gen. Valery Gerasimov, after he and Defense Minister Sergei Shoigu met in Rostov and agreed to destroy Wagner. He also said that his troops shot down a Russian military helicopter that was firing on a civilian convoy, but there was no independent proof of this.
Prigozhin said that he was in charge of 25,000 men. He said that his troops would punish Shoigu if there was an armed rebellion, and he asked the army not to fight back. He said, "This is not a military coup; it's a march for justice."
Even though the result of the fight wasn't clear yet, it looked like it would hurt Moscow's war effort even more because Ukrainian forces were probing Russian defenses as part of a counteroffensive. If Prigozhin wins, the disagreement could also hurt Putin and his ability to keep a united front.
Wagner's troops have been very important in Russia's war in Ukraine. They were able to take Bakhmut, which has been the site of the bloodiest and longest battles. Prigozhin has often said bad things about Russia's military leadership. He has said that they are incompetent and don't give his men enough weapons and ammunition.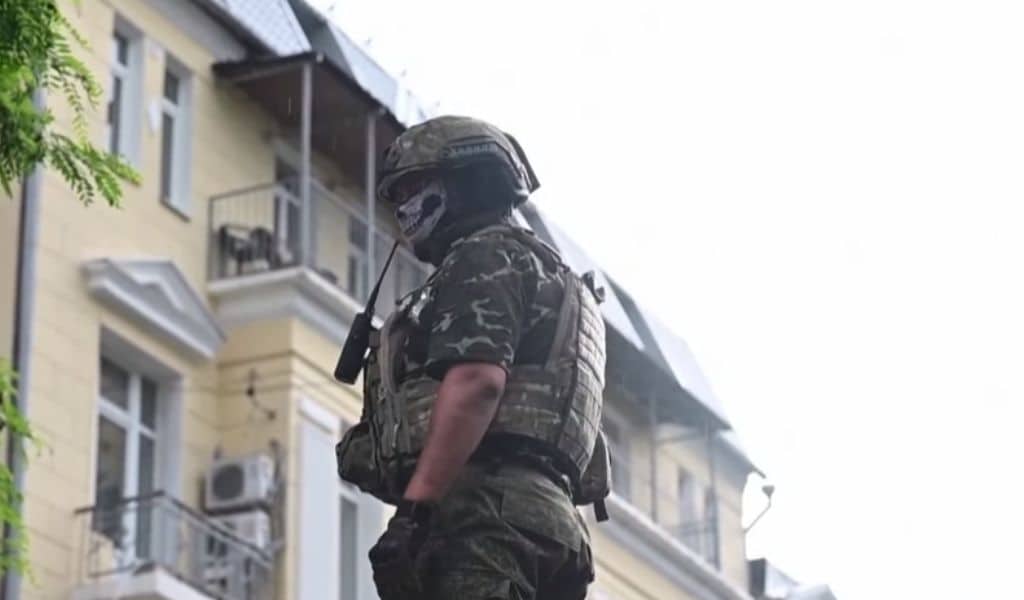 On Friday, Russia's National Anti-Terrorism Committee, which is part of the Federal Security Services, or FSB, said that Prigozhin would be investigated on charges of calling for an armed rebellion, which is a crime punishable by up to 20 years in jail.
The FSB told the contract soldiers who worked for Wagner to arrest Prigozhin and not follow his "criminal and treacherous orders." It said that his words were a "stab in the back to Russian troops" and that they were trying to start a war in Russia.
Early on Saturday, soldiers carrying assault rifles were stationed outside the Defense Ministry's main building. Heavy military trucks and armored vehicles could be spotted in many locations throughout central Moscow. Traffic was backed up as the area around the presidential administration near Red Square was restricted.
However, despite the increased military presence, downtown pubs and eateries were crowded with patrons. People were dancing in the street close to the entrance of one bar near the FSB headquarters.
Military contractors were required to execute contracts with the Defense Ministry before July 1 in order to avoid violating Prigozhin, whose dispute with the ministry goes back years. He said he was willing to make a deal in a statement late on Friday, but "they have treacherously cheated us."
He claimed, "Today they launched a rocket attack on our rear camps, and a significant number of our comrades perished." Attacks on the Wagner camps were denied by the Defense Ministry.
He yelled, "The evil personified by the military leadership of the nation must be stopped."
The Wagner soldiers were asked to put an end to any action against the army by Col. Gen. Sergei Surovikin, the deputy commander of the Russian force coalition operating in Ukraine, who claimed that doing so would help Russia's adversaries, who are "waiting to see the exacerbation of our domestic political situation."
Political expert Tatiana Stanovaya foresaw this as Prigozhin's demise.
There is no going back now that the state has taken an active role, she tweeted. "Prigozhin and Wagner are about to be fired. The sole option left is total destruction, with the Wagner group's level of resistance serving as the lone determinant. They sent for Surovikin to persuade them to give up. Conflict appears to be completely pointless.
A senior military official, Lt. Gen. Vladimir Alexeyev, condemned Prigozhin's action as "madness" that could spark civil war.
It is a "stab in the back" to the president and the nation. Only Russia's adversaries could orchestrate such a provocation, he claimed.
According to a statement from the defense ministry, Ukraine was assembling forces for an assault near Bakhmut to capitalize on "Prigozhin's provocation." It claimed that Ukrainian forces were preparing an offensive while being fired upon by Russian artillery and aircraft.
The Institute for the Study of War in Washington said that it looked like "Prigozhin fully intends for Wagner to move against MoD leadership and forcefully remove them from power, most likely against the Southern Military District command in Rostov-on-Don but possibly also against Moscow."
At the White House, Adam Hodge of the National Security Council said, "We are keeping an eye on the situation and will talk to our allies and partners about what is going on."
At least two people were killed and eight were hurt in Kyiv on Saturday when a Russian missile attack caused falling debris to start a fire on several floors of a 24-story apartment building in a central area, said Serhii Popko, the head of the city's military administration.
He said that more than twenty rockets were found and shot down. Video from the scene showed that the building's upper floors were on fire and that the parking lot was full of ash and broken things.
Subscribe to Our Latest Newsletter
To Read Our Exclusive Content, Sign up Now.
$5/Monthly, $50/Yearly