Online Casino Security: Exploring Cutting-Edge Technologies for a Safe Gaming Experience
By offering an assortment of exciting casino games for players to enjoy in their own homes, casino websites have become increasingly popular over the last few years. Huge amount of important data is being transferred between players, banks, and online casinos as a result of technological improvements. Because of this, online casinos security is one of the most important facets of the iGaming industry. However, advanced security measures serve more than just safeguarding money and personal information. Moreover, they make sure the gameplay is honest, stop fraud, and uphold the platform's integrity at the same time.
RNG Certificate and Licenses
If you're playing in an online casino, you want assurance the games are fair and unbiased. This is where Random Number Generators (RNGs) and associated certificates and licenses play a central role.
Random Number Generators (RNGs) and Fairness
RNGs, or random number generators, are a crucial component of casino games. They guarantee the impartiality and randomness of each game's outcomes. In essence, RNGs are intricate algorithms that produce numerical sequences. The scores of games like slots, roulette, and card games are determined by these.
To establish the integrity of the RNGs used by the online casino industry, they are verified by independent testing and certification agencies. Reputable testing companies, such as eCOGRA and iTech Labs, rigorously assess the RNGs to confirm the sums produced are truly random and unpredictable. Certifications like this provide you with confidence the games are not manipulated or biased in favor of the casino.
Licensing and Regulatory Authorities
In addition to RNG certificates, online casinos must obtain gaming licenses from recognized regulatory authorities. Reputable licenses ensure the best online casino websites operate in compliance with established standards and regulations, not to mention safeguard players' interests. And all of this is done whilst offering a secure gaming environment.
Reputable licensing authorities, like Malta Gaming Authority (MGA), the UK Gambling Commission (UKGC), Kahnawake Gaming Commission, along with Gibraltar Regulatory Authority (GRA), enforce strict guidelines. Because a typical player needs to be protected, licensing body rules cover areas that include responsible gaming practices, anti-money laundering, and data privacy. By obtaining a license through a reputable authority, all top Canadian online casino sites demonstrate their commitment to their customers by maintaining excellent levels of security and objective play. We strongly suggest you stick with first-rate gambling platforms and stay clear of online casinos that lack a reputable gaming license.
Blockchain
Blockchain technology has gained popularity in recent years for offering players a secure gambling experience. Online casinos may take advantage of the blockchain's built-in protection features thanks to cutting-edge technologies. These can be applied to safeguard customer information, secure transactions, and improve transparency.
The decentralized nature of blockchain is a massive benefit for a secure casino. User information is frequently kept on centralized servers by traditional casino sites. They may be more susceptible to hacking efforts as a result. Blockchain, in contrast, disperses data throughout a network of computers, thus making it very challenging for hackers to breach the system. Keep in mind that the blockchain is immutable. So a transaction cannot be changed after it has been recorded.
Another blockchain-based technology known as smart contracts is fundamental for boosting security in online casinos. Smart contracts are self-executing when certain circumstances are met. Online casinos have the ability to automate a mixture of procedures utilizing smart contracts. They encompass things like confirming player identity, controlling rewards, and running impartial games. Blockchain contracts lower the danger of fraud or manipulation since it negates the need for middlemen.
Better still, the blockchain enables a transparent gaming experience. That's partly because transactions with cryptocurrencies like Bitcoin, as well as each bet placed on the blockchain, is recorded. All transactions can be accessed by anyone, thereby ensuring fairness and accountability. Technically, all players can verify the integrity of games and confirm the casino isn't manipulating the final tally.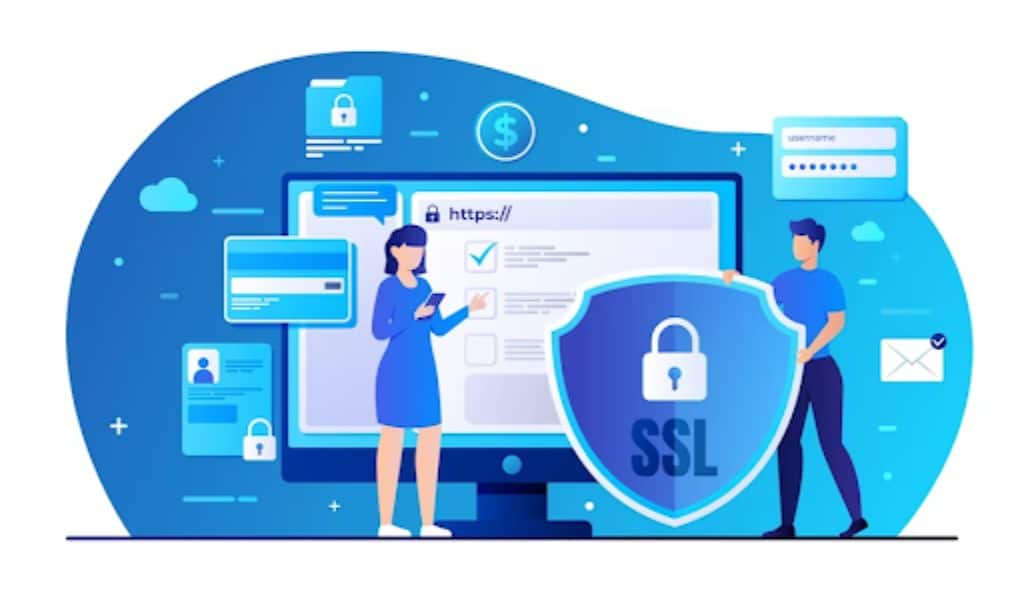 SSL Encryption
Data protection is a key element of online casino security. Reputable casinos use cutting-edge technology with encrypted techniques to protect sensitive data like your confidential information and financial transactions. Secure Socket Layer (SSL) encryption is used to safeguard the sensitive information moving to and from a player's device and the casino's servers. As a result, the data would remain safe and unreadable were it intercepted.
Online casinos today all use strict data protection protocols. They follow guidelines established by the sector, like the General Data Protection Regulation (GDPR). This is to be certain that private information is treated carefully within every cybersecurity online casino department and is not open to any prying eyes. By implementing robust firewalls and intrusion detection systems and performing regular audits, trustworthy online casino sites strengthen their defenses against unauthorized access and data breaches.
Big Data Analytics
Offering a safe gaming environment for casino players is essential. Due to the rise of data analytics, casino operators are leveraging cutting-edge technologies to enhance protection methods and protect their platforms from potential threats. Analyzing the vast amounts of information generated by online casinos allows these advanced analytics tools to enable operators to detect and thwart fraud. 
A key application of large data analytics in virtual casino safety is anomaly detection. With continuous monitoring of user behavior and transaction patterns, sophisticated algorithms can analyze abnormal behaviors that might be indicative of fraud or hacking attempts. These anomalies can range from unusual betting patterns to suspicious login attempts.
Additionally, data analytics can assist in strengthening user authentication and identity verification. Analyzing users' gaming records, including their playing habits, betting choices, and payment patterns, lets online gambling sites build comprehensive profiles that help verify the legitimacy of user accounts and detect any unauthorized players.
These analytics instruments help enable real-time monitoring to establish unbiased gameplay and regulatory compliance. When analyzing gameplay records, as the results of card shuffling or slot machine spins, it's possible to detect any deviations from expected probabilities and identify potential manipulation or cheating.
Two-Factor Authentication (2FA)
Many of today's Internet casinos have adopted two-factor authentication (2FA). This requires you to provide two different authentication factors, usually a password and a unique code generated using an authenticator app or sent via SMS.
Thanks to utilizing 2FA, casinos minimize the possibility of unauthorized access to player accounts, even if passwords are compromised. This extra step ensures that only the account owner can log in, thus greatly reducing the likelihood of fraudulent actions and unauthorized transactions.
Know Your Customer (KYC)
To prevent fraudulent activities, online gambling websites employ identity verification and Know Your Customer (KYC) processes. This helps to ascertain that players are of legal age to gamble. What's more, it's feasible to block multiple accounts from being created by the same individual. Then, there are new technologies like facial recognition and biometric authentication. These are used to check the identity of players. By comparing the provided documents or images with established databases, casino businesses authenticate users and minimize the risk of identity theft.
To comply with anti-money laundering (AML) laws, KYC procedures also call for participants to submit legitimate picture ID cards or passports and proof of address. It also stops the misuse of their platforms for illicit actions.
Final Thoughts
Cutting-edge technologies are now indispensable to maintaining the safety and security of both players and iGaming platforms. Encryption, identity verification, RNGs, two-factor authentication, and various AI-driven systems collectively create a secure online casino experience. In doing so, gaming websites offer players a top-notch casino experience that is safe and enjoyable. First-rate gaming platforms will need to regularly update their protection procedures to stay ahead of new dangers as long as technology continues to advance.
Subscribe to Our Latest Newsletter
To Read Our Exclusive Content, Sign up Now.
$5/Monthly, $50/Yearly