Motorola Razr 2023 Review: A Stylish and Powerful Foldable Phone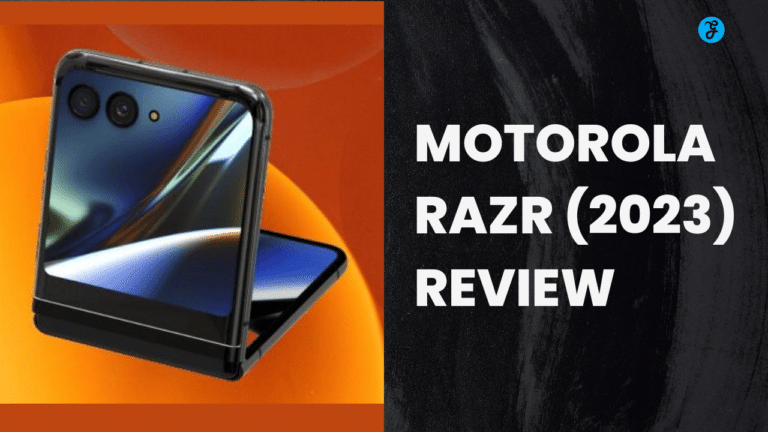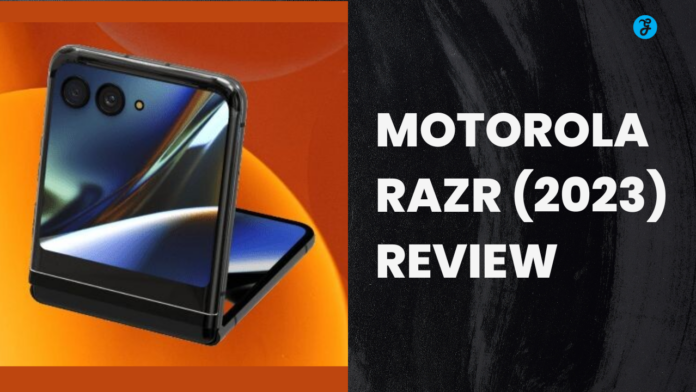 Are you searching for a foldable phone but don't want to splash out for a flagship? The Motorola Razr 2023 could be the answer. In this article, you'll learn about the Motorola Razr 2023 Review. It is one of the few mid-range options on the market.
This review will offer an unbiased look at its features and performance so that it can be compared against other folding phones similarly priced. Let's see if this device meets design and battery life expectations!
Content Highlights
The Motorola Razr 2023 is a midrange foldable phone with a 6.9-inch P-OLED internal display and a 1.5-inch OLED external display with curved sides for comfortable grip.
It is powered by a Snapdragon 7 Gen 1 chip, capable of providing basic performance at best. At the same time, the battery capacity reaches up to 4200 mAh – paired with 30W wired charging capabilities and a 5W wireless charging option.
It features 64MP+8MP dual rear cameras, but photos lack sharpness in low light due to the absence of an optical image stabilization feature. At the same time, its design materials offer lightweight yet solid build quality – lacking dust resistance certification found in other models and fragility in unprotected hinges may reduce longevity if not handled carefully.
Design and Display Review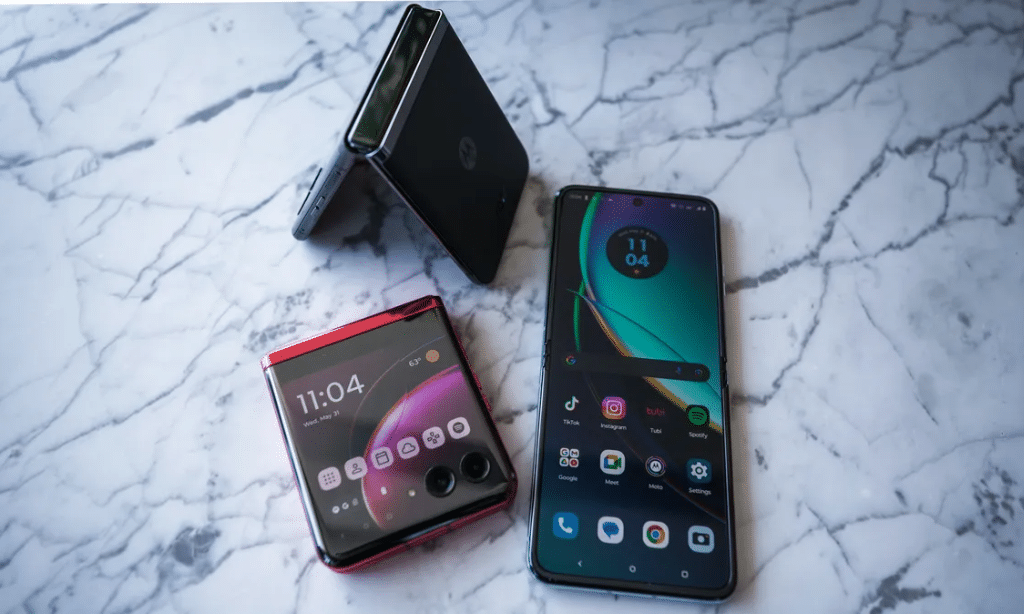 The Motorola Razr (2023) features a foldable display with an external panel that offers a smaller viewing area than the Samsung Z Flip.
Some of the key features of the Motorola Razr 2023 include:
A larger cover display than the previous generation Razr
A faster processor
More RAM
More storage
A better camera system
A higher refresh rate on the interior display
A longer-lasting battery
Motorola Razr 2023 Review: Pros and Cons
The Motorola Razr (2023) is a unique foldable phone with impressive features and noticeable drawbacks. Below is a summary of the pros and cons of the device.
| Pros | Cons |
| --- | --- |
| The Motorola Razr 2023 boasts a premium 6.9-inch internal display. | The small external display of the Razr 2023 is not as large or useful as those on competitor models such as the Samsung Z Flip. |
| The Razr+ model offers an ultra-premium look and feel impressive design, and high-quality materials. | Despite its design and materials, the Razr+ has some drawbacks that may disappoint users. |
| The Motorola Razr 2023 is currently the most affordable foldable phone on the market. | The Motorola Razr 2023 may not meet certain aspects, such as design and display expectations. |
It's clear that while the Razr (2023) pushes boundaries with its affordable price tag and premium display, some areas, such as the external display and overall design, could potentially underwhelm users. Nevertheless, it appeals to those experimenting with foldable phone technology without breaking the bank.
External Panel Comparison to Samsung Z Flip
The Motorola Razr 2023 and the Samsung Z Flip both feature external panels, though there are crucial differences that potential buyers should consider.
| Aspect | Motorola Razr 2023 | Samsung Z Flip |
| --- | --- | --- |
| Size of External Panel | 1.5 inches | 1.9 inches |
| Display Technology | OLED Panel | OLED Panel |
| Unique Features | Curved sides for comfortable grip | Flat sides for a sleek design |
The Motorola Razr has a smaller external panel than the Samsung Z Flip, but both utilize vibrant OLED panels for rich color displays. The Razr's unique design includes curved sides for a more comfortable grip, while the Z Flip opts for flat sides for a sleek and modern look. Each design has unique features, and prospective buyers should consider these differences.
Screen Resolution and Refresh Rate
The Motorola Razr 2023 is a midrange foldable phone with an impressive display. Its 6.9-inch P-OLED screen offers crisply detailed visuals at 2640×1080 resolution and 413 pixels per inch, topped off by up to 1,400 nits of brightness for excellent visibility in any light conditions.
The display's refresh rate can reach up to 144Hz on the basic variant or 165Hz for those buying the + edition – this makes it feel incredibly smooth when watching videos and playing games while reducing eye strain over prolonged use.
You get great clarity with smooth motion when using this device – making it a pleasure to experience multimedia content on its stellar display.
Performance and Software Review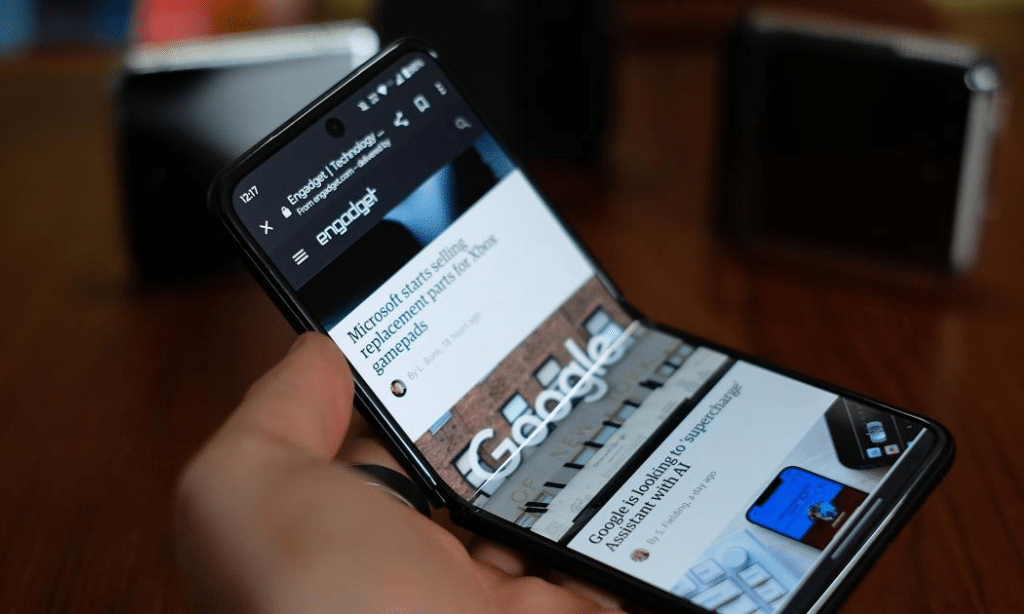 The Motorola Razr 2023 is powered by a Snapdragon 7 Gen 1 chip, offering respectable midrange performance.
| Feature | Spec |
| --- | --- |
| Display | 6.9-inch pOLED interior display with FHD+ resolution and 144Hz refresh rate, 3.6-inch gOLED cover display with HD+ resolution |
| Processor | Qualcomm Snapdragon 8+ Gen 1 |
| RAM | 8GB |
| Storage | 128GB/256GB |
| Rear cameras | 50MP main camera, 13MP ultrawide camera |
| Front Camera | 32MP (f/2.4, 0.7 μm) | 8MP (f/2.4, 1.4um) QuadPixel |
| Battery | 4000mAh |
| Operating system | Android 13 |
| Dimensions | 168.3 x 72.6 x 7.9 mm (closed) / 168.3 x 72.6 x 16.9 mm (open) |
| Weight | 205g |
| Colors | Black, Silver, Blue |
| Price | $869 (128GB), $969 (256GB) |
Snapdragon 7 Gen 1 Chip
The Motorola Razr 2023 is powered by a Snapdragon 7 Gen 1 chip, which falls into the midrange category of processors. Despite being mid-range in performance and power efficiency, this chip still offers great levels of responsiveness for the main display. It maintains an acceptable balance between performance and battery life, which are important on foldable phones.
It also allows users to access many apps without bogging down operating systems or negatively affecting battery life. In short, the Snapdragon 7 Gen 1 chip helps bridge the gap between flagship processor speeds and power efficiency. It is a great option for budget-conscious customers who want a smooth experience but don't need all the bells and whistles available with more expensive devices.
Midrange Performance
The Motorola Razr 2023 runs on a Snapdragon 7 Gen 1 processor. This chip can provide basic performance at best, as expected from a midrange phone. It's ideal for everyday tasks like emailing, web browsing, and light gaming — though frame rate drops may occur with more demanding titles.
Meanwhile, the screen supports resolutions up to 2,640 x 1,080 pixels and has a refresh rate of up to 144Hz; users can expect clear visuals regardless of the content being viewed but won't enjoy much benefit from the faster refresh rate when playing intensive 3D games or watching videos in ultra-high definition.
The display also offers good viewing angles in portrait and landscape orientation without compromising contrast brightness levels. All these factors come together to offer an adequate experience for those who don't require flagship specs.
Camera Review
The Motorola Razr (2023) features a dual camera on the rear, providing mid-range image quality and moderate low-light performance.
Sample Photos
The Motorola Razr 2023 has a dual rear camera setup featuring 64MP and 8MP lenses, which capture photos with decent color accuracy and detail. However, it may be difficult to take close-up shots with this phone, given the fixed lens angle. Photos taken in low light are generally less sharp due to the absence of an optical image stabilization feature.
Moreover, there is no information on the specific quality or performance of sample photos taken with this device, so it is hard to assess accurately. Even so, compared to other foldable phones like the Samsung Galaxy Z Flip 5, the Motorola Razr (2023)'s photos come out slightly lower in terms of resolution and clarity as its sensors lack certain features that allow for better results under different lighting conditions.
Looking for another Morotla review? If so, then read this Motorola Moto Edge 30 Ultra Review
Battery Life and Charging
The Motorola Razr 2023 provides a respectable battery life and fast charging options for a quick recharge.
Battery Capacity
The Motorola Razr 2023 features a large 4,200mAh battery and promises all-day battery life thanks to its dual-cell design, with one cell being 2,850mAh. This remarkable improvement from the previous models exceeds that of many other smartphones regarding capacity and power capabilities.
The included fast charger charges the phone quickly — filling it up to 100% under an hour — making this foldable device well-equipped for a whole day's use even when not near an outlet.
Charging Speed and Options
The Motorola Razr 2023 boasts 30W wired charging capabilities, thanks to the fast-charging USB-C adapter. Capable of topping up the device in just over an hour, this is a much faster rate than many other foldable phones offer.
It also offers wireless charging at a 5W capacity, providing enough power for casual users and topping up overnight on slow charge cycles. With both these potential methods available, you can keep your phone powered easily and flexibly. Additionally, you can also read about How Long to Charge a New Laptop.
Durability and Build Quality
[Video Credit:@Engadget]
Examine the durability of the Motorola Razr (2023) with a focus on its construction materials and fold mechanism.
Construction Materials
The Motorola Razr 2023 features a 7000 alloy aluminum frame, providing an attractive and durable surface. The front and back of the device are given added protection by a slightly rubberized surface referred to as "vegan leather." While this adds an element of style, it lacks the dust resistance certification found on other foldable models, such as the Samsung Galaxy Z Flip 5.
This could potentially mean that dirt and debris may build up in between folds over time, negatively impacting performance and the durability of the folding mechanism. While stylish construction materials have been applied to create a lightweight yet solid design, they are not rated highly enough to ensure long-term reliability or provide peace of mind for buyers looking for reliable foldables with superior features compared to mid-range models like the Motorola Razr 2023.
Fold Mechanism Durability
The Motorola Razr (2023) falls short regarding folding mechanism durability, as it is not equipped with the same protective hinges and seals found in more expensive foldable phones.
This ultimately leads to reduced device longevity due to the increased risk of dust, particles, and liquid getting inside the phone through unprotected folds. As a result, flexing or folding this fragile phone too often could lead to more severe damage, such as display cracks or screen warping under pressure over time.
Furthermore, the lack of stronger materials on its hinges means users must be extra cautious while handling their Razr+ devices since they won't hold up effectively against impacts that can occur in everyday life usage scenarios like slipping off tables accidentally, etc.
Price and Value for Money
The Motorola Razr 2023 is priced as a midrange device yet falls behind other mid-range foldable phones regarding value for money.
| Region | Variant | Price |
| --- | --- | --- |
| United States | 128GB | $769 |
| United States | 256GB | $869 |
| European Union | 128GB | €869 |
| European Union | 256GB | €969 |
| China | 128GB | ¥9,699 |
| China | 256GB | ¥10,699 |
| India | 128GB | ₹80,790 |
Comparison to Flagship Foldable Phones
At the mid-range price point, the Motorola Razr 2023 cannot compete with higher-level offerings from feature-packed competitors. Compared to Samsung Galaxy Z Flip 5 and other flagship foldable phones, it falls short in terms of camera quality, display resolution, refresh rate, and performance.
The Snapdragon 7 Gen 1 chip inside cannot provide a superb experience for multitasking or graphically intensive gaming. Additionally, its external folding mechanism cannot match up against more premium models, such as Samsung's Z Flip series – which contains larger panels with sharper resolution and faster response times for better tactile feedback during use. Finally, the battery capacity tracks behind many other top foldables today, making it feel slightly underpowered.
Midrange Pricing
The Motorola Razr 2023 has been aimed at being an affordable foldable option. It comes with a £800 ($1,025) price tag in the UK – and without any US pricing released yet, it might be assumed that discounts could potentially be available.
While lower than many of its flagship counterparts, the price is still quite high for what it offers, albeit comparable to the latest smartphones.
However, Motorola also offers a Razr+ version of their foldable phone for $999, giving users more enhanced features and flexibility than the standard model. However, this, too, is considered expensive compared to other folding phones on the market, such as Samsung's Galaxy Z Flip 5, which sells for around $200 less than both models of the Razr (2023).
Overall Assessment of the Motorola Razr 2023
The Motorola Razr (2023) is a mid-range foldable phone that delivers an okay experience overall. It has a design reminiscent of the classic Razrs. However, some corners have been cut to achieve this price point.
Its 6.9-inch internal display has at least 2K resolution and produces bright colors, although its external display pales compared to competitors such as the Samsung Galaxy Z Flip 5.
In terms of performance, its midrange Snapdragon 7 Gen processor means that it won't be able to keep up with more expensive options like the iPhone 11 Pro Max or the Google Pixel 4 XL when it comes to multitasking or playing games – but then again it does come at a much lower price.
While its camera can take decent shots in good lighting conditions, it can lack clarity compared to flagship models like Samsung's S21 Ultra or Huawei P40 Pro Plus. Additionally, battery life is passable, but nothing spectacular comes below average compared to other mid-range smartphones today.
Similar News Topics and Competing Products
An in-depth comparison of the Razr (2023) to other foldable phones, specifically the Samsung Galaxy Z Flip 5, can be explored.
Other Foldable Phones in the Market
Samsung Galaxy Z Fold 2 5G: 6.2-inch folding display, Snapdragon 865 Plus processor, 12GB of RAM and 256GB of storage.
Huawei Mate Xs: 8-inch OLED flexible screen, Kirin 990 chipset, and 8GB RAM with 512GB storage
Microsoft Surface Duo: 5.6 inch dual AMOLED displays running at 1800 x 1350 resolution each, 11MP rear camera with f/2 lens along with 3GB of RAM and 64 or 256 GB internal memory options depending on the configuration.
LG Wing: 6.8-inch main OLED display running a 1080 x 2460 resolution alongside a secondary smaller 3.9-inch 720 x 1240 gimbal motion display, among other features including a triple rear camera setup, Qualcomm's Snapdragon 765 chip inside as well as 128 GB or 256 GB of onboard storage.
Comparison to Samsung Galaxy Z Flip 5
The Samsung Galaxy Z Flip 5 and Motorola Razr Plus are two popular foldable devices with many similarities. Both phones feature a 6.7-inch display with nearly identical dimensions (the Galaxy Z Flip5 is slightly narrower and shorter) and the same thickness and weight, making them both comfortable to carry around.
Both devices are powered by the Qualcomm Snapdragon 7 Gen 1 chip, offering sufficient performance for most activities, including editing photos or watching videos. The battery capacity of the Samsung Galaxy Z Flip 5 sits at 3,700 mAh while the Motorola Razr Plus has 3,800 mAh; however, neither device lasts long due to its large displays.
Regarding the price tag, they retail for around $1,000 but have different design aspects, such as foldedness and materials, which could be deciding factors in choosing between these two devices. If you want, you can also read about the Samsung Galaxy Z Fold 5 Review 
Frequently Asked Questions (FAQs)
Now, let's learn about some common queries on Motorola Razr (2023).
1. What is the Motorola Razr (2023) review?
The Motorola Razr (2023) review is a writeup that evaluates and discusses the midrange foldable device's features, specifications, and overall performance.
2. What are the key points discussed in this review?
This review covers design, display quality, processor power, price/availability, and overall user experience with this foldable device from Motorola.
3. Does this phone have any strong selling points?
Despite being a midrange foldable device, it has well-designed hardware with AMOLED display technology, providing good image quality and loud audio output.               
 4. Is the folding mechanism reliable on this phone?
The folding mechanism of the Motorola Razr (2023) appears to be reliable in daily use and shows no sign of degradation over time, even after opening more than 10 times within two minutes without using too much force
Final Thoughts
Overall, the Motorola Razr 2023 can be considered a midrange foldable smartphone that has not met many expectations about its design and performance features. The device is cheaper than some of its rivals on the market, such as Samsung Z Flip 5 or Razr+, but may lack features or longevity.
The screen technology falls behind other foldable phones from several years ago, and while it offers bright visuals, it does not have impressive refresh rates for someone used to flagship models.
Furthermore, its battery life may fall short compared to other options on the market. At the same time, its external display panel size isn't significantly better than much pricier flip phones like the Galaxy Z Flip 3.
In conclusion, although priced reasonably for an entry-level model into foldable smartphones, those seeking more advanced features may opt for a higher performing device instead of this one-step down option, which underwhelms overall.
Subscribe to Our Latest Newsletter
To Read Our Exclusive Content, Sign up Now.
$5/Monthly, $50/Yearly