Lenovo Ideapad 720s-15: Complete Specification, Features, and Price Updates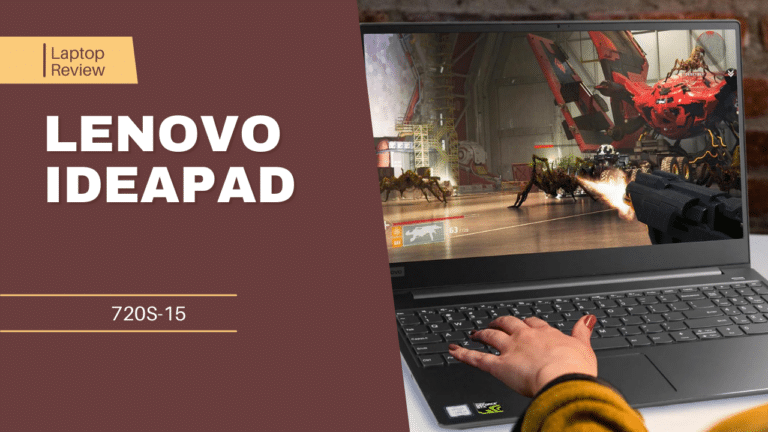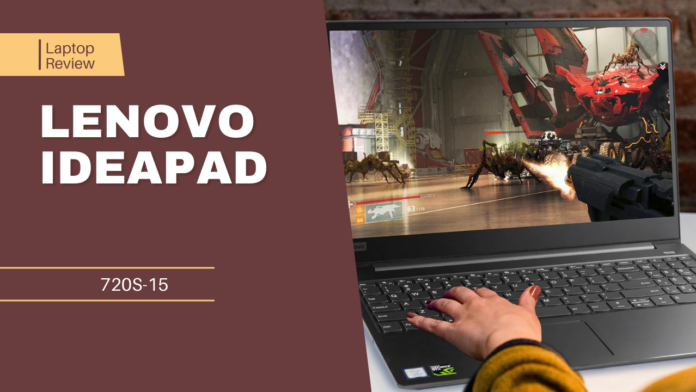 Lenovo Ideapad 720S-15 is a revolutionary laptop that gives you all the power and features you need! This Windows 10-powered 15.6-inch device features an ultrathin design with razor-thin borders for high-clarity visuals, long-lasting battery life with always-on charging capabilities, elite gaming performance as well and voice command capability through Cortana.
In this blog post, we will guide you on everything about Lenovo Ideapad 720S15 with its latest updates & features – from tech specs to reviews and more! Get set for a powerful experience by learning what Lenovo Ideapad 720S has in store all along.
Content Highlights
The Lenovo Ideapad 720S – 15 is a powerful Windows 10-powered laptop with features such as razor-thin borders, long battery life, elite gaming performance, and voice command capability.
It offers an aluminum finish for a premium look and FHD visual clarity through its slim bezels. The long battery life plus always-on charging makes it ideal for business trips or extended gaming sessions.
Nvidia GeForce GTX 1050 Ti GPU provides advanced graphics capabilities, while Dolby Atmos technology and JBLSpeakers ensure crystal clear audio quality with unmistakable bass levels so that gamers can enjoy immersive experiences.
Students, teachers, healthcare workers, and first responders can benefit from special discounts of up to 7% off on laptops, PCs & accessories when shopping from the education store available at lelenovo.com
Related Articles:
Overview of Lenovo Ideapad 720s-15ikb Laptop
The Lenovo Ideapad 720S-15IKB is a capable multimedia laptop that packs an impressive array of features. It comes with an Intel Core i7 7700HQ processor, 8-16 GB RAM (2 x 4 GB DDR4dual channel/2 x 8 GB DDR4 dual channel), and a 15.6″ IPS display with a resolution of 1920 x 1080p.
Graphics are handled by the NVIDIA GeForce GTX 1050 Ti graphics card with 4 GB GDDR5 memory, offering great performance even on demanding titles – aided by the laptop's fast system performance too.
Connectivity is via Bluetooth 4.1 and 802.11a/c WiFi thanks to its Killer 1550 chipset, providing reliable connection speeds on mobile networks as well as at home or in the office WiFi networks.
In terms of storage, users will find 256 GB to 1 TB PCIe SSD onboard, which offers reliable read/write speeds alongside ample capacity for all your documents and media files, meaning you won't have to worry about suddenly running out of space anytime soon either!
Battery life isn't shy either; up to 16.56 hours can be expected from this laptop when fully charged – making it more than capable for daily usage scenarios such as editing photos/videos or browsing online content on the couch after work or school days are done!
Finally, energy management seems reasonably good – meaning no additional hardware cooling solutions may be necessary unless you plan on using your device intensively while requiring constant peak performance levels over long periods at a time – something that few people would realistically consider anyway, so overall this laptop should satisfy most people's needs without any further compromise required from their part!
| | |
| --- | --- |
| Specification | Lenovo Ideapad 720S-15 |
| Processor | Up to 8th Generation Intel® CoreTM i7 |
| Operating System | Windows 10 Home |
| Display | 15.6″ FHD (1920 x 1080) IPS |
| Graphics | Up to NVIDIA® GeForce® GTX 1050Ti 4GB |
| Memory | Up to 16GB DDR4 |
| Storage | Up to 1TB PCIe SSD |
| Camera | HD 720p |
| Audio | JBL Stereo speakers, Dolby Atmos® technology |
| Battery Life | Up to 12.8 hours of video playback |
| Wireless | 1×1 or 2×2 802.11ac WiFi, Bluetooth 4.1 |
| Ports | 2 x USB 3.0, 1 x USB-C with ThunderboltTM 3, HDMI, 4-in-1 card reader |
| Dimensions | 358.8 x 243.5 x 17.95 mm |
| Weight | Starting at 1.9 kg (4.2 lbs) |
| Colors | Iron Grey, Platinum Silver |
| Fingerprint Reader | Optional |
| Backlit Keyboard | Optional |
| Included Software | Windows 10, Lenovo Vantage, McAfee LiveSafe (30 days) |
Table: Lenovo Ideapad 720S-15 Technical Specification
The Lenovo Ideapad 720S-15 is an admirable effort by Lenovo to deliver a slim yet powerful multimedia laptop. Let's analyze its key pros and cons for potential buyers:
Positives:
A sleek aluminum chassis provides sturdiness while keeping weight down. The diamond-cut shape is aesthetically pleasing.

Narrow bezels on the 15.6-inch IPS display allow for an immersive viewing experience, a boon for entertainment. FHD resolution delivers stellar visuals.

With the 8th gen Core i7 and GTX 1050 Ti, the Ideapad 720S can readily chew through intensive tasks like video editing and 3D modeling. 16GB RAM aids in smooth multitasking.

The Dolby Atmos and JBL speaker combo provides an enveloping cinematic audio experience. Far-field mics ensure clear voice pickup.

Battery life is impressive at over 12 hours for video playback. Always-on charging is convenient for travel. Fast charging minimizes downtime.
Drawbacks:
Port selection is limited to just 2 USB-A and 1 USB-C. The lack of full-size HDMI is disappointing. Adapters may be required.

Under extreme loads, some thermal throttling can occur, which slightly hampers performance. The laptop runs quietly, though.

While good, the SD card reader isn't best-in-class. Users transferring large files may want more.
Overall, the Ideapad 720S-15 succeeds as a slim multimedia powerhouse. The premium design, vivid FHD display, potent specs, and booming audio make it a compelling choice for creators and entertainment aficionados. Just be aware that port variety is lacking. For uncompromising performance in an ultraportable package, it's hard to beat.
Design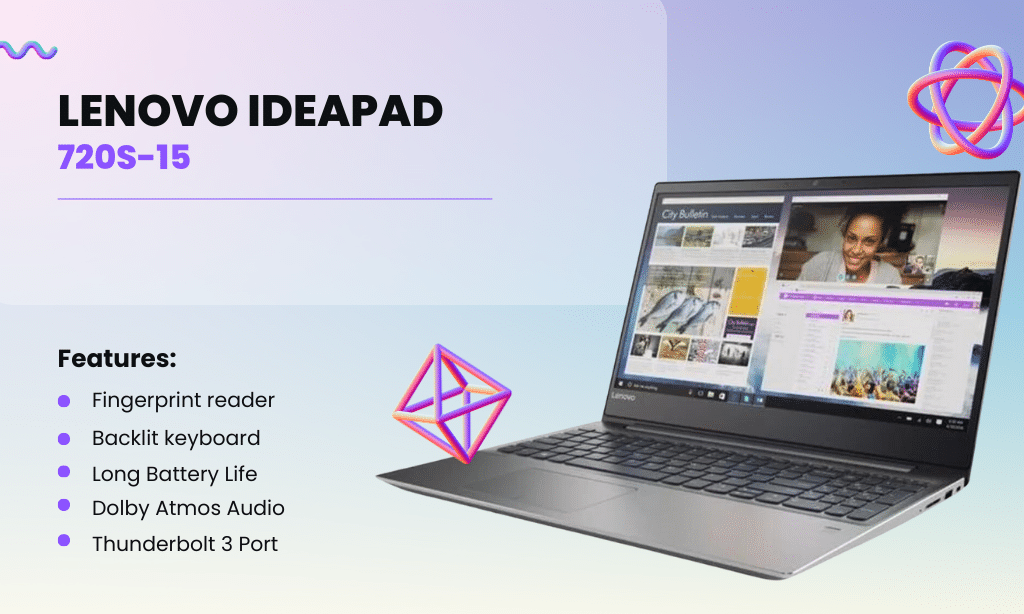 The Lenovo Ideapad 720S-15 comes with a modern and sleek design language that most users should like.
Aluminum Finish
The Lenovo Ideapad 720S-15 features an aluminum finish that is achieved through a special technique normally used to shape and polish diamonds. This process helps give the laptop its premium look, making it stand out from other laptops in its class.
Aluminum is also known to be a sturdy metal, thereby adding to the durability of the laptop as well as extending its lifespan for future use. The attention to detail and high-level craftsmanship are also evident with this finish, making it one of the most sought-after laptops among serious users looking for both quality and longevity.
Razor-Thin Borders for FHD Visual Clarity
The Lenovo Ideapad 720S-15 offers (1920 x 1080) FHD visual clarity through its significantly narrowed borders. These razor-thin bezels indicate that this laptop has been optimized for a great multimedia experience, allowing stunning visuals to come to life.
Thanks to such details as slim bezels and extraordinary levels of brightness, users are provided with the true cinematic experience when streaming videos online or watching TV shows or movies at home.
Furthermore, the slim borders lend themselves perfectly to the sleek design of this laptop – adding elegance yet modernity for an overall refined look. This highly innovative detail from Lenovo has revolutionized the way we interact visually with our electronic devices, giving us all more clarity than ever before on any platform.
Compact and Portable Dimensions
Measuring just 358.8 x 243.5 x 17.95 mm (14.12 x 9.59 x 0.71 inches), the Lenovo Ideapad 720S-15 is designed to provide powerful performance in a remarkably compact and slim form factor. Its dimensions allow it to fit easily into bags and backpacks, making it a highly portable device for users on the go.
The precision craftsmanship required to fit top-tier components into such a slim chassis demonstrates Lenovo's unrelenting commitment to engineering excellence. Whether on your desk or in your hand, the Ideapad 720S-15 strikes the perfect balance between mobility and productivity.
Lightweight for Effortless Portability
Weighing in at only 1.9 kg (4.2 lbs), the Lenovo Ideapad 720S-15 offers incredible power without the usual heft and bulk. Its lightweight build makes it easy to carry around all day, allowing users to stay productive no matter where work takes them.
Lenovo used expert techniques to optimize the Ideapad 720S-15 for featherlight portability without compromising performance or build quality. This is a laptop designed to keep up with today's busy, mobile world.
Sophisticated Color Options
The Lenovo Ideapad 720S-15 comes in two refined color options – the deep, professional Iron Grey and an elegant Platinum Silver. Both choices present a subtle yet impactful aesthetic.
The Iron Grey finish exudes versatility and understated style. Meanwhile, the Platinum Silver radiates modern charm and sophistication. With the 720S-15, users can choose the color that best represents their personality and needs.
Lenovo paid close attention to fine details with these color options, allowing customers to purchase a laptop that seamlessly fits into their lifestyle. The Ideapad 720S-15 has both the brains and the beauty to impress.
Performance
[Video Credits @VerTechHD]
The Lenovo Ideapad 720S-15 is a powerful laptop featuring a core i7 processor with discrete NVIDIA graphics. The DDR4 RAM and PCIe SSD complement the performance further for heavy gaming and other productivity usage.
Powerful 8th Gen Intel Processing
The Lenovo Ideapad 720S-15 is equipped with up to an 8th Generation Intel Core i7 processor, providing elite levels of performance perfect for intense multitasking, content creation, and gaming. Compared to previous generations, this latest Intel platform delivers up to 40% faster processing to help you do more in less time.
Paired with the Windows 10 Home operating system, you'll experience smooth and responsive performance when running multiple applications at once or tackling system-intensive tasks like video editing or 3D modeling. The intuitive Windows interface also enables convenient access to Cortana voice commands and Microsoft Office apps.
Accelerated Graphics
For enhanced graphics capabilities, the Lenovo Ideapad 720S-15 features NVIDIA GeForce GTX 1050Ti dedicated graphics with up to 4GB of video memory. This GPU provides accelerated performance for gaming, video editing, and other graphics-heavy applications.
The 1050Ti graphics card delivers fluid frame rates and vivid visuals thanks to technologies like GPU Boost 3.0, NVIDIA Ansel, and support for DirectX 12. Whether you're rendering 3D models or conquering new worlds in the latest AAA game, the Ideapad 720S has the graphical horsepower to keep up.
Read Also:  Best Laptop for CAD and 3D Modeling
HD Camera and Dual-Array Microphone
The built-in HD 720p camera enables sharp video chats and conferencing. It captures finer details and truer color compared to standard definition cameras. Dual-integrated microphones utilize noise cancellation for clear audio pickup without distortion. Conference calls will be crisp and echo-free.
Ample Memory Configurations
With up to 16GB of DDR4 RAM available, the Lenovo Ideapad 720S-15 can smoothly run demanding programs like video editors and graphics software simultaneously. The dual-channel memory configuration also enables faster data transfer rates for improved performance during intense multitasking. No matter your needs, the Ideapad 720S has enough memory to handle it.
Good Storage Solution
The Lenovo Ideapad 720S-15 offers ample storage capacity with its option to choose from 256 GB to 1 TB PCIe SSD drive. It is a good solution for users as they can store files, documents, and media on the machine without running out of space or having to use external drives.
The large size also allows users to easily store and access large files and applications quickly. Because it is a PCIe SSD, there are no moving parts, so the device runs much faster than those laptops equipped with traditional hard disk storage solutions, making access times far greater.
Furthermore, this laptop offers superior power efficiency when compared to more primitive technologies like hard disks, which helps in prolonging battery life as well. All in all, the Lenovo Ideapad 720S-15 provides excellent storage solutions making it great for any user looking to get maximum performance out of their system while being able to store plenty of data at the same time.
Cinema-Quality Audio
Lenovo Ideapad 720S-15 offers an extraordinary sound experience, thanks to its Dolby Atmos technology and JBL speakers. This advanced audio system uses premium software algorithms that dynamically adjust the frequency curve of each song or movie according to its content for rich sound.
Additionally, with HD Audio support, it ensures crystal clear clarity of conversations during video calls too. And lastly, with a dedicated headphone jack on board, you get uninterrupted music playback without any distractions.
All these features combine together for a cinematic-level audio performance!
Long Battery Life With Always-on Charging
The Lenovo Ideapad 720S-15 boasts exceptional battery life based on actual data. It provides up to 14.45 hours of usage with Mobile Mark 2014 at FHD resolution and a screen brightness of 150 nits. Local 1080P video playback can last up to 11 hours at the same screen brightness. When idle, the laptop offers an impressive 16.56 hours of usage with the screen set at 200 nits brightness.
This remarkable battery performance is a result of its high-capacity battery, ensuring long-lasting usage on a single charge.
Charging time takes around 2 hours and 15 minutes, but this can be longer if used for gaming intensively. The laptop also has an "Always-On Charging USB 3.0 port," so you can keep charging devices even while your laptop is in sleep mode or completely turned off — making it ideal for business trips away from the AC outlet or extended gaming sessions well into the night without interruption!
Read Also: How Long to Charge a New Laptop?
Software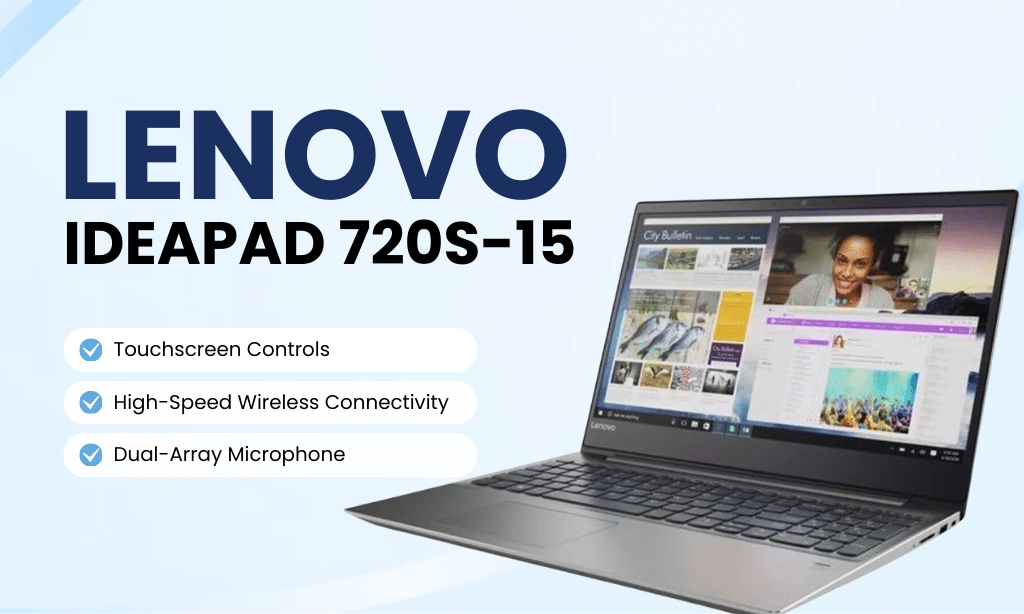 The Lenovo Ideapad 720S-15 comes with some essential preloaded software for a seamless initial user experience.
Preloaded Productivity and Security Software
The Lenovo Ideapad 720S-15 comes preloaded with useful software to enhance productivity and security right out of the box.
For easy access to Lenovo tools, it includes the Lenovo Vantage app. This lets you monitor your system health, run hardware scans, adjust settings, contact support, and more from one centralized interface. McAfee LiveSafe antivirus software is also pre-installed to keep your system protected against the latest malware and cyber threats with automatic updates.
Additionally, you get full Microsoft Office 365 with Word, Excel, PowerPoint, OneNote, and Access to handle all your document creation and editing needs. Other preloads like Lenovo Companion and Lenovo App Explorer help you get the most out of your Ideapad experience.
Latest Windows 10 Operating System
The intuitive Windows 10 Home operating system powers the Ideapad 720S-15. Windows 10 provides a familiar desktop environment along with built-in Cortana voice assistance, the Microsoft Store for apps, and useful features like Timeline to easily pick up where you left off across devices. Regular Windows updates continually improve performance and security.
Trial of Premium Software
The Ideapad 720S-15 comes with 30-day free trials of McAfee Livesafe and Office 365. This allows you to experience the full capabilities of these premium programs before deciding if you'd like to purchase a subscription. Take advantage of this opportunity to evaluate their advanced tools with no commitment required.
Connectivity
The Lenovo Ideapad 720S-15 features the latest connectivity features, including 802.11ac Wi-Fi and Bluetooth 4.1, along with the essential USB and other ports.
High-Speed Wireless Connectivity
Stay connected anywhere with the Lenovo Ideapad 720S-15's dual-band wireless capabilities. It features the latest 802.11ac Wi-Fi protocol for lightning-fast downloads, smooth video streaming, and low-latency online gaming. Bluetooth 4.1 is also built-in for wireless pairing with headphones, speakers, and other accessories.
Versatile Port Selection
The Ideapad 720S-15 comes equipped with an array of ports to connect all your devices and peripherals. This includes 2 USB 3.0 Type-A ports for plugging in flash drives, printers, and more. There is also a USB-C port with Thunderbolt 3 capabilities, supporting blazing 40Gbps data transfers along with charging and display connections.
Furthermore, an HDMI port allows direct hookup to external monitors or TVs. The 4-in-1 card reader enables quick access to files on SD, SDXC, SDHC, and MMC cards. With this diverse port selection, the Ideapad 720S-15 can readily adapt to any situation or setup.
Additional Features
The following additional features make the Lenovo Ideapad 720S-15 a lucrative option as a mid-ranger.
Convenient Fingerprint Reader
The optional fingerprint reader on the Lenovo Ideapad 720S-15 provides quick and secure user login through Windows Hello. Simply place your finger on the sensor and you'll be logged in under 2 seconds – much faster than typing a password. This biometric authentication keeps your data safe without sacrificing convenience.
Intuitive Touchscreen Controls
Select configurations of the Ideapad 720S-15 offer a touchscreen display, enabling intuitive control through taps, swipes, and pinches. The touchscreen makes interacting with apps and documents feel natural and seamless. Pinch to zoom on photos, scroll through webpages, or tap to open apps – the possibilities are endless with touch.
Illuminated Backlit Keyboard
See what you're typing even in dim lighting with the optional backlit keyboard. The Ideapad 720S-15's keyboard glows gently, allowing you to work easily in dark environments without eye strain. Adjust brightness levels to suit your needs.
Far-Field Mics for Cortana
With far-field microphones, you can access the Cortana voice assistant from up to 4 meters away. Pose questions, set reminders, open apps, and more completely hands-free. Cortana's advanced microphone array picks up voice commands clearly from anywhere in the room.
Always-on USB Charging
Never let devices run out of juice with the Ideapad 720S-15's always-on USB charging. Even when the laptop is powered off, or in sleep mode, connected devices will continue charging over USB. This ensures smartphones, tablets, and other gadgets stay topped up at all times.
Price and Availability of Ideapad 720s-15.
The Lenovo Ideapad 720S-15 is reasonably priced and available in most regions of the world. In the US, its mid-range configuration retails for $1399. The starting price of this device usually lies between $900 to $1000, making it an affordable machine when compared with similarly equipped laptops from other manufacturers.
Lenovo also provides student or teacher discounts on selected configurations under certain guidelines.
Student and Teacher Discounts at Lenovo
Lenovo offers an education discount program for students, teachers, healthcare workers, and first responders. The discounts provide up to 7% off on laptops, PCs, and accessories as part of their back-to-school sales.
Through a partnership with the ID.me verification platform, the company provides exclusive discounts for eligible groups. An education store is also available where students can access various types of products, including laptops, tablets, and desktops, along with accessories that come with discounted prices from ID Partner stores as well as Lenovo's own outlet.
Final Verdict: Is Lenovo Ideapad 720s-15 the Best Choice for You?
In closing, the Lenovo Ideapad 720S-15 strikes an enticing balance between sleek design, vivid display, and potent performance. While not perfect, it hits many right notes for multimedia users and creators on the go.
The slim aluminum chassis provides durable mobility while still packing considerable power from the 8th gen Intel Core i7 CPU and GTX 1050 Ti graphics. The immersive FHD IPS enhances entertainment display with slim bezels along with the impressive Dolby Atmos speakers. Long battery life and clever extras like always-on charging add to the user experience.
Downsides like limited ports and potential thermal throttling under extreme loads do hold the 720S-15 back from perfection. But overall, it's a compelling multimedia solution in a thin and premium package. For the target audience seeking entertainment and creation capabilities in an ultraportable form factor, it earns a strong recommendation.
For more perspectives, you may want to check out reviews from other leading tech sites. LaptopMag highlighted the stylish design and everyday portability as strong suits in their Lenovo Ideapad 720S-15IKB review. Meanwhile, CNET noted the potential need for adapters, given minimal ports. But they praised strengths like the speedy SSD and discrete GPU performance.
Taking all factors into account, the Ideapad 720S-15 should exceed expectations for most buyers seeking premium multimedia capabilities in a slim and portable form factor. It earns its place among the top thin-and-light laptops on the market currently.