Hunting Rifles: Choosing the Right Firearm for Your Needs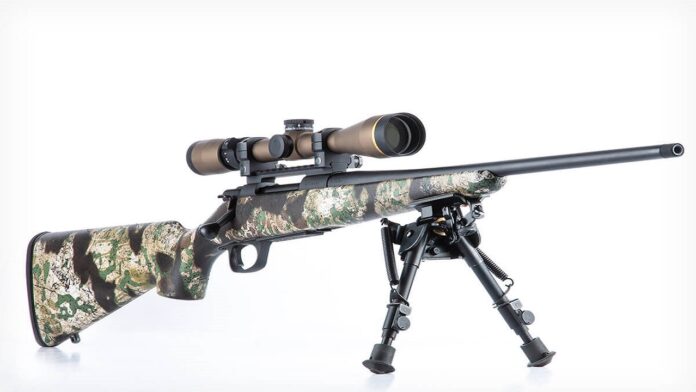 Few decisions are as agonizingly delicious as choosing a capable hunting rifle. For beginners, there are no perfect rifles, only capable all-around rifles. A 22 will have difficulty bringing down a bear, while a 6.5 Creedmoor is overkill for a small game. Only capable, all-around rifles!
However, once you find that perfectly capable rifle, over an extended amount of years, the firearm becomes an extension of your arm. Pick up that Savage, Remington, or Browning; let it rest on your shoulder, and you have found an old hunting friend.
There are so many great hunting rifles that it boils down to specifics like fit and feel or overall aesthetics. If you are new to the sport of hunting, the choice may seem monumental, while a seasoned pro may look for the same performance or try something new. Either way, there are plenty of options. 
Most hunters are totally confused when standing in front of a wall of rifles at their local sporting goods store. It is time to use the process of backward Induction thinking. 
Game Theory
Choosing a Rifle by the Game You Intend To Hunt
Ask What is the best all-around hunting rifle, and you are likely to get a significantly different answer from each hunter. Here are a few options for the most capable shooters.
Deer, Elk, Mule Deer
First introduced by Winchester Arms in 1923, the .270 Winchester is a reliable and competent cartridge for all types of hunting, from small to large games. The trajectory of the .270 is flat, so no drop, and the velocity is excellent. The 270 is excellent at deer hunting in open range. Browning, Mossberg, and Remington have an excellent rifle selection for this precise round. Consider a 130 gr. the round will give the hunter a muzzle velocity of about 3060 fps. At 325 yards, this configuration offers a 7-inch target size.
The 30-06 has a special place in every hunter's heart. Most likely because their dads and grandads successfully used the cartridge with a fine selection of rifles. A significant number of outstanding manufacturers produce hunting rifles to accommodate this powerful round. For example, the Weatherby Vanguard S2 Sporter with its stunning A-grade Turkish walnut stock. Weatherby has guaranteed the Vanguard will deliver a 3-shot grouping of .99" or less at 100 yards. A 30-06 round will have a bit more drop than others; however, there are plenty of load options for this caliber. The 30-06 is excellent for any distance or game you want to target. 
Bear, Moose, Bighorn Sheep
For every state that allows harvesting big game, there are restrictions that must be followed. As an example, in harvesting Bighorn Sheep, Montana gives its hunters 48 hours to present the head and cape, intact, to any FWP office. There are generally no restrictions on ammunition other than lead content. It is wise to check state regulations, no matter the game.
The .308 Winchester is considered by many to be the ideal rifle and cartridge for medium to large game animals. Many consider the 308 overkill for deer at short range, not if the shot is on target at the precise location. Consider a 165-grain .308  at 2031 fps velocity drops 24.1 inches at 500 yards, so the shot must be on target. 
Barrett makes an extremely well-equipped, tactical-style rifle for the 308, a bolt-action with a 10+1 capacity. At Hinterland Outfitters there are over 70 manufacturers offering configurations for the popular 308. 
Small Game Plinkers
Plinking, on the one hand, is target shooting with small caliber rifles done for pleasure. In contrast, others consider plinking as heading out on a Saturday morning and hunting an ornery rabbit, squirrel, or invasive bird. Any cans, bottles, or logs that get in the way are disposed of with abandon.
A large contingent of hunters consider the 22lr the only round for plinking; however, the 17 HMR is a serious contender for the plinking crown. Developed by Hornady in 2002 by necking down a 22-magnum case to accept a 17-caliber projectile. Out to 100 yards, the round is deadly accurate, with muzzle velocities above 775 m/s. Prominent global brands such as Anschutz, Bergara, Chiappa, and Rossi have developed a full line-up to accommodate this impressive cartridge. Consider the Alexander Arms Varmint Predator, a tactical-style plinking rifle with excellent hunting characteristics.
Long Distance and Big Game
When considering the best rifle and cartridge for a big game hunt, first and foremost, the setup must be light and comfortable to carry all day. Big game in the most treacherous locations worldwide is not right around the corner, and you may only get a single shot for the highest prize. 
The rifle and cartridge should be supersonic out to 1400 yards with enough thump for 2000 yards and beyond. Plenty of custom configurations work if you have deep pockets. 
The world of Nosler has embraced technology to bring monster bullets to the masses. 26 Nosler is a 6.5 mm cartridge on steroids. The bullet remains supersonic beyond 1750 yards. Rifles from Christensen Arms and Nosler can effectively use the knockdown power the 26 Nosler provides.
6.5 Creedmoor and 6.5 PRC have been sensations since their first introduction decades ago. Rifles must be stout enough to handle the force, and the 6.5s have excellent ballistics with premium knockdown power to 1600 yards. Only Hinterland Outfitters carries over 60 brands for Creedmoor and PRC.
The 338 Lapua Magnum is a long-distance sniper round with incredible power. With the right load and enough rifle, an effective range for this setup is over 1900 yards with velocities in excess of 2890 to 3000 ft/s. Reports of the 338 Lapua Magnum have the round setting the longest sniper kill at 2,707 yards. If your prize is on a distant range and you need the knockdown power; a rifle equipped with the 338 Lapua Magnum can do the job. Only a few of the world's global brands carry a rifle that can handle the power of the Lapua. 
Subscribe to Our Latest Newsletter
To Read Our Exclusive Content, Sign up Now.
$5/Monthly, $50/Yearly