Top Healthcare Industry Trends for 2023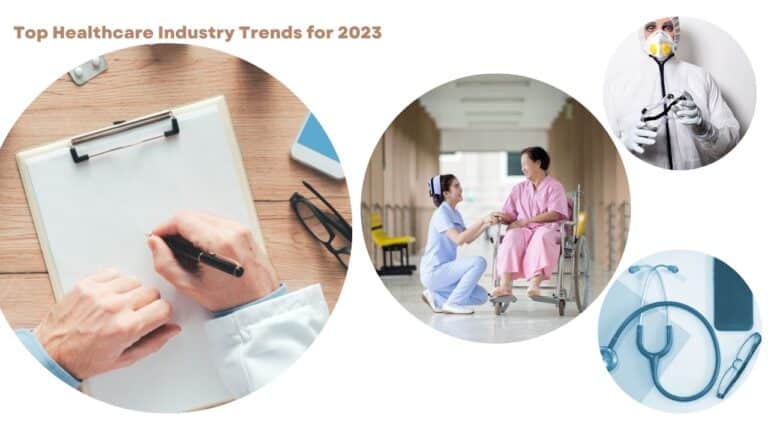 2023 was a year that witnessed significant adoption of digitization in healthcare. Ease from COVID-19 pandemic restrictions and the need for increased healthcare efficiency necessitated use of healthcare translation services, among other digital services.
Besides digitalization, the healthcare industry recorded an array of trends in 2023. Eurolingo, a language service provider (LSP), identified some of the trends as follows:
Patients' Digital Front Door (DFD)
People are continuously looking for simpler ways of doing things. For this reason, new technologies continue to sprout. The healthcare field is one of the beneficiaries of the new technologies. Such technologies seek to transform the traditional healthcare model to make it more convenient.
Various research studies show patients are proponents of a secure online healthcare portal. Such a portal can deliver lab results, make appointments, facilitate the payment of medical bills, and provide 24/7 real-time medical advice. In other words, patients want to receive medical assistance anytime from anywhere.
The studies also show that patients are willing to switch doctors. The patients find it more convenient to go for a doctor that can use online platforms to communicate and offer various medical services.
Several medical facilities have seen the need for DFD, and they have installed it. Others have proposed plans to invest in the technology. The technology helps patients check-in online instead of queuing. Also, the patients can schedule or reschedule medical appointments online using DFD.
DFD will not be the end of online patient-doctor interaction platforms' development. Rather, it is a foundation for more advanced personalized interaction platforms in the healthcare industry. Such platforms will increase patient loyalty, reduce conflicts, and increase the competitive advantage of a health facility.
Telehealth
During the COVID-19 days, virtual appointments were the order of the day. The pandemic ruled out face-to-face patient-doctor relationships. So, the only means to reach out to a doctor was through virtual platforms.
The convenience that resulted from the use of telehealth during the pandemic hey-days is here to stay. Various studies show that the use of telehealth has grown to outwit its usage levels during the pandemic. So, telehealth has become part of the healthcare system.
Telehealth has not ruled out face-to-face patient-doctor interaction. Rather, it has called for technology, such as Zoom, that facilitates virtual physical interaction.
Telehealth has also given rise to a commercial interest. The market has several startups and mature companies that facilitate telehealth. Also, telehealth has improved mental and behavioral health because of remote counseling services. So, we are likely to see telehealth lasting for a long time.
Predictive Analytics and Artificial Intelligence (AI)
Predictive Analytics and AI have become vital tools in clinical decision-making capability improvement. 
Predictive analytics facilitates the forecasting of future health outcomes. It is an addition to the provision of traditional historical medical data to a patient. So, the patient can understand why a medical facility is taking proactive measures in prescribing various interventions to a patient.  
This technology is helping medics to advise and treat a patient in a manner that prevents future long-term health consequences. In return, patients are saving money and are avoiding the aggravation of medical conditions.
Personalize Services  
Currently, people have access to a wide range of health information. In return, they have developed an interest in how they can participate in the improvement of their daily physical and mental health. For this reason, people are using calorie trackers and other nutrition and exercise applications. These applications seek to offer holistic treatment to people.
The quality data found in the wellness-based application enable patients to discuss the personalized services they want with their doctors. In other words, they have the health standards they want in their lives. On the other end, doctors use AI to customize healthcare and meet their patients' preferences.
Technology has also given rise to gamification that enables people to compare their wellness-based activities with other people. For example, it has become possible to compete or get online company when exercising. In return, one gets motivated to adopt adaptive behaviors that promote health.
Wearable Devices
People are increasingly wearing devices that couple as their health monitors. For example, some watches track blood sugar, among other health indicators. This trend has also transformed the marketing of these devices. Their makers focus on their health benefits rather than their conventional uses.
Health researchers are also collaborating with the manufacturers of wearable devices to monitor various medical conditions' prevalence. So, wearable devices are here to stay given their role in the health industry.
Use of Social Determinants of Health
2023 has also witnessed an increased use of social determinants of health (SDOH) to improve various health conditions. SDOHs are the non-medical factors that determine people's health.
The government and other health agencies are formulating models that involve SDOH in health care delivery. For example, the Affordable Care Act introduction resulted from research on how minorities receive poor medical care because of various barriers.
The consideration of SDOH is a strategy that has become successful in various regions. Subsequently, other regions have started adopting this health model. So, there is a likelihood that the use of this health model will address all SDOH holistically and raise the health standards of the global population.
Mental Health
In 2023, mental health has become a priority for many people. This outcome comes from the realization that behaviors contribute significantly to the development of chronic illnesses. Several maladaptive behaviors, including overeating and smoking, and other preventable causes are some of the behavioral factors that cause chronic diseases and death.
The high-level detrimental impact of behavioral disorders has necessitated the administration of behavioral medicine, including psychology and biofeedback. In other words, mental health has intertwined with physical health.
Nowadays, some of the interventions that physicians recommend include forest bathing and nature trail walks. So, behavioral healthcare is taking shape, and it will last into an unforeseeable future.
Thinking and Acting as a Global Society
The days when global regions acted individually when addressing their health concerns are gone. Medical translation, machine-to-machine communications, and other medical efficiencies have resulted in collaborations to promote health care. In other words, the world is thinking as a unit rather than several parts that make a whole.
The outcomes of global collaborations include improved productivity of patient treatment and diagnosis, research and development, and patient engagement, among others.
Bioconvergence has unlocked the personalized medicine potential. It is the coming together of digitization, data, and the latest medical technology and discovery. 
Also, bioelectronics has improved the treatment and monitoring of patients suffering from chronic inflammatory diseases. It employs precise neurostimulation. Also, it addresses several therapeutic areas with highly-unmet needs.
Digitization in Trials
In 2023, things we learned from Covid-19  will change how the health industry operates. Currently, there is proof that health stakeholders can advance innovation and science while improving inclusivity in healthcare.
During the pandemic, healthcare stakeholders adopted a technology that allowed them to conduct and monitor clinical trials remotely. The process took place in collaboration with the healthcare industry regulators. In 2023, the remote clinical trials were ceiling-high compared to 2020.
Given the success rate of the remote clinical trials in 2023, there is a high probability that the trend will continue into the unforeseeable future.
Focus on People, Planet, and Progress
In 2023, investors, regulators, and consumers focus on the intersection between social, environmental, and governance issues and health equity. The year has witnessed increased discussions a3t carbon health footprints and health equity. These discussions aim to facilitate the achievement of individual overall health and wellbeing.
Investors are rewarding companies that demonstrate commitment to health equity. On the other hand, regulators are establishing laws that promote health equity. Lastly, consumers are increasingly considering the purpose of a company rather than focusing on prices.
People are shifting to health equity given the factors that investors, regulators, and consumers consider in their respective operation realms. This consideration is hard-to-kill, and it will be with us for a long time.
Shifting Health Care from Hospitals
Gone are the days when hospitals were a patient-care epicenter. In 2023, there was increased use of ambulatory surgery centers and physician groups.
To begin with, people are no longer going to hospitals for surgery. They are more inclined to visit ambulatory surgery centers than hospital facilities for surgical procedures. These centers offer high-quality services at an affordable rate. So, we should expect a rising consumption of their services in the future.
Regarding physician groups, their claims continue to rise above the claims from hospital facilities. This trend shows that people prefer getting medical treatments at non-hospital locations. This preference consumption rate was low before the pandemic erupted. However, people have come to embrace it, and it is here to stay.
The Bottom Line
The use of medical technology remains the center stage in the 2023 healthcare industry trends. However, other health considerations are also determining healthcare consumption significantly.
Notably, most of the identified trends will persist into an unforeseeable future. The causal factors of these trends are transformative. So, it will be difficult for the health industry to return to its conventional status.