From Words to Wonders: How Filmora's AI Transforms Copywriting?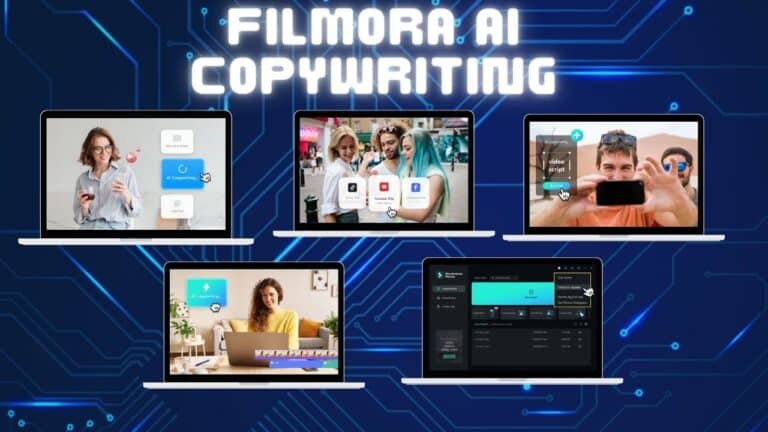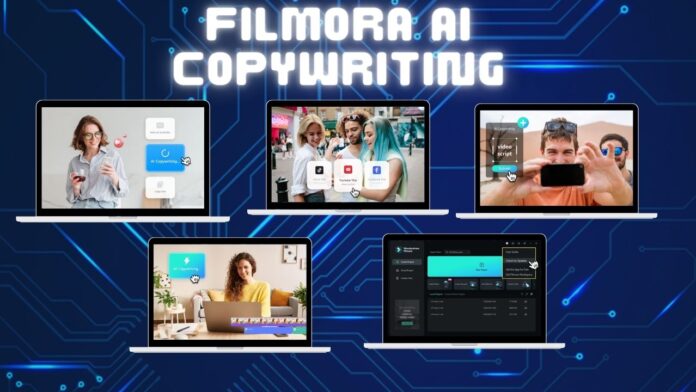 Creating good content in 2023 will still rely on effective copywriting. The digital environment is evolving. The core of content creation is writing tales, producing visuals, and developing experiences that draw viewers in. Yet, the arduous manual editing procedure risks overshadowing the excitement of growing. Herein lies the real promise of AI copywriting tools. What is even better? By releasing producers from the restrictions of time-consuming editing, Filmora enables them to focus on what matters— their content. It achieves this by automating essential steps in the production of films. Marketing professionals and content creators can enhance their marketing and engage their audience.
Are you prepared to step up your video editing skills? Wondershare Filmora is the only option. In this article, we'll be going in-depth on the features and advantages of this powerful software.
Filmora Video Editor is an excellent video editing tool for Windows and Mac. It facilitates user development by enabling the editing of a wide variety of video elements, including graphics and audio. Wondershare Filmora is renowned for integrating complex editing features with user-friendliness. It supports all current video formats, editing, and creating HDR, 4K, and 8K videos. Many handy AI-powered editing tools are quick and easy to use while delivering exceptional results. With Its increasing ubiquity, many people show interest in discovering more information about it.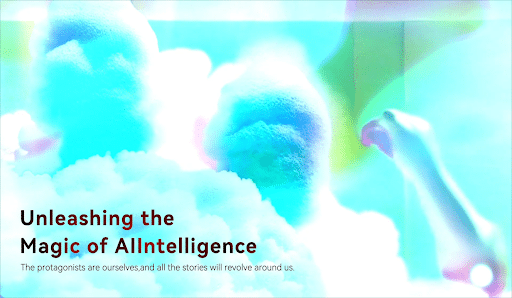 Its plenty of top-notch features and effects makes it appropriate for experienced editors.  The business keeps introducing cutting-edge and contemporary features like motion tracking, keyframing, and adding text to video that you may find in more established competitors. Also, you can now experience the new AI-powered smooth tools in Filmora's recent releases. It includes the Smart Cutout tool for Photoshop-like masking, audio stretching, audio denoise, change layers, more potent keyframing, mask drawing, and a tonne more stock content. The end result is a fantastic app.
It can be downloaded for Mac OS-compatible devices as well. Another plus point is that the video editor is well known for having an easy-to-use interface. This makes it ideal for novice and expert users, making it quick and straightforward.
Wondershare Filmora 12 has four different panel layout styles and even more layout models. This can let your creativity run wild. Each mode has a unique set of tools for that mode based on the task you want to perform.
Explore Filmora's AI-Infused Copywriting to Innovate with Ease
To further improve the user experience on the site, Wondershare Filmora improved the procedure for editing video. It did this by adding Artificial Intelligence to several of its features. You can now create exciting texts and for various blogs, social media postings, and marketing materials.  All thanks to Wondershare Filmora's AI Copywriting feature. Plus, it can stimulate creativity and aid in overcoming writer's block.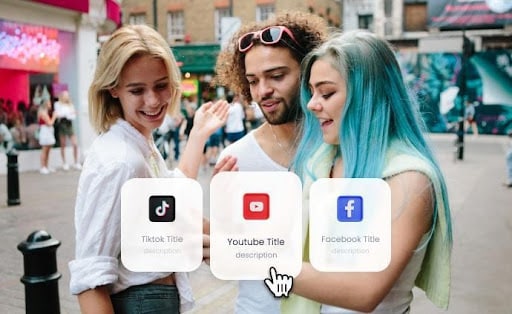 Moreover, to generate persuading suggestions that will increase engagement, AI Copywriting technology also assesses visual components. It checks settings, colors, objects, and movements.
Further, the AI copywriting tool also recognizes and combines pertinent keywords. As a result, it improves SEO performance and your content's visibility in search results.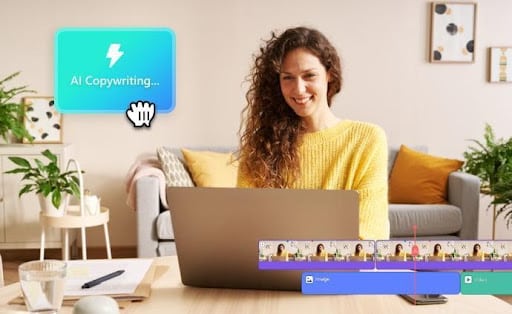 Additionally, Filmora has the capacity to change the generated copy's tone and style to fit a brand or a particular audience's preferences. The good thing is that it does so without making any grammatical mistakes. It also shortens the text's length to preserve its trustworthiness and style.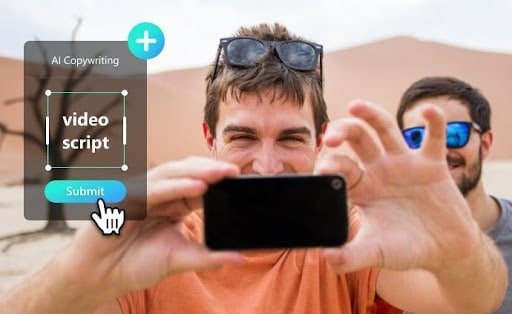 The Copywriting AI tool from Filmora is distinctive. It offers data-driven insights into the effectiveness of content. It enables users to improve their copywriting tactics over time.
Worry not! Because we have instructions on using Filomra's AI Copywriting tool. It creates scripts and YouTube descriptions. To complete your work in a matter of seconds, follow these easy steps: 
Step 1: After downloading the most recent version of Wondershare Filmora for Windows or Mac, launch the AI Copywriting Tool.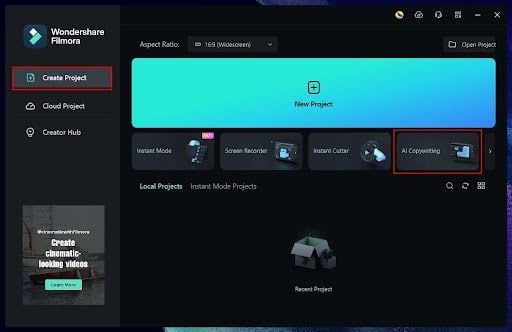 Step 2: Submit your questions to generate pre-video content.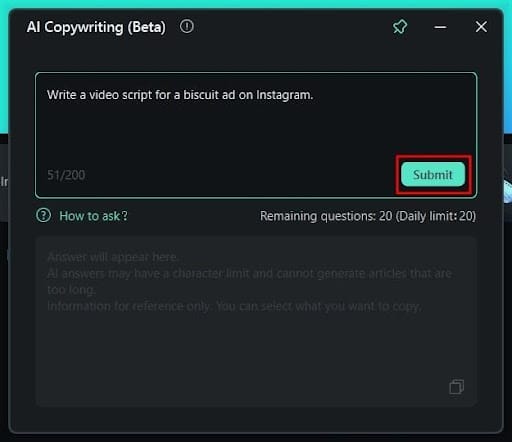 Step 3: What Questions to Ask About AI Copywriting?
Click the "How to Ask" button if you're unsure how to direct AI Copywriting for your video script. This selection will take you to a new screen with a long list of prompts to help you create a perfect video script. Click "Back" to go back to the previous screen and plan the key questions for your AI Copywriting video script.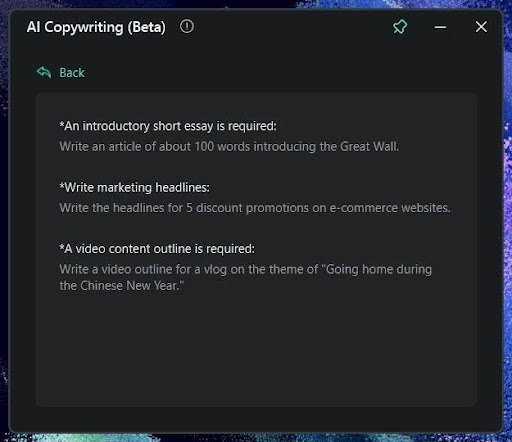 The Best AI Copywriting Tools for More Effective Ideas
It may be time to think about using AI-powered software to ignite fresh ideas or give you more momentum. Especially, if you have writer's block or need extra inspiration in the middle of your copywriting task very often. The top platforms mentioned below aid you in beginning your search for the best AI copywriting tool.
Writesonic
Writesonic is an AI-powered writing tool with more than 60 features to help you create better material. It encompasses blog posts, e-commerce product descriptions, advertisements, and website content. For your campaign, Writesonic can produce optimized material for search engines. In particular, if you provide a title, language, and quality, its Article Writer can create a 1,500+ word paper for you in seconds.
The platform advertises its services to many groups of people who make written content. It includes writers, marketing groups, business owners, and eCommerce retailers.
Rytr
Rytr is now the most affordable choice on the list, and more than 4 million users have praised its simple features. More than 40 use cases exist, so you may create about any content you can imagine. And we appreciate that you can adjust the output's language, inventiveness level, and tone as necessary. Furthermore, Rytr is one of AI content's most reasonably priced writers. To get started at no cost, you don't have to enter your credit card information.
Using it's free plan, you can produce 5,000 characters and five AI graphics each month. But, you'll need to subscribe to one of the expensive plans if you wish to generate more than 5,000 characters.
Filmora- AI Copywriting Tool
With improved performance and a fresh UX and UI design, Filmora 12 creativity shows it is created the user in mind. It offers cutting-edge AI features. there are over 2,000 media resources, new royalty-free music, 3D LUTs, sound effects, and pre-set templates. You will have all you need to perfect your movies while maintaining your creative vision. Like- wise, the Filmora AI copywriting tool aims to help users express themselves. With AI copywriting in Filmora, you can create enthralling scripts, text, titles, names, and descriptions.
Both Windows and Mac operating systems are compatible with it. This OpenAI-powered tool produces high-quality content. Last but not least, you can get what you desire for nothing using the app's free trial.
Wordtune
Wordtune aims to help users translate their ideas into written form by offering a new language. It differs from other grammar checkers that act as copy editors with the primary goal of identifying errors. Professionals from various fields can develop their careers using this Generative AI.
Wordtune employs artificial intelligence to speed up your work and enhance your writing. You can now create emails, documents, or instant messages for customers or colleagues.
Smart Copy
A super-smart AI writing tool called Smart Copy gives you the ability to create, remix, and develop content. It offers a one-stop shop for all your copywriting problems, and its recommendations are made following your brand and target market so that they have the desired effect on your clients. It transforms your ideas into engaging, conversion-friendly content that is on-brand. Additionally, we can write copy in ten or more tones and 30 or more languages to reach a wider audience. You can compose an ad copy, taglines, emails, product descriptions, and much more. Further, you can pick from more than 30 different templates.
Conclusion
Wondershare Filmora is considering its users and improving its tools. Moreover, they are working to provide better interactions and rapid fixes for everyone. It builds professional films without dealing with the hassles likely to irritate anyone. Wondershare Filmora's Copywriting AI tool automates crucial steps in the production of films. It also frees authors to concentrate on their content rather than the time taking steps. The program is renowned for its intuitive user interface and complex capabilities. So what are you thinking about? Get this feature to enlighten your creativity to another level!