Five Things to Avoid on Everest Base Camp Trek
People undertake the Everest Base Camp Trek is an adventure or a way of skipping their ordinary life and enjoying a few days in the mountains. Every agency or guide will assist you with the technicality of the trek, such as gears you need to carry and clothing you should wear. 
But sometimes, small mistakes during the trip can also make a big difference. When one goes trekking in Nepal, it is crucial to keep yourself safe as well as to make sure that you respect the rules of the place along the way to your trek. 
Here are some basic yet essential rules that every trekker should know before going for a hike/trek in Nepal. This will help you understand the trek better and have more fun during the trek. These are five things to avoid on your way to the Everest Base Camp Trek.
1. Trekking alone
Solo traveling is totally possible in Nepal, but it could be pretty unsafe sometimes. During your trek to the Everest Base Camp, you may have to pass through remote locations and wilderness. 
Even though the locals are amicable and helpful, trusting a stranger is often risky. Hence, one may be tensed and scared throughout the journey, making your trek boring. Therefore it is better to find a trekking companion or a group of people to trek with. It will ensure that you will feel safe and enjoy the journey to the camp. 
If you are a solo traveler in Nepal, you can easily join another group of people trekking to the exact location. You can also request a guide if you don't want to travel in a group.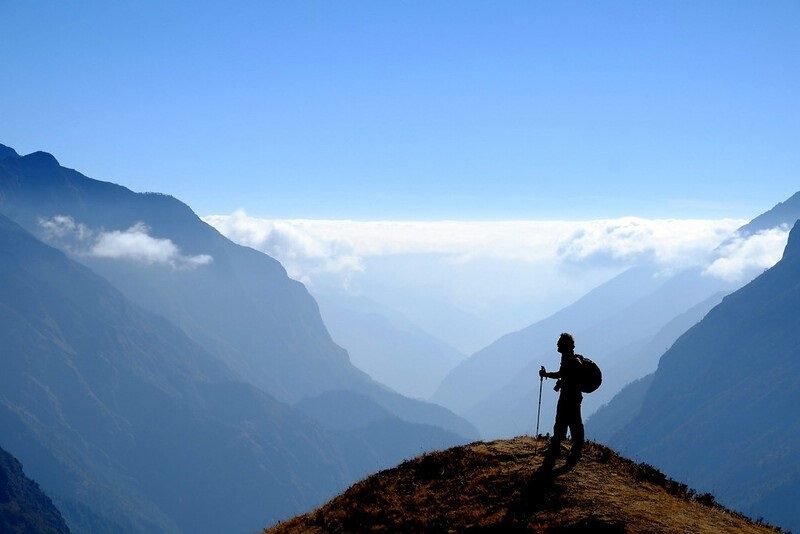 A companion to interact with and to make a conversation about your experience on the way is never bad. Such a small earlier decision for the trek can enhance your overall experience and make the trek calm and fun rather than tense.
2. Walking too fast
One may try to compete with other groups or individuals during the trek. This attitude of walking fast can make your trek more of a competition. The main objective of trekking is to walk at a slow pace so as to feel and be able to connect to all the elements of nature.
The journey to the base camp brings you along various beautiful paths and scenery, so make sure that you walk at your own pace and verdict every little thing or piece of nature that comes along your way. 
Remember that reaching your destination faster will not give you any benefit; instead, you will miss the fun of the journey. Strolling by interacting with your companion and admiring the view around you will give you the best experience and memories to cherish. 
Also, make sure you only capture a few glimpses in your camera or phone and more in your mind and heart. It is very important to live every moment rather than carrying them in your device. Cause at the of the day, you are going on the trek for peace of mind and heart.
3. Skipping acclimatization camp
Acclimatization camps are special camps designed for the trekkers trekking for high-altitude destinations. They are present so that one can relax and adjust to the increasing altitude slowly on the way. Make sure you rest and take a break in these camps so as to accommodate your body to the current elevation of the altitude. 
The result not taking a break in these camps and moving ahead in your journey will lead to altitude sickness. This is caused when your body is not able to adjust to increasing altitude and oxygen deficiency at such a height. 
One can feel shortness of breath, dizziness, sick and a need to throw up due to altitude sickness. Hence always make sure that you take the benefit of these camps, which are specially designed for you so as to make your trip safer and comfortable. Symptoms of this sickness can totally ruin your trip and disturb your companions as well.
4. Trespassing in excitement
Trekking makes one excited. The view on the way to the camp as well as at the base is awe-inspiring. Often one wants to get a closer view of the scenery, sometimes for a better picture as well. Make sure that you do not enter a restricted place in excitement. 
In order to make your trip safe and secure, make sure you do not over-excite yourself. It is your responsibility to keep yourself safe during the trek. Always listen to your guide and instructors as they have a good idea of the area and are well known about the risks involved. 
There are also instruction boards and signs available at the risky areas, do keep them in your mind. Any injury on your trek will make the situation worse for you as well as for the people accompanying you.
5. Giving things to the children on the way
Make sure that you do not gift anything to the local children you encounter on your way to the trek. One can often not deny these innocent faces, but it is vital to do so. If you gift even a tiny thing such as candy or chocolate to the kids, the children expect it from every other trekker they meet. 
Overall, this leads them to a bad habit of asking things to strangers, which cannot always be safe. Even if they ask for money or chocolates, you should disagree and directly deny their request. This will improve their habits and in the long run and hence they will not expect favors or any kind of materialistic things from strangers. 
However, you can indeed interact with them if they are willing to do so. Taking pictures and having some conversation will not harm anyone. Certainly, their beautiful smiles and innocent faces will make your day and the entire trip memorable and fun. These sweet gestures will forever occupy a small part of your heart.
The above five points are suggested for the trekking packages like Everest shot treks, Everest view treks, Everest base camp trekking, and other long walking journeys to Nepal's Himalayas. But suppose you join Helicopter tours packages to explore the Himalayas like Everest base camp helicopter tours, Annapurna base camp helicopter tours, Langtang helicopter tours, and Gosaikuna Helicopter tours. In that case, these points do not involve as the Helicopter tour can be completed within 2-4 hours, and it is considered as an easy trip in Nepal.
Subscribe to Our Latest Newsletter
To Read Our Exclusive Content, Sign up Now.
$5/Monthly, $50/Yearly