Tanker Truck Fire Causes Collapse of Elevated Section of Philadelphia I-95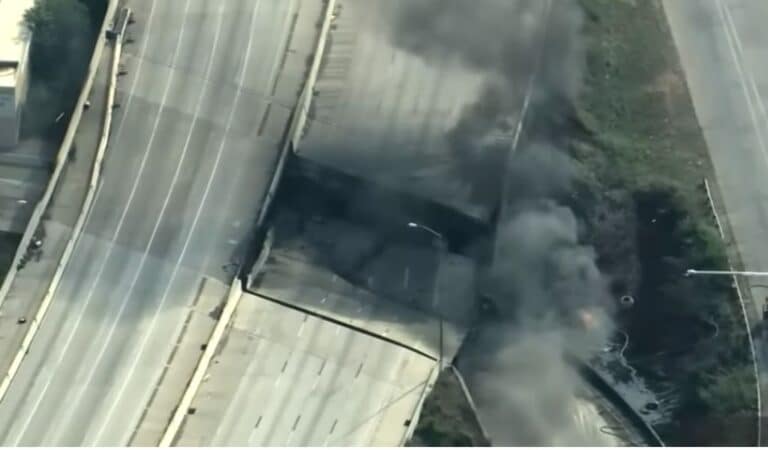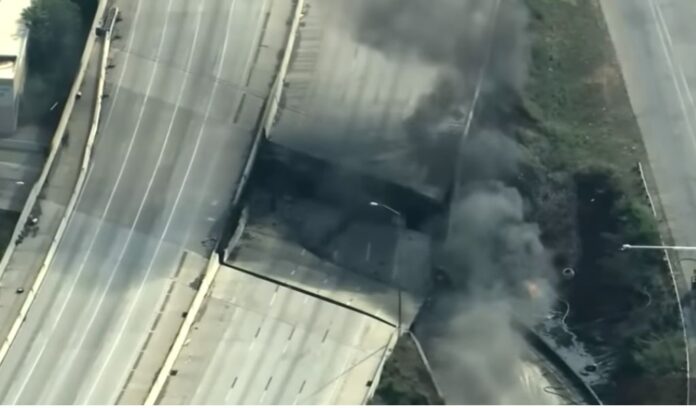 The main road between the East Coast's two biggest cities, New York City and Philadelphia, will be closed for months after a tanker fire caused a section to fall, Pennsylvania Gov. Josh Shapiro said Sunday.
Shapiro said at a news conference that an elevated part of northbound lanes in northeast Philadelphia collapsed at 6:20 a.m., burying a tanker truck and whoever was inside it under 500 tons of concrete, steel, and rubble.
He said that the scene was "remarkably sad."
It was found that the raised southbound lanes didn't have enough support, so the whole freeway had to be closed, he said.
No one was killed or hurt, but officials said that first rescuers had not yet reached the tanker truck or any possible occupants. They said that the fire was still burning, but that it was under control otherwise.
All lanes of I95 closed in both directions between Woodhaven and Aramingo exits due to fire/road collapse. Other streets closed for the response. Avoid area. Plan and seek alternative travel routes. pic.twitter.com/myNyH0nCiq

— Philadelphia OEM (@PhilaOEM) June 11, 2023
Shapiro said that a disaster declaration will be made on Monday. This will let the state get government money quickly and start rebuilding the road.
He said, "We think that will take a few months."
The reason for the fire was being looked into.
Officials told people in Philadelphia to stay away from the area and find other ways to get to work on Monday morning while they figure out temporary detours and more public transportation choices.
Shapiro said, "I-95 is, of course, a very important road." "It helps our economy and is a big part of people's daily lives."
Mike Carroll, who is in charge of transportation for the state of Pennsylvania, said that this part of the freeway moves about 160,000 cars a day and is probably the busiest interstate in the state.
The Eastern Transportation Coalition, which is made up of 17 states, says that the road and its associated corridor, which goes from almost the tip of Florida to the Canadian border, carry nearly $200 billion in goods and services tied to ports along the route.
Shapiro said that the truck was carrying some kind of fuel.
A Coast Guard spokesman said that there were 8,500 gallons of goods in the tanker. The Coast Guard sent a boat to see what happened to the water, but it doesn't look like any gasoline got into the Delaware River.
There was "sheening," which gave the water an iridescent look, but it seemed to be limited to a nearby cove, a spokesman said.
State transportation officials say that all lines of the highway are closed for about 10 miles, from Academy Avenue (Exit 32) in the north to the Betsy Ross Bridge (Exit 26) in the south.
Unnamed officers told NBC Philadelphia, "The road is gone."
Capt. Derrick Bowmer of the Philadelphia Fire Department told media that the burning truck's fuel or gas lines have also caused explosions underground.
He said, "We will be here for a while." "There's fire coming out of those holes in the ground."
Early on Sunday, a driver shared a video to social media that seemed to show black smoke rising above the highway.
Bowmer said that a call about an accident came in at 6:22 a.m., but it wasn't clear right away if anyone was hurt.
On Twitter, Philadelphia Mayor Jim Kenney told people to stay away from the area and find other ways to get around. He also thanked the people who were helping.
Shapiro wrote on Twitter that he had been told about the situation and that first responders and transportation workers were already there. He also said he and Lt. Gov. Austin Davis were "closely coordinating" with state, New Jersey, and federal government leaders.
"For now, please stay away from the area and do what the first responders tell you to do," he wrote.
White House press secretary Karine Jean-Pierre wrote that President Joe Biden was told about the situation and has talked to Shapiro and the mayor's office in Philadelphia.
Pete Buttigieg, who is in charge of transportation, said on Twitter that he was "closely monitoring" the situation and working with other officials.
I-95 CLOSURE – #Paturnpike I-95 is closed south at Exit #32 Academy Ave and north at Exit #26 Aramingo Ave / Betsey Ross Bridge due to a major crash. It will be closed for an extended period. Seek an alternate route.@PA_Turnpike pic.twitter.com/KGmBw8AdBt

— PA Turnpike Alerts (@PATurnpikeAlert) June 11, 2023
He wrote, "I've talked to [the Federal Highway Administration] and Gov. Shapiro to offer any help that USDOT can give to help with recovery and rebuilding."
The National Transportation Safety Board said that it is working with the Pennsylvania State Police to find out what started the fire. It was sending a team with experts in motor carrier and hazardous materials safety, highway repair, and how first responders handled the situation.
When asked questions, a representative from the Pennsylvania Emergency Agency told reporters to talk to local leaders.
In a statement, a state police spokesman said that the agency is working with the Philadelphia police to control traffic and reroute it.
Subscribe to Our Latest Newsletter
To Read Our Exclusive Content, Sign up Now.
$5/Monthly, $50/Yearly