Bitrix24 Overview, Features & Pricing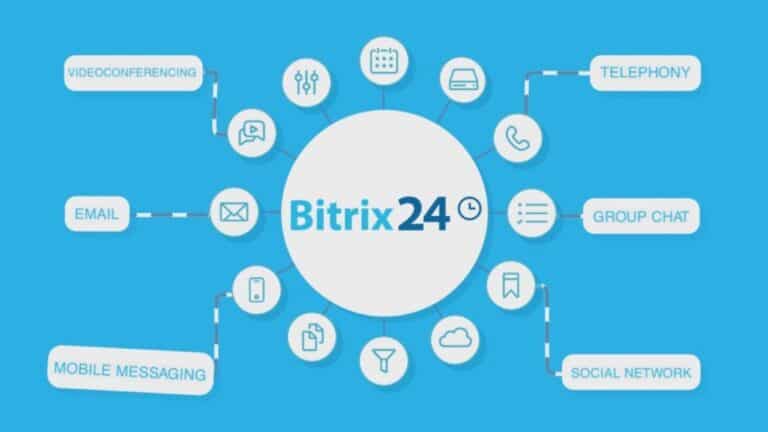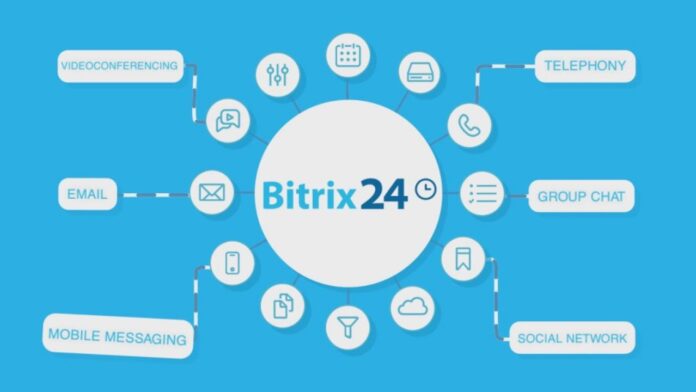 Bitrix24 is an online workspace that features CRM, tasks, chat, online meetings, calendar, file storage, documents, workflow automation, and 30+ other tools, cross-integrated and working as part of a single service.
Here in this article, we'll give you a quick overview of Bitrix24 CRM, talk about its pros and cons, and also compare it to some of the similar SaaS solutions.
Company Background 
Bitrix International was founded back in 1998. The company got its initial recognition when they released a robust and versatile CMS (content management system) of the same name. 
Building on top of that success, Bitrix released a brand-new product in 2012. It was a cloud-based online workspace called Bitrix24 that featured multiple business tools like CRM, project management, and more. Since then, Bitrix24 has gone on to become one of the world's biggest CRM systems.
Today, Bitrix is a world-renowned provider of business management solutions, that offers many tools for website management, CRM, marketing, internal communication and more. Bitrix has over 12 million customers around the world and is constantly working to improve its platform.
Bitrix24 Overview
Company Website
Bitrix24 website features all the information you may need to find out more about the product, its features, capabilities, uses, plans, and pricing.
There are also links to useful resources, such as the company's blog, webinar section, and customer helpdesk.
From here, you can sign up for Bitrix24 absolutely free of charge, request free consultation from a Bitrix24 partner in your area, or watch product demos.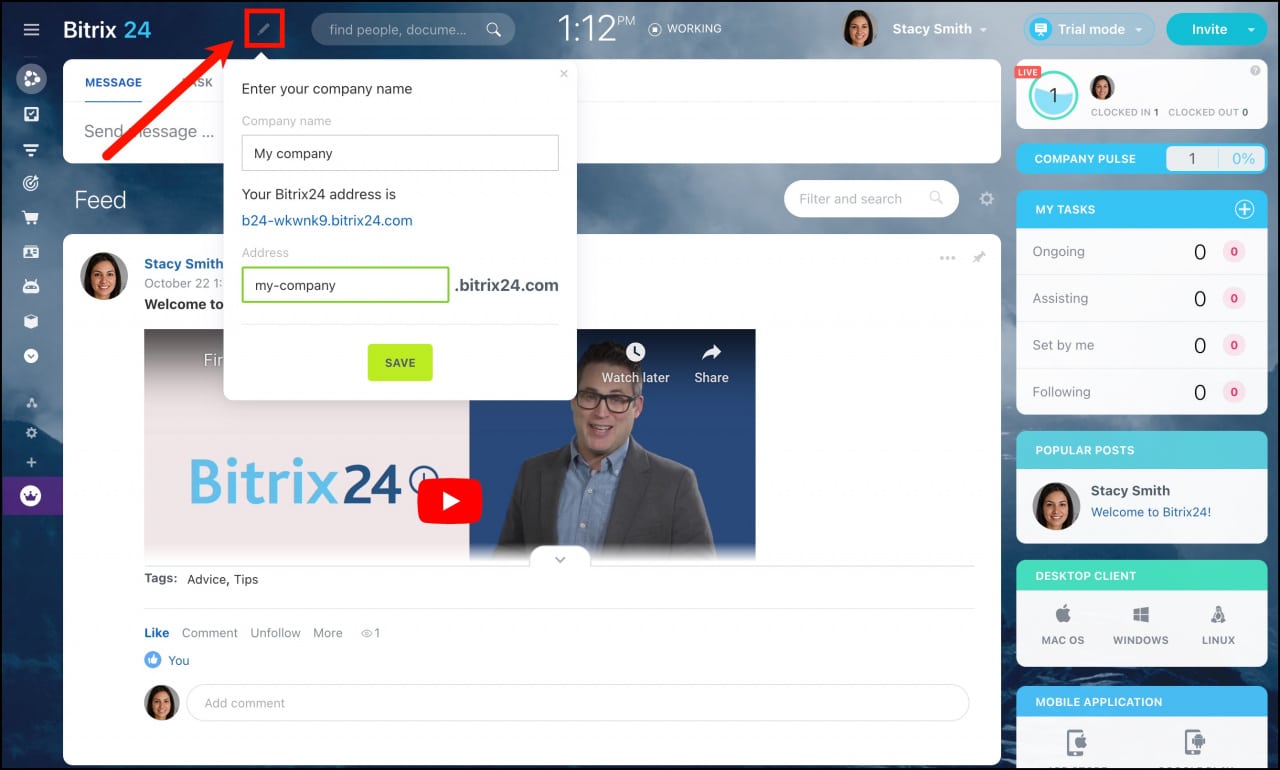 Bitrix24: How to change the language (English, Spanish, Russian and etc?
To change from Russian or English language to another language in Bitrix24, follow these steps:
Log in to your Bitrix24 account using your credentials.

Once logged in, look for your profile avatar or initials in the top right corner of the screen. Click on it to open the drop-down menu.

In the drop-down menu, click on "Profile."

On the profile page, you'll find a gear icon or a settings icon. Click on it to access the settings.

In the settings menu, look for the "Language and Time Zone" option. 

Click on "Language and Time Zone" to open the language settings.

In the language settings, you'll see a list of available languages. Look for the language you want to switch to and select it. For example, if you want to switch to English, choose "English."

After selecting the desired language, scroll down to the bottom of the page and click on the "Save" or "Сохранить" button to save the changes.

Once you've saved the changes, Bitrix24 will reload, and the interface will be displayed in the new language you selected.
Please note that the Bitrix24 Russian language or other one change will apply to your personal account only and won't affect other users' language settings in the same Bitrix24 application. If you are using Bitrix24 in a shared workspace or within an organization, each user can individually change their preferred language following the same steps as described above.
Bitrix Solutions
The company offers its main product, Bitrix24, in two versions:
Cloud version. Here, the client's account and all of its data are stored on the company's servers.

On-premise solution. If a client wishes to store and handle data on their own server, it is possible to deploy Bitrix24 there and create an independent system, with access to source code and enhanced customization options. 
Regardless of which Bitrix INC solution the client chooses, they will get a full set of business tools, including CRM, tasks, chat, video calls, calendar, workflow automation, and more. 
What Does the System Include?
Bitrix24 combines a wide range of tools for sales, marketing, team communication, collaboration, and business process automation. Let's look at each of them in detail.
Collaboration & Communication
Bitrix24 is designed to bring people and information together in the most intuitive and productive way. Here are of the most notable collaboration and communication tools:
Chat

Video calls and conferences

Personalized live feed with posts, comments, likes, and reactions

Polls

Announcements

File storage

Online documents
Basically, it's like Slack combined with Asana combined with Dropbox combined with Zoom. Except you've got all of these tools in one place, without having to switch back and forth between various apps and services.
CRM
Bitrix24 CRM claims to have over 12 million users worldwide, which is a bold claim to say the least. To back it up, they indeed offer quite an impressive range of sales and marketing tools, including:
Leads, deals, and contacts

Product catalog

Customizable CRM forms

Invoices & online payments

E-signature

Inventory management

Telephony (available through integration)

Sales automation (done via rules & triggers)

Integration with an in-house website builder

Sales pipelines

Customizable access permissions

Analytics
One particularly interesting thing about CRM in Bitrix24 is that it's integrated with the in-house messenger, online meetings, and tasks. This essentially means that you can create a chat, set up a video call, or assign a task based on a deal or lead. Really convenient.
Tasks & Projects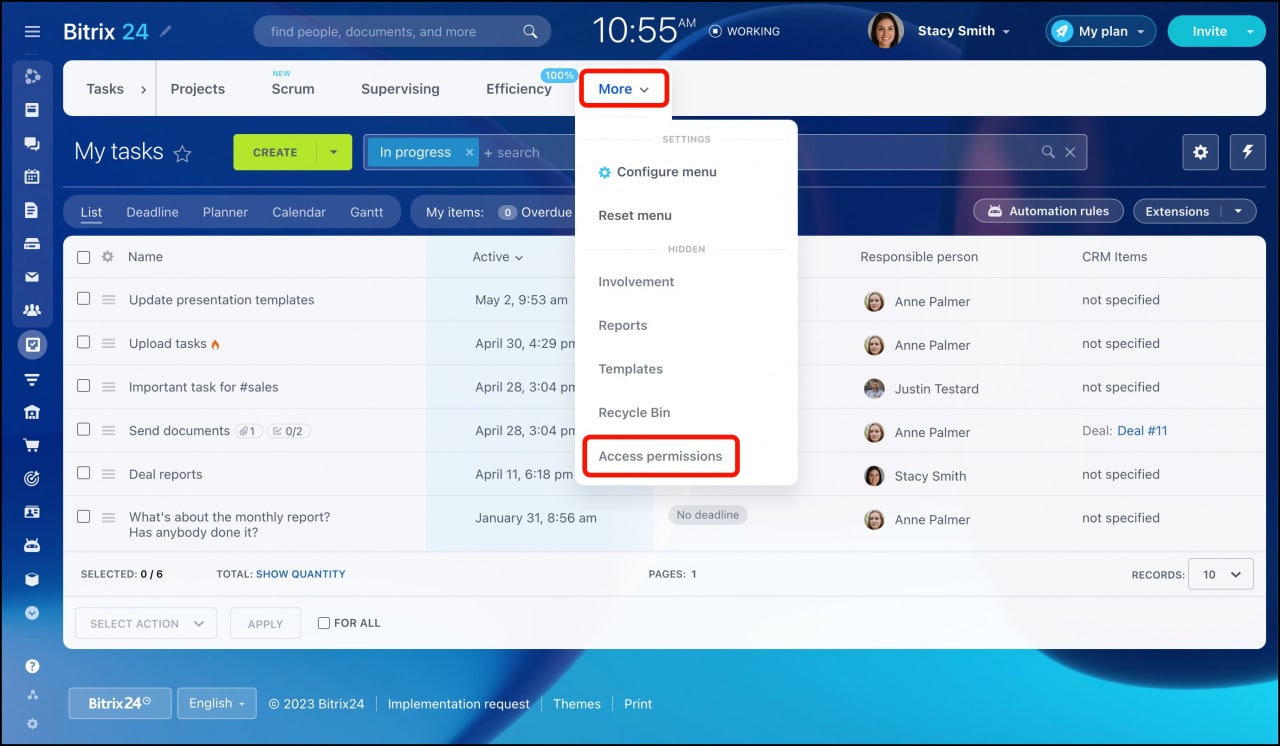 Nothing groundbreaking here. You've got your more or less standard set of project management tools like Kanban board, Gantt chart, and Scrum. Team members can be organized into workgroups to collaborate on a specific project, with their own file storage and knowledge base.
When a task is created, you can add a co-responsible person (participant) and a bunch of observers (people who are not actively involved in a task but may need to oversee the work progress). Plus, you can add an optional checklist to any task.
Much like in Jira, under every task there is a comment section where task-related discussion is taking place.
Landing Pages and Websites
Interestingly enough, Bitrix24 features a website builder. Although it's not as comprehensive as Wix or Squarespace, it still has its moments, one of which is the fact that it's integrated with CRM.
This means you can quickly create a landing page with a web form and have the system add a new lead (or deal) to your CRM automatically once a form is submitted.
Plus, their websites and landing pages are SEO and mobile-ready by default so you don't have to worry about that.
Team Management
The coolest thing with Bitrix24 is that you can track and manage employee working hours with it. There is a built-in online time clock – basically, every user can start/pause/stop their working day in just one click. The hours are tracked, aggregated, and can be viewed by the manager in a special section.
Some other team management tools include:
Customizable access permissions

No-code RPA (robotic process automation)

Employee directory and profiles

Company structure and hierarchy
Bitrix24: Downsides
As with any other product, Bitrix24 does have its flaws – although not that many. The biggest one is probably the fact that it might be just too overwhelming for an average user. Upon first paunch, you find yourself lost in a myriad of button, tabs, and menus, not all of which are obvious from their names.
That being said (and probably realizing the fact that its product can be a bit too much for some), the company offers product implementation and customization services through their partners. If you're lucky enough, you can even find one in your area.
Pricing Plans
Bitrix24 has 5 membership plans: 
FREE. Unlimited users, free forever, limited functionality

BASIC. Up to 5 users, USD $61/mo, great for small businesses and sales teams

STANDARD. Up to 50 users, USD $124/mo, perfect collaboration for your entire company

PROFESSIONAL. Up to 100 users, USD $249/mo, maximum sales and business process automation

ENTERPRISE. Up to 10,000 users, starting from USD $499/mo, digital transformation tools for large businesses and enterprises. 
All of these plans are flat-rate, which means you can keep adding more and more users within your plan limit and still pay the same amount of money per month.
Bitrix24 vs. Other CRM Solutions: Comparison
Demand for cloud-based CRM solutions is currently 50% in relation to self-hosted solutions, although experts predict that it will grow. When choosing an off-the-shelf CRM, the most important thing is to make sure that it has all the features you're planning to use. 
For example, if you are going to keep records of calls, you need to make sure that the selected CRM supports integration with telephony.
Our review will help you to clearly see what functionality is offered by ready-made CRM services.
A trial period will help you get acquainted with the system, but some nuances will still have to be learned in the process, which you need to be ready for.
There are two types of CRM systems:
Cloud CRM system. With this option, all data and software are on the server of the service provider. The system is accessed through a mobile application, client software, and browser. All processes are implemented on the service provider's side.

Standalone (self-hosted). This is a license to install and use the product. You get the solution installed on your server and, if desired, it is modified according to your needs, depending on the capabilities of the provider.
A cloud solution implies certain limitations. You will not be able to edit the product code, because the software is on the side of the CRM system vendor. Such systems usually allow you to configure employee access rights, implement external services, change the layout, customize reports and so on. However, all of this will be stored on the CRM system provider's servers.
Advantages of SaaS solutions:
You don't need your own server to host the software.

You don't need to deal with updates yourself. All of this is left to the service provider.
Standalone is a self-hosted solution that is installed on your own server and, if necessary, the program code is edited (within access). Most often, cloud solutions are sufficient for small and medium-sized businesses, because the need for deep changes is very rare.
We have created for you a comparison table of three CRMs (Bitrix24, Zoho CRM and Pipedrive) features.
| Feature | Bitrix24 | Zoho CRM | Pipedrive |
| --- | --- | --- | --- |
| Contact management | ✔ | ✔ | ✔ |
| Lead management | ✔ | ✔ | ✔ |
| Sales automation | ✔ | ✔ | ✔ |
| Email integration | ✔ | ✔ | ✔ |
| Task management | ✔ | ✔ | ✔ |
| Calendar/reminders | ✔ | ✔ | ✔ |
| Document management | ✔ | ✔ | ✔ |
| Reporting/analytics | ✔ | ✔ | ✔ |
| Workflow automation | ✔ | ✔ | ✔ |
| Customization options | ✔ | ✔ | ✔ |
| Online Store Builder | ✔ | ✔ | Varies  |
| Mobile app support | ✔ | ✔ | ✔ |
| Integrations | ✔ | ✔ | ✔ |
| Third-party add-ons | ✔ | ✔ | ✔ |
| Self-Hosted | ✔ | Х | Х |
| Source Code | ✔ | Х | Х |
| Customer support | ✔ (varies with plan) | ✔ (varies with plan) | ✔ (varies with plan) |
| Price | Varies with plan | Varies with plan | Varies with plan |
| Free version available | Limited features | 3 user only | Limited features |
| Trial period | 30 days | 30 days | 14 days |
| User interface (UI) | Modern and Intuitive | Modern and Intuitive | Modern and Intuitive |
| Learning curve | Moderate | Easy | Easy |
| Mobile responsiveness | Responsive design | Responsive design | Responsive design |
| On-premise option | Available | Not available | Not available |
| API access | Available | Available | Available |
| Security | SSL Encryption | SSL Encryption | SSL Encryption |
| GDPR Compliance | ✔ | ✔ | ✔ |
| Data backup | Automatic and manual | Automatic and manual | Automatic and manual |
* Please note that the information may have changed since the publication.
Bitrix24: Advantages
So, what makes Bitrix24 a solid choice for an average business? Well, we believe it's these three things:
Abundance of tools in one package.
Pretty much, every possible piece of software you may need to run your business is included in Bitrix24 one way or another – except for accounting programs, maybe.
For that much stuff, you have to pay a fairly modest price, especially compared to what market giants like Salesforce charge you. And speaking of charges – in Bitrix24, you don't have to pay for every new user you add. Every subscription plan has a certain limit – you can add as many users as you need and still pay the same price (provided you stay below the limit)
Although this is not for everyone and a bit pricey, it's always nice to have that option, especially if you're not keen on storing your and your clients' private data on someone else's cloud server.
Conclusion
Bitrix24 is a solid choice for small-to-medium businesses that are looking to streamline their day-to-day activities, manage sales and clients in a rather capable CRM, and not break their budget.