5 Best Hiking Outfits: Teen Edition
Whether you're on a casual hike or you're trekking through the woods and dealing with some steep inclines, you'll want to look your best for a pic after you reach your destination. A beautiful view or a mountaintop deserves to be photographed, don't you think? You shouldn't miss a good photo op because you wish you had on a better outfit. Check out these cute and trendy hiking outfits and clothing ideas you can wear on your next hiking trip or a simple stroll in the park.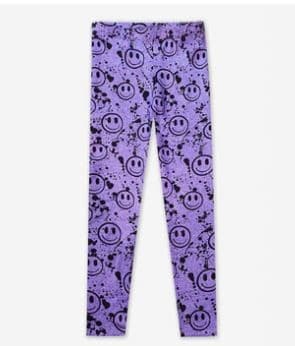 1. Leggings
When hiking, you need comfortable clothing that allows you to move freely without being too loose or tight. Many people wonder, "Can you hike in leggings?" The short answer to this question is yes! You can hike in leggings for a variety of reasons. Here are the fundamental characteristics that make leggings for tweens and teens so comfy on the trail:
They are lightweight and close to the skin, providing ultimate comfort

They are stretchy and follow the shape of your body, allowing you to move freely on any terrain

They are durable

They are moisture-wicking and breathable
Additionally, leggings are available in a variety of colors, materials, and designs, including ankle and knee lengths. The only people who might not understand why leggings are so popular are those who have never worn them. Every tween and teen can find a pair that meets their needs and their sense of style. 
2. Biker Shorts
Not every hike calls for hard-core gear or even gear designed especially for hiking. You can still dress for hiking without sacrificing style. Over the past few years, bike shorts have proved to be ideal for a variety of activities, including Instagram shopping on the couch or rejuvenating hikes through the wilderness. With their snug waistbands and versatile inseams, biker shorts are the perfect alternative to baggy boys' sweat shorts. Despite their sporty vibes, the best biker shorts for tweens and teens have endless styling options for creating a full look. Pair them with an oversized hoodie or a graphic tee for an effortlessly cool take on the trend. 
3. Layer in Style 
A hike is a great way to exercise and get some fresh air, but it's also a great way to show off your style. You can create a stylish and functional look by layering your clothing. Start with a base layer such as long leggings, then add one or two pieces of your favorite wardrobe items over the top, like a cute cropped t-shirt, for that extra pizzazz. If you're planning strenuous activities during the hike, such as climbing up steep hills, consider wearing layers like shorts over leggings and a zip-up jacket. A fitted track jacket is perfect for when you need something a little bit warmer. The material isn't too thick, so it won't be uncomfortable to wear and will keep you warm without overheating. Make sure you wear a matching sports bra for added support!
4. Play With Prints
Playing with prints can help you look great while hiking. You can wear a printed top with solid bottoms or vice versa. 90's and Y2K-inspired prints are also big. Think smiley faces and neon. Take advantage of them and keep the fashionista in you happy. Think smiley faces and neon. Don't be afraid to get creative with your hiking outfit. Remember that there are many different ways you can play with colors and prints, so experiment with what works best for you!
5. Accessorize 
If you don't accessorize properly, no matter how good your hiking gear is, you won't look your best. A few essentials can make all the difference. Remember that you've to feel comfortable to look good; you won't look fashionable in well-deserved selfies if you're miserable! Whether classic blade hats, beanies, or trendy bucket hats are your style, there's something for everyone in this category. Don't forget a cute backpack and a fun water bottle to ensure your outfit is complete.
Summing It Up
Finding the perfect outfit to wear hiking can be a challenge. After all, balancing fashion and function is no easy task. A great hiking outfit is all about what makes you feel comfortable and cute in the great outdoors. Hiking clothes don't have to be boring; just make sure they are practical, lightweight, and durable. This can make the difference between an awesome day out and an okay day out. So grab a pair of stylish leggings and hit the trails!
Subscribe to Our Latest Newsletter
To Read Our Exclusive Content, Sign up Now.
$5/Monthly, $50/Yearly