ASUS ZenFone 10 vs Xiaomi 13: Which Flagship Phone is Right for You?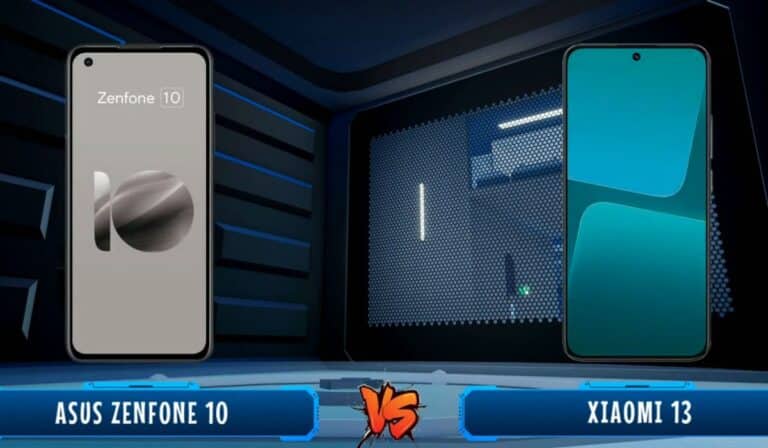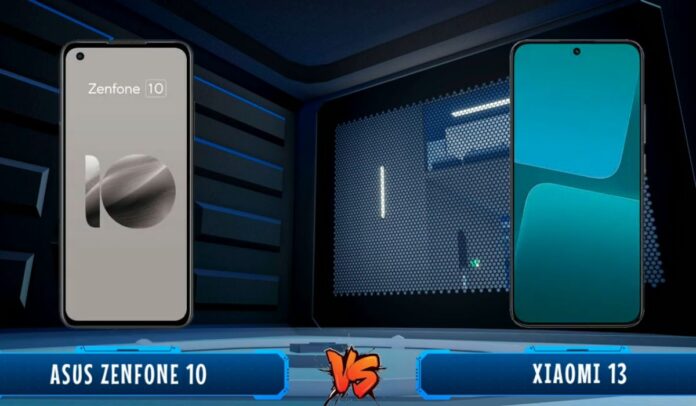 In this comparison, we're taking a closer look at two compact smartphones: the ASUS ZenFone 10 vs Xiaomi 13. Despite the ZenFone 10's slightly later launch by about 6 months, both devices fall within the same generation of phones.
They both offer a compact form factor, although the ASUS ZenFone 10 is notably more compact. Sharing the same System-on-Chip (SoC), they differ significantly in various aspects, making this evaluation quite intriguing.
Our focus will begin with an examination of their specifications and then proceed to a comprehensive comparison across several categories. We'll delve into their designs, displays, performance, battery life, camera capabilities, and audio performance. Given the abundance of features to discuss, let's dive right into it.
Specs
ASUS ZenFone 10 & Xiaomi 13, respectively
Screen size (main)
5.92-inch Super AMOLED display (144Hz, HDR10+, 1,100 nits)
6.36-inch AMOLED display (120Hz, HDR10+, 1,900 nits)
Display resolution (main)
SoC
Qualcomm Snapdragon 8 Gen 2
RAM
8GB/16GB (LPDDR5X)
8GB/12GB (LPDDR5X)
Storage
128GB/256GB (UFS 4.0)
128GB/256GB/512GB (UFS 4.0, except the 128GB model)
Rear cameras:
50MP (wide, f/1.9 aperture, gimbal OIS, multi-directional PDAF)), 13MP (ultrawide, f/2.2 aperture,k 120-degree FOV, 1.12um pixel size)
50MP (f/1.8 aperture, PDAF, OIS), 12MP (ultrawide, f/2.2 aperture, 120-degree FoV, 1.12um pixel size), 10MP (telephoto, f/2.0 aperture, 3x optical zoom, PDAF, OIS)
Front cameras
32MP (f/2.5 aperture, 0.7um pixel size)
32MP (f/2.0 aperture, 22mm lens, 0.7um pixel size)
Battery
Charging
30W wired, 15W wireless, 5W reverse wired (charger included)
67W wired, 50W wireless, 10W reverse wireless (charger included)
Dimensions (unfolded)
146.5 x 68.1 x 9.4mm
152.8 x 71.5 x 8.0mm or 8.1mm
Weight
172 grams
185 or 189 grams
Connectivity
5G, LTE, NFC, Wi-Fi, USB Type-C, Bluetooth 5.3
Security
Side-facing fingerprint scanner
Under-display fingerprint scanner (optical)
OS
Android 13 with ZenUI
Android with MIUI
Price
Design: ASUS ZenFone 10 vs Xiaomi 13
At a glance, especially when looking at their fronts, these two phones share some similarities. They both sport flat displays, although the ZenFone 10 has slightly thicker bezels surrounding its screen. The Xiaomi 13, on the other hand, boasts uniform bezels with the exception of its slightly thicker bottom bezel. Both phones incorporate a display camera hole, positioned differently on each display, but present nonetheless.
When examining the sides, it's evident that both smartphones feature flat sides with chamfered edges, housing all their buttons on the right-hand side. The ZenFone 10 goes the extra mile by utilizing its buttons as a fingerprint scanner that also acts as a touchpad for various phone functions. The Xiaomi 13, on the contrary, integrates an in-display fingerprint scanner. Moving to the backplates, their distinct appearances can be attributed to their camera setups. The ZenFone 10 boasts a dual-camera arrangement, each with its own camera island. In contrast, the Xiaomi 13 showcases three cameras housed within a single camera island, with the added flair of Leica lenses.
Adding to the mix, the ZenFone 10 employs a textured backplate design, enhancing grip. Meanwhile, the Xiaomi 13 offers the choice between a glass back and an eco leather backplate. The difference in size is reflected in their weight, with the ZenFone 10 being lighter at 172 grams, while the Xiaomi 13 weighs between 185 to 189 grams, depending on the model. The ZenFone 10 stands shorter, narrower, and thicker in comparison to the Xiaomi 13. Notably, both phones hold IP68 certification for water and dust resistance. Their ergonomic designs and compact nature set them apart from many of their competitors, ensuring a comfortable grip and feel in hand.
Display: ASUS ZenFone 10 vs Xiaomi 13
The ASUS ZenFone 10 boasts a 5.92-inch Super AMOLED display with a fullHD+ resolution of 2400 x 1080 pixels. This display features a 144Hz refresh rate, albeit reaching this rate only in certain games. The panel is flat and supports HDR10+ content, with a peak brightness of 1,100 nits. Gorilla Glass Victus safeguards this display against potential damage.
Conversely, the Xiaomi 13 offers a 6.36-inch AMOLED display with a fullHD+ resolution of 2400 x 1080 pixels. Like its counterpart, this panel is flat and supports a 120Hz refresh rate. It also accommodates Dolby Vision and HDR10+ content and achieves an impressive brightness of up to 1,900 nits. Gorilla Glass 5 provides protection for this display as well. Both screens share a 20:9 aspect ratio.
While both displays deliver impressive performance with vivid colors, deep blacks, and strong viewing angles, there are discernible distinctions. The Xiaomi 13's display notably shines brighter, a crucial advantage when dealing with direct sunlight. On the other hand, the ZenFone 10 offers superior display protection. However, the disparity between Gorilla Glass 5 and Victus protection might not be significantly substantial.
Performance: ASUS ZenFone 10 vs Xiaomi 13
Powering both these smartphones is the Snapdragon 8 Gen 2, Qualcomm's top-tier processor and one of the most potent offerings in the market. Alongside this, both devices make use of LPDDR5X RAM. However, the ZenFone 10 takes it a step further with the capacity to go up to 16GB, while the Xiaomi 13 offers a maximum of 12GB. The inclusion of UFS 4.0 flash storage is common in both handsets, although it's worth noting that only the 128GB variant of the Xiaomi 13 features UFS 3.1 storage.
Do these formidable specifications translate into impressive performance? Absolutely. Both smartphones exhibit remarkable fluidity in their operations. While they both run on Android 13, their user interfaces diverge substantially. The ZenFone 10 offers an experience akin to stock Android on steroids, combining the best of stock Android with enhanced customization. In contrast, MIUI presents a unique narrative altogether. If you lean towards stock Android with the added bonus of customization, the ZenFone 10 is tailored for you. Alternatively, if you have appreciated MIUI in the past, chances are you'll find its current iteration equally appealing.
Day-to-day performance, as well as gaming prowess, remains impressively smooth on both devices. Ultimately, the decision hinges on personal preference. Some users may gravitate towards the ZenFone 10 due to its software, while others may find the Xiaomi 13's MIUI more to their liking. Rest assured, fluidity is a given, so the choice can be made based on other considerations. Both devices are more than equipped to handle a wide array of tasks without breaking a sweat.
Battery: ASUS ZenFone 10 vs Xiaomi 13
Inside the ASUS ZenFone 10 resides a 4,300mAh battery, while the Xiaomi 13 houses a slightly larger 4,500mAh battery. It's worth noting that the ZenFone 10's battery capacity is reflective of its smaller size. However, in terms of battery life, the ZenFone 10 pulls ahead, a noteworthy observation based on our observations. The distinction between the two is quite noticeable.
In practical terms, we managed to achieve over 8 hours of screen-on time with the ZenFone 10, without holding back on its usage. This calculation excludes gaming activities. Comparatively, the Xiaomi 13 offers around 6 to 6.5 hours of screen-on time, based on our findings. For those seeking commendable battery life, the ZenFone 10 emerges as the preferable choice. It's important to acknowledge that the Xiaomi 13's battery life remains respectable and by no means subpar. It's essential to recognize that individual results may vary due to numerous factors influencing battery performance.
On the charging front, Xiaomi's device boasts notably swifter charging capabilities than the ZenFone 10. It supports 67W wired charging, 50W wireless charging, and 10W reverse wireless charging. In comparison, the ZenFone 10 is limited to 30W wired charging, 15W wireless charging, and 5W reverse wired charging. Regardless of whether you're opting for wired or wireless charging, the Xiaomi 13 will replenish its battery more swiftly. Both smartphones come with a charger included in the box, for your convenience.
Cameras: ASUS ZenFone 10 vs Xiaomi 13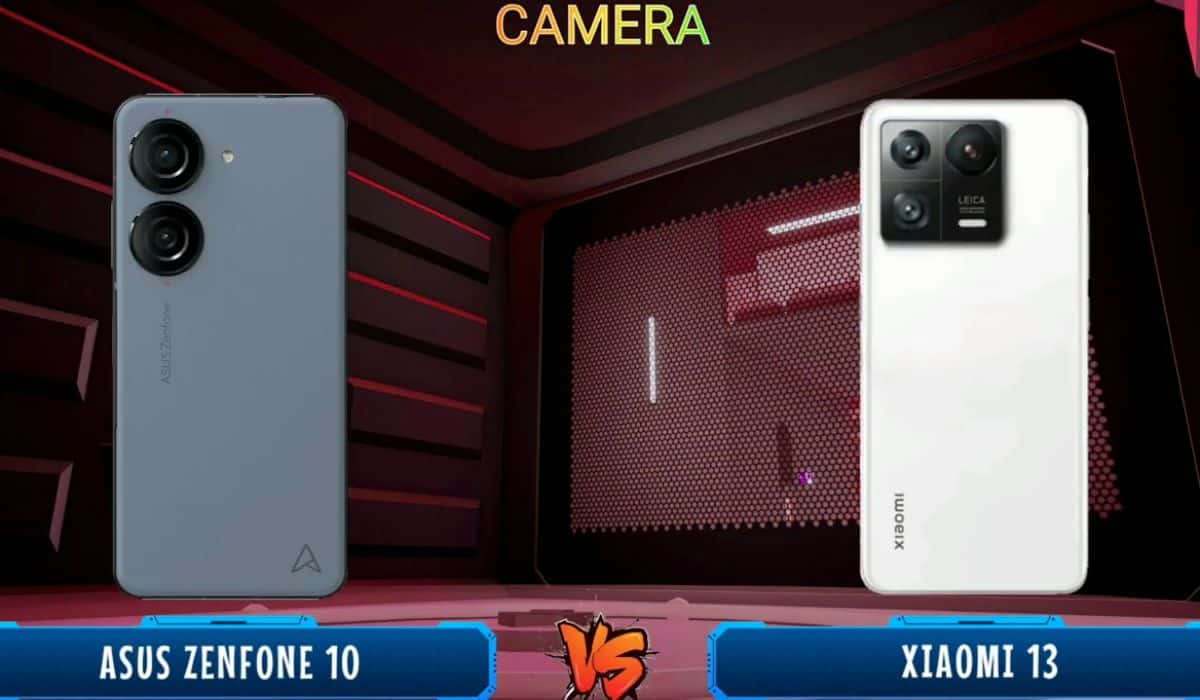 The ASUS ZenFone 10 features a 50-megapixel main camera accompanied by a 13-megapixel ultrawide camera with a 120-degree Field of View (FoV). On the other hand, the Xiaomi 13 boasts a more comprehensive camera setup with three lenses. It includes a 50-megapixel main camera, a 10-megapixel telephoto camera providing 3.2x optical zoom, and a 12-megapixel ultrawide camera with a 120-degree FoV. Additionally, Leica lenses contribute to the camera system's capabilities on the Xiaomi 13, complemented by software enhancements.
Both smartphones deliver vibrant and detailed images with commendable sharpness. Notably, the ZenFone 10 avoids the oversharpening issue that its predecessor faced. In terms of shooting modes, the Xiaomi 13 offers two options: "authentic" and "vibrant." The former introduces a vignetting effect, while the latter focuses on a vibrant aesthetic. The Xiaomi 13 tends to enhance shadow and low-light areas, resulting in brighter images overall. Low-light performance remains commendable on both devices, with their ultrawide cameras also proving satisfactory.
Turning to video capabilities, the ZenFone 10 excels in stabilization, although the Xiaomi 13's video output is by no means subpar. It's noteworthy that the Xiaomi 13 handles light flares more effectively on the whole. In conclusion, most users are likely to find satisfaction with the camera performance of either of these phones.
Audio: ASUS ZenFone 10 vs Xiaomi 13
Both of these phones come with a pair of stereo speakers, and both sets deliver impressive audio quality. The sound they produce is full-bodied and adequately loud. It's worth mentioning that the Xiaomi 13 has a slightly edge in terms of volume output.
Interestingly, the ZenFone 10 has an added advantage of having a headphone jack, which is missing in the Xiaomi 13. This means that if you still prefer using wired headphones, you can easily plug them into the ZenFone 10. Alternatively, if you decide to go wireless, both phones support Bluetooth 5.3 connectivity.