DJI Air 3 Review: A Powerful and Versatile Drone for Everyone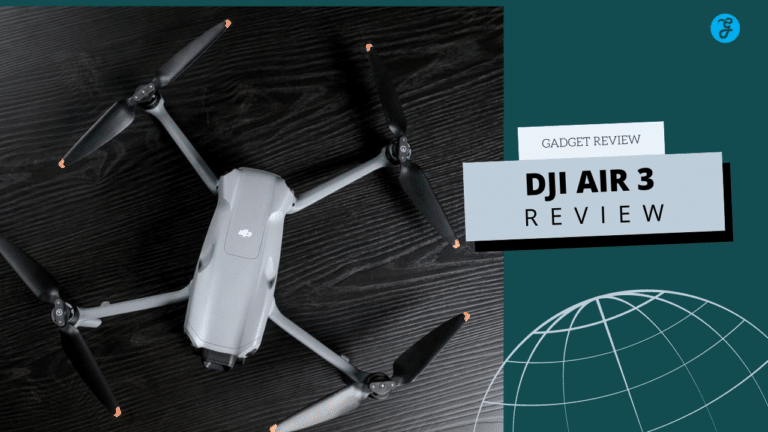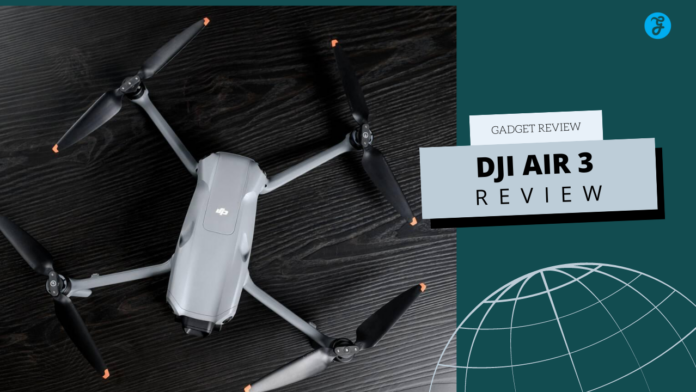 Are you looking to upgrade your drone for better zoom-in creative shots? The DJI Air 3 offers dual cameras for two usable focal lengths, 4K 100fps recording, and many other features and innovations. In this blog post, we will talk about the DJI Air 3 Review.
We'll cover DJI Air 3's design and performance as well as its image/video quality so that you can make an informed purchase decision. Discover how this high-quality zoom feature brings a whole new level of creativity with our comprehensive look into the DJI Air 3!
Content Highlights
The DJI Air 3 has a larger and heavier body with greater stability in strong winds. It also offers an impressive 4,241mAh lithium-ion battery for longer flight times and quieter operation.
It is equipped with dual cameras that offer two usable focal lengths (24mm equivalent wide-angle plus 70mm telephoto) and 4K 100fps recording at 10 log color depth. This combination enables users to create dynamic shots with smooth transitions between close-up objects into expansive landscapes at different angles in low light conditions too.
Its advanced D – Log M setting provides 10-bit color whereas Night Mode combines exposures from both camera sensors to reduce noise levels while capturing footage late at night or during twilight hours. Similarly, the new RC2 controller boasts better response times when shooting high-angled panoramas or selfies using Quick Shots for enhanced creative expression of visuals from various perspectives!
DJI Air 3: At a Glance
First, here's a specification table summarizing the key features of the DJI Air 3 drone.
| Feature | Specification |
| --- | --- |
| Body Dimensions (L×W×H) | 258.8×326×105.8 mm |
| Weight | 720g (Unfolded, without propellers) |
| Battery Capacity | 4,241mAh lithium-ion |
| Battery Charging Time | Approximately 1 hour |
| Flight Time | Up to 46 minutes (optimal speeds) |
| Noise Level | Below 45dB from 248 feet away |
| Dual-Camera System | Wide-angle 24mm lens & 70mm telephoto lens |
| Camera Resolution | 4K video recording, up to 100fps, D-Log M 10-bit color |
| Adjustable Maximum Speeds | Max control speed of 100°/s in tilt |
| Video Transmission Range | Up to 7.5 miles (12 km) |
| Transmission System | DJI OcuSync 4 |
| Latency | 110ms |
DJI Air 3 Review: Design and Performance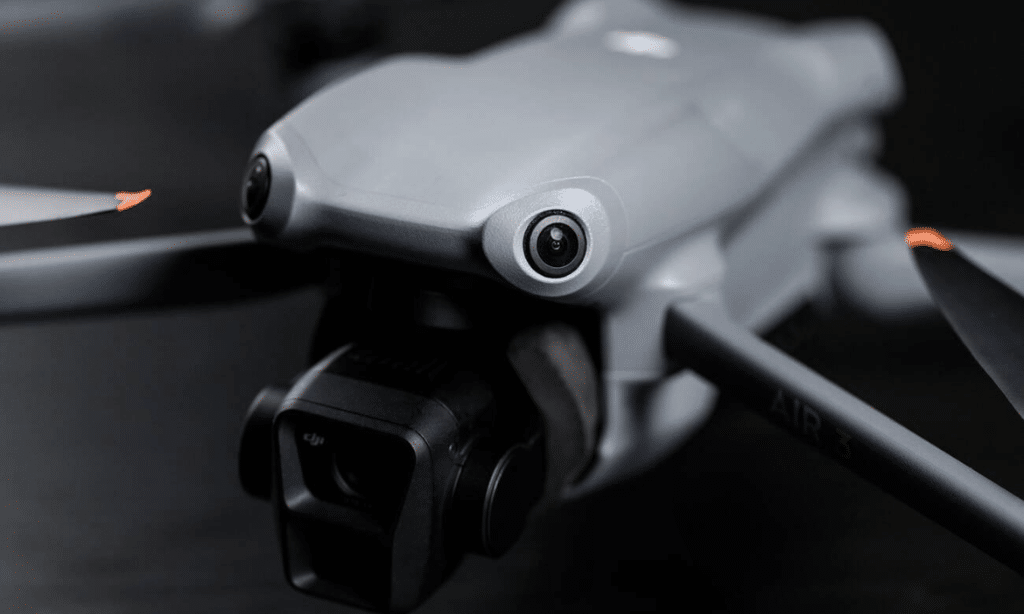 The DJI Air 3 features a lightweight and durable body, an efficient battery life, and remarkably quiet operation.
Body Design and Weight
The DJI Air 3 drone has a noticeably larger body than its predecessors and when unfolded, without the propellers, measures 258.8×326×105.8 mm (L×W×H). Taking off at 720g, it is also heavier than the previous Air model's 595g which does give it greater stability in strong winds but slightly reduced portability due to its increased weight and bulkiness.
Having a wingspan larger than that of Mini 3 Pro means that DJI Air will be able to remain airborne for longer by being more resistant against wind speeds as well as carrying payloads such as heavy movie cameras or accessories requiring sturdy support while flying.
The additional weight makes this drone explicitly designed for a professional buyer with higher expectations from drones regarding flight times and camera quality built into their service capabilities or leisure activities duration extension needs.
Battery Life
The battery of the DJI Air 3 is a powerful 4,241mAh lithium-ion unit that can be fully charged in an hour. Compared to the previous generation, this constitutes a 48% improvement in power capacity.
The equivalent battery capacity of the Mavic 3 Pro also helps it fly farther with every charge and for longer periods – up to 46 minutes at optimal speeds and conditions according to DJI's claims.
Furthermore, all of this comes without having any extra weight or sacrificing performance, making the Air 3 quite economical while still delivering a greater flight range than its predecessors.
Quieter Drone
The DJI Air 3 drone offers a relatively quiet flight experience compared to other drones in the market. Thanks to its silent motors, low-vibration design, and integrated noise reduction technology, this drone can fly below 45dB decibels from approximately 248 feet away.
This is around 40 percent lower than some of DJI's previous models. The impressively quiet levels allow for users to capture unobstructed aerial clips and record audio without the background interference of whirring blades or loud buzzing clatter that often comes with flying drones.
With such subdued sound output during flights, users can enjoy greater privacy and reduced disruption while capturing their footage which makes it a great choice for professionals who need reliable performance without breaking local ordinances related to sound limits. If you're interested also read on Drone UAV and UAS. 
Cameras of DJI Air 3
DJI Air 3 is equipped with a dual-camera system, two usable focal lengths, and a 4K video recording capability of up to 100fps in D-Log M 10-bit color.
Dual-Camera System
The DJI Air 3 has an ultra-capable dual-camera system and two usable focal lengths. This is the only drone available in its price range that offers a second camera with a different lens option.
The wide angle 24mm equivalent lens ensures great detail, while the medium telephoto lens offers more flexibility when framing shots. Both cameras are based on Sony's 1/1.3 inch CMOS sensor, providing sharp 4K video with 100fps at 10 log color depth to produce vibrant images – far surpassing what similar drones offer in terms of image quality.
In addition, it boasts adjustable maximum speeds so pilots can keep up with fast-moving subjects while filming and capturing unique moments in creative ways both day and night using Night Mode mode technology which enables low light shooting for stunning visuals that capture more than can be seen by the naked eye!
Two Usable Focal Lengths
The DJI Air 3 provides the versatility of having two usable focal lengths using its dual-camera system. On one side, the main 24mm f/1.7 lens (35mm equivalent) ensures users can have an expanded field of view to capture immersive shots while on the other, a 70mm telephoto lens offers additional creative options with even greater detail and clarity when zoomed in.
This combination enables users to make dynamic changes on the fly while also taking advantage of low-light capabilities thanks to its wider aperture setting. It also allows you to create stunning cinematic videos with smooth transitions from close-up objects into expansive landscapes at different angles.
Furthermore, this dual camera setup could further enhance user creativity by giving them the freedom to switch between different distances quickly without needing multiple lenses or equipment changeouts.
4K 100fps Recording
The DJI Air 3 offers 4K 100fps recording, allowing users to capture high-quality slow-motion footage that can be used for creative video projects. Its dual camera system features a 1/1.3-inch 24mm (35mm equivalent) f/1.7 lens and allows the drone to shoot up to 100fps at 4K resolution or up to 60fps at 2.7K resolution when capturing vertically.
This capability is especially useful for creating dynamic videos with stunningly smooth and precise transitions between shots by giving filmmakers and photographers the ability to manipulate time videography techniques such as ramping speeds of motion sequences, making ultra slow motion visuals, or using curved shutter speed NLE speed corrections for smoother movements in fast-paced action scenes.
In addition, its low light sensitivity makes it perfect for night shoots that require highly detailed footage with minimal noise or graininess allowing users to get great results even under tricky lighting conditions.
D-Log M With 10-bit Color
The cameras of DJI Air 3 boast an advanced D-Log M with a 10-bit color video feature for more vibrant and professional video footage. 10-bit 4:2:0 color recording enables unprecedented detail while keeping up the rich dynamic range as well as subtle gradations in tone and color, combatting banding and improving low-light conditions.
The vibrant colors recorded with this mode make sure that details are preserved even when shooting wide-angle shots, providing maximum post-production flexibility to create aesthetically beautiful videos or photos.
With its improved capacity for capturing one billion distinct colors in any kind of lighting environment, users can exert a huge amount of control over their footage like never before possible!
New Features and Innovations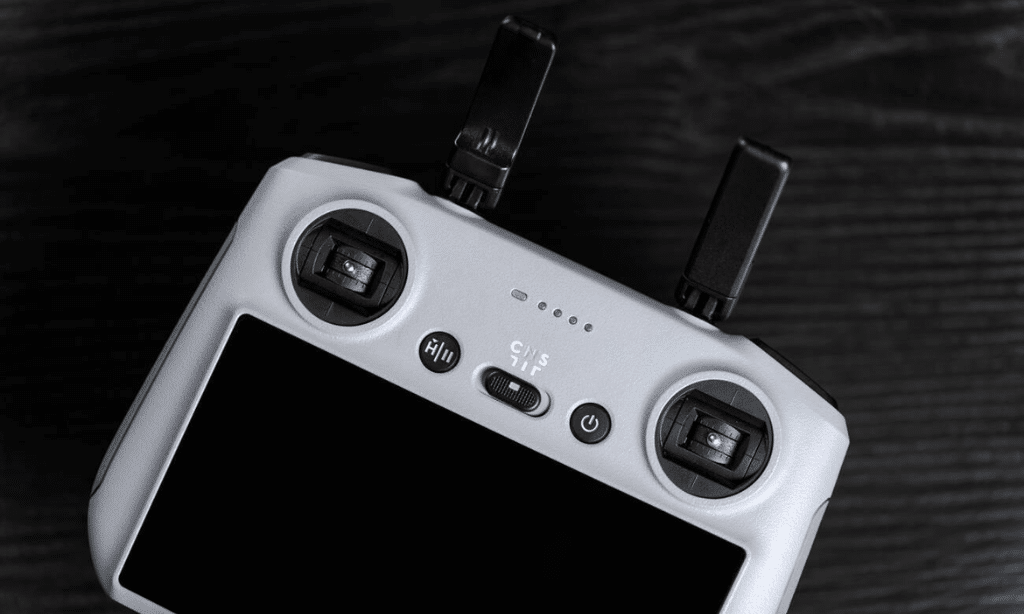 The DJI Air 3 offers several innovative features, including the DJI OcuSync 4 video transmission system, adjustable maximum speeds, vertical video and photo capabilities, and a new RC2 controller.
DJI OcuSync 4 video Transmission System
The DJI Air 3 drone offers users a reliable and highly advanced image transmission technology with the integrated OcuSync 4 system. This improved version of the previous OcuSync 3 and 2.0 systems, boasts an impressive maximum video transmission range of up to 7.5 miles (12 km).
It is designed with dual signal links – one for controlling and transmitting live video data, as well as extending battery life – providing both incredible power efficiency and minimized interference from other networks nearby.
Furthermore, these robust signal links provide crystal-clear images that are streamed into your device at 1080P/720P 60fps HD quality resolution along with latency which has been decreased substantially since its predecessor to just 110ms time delay for a smooth viewing experience even in tight spaces or through complex topography areas such as forests or mountainous regions which was not possible before without interruption or lost frames of data due to strong interferences from outside signals within the area. If you want read this article on How to check AirPods battery life.
Adjustable Maximum Speeds
The DJI Air 3 drone has adjustable maximum speeds for flights, giving users greater control over their experience. This allows them to adjust the maximum speed of the drone's tilt and achieve smoother camera movements.
With a maximum control speed of 100°/s in tilt, it ensures cameras capture sharp footage without experiencing jitter or shaking that can be experienced with an unadjusted maximum speed – creating more stable shots.
With this powerful feature, shooters have reliable performance during difficult maneuvers such as rapidly accelerating from one point to another while keeping a frame subject perfectly steady or capturing smooth flight paths at faster speeds around tight corners or through complex winding course designs.
Vertical Video and Photo Capabilities
The DJI Air 3 drone takes your creative vision a step further with its vertical video and photo features. With its dual-camera system, it has two usable focal lengths that let you take stunning shots in portrait mode.
Its 2.7K camera allows for 4K 100fps recording using D-Log M with 10-bit color – giving your images unmatched depth and detail in post-production editing compared to other drones on the market today.
The wide-angle camera also captures rich images in horizontal and vertical modes which ensures near-perfect framing from any angle or distance away from the subject – great for gathering footage while doing aerial mapping of an area.
Night Mode
The DJI Air 3's night mode takes advantage of its powerful dual-camera system and 4K 100fps recording capabilities to allow for high-quality low-light photos and videos. With night mode enabled, the two usable focal lengths work together to combine different exposures into one image with reduced noise levels.
Thanks to the D-Log M 10-bit color profile, users can expect an improved dynamic range from images and videos captured in this mode, while allowing for heightened degrees of creative expression when taking pictures in darker settings.
The DJI Air 3's maximum ISO is raised up to 4000 during this setting so that it can capture clear footage even late at night or in dusky environments such as sunsets. Night Mode makes the drone ideal for capturing stunning twilight photography or professional super slow motion videography without having a decreased quality standard due to its clever technology being used when making adjustments within the camera itself while filming & shooting imagery thus allowing for spectacular visuals in low light situations every time!
New RC2 Controller
The DJI Air 3 remote controller, the RC2, is a big improvement from its predecessor due to several groundbreaking features. To begin with, the all-new RC2 is designed with a built-in screen that makes it easier for users to monitor what their drone sees in real-time without having to look elsewhere on their devices like phones or tablets during shooting.
Furthermore, this controller also has two external antennas attached that send and receive signals further than ever before meaning less connection dropping and better navigation. These improvements combined with the ergonomic design of its body which ensures comfortable handling during long shoots as well as optimal performance make this an essential upgrade for anyone looking into a better drone quality experience with their new DJI Air 3.
DJI Air 3 Price: Latest Updates
Check the updated price for different variants of DJI Air 3 in different regions below.
| Region | Variant | Price |
| --- | --- | --- |
| United States | DJI Air 3 (DJI RC-N2) | USD $1,099 |
| United States | DJI Air 3 Fly More Combo (DJI RC-N2) | USD $1,349 |
| United States | DJI Air 3 Fly More Combo (DJI RC 2) | USD $1,549 |
| Canada | DJI Air 3 (DJI RC-N2) | CAD $1,499 |
| Canada | DJI Air 3 Fly More Combo (DJI RC-N2) | CAD $1,799 |
| Canada | DJI Air 3 Fly More Combo (DJI RC 2) | CAD $2,049 |
| Europe | DJI Air 3 (DJI RC-N2) | EUR 1,299 |
| Europe | DJI Air 3 Fly More Combo (DJI RC-N2) | EUR 1,599 |
| Europe | DJI Air 3 Fly More Combo (DJI RC 2) | EUR 1,849 |
| Australia | DJI Air 3 (DJI RC-N2) | AUD 1,699 |
| Australia | DJI Air 3 Fly More Combo (DJI RC-N2) | AUD 2,049 |
| Australia | DJI Air 3 Fly More Combo (DJI RC 2) | AUD 2,349 |
| India | DJI Air 3 (DJI RC-N2) | INR 1,04,999 |
Table: DJI Air 3 Price for Different Regions
Comparison with DJI Mini 3 Pro
The DJI Air 3 has an improved feature set and increased capabilities compared to the DJI Mini 3 Pro.
Features and Capabilities
The DJI Air 3 offers a range of features and capabilities that make it stand out from other drones on the market. It has an improved design, with a lightweight body perfect for portability, as well as a quieter drone experience thanks to an efficient propulsion system.
Powered by two cameras, users can take advantage of dual-camera capability with full HD shooting options in 4K at 100fps. Further controls and creative features are provided via the OcuSync 4 video transmission system.
This allows variable maximum speeds, vertical videos/photos, the use of night mode, and more accessible flight control over long distances through the RC2 controller upgrade. Different Quick Shots modes give photographers the chance to access special tricks like Boomerang and Round Trip Telescope or explore more varied shooting angles such as Flat Stick Landing Mode or Straight Takeoff & Landing Mode all adding up to expand creative possibilities in operating this drone!
Read also: Action camera microphone attachment
Shooting Modes of DJI Air 3
With its robust Quick Shots and creative camera movement options with different shooting modes, DJI Air 3 offers unparalleled convenience and control for aerial content creators.
Quick Shots
The Quick Shots feature of DJI Air 3 is an innovative and easy way to capture stunning aerial images and videos. This feature utilizes both cameras on the drone, allowing users to choose between different camera angles for unique shots.
The Quick Shot options available are Rocket, Dronie, Circle, Helix, Hyperlapse, and Boomerang. For example, with Rocket mode, you can take off from eye level while recording a beautiful vertical ascension shot.
In Dronie mode the drone shoots away from its starting point while keeping your subject center frame; this is great when you want to show size or scale in relation to something small like a person or car.
Creative Camera Movement Options
The DJI Air 3 unlocks limitless creative potential for footage with its six different creative camera movement options. These movements, which include Rocket, Dronie, Circle, Helix, Boomerang and Asteroid modes, offer a range of shooting options to make your videos stand out from the crowd.
The Rocket mode captures clean vertical shots from up high providing an aerial view of whatever is below it. With the Dronie mode in use, you can capture dynamic intensity-building shots by having the drone fly away from you while zooming in as well as going back and forth between two points or revolving around a single object like a carousel.
In Circle mode the user can create subtle yet compelling transitions while filming their subject at all times; whereas Helix mode provides users with the clockwise or counter-clockwise spiraling motion that makes for interesting visuals when combined with complex terrain features.
Different Shooting Modes
The DJI Air 3 drone has various clever and captivating shooting modes that creatively enhance its overall performance. The most distinct mode is sorta-vertical shooting, which utilizes advanced image cropping technology to capture a vertically-oriented shot without having to rotate the gimbal or cause distortion.
Additionally, it comes with a dual-camera system which allows for versatile shooting options leveraged by 4K 100fps recording quality as well as 10-bit color D Log M capabilities. It also features SmartPhoto 3.0 that can switch between different HDR, and HyperLight On/Off settings on a single click in order to provide clear, crisp images even in low light conditions.
Furthermore, users of all experience levels can create high-precision shots using Flight Automation's Waypoint Pro feature; allowing pilots to set points around any subject and follow certain flight paths with precise accuracy alongside controlling speed while capturing unique angles of footage or photos dynamically adjusted from location to location for professional looking results with ease! With these inventive shooting modes at hand, the DJI Air 3 is sure to please even the pickiest user when it comes to creative cinematic looks and expressive airborne photography!
Image and Video Quality of DJI Air 3
The DJI Air 3 offers improved video and photo quality with full 4K Resolution recording at up to 100fps, as well as support for Wide-angle HDR photos and D-Log M 10-bit color profiles.
Improved Video and Photo Quality
DJI Air 3 provides exceptional image quality with 48MP photos and 4K video recording of up to 100fps. The drone features dual 1/1.3-inch CMOS sensors that offer the highest quality HDR imaging with a large dynamic range, improved edge detection performance for smooth changes in darkness and brightness, more natural-looking colors, and superior low light performance.
With its two usable focal lengths of 24mm or 84mm (35mm full frame equivalent) both offering up to 4K 60p resolution when using DJI LogM mode, the DJI Air 3 can capture stunning images from near or far.
Moreover, thanks to its adjustable max speed empowered by new 2312 PRO motors on each axis combined with an upgraded ESC system it allows users to get optimal shots through increased options for camera movement without compromising stability.
Battery Charging and Power Accumulation
DJs Air 3 is equipped with a charging hub and power accumulation function for efficient and quick battery charging. Find out more about these features in this comprehensive review!
DJI Air 3 Charging Hub
The DJI Air 3 charging hub is a great addition to users of the popular drone. The charging hub is equipped with a power accumulation function that transfers the remaining power from multiple batteries to a single battery for extended flight times.
Besides this, the charging hub also features an expanded charging interface that improves recharge efficiency and enables faster battery replenishment even when there's not enough time before your next flight session.
This enhanced performance ensures more uptime flying with your favorite drone in different environments without running out of juice. Flight enthusiasts will definitely benefit from these amazing upgrades found on the DJI Air 3 Charging Hub.
Power Accumulation Function
The DJI Air 3 Battery Charging Hub features an innovative power accumulation function designed to improve the drone's battery charging efficiency. This special feature effectively stores energy from the main charger and releases it back over time, into multiple devices simultaneously connected to the hub without any interruption or decrease in performance.
The power accumulation function can be beneficial if you are using your drone for extended operations as it allows users to continue with their activities uninterrupted by recharging drones every time one completely runs out of battery.
Moreover, this power transfer system also increases overall safety levels since fewer cables are needed when powering up multiple drones at once on the single anchored point that is provided with reliable voltage through auto-balancing technology.
User Recommendations
Find out who should buy DJI Air 3 and who should not by reading the full article.
Who Should Buy DJI Air 3
The DJI Air 3 is an ideal choice for professional and aspiring aerial photographers who want a dependable, high-quality drone for aerial photography. With the dual-camera system and other innovative features such as Quick shots, Night mode, adjustable maximum speeds, and vertical video/photo capabilities the DJI Air 3 offers creative freedom in terms of capturing photos or videos from different angles.
Its 4K 100fps recording also provides users with high-quality images that can potentially exceed the larger sensor performance on the Air 2S. The durable build and long battery life are perfect for those planning to take their projects outdoors without having to worry about equipment failure or running out of power quickly.
When it comes to value for money and overall performance in its class; getting your hands on this model is a no-brainer!
Who Should Not Buy DJI Air 3
The DJI Air 3 is not recommended for those looking for a budget-friendly option or beginners, as it has a higher price tag and more advanced features than some of the other options available.
Not only that but due to being positioned between the Mavic 3 Pro and Mini 3 Pro in terms of price and features, its complex design may be too much for users seeking an entry-level drone.
It also requires a particular level of skill when it comes to controlling it efficiently in all situations making it less suitable for amateurs who are inexperienced with piloting drones. Lastly, depending on your requirements you may find better value from some other drone models such as the Hubsan X4 Storm or Parrot Anafi so if you're after something lighter weight or cheaper then keep these two alternatives in mind before committing to purchasing the DJI Air 3.
Frequently Asked Questions (FAQs)
Want to know some related questions about DJI Air 3? If so then keep reading the FAQs.
1. What is the DJI Air 3?
The DJI Air 3 is a high-quality, professional drone featuring impressive zoom capabilities and numerous creative options for videographers or photographers.
2. What features does the DJI Air 3 have?
The DJI Air 3 has an advanced zoom lens with two optical zooms — one up to 2x magnification and another up to 4x digital zoom— as well as hyper-lapse support, 8K capability at 24 fps, ActiveTrack video tracking technology, and other features designed for capturing excellent footage in difficult conditions.
3. How user-friendly is the DJI Air 3?
The DJI Air 3 is easy to use with its intelligent flight modes such as QuickShots and Waypoint mode that make aerial filmmaking simpler than ever before! With obstacle avoidance sensors on six sides of the drone, it can navigate obstacles while keeping users safe from collisions even when traveling at high speeds.
4. Can I control my camera settings on the go using the controller?
Yes–you can adjust all your camera settings directly on your remote control so you're always in complete control of how you want your content to look! You'll also be able to access real-time data about your flight status such as altitude, location (GPS coordinates), and speed within seconds without having to take out any extra devices or software applications.
Takeaway
The DJI Air 3 is a high-quality drone that offers beginners plenty of features to get them started, as well as advanced capabilities for experienced users. Its dual camera system provides two usable focal lengths along with 4K 100fps recording and 10-bit D-Log M colored footage – great for capturing fantastic imagery in various environments.
With the 9km range OcuSync 4 video transmission system, adjustable maximum speed settings, plus vertical video and photo processing options built-in, you have more creative control over your shots than ever before.
The RC2 controller allows smooth operation with its new ergonomic design and advanced flight automation technology including Quick Shots and different shooting modes at your disposal.