The Best iPads for 2023: Which One is Right for You? [Detail Guide]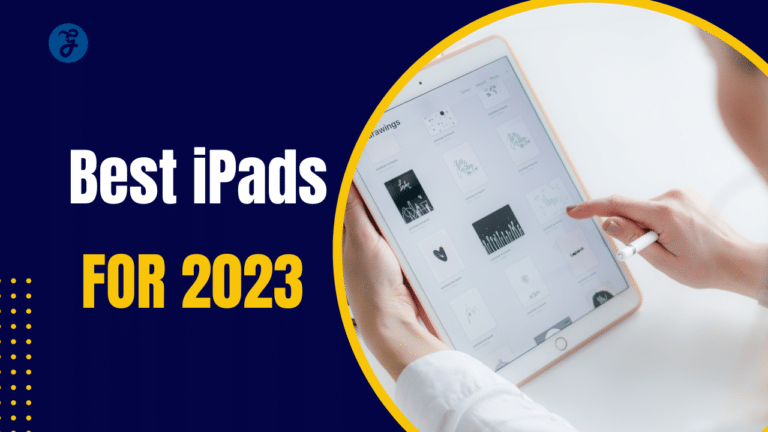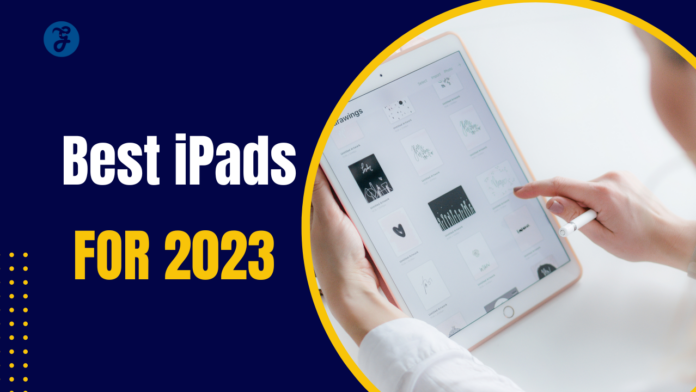 The search for the best iPads for 2023 can be daunting – with so many models available, it's hard to know which one is right for you. Each year, Apple updates its lineup of iPads ranging from budget-friendly tablets to powerful devices built for pros.
In this blog post, we'll break down all the options and help you learn how to pick the iPad that will best suit your needs. From determining whether an iPad Pro or a regular Air model is better for you to comparing iPads with other tablets on the market; we've got everything covered here to make shopping easier than ever before!
So get ready and join us as we explore what makes each release unique and discuss how factors such as size, performance power, and price point play into making your purchase decision.
Content Highlights
iPads come in varying sizes, speeds, prices, and configurations, making it important to consider the intended use when selecting the best model for your needs.
The iPad Air is an all-around device with great specs and features – perfect for users looking for value without sacrificing quality.
The iPad Pro 12" is designed for power users who need advanced performance capabilities while still being compact enough to take on-the-go anywhere you want.
For a more affordable option, the 9th generation iPad offers decent specs at an unbeatable price point while the 10th Gen iPad will suit those after a well-balanced tablet catering to work or leisure uses alike!
Understanding the iPad Lineup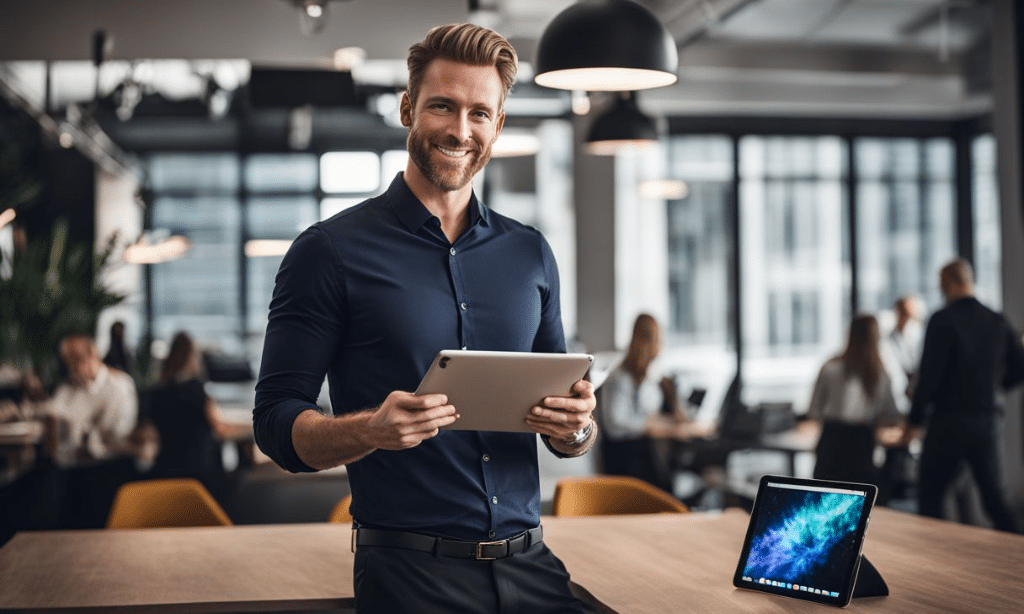 From the standard iPad to the sophisticated iPad Pro, we can break down all of Apple's models and find the perfect tablet for your needs.
Best for Most: iPad Air
The iPad Air is the best option for most people in Apple's tablet lineup due to its balance of features and affordable price. This makes it a highly popular choice among students who are looking for a device that offers powerful specs without breaking their budget.
It has many of the same features as more expensive models, such as the 12.9-inch iPad Pro which costs almost twice as much. The iPad Air includes a large 10.9-inch Retina display that will make videos and games look great, while also being lightweight enough to hold with one hand or slide into a backpack or bag when needed.
Additionally, its A14 Bionic chip helps keep everything running smoothly and quickly so users can work on projects or do tasks without any lag time or delays. Its impressive battery life ensures users will be able to go all day between charges making this model perfect for both professional projects and school assignments alike.
Best Budget: iPad (9th Generation)
The iPad (9th generation) is a great budget option for those seeking value without sacrificing quality. It features Apple's A10 Fusion chip with hexa-core processor and an embedded M10 motion coprocessor, delivering remarkable performance when running multiple apps or playing games.
Its 10.2-inch display makes it suitable for most activities and the battery easily lasts up to 10 hours on a single charge. The 9th gen iPad combines these impressive hardware specs with a nice design that includes stereo speakers, an 8MP back camera, a 1.2MP front camera, WiFi support, and Bluetooth technology to enable users to have all they need in one device making it an ideal choice for readers looking for an affordable tablet without compromising on performance.
Best for One-Handed Use: iPad mini
The iPad Mini is the perfect choice for one-handed use with its lightweight and slim design. It's powerful enough to run most apps, yet small enough to fit comfortably into your hands while still allowing easy access to all the features you love such as split-screen multitasking and a wide selection of Apple Pencil applications.
Its compact footprint makes it ideal for traveling or resting on your lap if you don't have a flat space available. The responsive touchscreen ensures smooth navigation even when using just one thumb.
With up to 10 hours of battery life, you can count on the iPad Mini providing reliable power throughout your work day or classes in school without having to worry about charging it over lunch breaks.
Best for Power Users: iPad Pro 12.9-inch
The iPad Pro 12.9-inch model is an ideal choice for power users, offering unbeatable performance and features. It features a redesigned liquid retina display with rounded corners delivering up to 120 Hz refresh rate which makes it incredibly fast and smooth when scrolling, animating or gaming.
The latest A12Z bionic chip comes with extra GPU cores for more graphics horsepower making the iPad Pro 12.9-inch one of the most powerful mobile devices available on the market today.
Plus, advanced cameras along with studio-quality mics deliver professional quality sound recordings while capturing stunning images and videos at any stage of life journeys – anywhere you go! Its sleek design combined with incredible battery life gives enough backup to last all day long no matter your usage style; this makes it perfect for anyone who needs just that bit more out of their device!
Best iPad Models for School and Beyond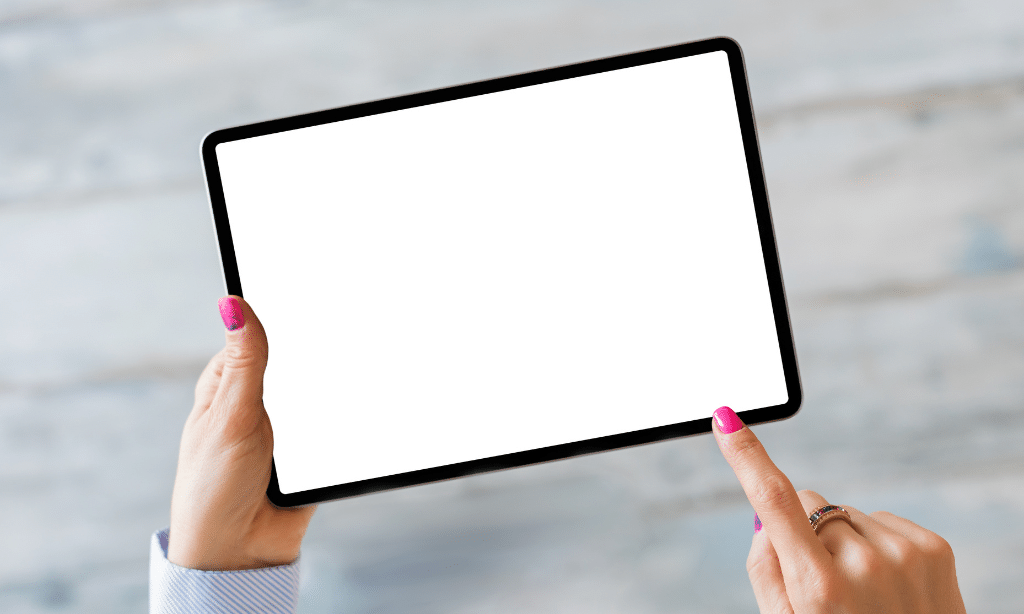 Whether you're an educator, student, or parent researching the best iPads for school and beyond, we have great iPad models to choose from. Find out which one suits your needs here!
iPad Pro (6th Generation)
The iPad Pro (6th generation) is the best overall choice for school, work, and beyond. It offers Pro-level power in a smaller size, making it ideal for reading, taking notes, and slipping into a bag without compromising on performance.
Its advanced A14 Bionic chip ensures seamless usage of demanding applications as well as casual browsing with ease. With its large 12.9-inch Liquid Retina display and stereo speakers, users can enjoy videos or presentations with eye-popping clarity – perfect for dealing with multitasking demands like video conferencing while studying.
Plus the iPad Pro offers support for both Magic Keyboard and Apple Pencil accessories that help boost productivity during extended office hours or class lectures at home — an added bonus! The cameras also deliver higher quality photos regardless of what you're shooting – from documents to family portraits this device will handle it all beautifully so creating memories all year round is effortless!
iPad (10th Generation)
The iPad (10th generation) is considered one of the best tablets for most users in 2023. This well-rounded tablet makes it easy to work, study, and play with its sleek modern design, powerful A12 Bionic chip, vibrant 12.9-inch Retina Display, long battery life, and rich set of features like True Tone technology, Face ID security system and support for Apple Pencil.
Whether you're a student or professional user looking for performance power on the go or just want to watch movies in HD with stereo speakers – the 10th Gen iPad has everything you need at an affordable price point compared to other iPads on the market.
Get ready to take your work or entertainment experience anywhere with this impressive model!
iPad Air (5th Generation)
The iPad Air (5th generation) is an excellent choice for those looking for the best iPad model in terms of performance and features. It offers most of the capabilities of its Pro siblings, such as Apple's M1 chip, allowing for faster processing and visuals and machine learning capability.
With competitive prices on both WiFi models and cellular versions, it also offers great value compared to other iPads with similar specs. The 10-hour battery life opens up a wide range of possibilities right from working at home to watching your favorite show without needing to worry about finding power outlets too often-making it ideal not just for school but also for leisure time.
Its smaller-than-average bezels make it a good one-handed device while still offering a quality display that will enable users to explore its potential picture-taking or video-editing capabilities with ease.
iPad Mini (6th Generation)
The iPad Mini (6th generation) is widely considered one of the best iPads for school and everyday use in 2023. This smaller, more portable option compared to larger iPad models such as the Pro 12.9-inch makes it perfect for individuals who prioritize portability and ease of use.
It offers an optimal design process aiming to provide a high-quality reading experience that caters to educational purposes with features like note taking capabilities and compatibility with Apple Pencil without compromising on its overall processing power or performance.
The iPad Mini also has a longer battery life which adds convenience making studying sessions possible on the go anytime, anywhere. Whether you're a student looking for extra help during class or an individual who enjoys being able to access digital materials while traveling, this mini tablet is sure to deliver user satisfaction at an affordable cost showcasing why it is one of the best picks available in 2023.
Choosing the Best iPad for Your Needs
It's important to research factors such as the size, speed and storage of an iPad when selecting the best tablet for your needs.
Factors to Consider
When choosing the best iPad model for your needs, there are many factors to consider. When it comes to budget, it's important o ensure you select a device that fits within what you can afford – the latest and most powerful models aren't always necessary and there are very capable devices at more affordable prices.
Additionally, it is important to think about how you plan to use your iPad – if for drawing then a larger display with Apple Pencil compatibility may be beneficial; if more of an entertainment device then battery life should be considered along with audio capabilities.
For work or school purposes computing power may take precedence over other features depending on the tasks carried out. Lastly, although all iPads have access to a range of apps through the App Store, knowing which specific connection options (e.g.
Differences Between iPad Models
The iPad lineup from Apple is continually evolving, with the company regularly introducing new models with updated features and specifications. Each of the tablets in the range has different sizes, processor speeds, and prices – making it important to understand all of your options before making a purchase decision.
The newest model is the 10th-generation iPad which offers improvements in design and performance over its predecessor.
On the bigger end of things, you'll find the 12-inch iPad Pro that comes with superior specs compared to other devices offered by Apple. It also includes an advanced display technology called Liquid Retina — offering users an incredible visual experience for anything they do on their device.
If you want more power, then this would be a great option as it packs plenty of speed into a slim form factor — perfect for professionals or students who need something reliable without compromising on features or performance.
In terms of price difference between models you will generally see iPads become more powerful if you go up in price brackets — making sure only to buy what's actually needed allows consumers not to break budgets unnecessarily while still getting something high quality that can last them years through day-to-day use both at home and out on travels (provided battery life holds up).
Considerations for Kids, Drawing, and Students
When it comes to choosing the best iPad for their needs, there are certain considerations that kids, artists, and students need to take into account. For example, Apple Pencil compatibility and processing power would be important for artists or those using their devices for complex tasks.
Storage capacity is another major factor as some of these activities require large amounts of data. iPads can also offer educational apps tailored to kids which enable them to learn effectively while having fun with the tablet at the same time; additional parental controls are also available in case parents want more insight into what their children can access.
Apps such as Minecraft: Education Edition teach coding and problem-solving skills through gaming scenarios – making learning more enjoyable than ever before. When considering an iPad from a student's standpoint, one must consider features such as battery life, weight & portability, display size & resolution, and audio quality — all depending on individual preferences like whether it will mainly be used indoors or outdoors (or both).
Deciding Between iPad Pro and iPad Air
The iPad Pro and iPad Air are two of Apple's most popular models, offering powerful features at different price points. When it comes to choosing between the two for your needs in 2023, both tablets have their unique advantages and drawbacks.
The main difference between them is the iPad Pro offers more advanced specs than the Air model, such as a larger display with Liquid Retina technology and an impressive A12Z chip processor.
Additionally, its TrueDepth camera allows users to unlock their device with a Face ID security feature or use third-party apps that require sophisticated AR features. On the other hand, while the iPad Air has plenty of processing power for day-to-day activities such as reading ebooks or browsing websites without too much delay, its rear camera is less capable compared to that on board the Pro version.
At this point also keep in mind size: The 12.9-inch edition of 2021's Pro has a slightly bigger footprint than 2020's 11-inch Air variant – something worth considering if approximate measurements fit into your decision-making process either way. If you're interested also read on Oppo Pad
Comparing iPad with Other Tablets
Explore the tablets available by other manufacturers, such as Amazon Fire and Samsung's line of tablets to determine which offers the best features for your needs.
Amazon Fire and Samsung Tablets
Both Amazon Fire and Samsung tablets are great options for those seeking a top-quality, budget-friendly tablet. The Amazon Fire HD is one of the most popular tablets available today.
It offers plenty of entry-level features at an incredibly affordable price point, making it perfect for people on a tight budget. With its 8" display, users can access apps using intuitive gestures or easily navigate content with its Alexa voice technology.
Plus it's compatible with all Amazon services like Prime Video and Audible Books as well as other streaming services like Netflix and Hulu to get even more entertainment choices out of your device.
Samsung Galaxy is the go-to Android offering from South Korean giant Samsung Electronics that comes in several different sizes and screen resolutions allowing users easy access to over 2 million Google Play Apps including games, audio books, etc.
They also offer powerful Quad Core processor specs allowing users to switch back between apps seamlessly without any delays while providing up to 10 hours worth of battery life so you don't have to constantly worry about having to recharge your device frequently throughout the day.
Alternative iPad Models
Other manufacturers such as Samsung, Microsoft, Amazon, and Lenovo offer their own versions of the tablet. These alternative iPad models feature specs that are often similar or better than those offered by Apple's devices – from larger screens to improved battery life – but cost less.
For example, the Microsoft Surface Pro X offers an 8-core processor and a 13-inch touchscreen with a resolution of 2880 x 1920 pixels. It is lightweight and ultraportable which makes it great for travel use.
Another budget option is Amazon's Fire HD tablets which provide a robust tablet experience at just over half the price of Apple's iPad range. Finally, Lenovo tablets offer good value while providing top-notch specifications like face ID biometric security measures as well as 4g LTE connectivity on some models. 
Read Also: iPhone 15 Wallpapers
Best Alternative iPad Models
Those looking to buy an iPad should consider these alternative models, including the 6th generation iPad (base model), 4th generation iPad Mini (preowned), and 4th generation iPad Air (lightweight).
Best Base Model Alternative: iPad (6th Generation)
The iPad (6th generation) is the best base model alternative for those who are looking for a no-frills tablet at an affordable price. This iPad comes in two variants: 32 GB and 128 GB models, and unlike other iPad ranges offers Touch ID rather than Face ID security.
Perfect for web browsing, streaming movies, playing games, creating documents, or checking emails quickly—the iPad (6th gen) lets you do it all while computing smoothly backed by an A10 Fusion chip along with 2GB of RAM.
What sets this range apart from other Apple iPads is its superb battery life that gives up to 10 hours of usage on a single charge; making it perfect even if users need to get some work done when out of their homes/offices without any fear of running out of power.
For budget-conscious buyers who don't wish to spend extra money on unnecessary features then buying an iPad 6th generation would be the ideal choice as they offer great value despite offering basic specs such as 8MP rear cameras and decent LED display screens.
Best Preowned Alternative: iPad Mini (4th generation)
The iPad Mini (4th generation) is considered the best preowned alternative for iPad models in 2023. Its small size makes one-handed usage a breeze especially when reading or taking notes on the go.
It features a good display, reasonable cameras, and support for the Apple Pencil 2 to make digital drawing even more enjoyable. Plus, with all-day battery life and stereo speakers, this tablet will bring you hours of timely entertainment without too much worry about recharging.
To top it off, its lightweight design gives extra portability and convenience compared to most other iPads making it an ideal choice for readers or those who prioritize mobility over heavy performance specs.
Best Lightweight Alternative: iPad Air (4th generation)
The iPad Air (4th generation) is the perfect balance of performance and price, making it a go-to choice for high schoolers and professionals alike. Featuring many of the same features as newer iPad models at a lower price point, this Apple tablet offers access to countless apps while being more lightweight than its predecessors.
The 10.9-inch model allows users to take advantage of split view capability and multitasking capabilities. And with up to 256GB onboard storage and exceptional battery life, this iPad makes an ideal choice for all types of work or play—the best value out there when it comes to iPads in 2023!
What to Consider When Buying an iPad
It's important to think about your budget, the features you need and want, as well as any special considerations (like cellular options or for work) when making a decision on which iPad is best for you.
Cellular Option
The iPad lineup makes it easy for users to stay connected even when they are away from Wi-Fi thanks to its built-in cellular option. Sure, you can explore the world in just a tap of your finger while staying on the grid with cellular data.
This feature not only adds an extra layer of convenience but also increases security and flexibility since you don't have to depend on nearby hotspots or search for a public network once you leave their area.
With higher speeds and ideal coverage, whether you simply want to make internet calls or attend online meetings while traveling – having access to advanced 4G LTE connectivity can ensure that all your needs are met without any hassle whatsoever.
Budget-friendly Options
Finding an iPad that won't break the bank doesn't mean you have to skimp on functionality or features. The iPad (9th generation) is a great budget-friendly option for those looking for a reliable and powerful Apple tablet without making too much of a dent in their wallet.
It comes with Apple's A10 Fusion chipset, giving it plenty of power and performance from everyday tasks to more demanding apps and games. Additionally, its 8MP rear camera allows you to take decent quality photos while its 10-hour Battery life ensures that your device will last you throughout the day.
Its 10″ Retina Display also offers clearer resolution than other models, allowing you to enjoy watching videos, playing games, and browsing the web in vivid detail with true-to-life colors.
iPad for Work
The iPad is an ideal device for professionals, offering convenience and portability that are invaluable for those with demanding workloads. With a sleek design, superior performance specs such as a powerful A12 Bionic chip, advanced display technology, and long-life battery – the iPad is suitable for a variety of work tasks such as fast web browsing, high-speed document editing/signing/sharing applications, or competitive gaming scenarios.
It's also compatible with popular services like iCloud and Apple Business Manager making it incredibly easy to manage users within an organization. Furthermore, the range of optional accessories available means you can customize your workspace setup even further opening up possibilities like attaching a Magic Keyboard or Smart Keyboard Folio providing tactile typing experiences when on the go!
iPad for Reading
The iPad is a great choice for reading thanks to its advanced features and large screen size. It offers an immersive experience that is ideal for both e-book lovers and magazine readers alike.
The expansive Retina display on the Pro and Air models makes text particularly clear and easy on the eye, while color vibrancy helps bring photos vivid clarity. Meanwhile, compatibility with popular reading apps such as Kindle or Kobo gives extensive access to bookstores so users can download whatever content they choose with ease.
Furthermore, it is possible to use multi-tasking split view capabilities when viewing multiple books simultaneously or enjoying digital periodicals.
For those who prioritize portability, smaller tablets such as the iPad Mini are perfect options –  this lighter device has all of the functionality of larger models but in a much smaller format which makes it far more pocket-friendly.
What to Look for in an iPad
When shopping for an iPad in 2023, consider features such as processor and camera specs, storage size, battery life, and display technology.
Important Features and Specifications
When choosing an iPad, it is important to consider the key features and specifications that make up each individual model. For instance, processor speed will determine how well your tablet performs when multitasking or running intensive apps.
Storage capacity is also an essential factor and will determine how much data you are able to store on your device. Display quality should be assessed with consideration of both the resolution and brightness of the display as higher resolutions can improve visual clarity while greater brightness can help in outdoor conditions.
Similarly, battery life must be taken into account; some iPads offer longer durations out of each charge than others. Finally, you should look at connectivity options which vary depending on the model you choose but may include Bluetooth LE, Wi-Fi 6 (802.11ax) support for faster web browsing speeds, and cellular connections for internet access away from traditional networks such as those provided by ISPs or public hotspots.
Frequently Asked Questions (FAQs)
Now let's learn about some common queries on this topic.
1. What are the best iPads for 2023?
The best iPads for 2023 will depend on your needs and budget, but there are several models which offer high performance, reliability and a range of features that make them ideal choices.
2. How do I choose the right iPad for my needs?
When selecting an iPad, you'll want to consider factors such as processing power, storage capacity, battery life, and special features like Touch ID or Apple Pencil support. You should also consider other user-friendly perks such as built-in apps or keyboards if they're important to you.
3. Are tablets better than eReaders in terms of portability?
Yes! Tablets are generally more portable than readers due to their larger displays and multitasking capabilities. They can also be used for many tasks outside of reading books such as streaming movies, gaming, or browsing the internet.
4. Do iPads come with pre-installed apps?
Yes! All new iPads come with some preinstalled apps including Safari browser, Photos app & App Store where you can download other applications according to your preference.