When Will Be the Old Guard 2 Released? [Latest Updates 2023]
Listen to the Podcast:
Shooting for The Old Guard 2 is over, but we'll still have to wait until next year to see the Netflix sequel. Charlize Theron has told Variety that the movie will be worth the wait and has given hints about what it will be about. "The group is bigger, and it feels more international. In October 2022, she said, "It's a big movie."
Gina Prince-Bythewood is still a producer, but Victoria Mahoney has become the show's director. Prince-Bythewood has stayed on as a producer. But the main characters are all returning for another action-packed journey in front of the camera.
Greg Rucka, who wrote the comic book on which the movie was based, returned to report the follow-up. He always planned for the story to be three parts, so if the second book did well, this might not be the end. But before we get too far ahead, here is everything you need to know about The Old Guard 2.
What is The Old Guard 2 About?
The new movie's plot hasn't been revealed yet, but the first Old Guard movie closed with a question that wasn't answered. After Booker betrays the group, he is sent away for a hundred years, only to find Quynh hiding in his flat after all that time. What is she looking for? 
Noriko, the figure on which Quynh is based, becomes a crime boss in Greg Rucka's Old Guard graphic novels. She then goes after Booker and finds Andy, who is angry about being left behind. We don't know if Quynh will follow a similar path, but we know that Theron, the movie's director, is eager to learn more about that link. 
In 2020, Theron told Seth Meyers, "There's a relationship there that we didn't explore in this movie." "So I'm excited if we get the chance to make another one and explore that because then we'll just add another woman to the mix, which I think will make it interesting." Andy's life seems to be running out, so it could be hard to get everyone back together. 
Read More: Darwins Game Season 2
The Old Guard 2 Quick Info
| | |
| --- | --- |
| Film:  | The Old Guard |
| Status: | Upcoming |
| Script Writer:  | Greg Rucka |
| Director: | Victoria Mahoney |
| Genre:  | Action, Adventure, Fantasy, Thriller |
| Cast: | Charlize Theron, Uma Thurman, Matthias Schoenaerts |
| Production:  | Skydance, Denver and Delilah Productions |
| Producer: | David Ellison, Dana Goldberg, Don Granger |
| Music: | Max Aruj, Ruth Barrett |
| Country of Origin: | United States |
| Origin Language:  | English |
| Available Languages:  | English |
| Next Season Release Date: | Not Yet Confirmed |
| Available On: | Netflix |
The Old Guard 2 Potential Release Date
As was already said, Netflix hasn't given an official date for The Old Guard 2, but we hope to see it sometime in 2023.
The first movie was a big hit when it came out on Netflix in July 2020, so we wouldn't be surprised if the sequel came out around the same time, meaning we could watch it in July 2023.
But that's just what we think, so keep an eye on this space for proof.
We know the movie was shot from June to September 2022 in places like Italy and the UK, so it's almost ready to go if there aren't any reshoots.
The Old Guard 2 Plot Speculation
The sequel will presumably explore Quynh and Booker's plans for Andy and whether or not they will strike out on their own. It wasn't precisely Andy's fault that Quynh was condemned as a witch, but Quynh is likely resentful that he didn't save her.
Andy and her team grapple with their position in the world in the first film, debating whether or not anything they do helps humanity or whether their missions are fundamentally pointless. However, they realize the significance of their work when James Copely (Chiwetel Ejiofor) reveals that many of the individuals they've rescued have gone on to do more incredible things or have produced historical figures.
The 2020 film concludes with the shocking revelation that fellow immortal Quynh (Ngô Thanh Van) still lives, even though Andy witnessed her being dropped into the ocean in maiden iron hundreds of years ago. She was essentially destined to drown continuously, which is a horrifying fate. Yikes. Quynh approaches Booker (Matthias Schoenaerts), exiled for 100 years after undermining the team, in the final scene.
Read Also: The Wilds Season 3
The Old Guard 2 Cast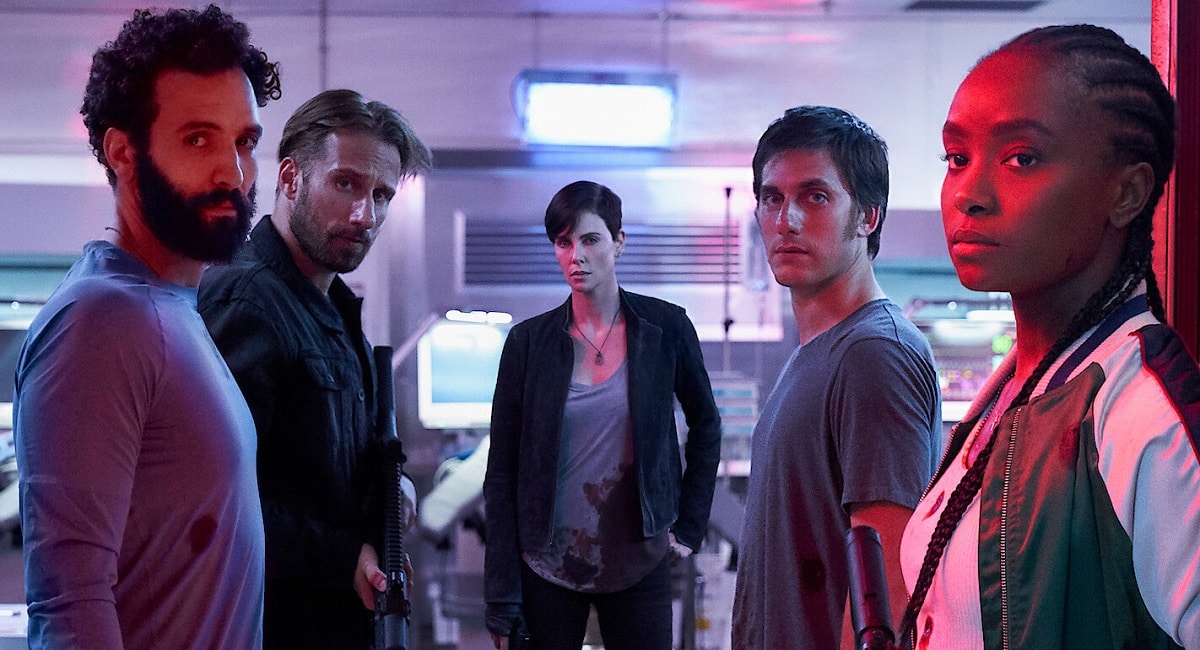 We shared The Old Guard 2 cast:
Charlize Theron as Andy/Andromache

KiKi Layne as Nile Freeman

Ngô Thanh Vân as Quynh

Matthias Schoenaerts as Booker

Chiwetel Ejiofor as James Copley

Marwan Kenzari as Joe

Luca Marinelli as Nicky

Uma Thurman

Henry Golding
The original group is set to return, meaning that Charlize Theron, who played Andy/Andromache, and KiKi Layne, who played Nile Freeman, will return.
But, folks, that's not all! Uma Thurman and Henry Golding will also be in the second movie, giving the "immortals" a new look. And let's not forget Ngô Thanh Van and Matthias Schoenaerts, who played the mysterious Quynh and Booker. We can't wait to see where their journey takes them in this exciting second book.
Of course, we can't forget about Joe and Nicky, who have been together since the Crusades and are played by Marwan Kenzari and Luca Marinelli. With the help of the handsome Chiwetel Ejiofor, who will play former CIA officer James Copely, they will fight for their lives.
The Old Guard 2 Trailer
Even though filming may be over for The Old Guard 2, it will likely be a while before we see any footage.
If it comes out in July 2023, as we thought, we might hear something about it a month or two before that. Most of the time, Netflix doesn't advertise its movies until they are about to come out.
The Old Guard 2 was Filmed in 2022
Even though the pandemic and busy schedules caused delays, Variety said in 2021 that shooting for the second movie would start in early 2022. Then, in September 2022, KFTV said the shooting was done in Rome, Italy.
But it's important to remember that production schedules can change, and since filming usually takes about three months and post-production even longer, we might have to wait a little longer than thought. We hope to hear soon about when the book will come out.
Also Read: Severance Season 2
Who's Writing and Directing The Old Guard 2?
Gina Prince-Bythewood, who directed the first movie and is directing the second, will hand over the battle axe to Victoria Mahoney. Before this, Mahoney directed episodes of Lovecraft Country and Queen Sugar. She was also the first Black woman to lead a Star Wars project when she worked as a second-unit director on 2019's The Rise of Skywalker. Rucka, who wrote the last movie and the books that the films are based on, also wrote the new one.
Where is The Old Guard 2 in Production?
We've heard that pre-production for the movie has been going on for most of 2022 and that filming will start in June 2022. On June 13, Victoria Mahoney tweeted a picture with the words "Day 1" next to it, proving it was true.
The second movie will be mostly shot in Rome, Italy, and its working title is DEVON HOUSE. According to other production sources, some of the sequels will be shot in the United Kingdom, where some of the first movies were also shot.
KFTV says that filming was done in Rome at the end of September 2023, and Henry Golding wrote on Instagram:
"Rome, you were wonderful… But time to say Ciao! The Old Guard 2 is going to be awesome, and I can't wait for you guys to see it."
Where Can You Watch The Old Guard 2?
The Old Guard 2, the much-anticipated sequel, will come out on Netflix sometime in 2023. Fans can watch the action-packed movie on the popular platform when ready. The main characters from the first movie are back in this exciting sequel.
Our favorite immortal fighters will face new challenges and foes, creating more action and adventure. So, mark your calendars and get ready to dive back into the world of immortals with The Old Guard 2 on Netflix.
You can Read: Ratched Season 2
Final Words
Fans of The Old Guard can eagerly anticipate the upcoming sequel, as the film's producer, Marc Evans, has hinted at a cliffhanger ending that would demand a trilogy. With Charlize Theron as both a starring actor and a supportive producer, we can expect her to continue to be an integral part of the expanding franchise.
As viewers await the sequel's release on Netflix, they can look forward to engaging storylines, memorable characters, action-packed scenes, and the potential for a third installment in this thrilling series.
Subscribe to Our Latest Newsletter
To Read Our Exclusive Content, Sign up Now.
$5/Monthly, $50/Yearly