When Will Be The Glory Season 2 Released? [Latest Updates 2023]
Listen to the Podcast:
Do you want to know about The Glory Season 2? Not too long ago, Korean shows rarely went on for more than one season. The U.S. streaming services like Netflix came along, and popular shows like Squid Game, Hellbound, and Sweet Home got planned second seasons instead of the one-and-done format that Korean creators used to like.
The Glory, a revenge drama, is the latest Korean story to do well on Netflix. In the 16 episodes of season one, the main character, Moon Dong-eun (Song Hye-Kyo), gets her revenge on Park Yeon-jin (Lim Ji-Yeon) and her cronies. There are almost no loose ends left in the main revenge plan. But Dong-eun's boyfriend, a plastic surgeon named Joo Yeo-Jeong (Lee Do-Hyun), has a lot of unanswered questions. He is still trying to find the person who killed his father and make him pay for what he has done.
Yeo-jeong's unfinished revenge while being taught by Dong-eun leaves the story open for The Glory to carry out more carefully planned revenge. Could there be the Glory Season 2? Will it? And if it does happen, should Joo Yeo-Jeong be the main character or someone else? Let's talk.
The Glory: One of the Best Crime-Thrillers on Netflix
One of the most popular Korean crime-thriller series on Netflix is The Glory. Written by award-winning writer Kim Eun-sook, the series revolves around Moon Dong-eun seeking revenge against her high school bullies who relentlessly bullied her. Dong-Eun takes her time to plan her revenge and ultimately makes each of her bullies pay for their actions. The Glory is one of the most-watched non-English language Netflix Originals of all time and the fourth most popular Korean Netflix series ever.
It is unclear whether The Glory will return for a second season on Netflix. While fans eagerly await news of the show's renewal, given that renewals are rare in the K-drama space, the show's future is uncertain. The story of the Glory Season 2 could focus on Yeo-Jeong and his revenge aided by Dong-eun against his father's murderer. The series could explore more stories of victims of bullying, but this could pose an ethical question about when enough is enough and how far Dong-eun can go before her need for revenge hurts someone.
Read More: Heartland Season 17
The Glory Season 2 Quick Info
| | |
| --- | --- |
| Season:  | The Glory |
| No. of Seasons: | 1 |
| No Of Episode: | 16 (season 1) |
| Status: | Pending |
| Script Writer:  | Kim Eun-sook |
| Director: | Ahn Gil-ho |
| Genre:  | Mystery, Drama, Psychological thriller |
| Production:  | Hwa&Dam Pictures, Studio Dragon |
| Producer: | Yoon Ha-rim, Kim Young-kyu |
| Music: | Kim Jun-Seok |
| Country of Origin: | South Korea |
| Origin Language:  | Korean |
| Available Languages:  | Korean, English |
| Next Season Release Date: | Not Yet Confirmed |
| Available On: | Netflix |
The Glory Season 2 Renewal Status: Will there be The Glory Season 2?
The Glory probably won't come back for a second season. Part 2 of The Glory did an excellent job of finishing up the story, and while it's always possible that it could go on, it seems like It was made to be a 16-episode series on purpose. Most Korean shows on Netflix don't have more than one season because they tell the whole story in the first season. But there are a few exceptions, like the zombie horror shows All of Us Are Dead, Squid Game, and Sweet Home.
Most K-dramas don't have a lot of follow-up seasons. Instead, they share the whole show at once. Fans will get a complete story, which is a good thing. However, you might miss out on a sequel if you aren't ready to say goodbye to the characters and world.
In today's world, knowing if a "limited" show will stay limited is hard. Due to The Glory's popularity, it's possible that Netflix will order more episodes, but the show has not been revived. It's unlikely to be "canceled" because it has 16 episodes. But if we hear anything about renewal, we'll let you know.
The Glory Season 2 Potential Storylines
The Korean drama series, The Glory has garnered significant success since its debut on Netflix in December 2022. Fans eagerly anticipate news of a potential The Glory Season 2 after the release of Part 2 in March 2023. The show's intense storyline centers around Moon Dong-eun's quest for revenge against a group of school bullies who tormented her in her youth. Part 1 ended with a cliffhanger, and Part 2 concluded with the plotlines wrapping up, leaving more possibilities.
The Glory Season 2 could focus on other victims of bullying coming forward, with Dong-eun helping them take down those who have wronged them. However, this could raise ethical questions about how far Dong-eun can go before her need for revenge hurts someone innocent, highlighting social inequalities. Fans have speculated that the story could also revolve around Joo Yeo-jeong seeking revenge against his father's murderer with the help of Dong-eun, leaving the narrative door open for more meticulously executed vengeance.
The ending of Part 2 provided closure for the majority of characters, but Yeo-jeong's unfinished revenge under Dong-eun's guidance leaves the possibility for The Glory Season 2. The most apparent storyline for a potential second season would follow Yeo-jeong's revenge against Kang Yeong-Cheon, who murdered his father. Dong-eun agrees to help Yeo-jeong plan revenge, and the final episode shows them walking into their jobs at the prison where Yeong-cheon has been transferred, leaving the plotline open.
While there has been no official announcement about The Glory Season 2, fans hope the show will continue. Some Korean outlets speculate that The Glory may be a standalone or a limited series, but the success of the show and the open plotlines suggest otherwise. If the creators and Netflix decide to pursue a second season, it could provide an opportunity to continue exploring social inequalities while satisfying fans who want more intense revenge plotlines and complex characters. Stay tuned for further updates on The Glory Season 2. 
Read Also: Ratched Season 2
The Glory Season 2 Cast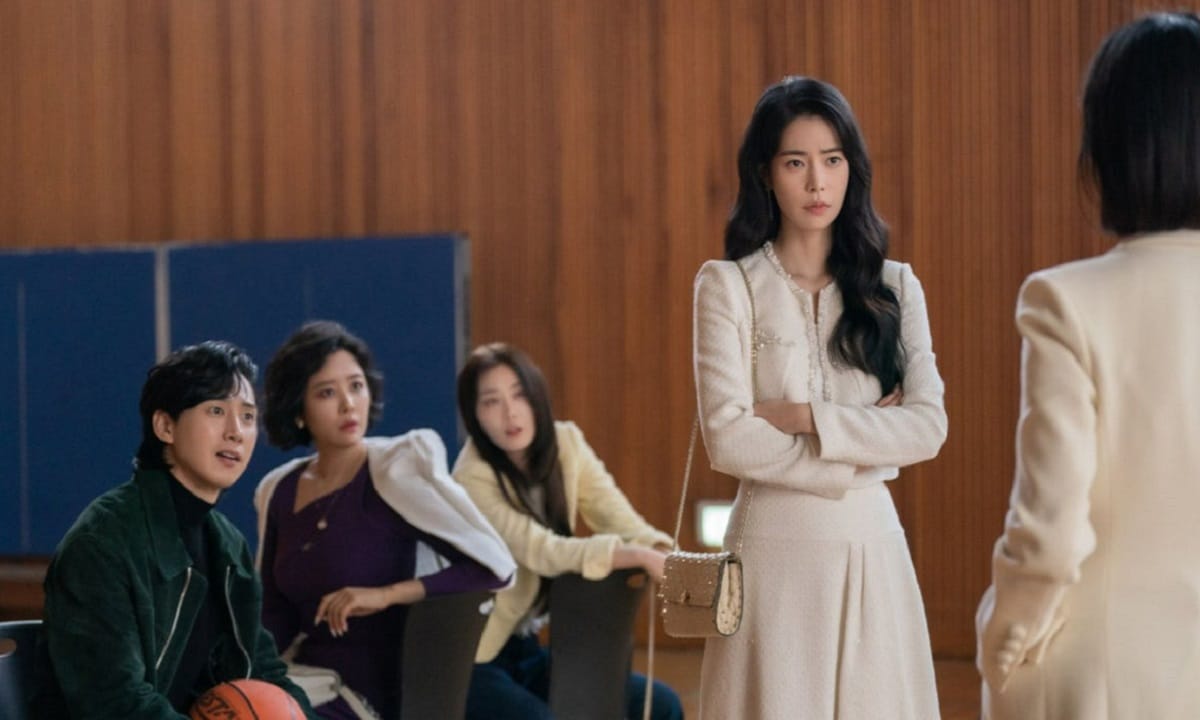 Since their story hasn't been finished, it makes sense that the same actors play the same roles.
So that means:
Song Hye-kyo (Dong-eun)

Lim Ji-yeon (Yeon-jin)

Kim Hieora (Sa-ra)

Jung Sung-il (Do-yeong)

Cha Joo-young (Hye-jeong)

Lee Do-hyun (Ju Yeo-jeong)

Park Sung-hoon (Jeon Jae-jun)
The Glory's Ending: Sets up a Possible Second Season
The ending of The Glory leaves audiences with the possibility of a second season. The show's finale creates an intriguing premise for future episodes that will undoubtedly interest fans. The show has gained a loyal following, and it's safe to say that viewers will be eagerly anticipating news of The Glory Season 2.
The conclusion of The Glory's first season has left many buzzing with excitement. The show's creators have masterfully crafted a finale that cleverly sets up the next chapter. The season finale has paved the way for a fresh storyline with new characters and plot twists. The show's devoted fan base will be kept on its feet, eagerly awaiting The Glory Season 2.
The Glory's first season ends on a cliffhanger, leaving audiences with a sense of anticipation for what's to come. Viewers will be eager to see how the show's narrative unfolds in its second season and how the plot resolves the questions left unanswered in the finale. With The Glory's proven track record of quality storytelling and performances, a second season will surely be a hit, keeping fans on the edge of their seats.
The Popularity of The Glory on Netflix
Netflix viewers love The Glory, with part 2 of the series becoming one of Netflix's most-viewed shows of all time. Launched in March 2023, the show has already surpassed several of the streaming giant's most popular series, with over 380.38 million hours viewed in the first 28 days of each episode's premiere, securing an impressive No. 7 spot.
The Korean drama centers on a young woman whose life was tormented by high school bullying and her elaborate revenge plan against those who wronged her. With an all-star cast featuring Song Hye Kyo, Lim Ji Yeon, and Lee Do Hyun, The Glory has captivated audiences across the globe and cemented its place as an iconic series.
On top of its incredibly gripping storyline, The Glory has proven to be a visually stunning and expertly produced series. The show's unique visual style, blending cinematography and digital animation, has set it apart from other dramas and helped draw more viewers. With millions of eager domestic and international fans, it's clear that The Glory's popularity shows no signs of stopping anytime soon.
Also Read: Severance Season 2
Final Words
The Glory is a successful Korean drama series on Netflix that started in December 2022. It's mostly about how Moon Dong-eun wants to get back at a group of school bullies who picked on her when she was younger. The Glory Season 2 could be about how other bully victims come forward and how Dong-eun helps them get revenge on those who have hurt them.
Fans of The Glory who want more powerful revenge plots and complicated characters can look forward to Season 2 of the show. Fans have thought that Joo Yeo-Jeong and Dong-eun could help Joo Yeo-Jeong get payback on the person who killed his father. Fans are hoping for The Glory Season 2, but nothing public has been said about it.
Subscribe to Our Latest Newsletter
To Read Our Exclusive Content, Sign up Now.
$5/Monthly, $50/Yearly