Will There be Peaky Blinders Season 7? [Cast, Plot, and Latest Updates]
Listen to the Podcast:
Peaky Blinders is one of the most well-known British crime drama television series, which premiered on September 12, 2013. This sitcom gained immense success within a few episodes after its launch, and it currently has Peaky Blinders season 7.
To date, five additional seasons have been broadcast. In addition to receiving overwhelmingly favourable reviews for its actors, plot development, and editing style, it has become a cultural phenomenon.
Now, Peaky Blinders season 7 has become available abroad. Fans are eager to learn the Peaky Blinders Season 7 release date and are enthusiastic about the upcoming new season.
Many Peaky Blinders fans are curious as to whether or not. The narrative focuses mostly on the titular Birmingham street gang and the family who owns it. Even though Tommy Shelby is not the oldest sibling, he becomes the family and gang's leader. In the course of the series, Tommy became an MP for the Labour Party and founded Shelby Company Limited.
Peaky Blinders Season 7 Release Date
As the series has concluded, there is no release date for Peaky Blinders season 7. A film sequel is now in production and will immediately continue the tale. It is tentatively scheduled for release in Spring 2024. However, a delay may occur depending on when production concludes.
The COVID-19 epidemic was the primary reason why a movie was prioritized over a new season. Originally, Peaky Blinders Season 7 was supposed to have already been produced. Still, due to the epidemic, creator Steven Knight stated in an interview with BBC News that a movie sounded more practical given they had lost almost one year of production time.
Fans should not worry if Thomas Shelby is given a fantastic send-off regardless of whether or not it occurs in Peaky Blinders Season 7. Thomas' realization in the series finale that his adversaries planted his diagnosis of tuberculosis and that he almost took his own life to avoid suffering produced a bittersweet conclusion. Instead of being outraged, he appeared more focused, and now that Thomas's mind is at peace, watching his vengeance unfold on the big screen will be incredibly rewarding.
Read More: The Tourist Season 2
Quick Info about the Show
| | |
| --- | --- |
| Season | Peaky Blinders |
| Writer | Steven Knight |
| Director | Anthony Byrne |
| No. of Seasons | 6 |
| Episode Title | TBA |
| Cast | Cillian Murphy, Sam Neill, Helen McCrory, Paul Anderson |
| Production | Netflix Studios |
| Music | Martin Phipps, Anna Calvi |
| Country | United States |
| Language | English |
| Next Season | Season 7 |
| Release Date | Not Yet Confirmed |
Is Peaky Blinders Season 7 Happening?
Peaky Blinders season 7 has not yet been confirmed. It was reported that Peaky Blinders Season 6 would be the series' final instalment. Let's observe what transpires afterwards.
If we receive any additional news or updates regarding Peaky Blinders season 7, we will include them here. Ensure that you visit our website frequently.
Read More: Sprung Season 2
Peaky Blinders Season 7 is Canceled!
Peaky Blinders will not return for a seventh season, unfortunately. This past weekend, the sixth and final season of Game of Thrones was released on Netflix in the United States. However, people outside the United States may have watched the series premiere on BBC One in April. As a beloved season or film concludes, it is natural for fans to go online for future information.
Peaky Blinders season 7 may not be in the works, but it does not preclude a return in another form. Beginning with video games, books, clothing lines, and other items, the series has already been transformed into different forms of media.
But, in January 2021, in an exclusive interview with Deadline, Knight indicated that he had always meant to end the series with a feature and guaranteed fans, "That will be the case." He has previously described Peaky Blinders as "an immortal beast."
Read Also: Legacies Season 5
Peaky Blinders Season 7 Plot
In the season six conclusion of 'Peaky Blinders,' Arthur kills McKee and her IRA accomplices in retaliation for Polly's death. In the meantime, on the island of Miquelon, Tommy shoots and murders Michael. Tommy bids his family farewell. Later on, he realizes that Doctor Holford lied to him; he does not have tuberculosis. He nevertheless spares Holford's life. Duke murders Billy and excommunicates Finn from the Shelby Family and Peaky Blinders Gang. Tommy watches his wagon and the last of his stuff burn in the final seconds of the season before leaving on his horse.
Duke and Finn may begin a new civil war inside the Shelby family in the future film. Tommy will likely return to Birmingham to protect his family if the film focuses on World War Two, which could put him at odds with others who have grown accustomed to his absence. Arthur may do anything extreme if he believes Tommy is deceased.
Also Read: In the Dark Season 5
Peaky Blinders Season 7 Cast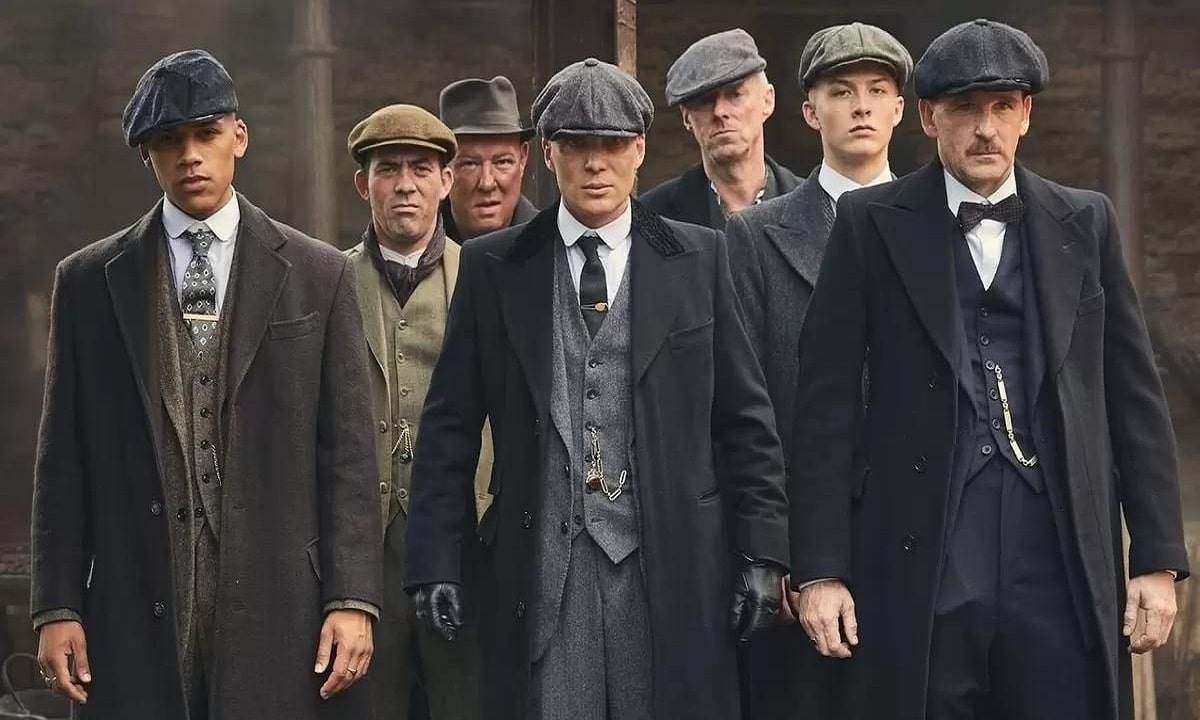 Check out the potential cast list:
Cillian Murphy as Thomas "Tommy" Shelby

Sam Neill as Chief Inspector/Major Chester Campbell

Helen McCrory as Elizabeth Pollyanna "Polly" Gray

Paul Anderson as Arthur Shelby Jr., Tommy's best friend and eldest of the Shelby siblings.

Annabelle Wallis as Grace Shelby

Tom Hardy as Alfred "Alfie" Solomons

Finn Cole as Michael Gray

Natasha O'Keeffe as Elizabeth "Lizzie" Shelby

Aimee-Ffion Edwards as Esme Shelby-Lee

Anya Taylor-Joy as Gina Gray

Ian Peck as Curly

Sam Claflin as Sir Oswald Mosley

Charlene McKenna as Laura McKee/ Captain Swing

Pauline Turner as Frances

Amber Anderson as Lady Diana Mitford

James Frecheville as Jack Nelson

Stephen Graham as Hayden Stagg

Conrad Khan as Erasmus "Duke" Shelby

Jordan Bolger as Isiah Jesus

Emmett J. Scanlan as Billy Grade
Peaky Blinders Season 7 Trailer Updates
The official trailer for Peaky Blinders season 7 has not yet been released because it has not yet been confirmed.
Who will Appear in the Film?
Knight appears to have confirmed that Cillian Murphy and Paul Anderson will reprise their roles as Tommy and his brother Arthur, respectively. Knight told Digital Spy when asked whether the two actors will return to the Peaky universe: "It's currently impossible to say. But the movie, yeah." He further remarked, "There are so many people, so many fantastic actors, with whom we are already in contact for the film and whatever comes next.
But I believe we want to continue to surprise people and discover new potential. Because it's all out there and there is a sort of consistency, we're finding incredibly talented actors from a working-class background and portraying their stories. That is what we are attempting to achieve."
Read Also More: Sprung Season 2
Why won't there be a Peaky Blinders Season 7?
There are several reasons why Peaky Blinders season 7 was cancelled. One of the most important factors was the influence of the COVID-19 epidemic.
In early 2021, during an appearance on BBC News, Steven Knight revealed: "The initial plan was to do seven episodes, but COVID has stolen a year from us, so we thought it would be a brilliant idea to go straight to the big screen."
Later, before the publication of Peaky Blinders season 6, he revealed to the BBC that the pandemic and the untimely loss of popular actress Helen McCrory, who played Polly Gray in the series, pushed plans for the feature picture.
"The reason is mundanely pragmatic: we lost a year owing to the outbreak." "Knight said. "The way these events are organized is comparable to reversing an oil tanker."
He added: "We simply felt, with the loss of Helen [McCrory] included, that everything seemed to be leading toward what I call "the end of the beginning."
"Let's conclude the prologue and then proceed with the film. Then, let's observe where spin-offs take us."
Read Also More: Gangs of London
Frequently Asked Questions (FAQs) about Peaky Blinders Season 7
Is there will be Peaky Blinders season 7?
There will not be a Peaky Blinders season 7, but you can still anticipate the film. Before we get to the good news, we'll give you a fast dose of bad news: Peaky Blinders will end with its sixth season.
Will there be a Peaky Blinders Season 7 on Netflix?
The response is no, right? Yet, the showrunners are producing a film, so the Peaky Blinders saga is not ended.
Where can I watch the new season?
The drama series Peaky Blinders, starring Cillian Murphy, Helen McCrory, and Natasha O'Keeffe, is currently available to stream. Stream it on Netflix with your Roku player.
Is peaky blinders season 6 the last?
Peaky Blinders, a beloved criminal drama set in the past, has concluded. The sixth and final season has been uploaded on Netflix, concluding the saga of the Small Heath, Birmingham-based Shelby crime family.
Is Peaky Blinders season 7 the last?
The Peaky Blinders season 6 has just been released on Netflix, but Tommy Shelby and the Birmingham gang's saga is far from over. Steven Knight, the show's creator, revealed in 2021 that the final chapter of the PB's story would take place on film rather than television.
How accurate is Peaky Blinders?
Indeed, Peaky Blinders is based on an actual event. Oh, almost. Officially, Peaky Blinders follows the Shelby family, a gang of criminals that penetrated late 19th-century England – the Shelbys were not reported to have existed, but the Peaky Blinders gang did.
Where is Peaky Blinders filmed?
While the series is set in the Midlands city of Birmingham — where the real Peaky Blinders gang operated from the 1890s to the early 1900s — it may surprise viewers that most Peaky Blinders is filmed in the county of Yorkshire.
You Can Read More: Moon Knight Episode 4