When will be Noragami Season 3 Renewed? [With Latest Updates]
Listen to the Podcast:
Do you want to know about Noragami Season 3? The Noragami Season 1 of the anime was released in 2014, with Noragami Season 2 Aragoto arriving the following year. It is an intriguing and poignant supernatural anime series that borrows elements from the mythology and iconography of the Japanese Shinto religion.
Noragami was one of the best-selling manga series in Japan during the first half of 2014. These elements, along with brilliant characterization and a well-constructed central dynamic between the two main characters, high schooler Hiyori Iki and a forgotten God of Calamity known as Yato, contributed to its success. The series was well-received when it debuted, and with two seasons released rapidly, Noragami became a highly recommended anime series of the 2010s.
Despite this success and the fact that the manga is still ongoing, it has not returned for its highly anticipated Noragami season 3. Based on the events of the original manga written and illustrated by the female mangaka duo Adachitoka, we should return for a Noragami season 3 for the following reasons.
Noragami Season 3 Quick Info
| | |
| --- | --- |
| Season:  | Noragami |
| No. of Seasons: | 2 |
| No Of Episode: | 25 (seasons 1-2) |
| Status: | Pending |
| Script Writer:  | Deko Akao |
| Director: | Kotaro Tamura |
| Genre:  | Animation, Action, Adventure, Comedy, Fantasy |
| Voiced by: | Maaya Uchida, Hiroshi Kamiya, Yuuki Kaji |
| Studio:  | Bones |
| Music: | Taku Iwasaki |
| Country of Origin: | Japan |
| Origin Language:  | Japanese |
| Available Languages:  | Japanese, English |
| Next Season Release Date: | Not Yet Confirmed |
| Available On: | Crunchyroll |
Noragami Season 3 Release Date
Regrettably, neither Studio BONES nor any of "Noragami's" distributors (including Funimation) have announced a third season. It is not even certain that BONES will return for a third season. The studio is one of the most popular in the industry, and its numerous teams are always working on multiple projects, including the recent "Godzilla: Singular Point."
Without an official announcement or trailer, it would be impossible to determine the release date for Noragami Season 3, assuming BONES even intends to make it. Thankfully, we do know that the "Noragami" manga is leagues ahead of its animated counterpart in terms of progression, so if BONES ever decides to continue the series, they will have an abundance of source material to draw from. Fans will have to rely on said manga until then, as it is the only way they will shortly be able to experience the rest of the story.
Read More: Black Clover Season 5
Noragami Season 3 Plot
Hiyori Iki is a high school student whose life takes a turn when she is involved in an accident while attempting to save a stranger. In this accident, she loses her soul and becomes Ayakashi, resulting in her awareness of two parallel realms. She frequently travels to both sides of the world, including the afterlife (Far Shore), where human spirits and demons linger, and the human world (Near Shore), where animals, humans, and other creatures reside.
While travelling from one region of the world to another, Hiyori Iki befriends a Yato, a deity without a name. Since he has no holy place of his own, he charges five yen for granting mortals' desires. He accumulates funds in order to construct a temple where humans can worship him. Hiyori wishes for him to fix her body because she dislikes her essence, leaving her body periodically. She desires to return to a normal existence.
In the third season, Yato's true identity and dark past will be revealed to viewers. Additionally, the man who caresses Hiyoru is Yato's father. Therefore, it is almost certain that the third season will focus on Yato's relationship with his father. Yato desires to become a deity with millions of devotees, as Bishamon has forgiven him for murdering his first family. He quickly begins to assemble allies. Nora, however, is coming after him to exact vengeance. Nora was her former Royalty.
Meanwhile, Yato is unaware of Nora's monstrous nature. Consequently, he now has a new foe. Ebisu, the God of Fortune, used the Phantoms to improve the universe and is therefore declared a criminal. All the gods dislike his actions and intend to destroy him. Yukine assists Yato in becoming the god of good prosperity.
Noragami Main Characters and Cast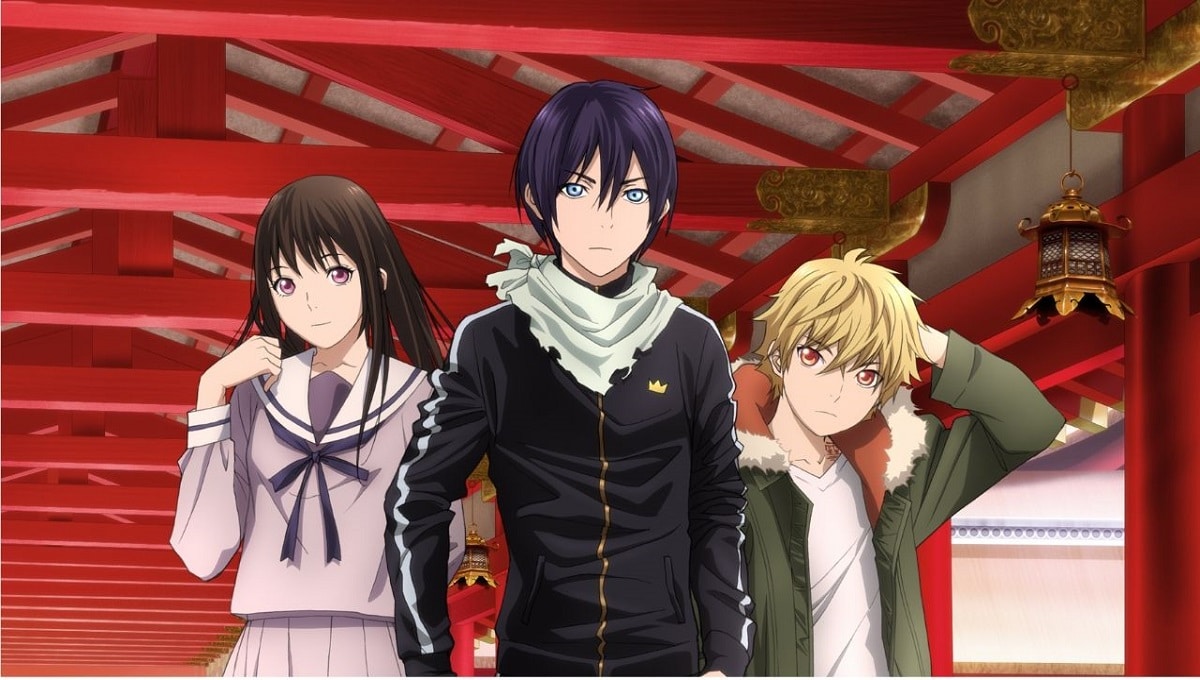 When Noragami season 3 premieres, fans can anticipate the return of their beloved cast members. This indicates that Hiroshi Kamiya will portray the character Yato. In addition, Maaya Uchida will reprise her role as Hiyori. Yukine will be played by Yuki Kaji.
| | | |
| --- | --- | --- |
| Characters | Japanese Voice Actor | English Voice Actor |
| Hiyori Iki | Maaya Uchida | Bryn Apprill |
| Yato | Hiroshi Kamiya | Jason Liebrecht |
| Yukine | Yuuki Kaji | Micah Solusod |
Noragami Season 3 Trailer
There is no Noragami season 3 or Noragami season 4 trailer because the third season has not yet been announced for 2023.
On the other hand, here is a trailer for Noragami season 2, which you should view to remember how great it was.
Why Do We Want Another Season So Badly?
This query has only one correct response. "WE WANT MORE OF OUR TRIPLET!" There are now numerous reasons why admirers desire a second season. They may desire it because they wish to view the narrative. Aside from that, they may desire more high-octane action.
The most prominent response, however, is that fans want to see more of their beloved comic trio, Yato, Yukine, and Hiyori.
As stated previously, these endearing characters and their relationships are one of the series' strongest features.
Noragami placed a great deal of emphasis on how the characters were depicted and how they interacted. Fans could not help but fall in adore with these individuals. Therefore, they are awaiting the sequel in order to continue watching the series.
Read Also: Loot Season 2
Noragami Season 2 Recap
In the second season, Hiyori was still observed meandering aimlessly. Yato continued to assist Hiyori even after he returned to his previous existence and low-paying employment. Bishamon, the deity of battle, was also introduced, and the audience saw how she came to harbour such animosity towards Yato.
As a consequence, he and Bishamon were frequently observed engaging in numerous conflicts with negative outcomes. Unfortunately, as the series progressed, many innocent people were put in danger by their conflicts, and the only way to solve all of the underlying mysteries was to make amends with the past. Bishamon and Yato ultimately went through a number of adjustments to repair their relationship, with Bishamon overcoming her anger towards Yato and making peace with her past.
Conclusion
Having read the preceding article, you should now be aware of the Noragami season 3 release date. We believe we have addressed the majority of questions regarding the anime television show. If we discover additional official information about them, we will update this post.
As a final remark, if you have found this article to be helpful and if you enjoy this post, please share it with your friends and family. Also, if you have any questions about them, please leave them in the section below.
Frequently Asked Questions (FAQs) about Noragami Season 3
Which Studio Is Making Noragami Season 3?
It's hard to say who will make Noragami Season 3 because Bones hasn't worked on the anime in a long time. Since they've been the stars of the show so far, it would make sense for them to animate it.
But Bones hasn't shown any signs of continuing the anime, so it wouldn't be surprising if the project were taken over by another studio.
Where to Watch Noragami Season 3? 
Crunchyroll licensed the first two seasons of Noragami, so it's almost certain that Noragami Season 3 will also be available to watch there. Crunchyroll has also taken over Funimation, and since Netflix doesn't have the license, it looks like Crunchyroll is the only choice.
Even though it doesn't look good for Noragami Season 3, a lot of anime have come back from the dead after a decade, so for now, we wouldn't say, "never say never."
Who is Yato's father?
In the anime show Noragami, Yato's father is not known. He is thought to be a god, but no one knows who he is, and Yato has never met him because he was left alone as a child. Yato thinks that his father might still be alive somewhere, and he hopes to find him someday.
How many Episodes of Noragami are there?
There are 25 episodes of Noragami together. The first season had 12 episodes, and the second season had 13.
Subscribe to Our Latest Newsletter
To Read Our Exclusive Content, Sign up Now.
$5/Monthly, $50/Yearly