How To Solve QuickBooks Error 6189 and 816?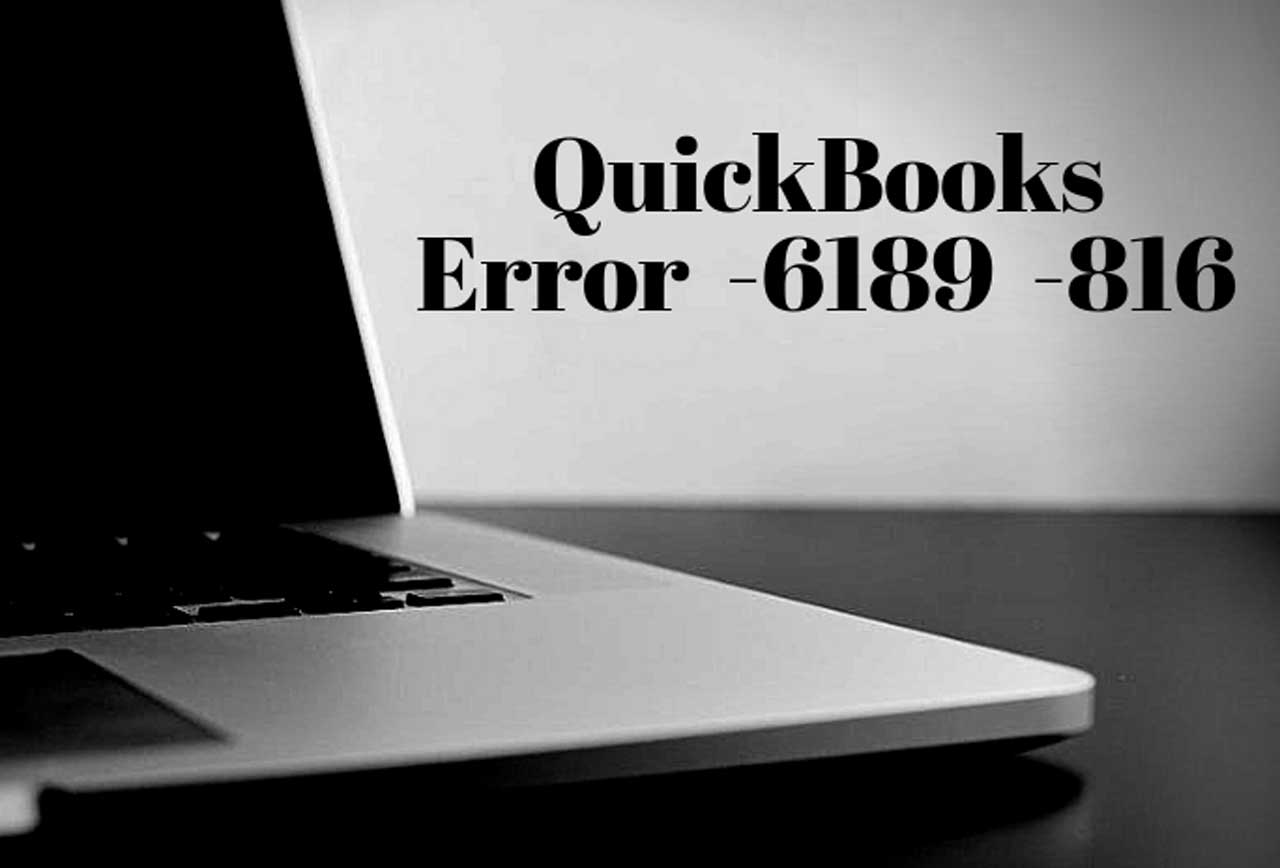 When you run QuickBooks, do you see twinkling boxes? Can't open company files? Do you have access to the multi-user mode? They all arise from QuickBooks Error 6189 816. These types of errors can be removed from your system easily, but you need proper directions to counter them.
Throughout this article, you will learn everything you need to know about QuickBooks Error 6189 816. We will provide detailed solutions to any problems you face. Let us dive into our valuable article.
What is a QuickBooks Error -6189,-816?
Errors 6189 and 816 in Quickbooks are errors in company files that hinder the work process. This is caused by a network device trying to access a company file from multiple users. In addition, the user is not able to access the company file due to the run-time error. This error message will read: An error occurred while accessing the company file (-6189, -816).
As we now know what the error is, we will examine its causes. 
QuickBooks Error -6189 -816: Reasons For Existence
Listed below are a few causes of Quickbooks error 6189 and 816 .
You may see this message if there is another server workstation with the same file open at the same time.
Corrupted or obsolete QuickBooks files.
Incorrectly removed or lost QuickBooks components.
Incomplete and unclean software installation. 
An incorrect registry entry has been added to the Windows setup. 
No administrator access.
Your system has been affected by malware, viruses, or ransomware.
Quickbooks Error 6189 and 816: Early Detecting Triggers
This list of QuickBooks error 6189 triggers will help you identify it early. Learn more here. 
The error message will appear as "QuickBooks Error 6189 816". 
There is no access to the company file.
The connection is weak or the setup is poor.
Troubleshoot QuickBooks Error -6189 -816: 6 Solutions
After getting through the error briefly, you need quick resolving solutions. Below, we have 6 easy solutions to quickly repair QuickBooks Error 6189 816. 
Solution 1: QBs File Doctor
QuickBooks error 6189 and 816 can be diagnosed by QuickBooks File Doctor (QBFD), a tool that fixes QuickBooks errors. Click here to learn more about QBFD.
Open the QuickBooks File Doctor first.
The next step is to select the company file containing issues and errors. 
You need to click the green button to run the Quickbooks file doctor.
With scanning, errors are detected and corrected automatically within seconds. 
Finally, you have to open QuickBooks again so that you can verify whether or not this issue still exists.
Solution 2: Repairing Error 6189 with the Sample Company File.
You can fix company file errors by following these steps.
Launch QuickBooks desktop first. 
After selecting No Company Open, select Open a Sample File.
Choose the Random company file option.
You will now be able to access all of your company files automatically. 
Solution 3: TLG File & ND File Rename
To begin, open the company file.
You must look for two files: company_file.qbw.nd & company_file.qbw.tlg.
Right-click on both ND and TLG configuration files and select rename. 
You should open QuickBooks again to determine whether the run time error continues to occur.
Solution 4: Quickbooks Error 6189 and 816 Manual Fix 
Please rename the Transaction Log file in the manner described above.
You must confirm QBDataServiceUserXX's permissions for QuickBooks Desktop.
Ensure that your company files are encrypted by going to the next step.
Lastly, copy and paste all the files onto your desktop.
Once error 6189 has been addressed, the file will remain in its default location, although if it continues to be unable to be opened then, you should take the file back to where it was originally located. This multi-user mode error is not very easy to resolve but you should keep in knowledge that we have other such errors that can cause trouble. One such error is Quickbooks error 6000 83, you can resolve these errors as well. All you need is the exact knowledge of resolution.
Solution 5: Restart QB Server & System
Whenever you encounter one of these errors, you may need to restart both the server and the PC. 
Before you start the computer server, restart it.
Next, you must restart QuickBooks on your computer. 
Launch Quickbooks Desktop by tapping on it.
If the QBs desktop on the system server has been rebooted, the Quickbooks software needs to be launched after the workstation server is accessible.
Solution 6: Backup Files Create & Restore
Back up your company's files on your older system. To restore your backup file to the new system, you will need to back up the file first. Read on.
You can also recover files from an external drive or another device if you have one.
Additionally, you can connect your PC to the internet if you have a stable internet connection.
Last Say
In order to troubleshoot QuickBooks Error 6189 816, our post can be useful. The above six solutions will help you once you apply them carefully. If you have any QuickBooks-related errors, we hope you will easily resolve them using our content. We are confident you are satisfied with us and will no longer face any such issues in the near future. 
Subscribe to Our Latest Newsletter
To Read Our Exclusive Content, Sign up Now.
$5/Monthly, $50/Yearly