Discover All the Possibilities of Heartland Season 17 [Latest Updates 2023]
Listen to the Podcast:
Do you want to know about Heartland season 17? Since its first episode in 2007, Heartland, a Canadian family story, has won people's hearts worldwide. Based on Lauren Brooke's best-selling book series, the show follows the Bartlett-Fleming family as they deal with the trials of running their horse ranch, Heartland, in rural Alberta.
Many people look forward to hearing about the show's future because it has a solid following and a long history. Everyone wants to know if it has been picked up for a Heartland season 17. Here is everything that we know. 
Will there be Heartland Season 17?
In the past few seasons, Heartland has become a lot more famous. With the airing of its 139th episode on March 29, 2015, it surpassed Street Legal as Canada's longest-running written one-hour drama.
In the
United States
in 2021, Heartland was the fifth most-streamed TV show. The show was watched for an impressive 29.5 billion minutes, much more than Lucifer (18.3 billion minutes) and Squid Game (16.4 billion minutes), two of Netflix's most popular shows.
Heartland was also the fifth most-watched show on Up Faith & Family, the show's primary
streaming service
outside of Canada.  Heartland is the only show from Canada that made it into the top 15 shows that Americans watch across all streaming platforms.
Heartland is a show for the whole family, which is a big part of why it has gained so many new fans. You can watch it with your whole family and not worry about foul language, nakedness, or violence.
Fans can be happy because the show will keep going. The Heartland season 17 is on its way. A press statement says that filming for the next season began in May 2023 in Alberta, Canada.
Heartland Season 17 Release Date Speculation
Heartland has been officially picked up for a Heartland season 17. The 8th of May, 2023, was the first day of filming for the new season, so we expect Heartland season 17 to come out in the fall of 2023. The official Heartland on CBC Facebook page said that the show would be back for a Heartland season 17.
Also in the post was an official summary of what will happen in the new season, which reads:
"Amy and the rest of the Heartland family are more aware than the average person that dreams can sometimes come true, but that reality usually takes us in unexpected directions. The Heartland season 17 is about being receptive to whatever comes your way. It's all about trying new things and going in a different direction.
In Heartland season 17, the Bartlett-Fleming family will be looking forward to the future and ready to try new things, face new difficulties, and make new friends. But Amy, Lou, Jack, and Tim will continue to fight for what they believe in and stay fixed in the land in the Bartlett-Fleming family for generations, no matter how things change. The key actors also said what they thought about the new season in the Facebook post.
Heartland Season 17 Cast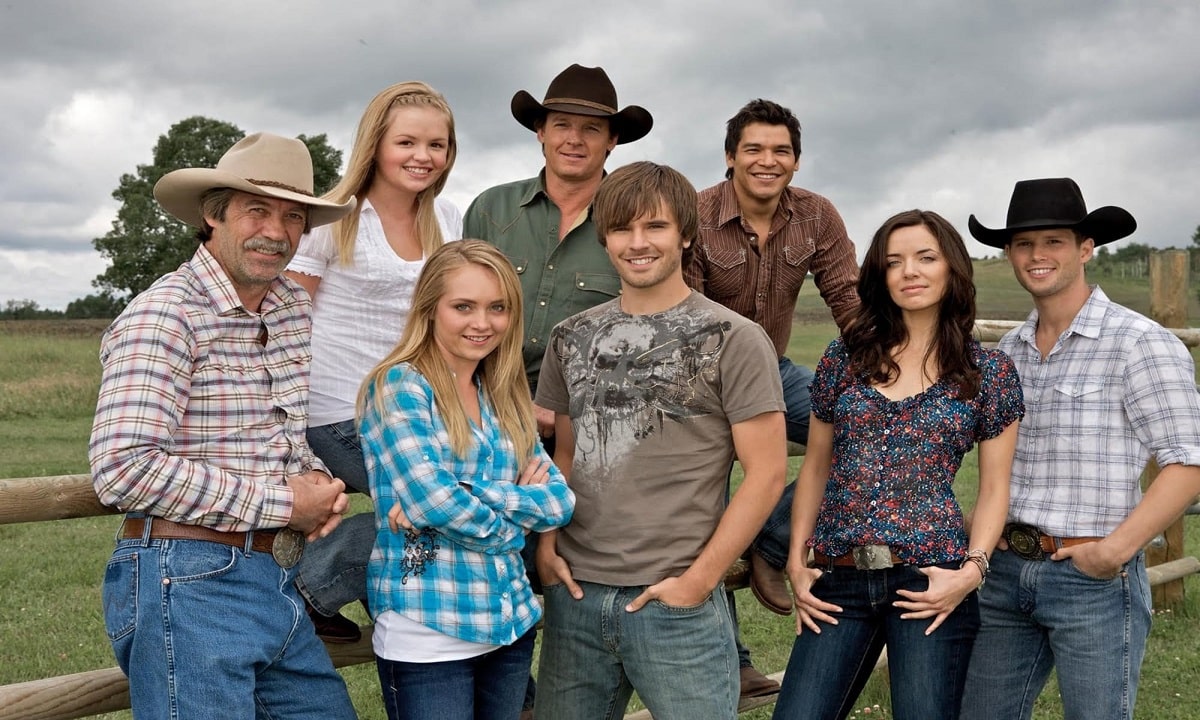 Amber Marshall, Michelle Morgan, Shaun Johnston, and Chris Potter are the four performers who have confirmed their return for Heartland season 17.
There's no word yet on whether Jessica Steen, Michelle Nolden, or Drew Davis will return, but we'll keep our fingers crossed for more.
Meanwhile, here is the currently confirmed Heartland season 17 cast list:
Amber Marshall as Amy Fleming

Michelle Morgan as Lou Fleming Morris

Shaun Johnston as Jack Bartlett

Chris Potter as Tim Fleming
Is There a Trailer for Heartland Season 17?
Heartland Season 17 has no trailer or teaser because the show has not been officially renewed or shot. You can, however, watch the Heartland Season 16 trailer below to refresh your mind or catch up on what you missed. However, we will keep this website updated as fresh footage becomes available.
Read More: Firefly Lane Season 3
How Many Episodes Will Heartland Season 17 Have?
Heartland Season 17 will contain about 10-15 hour-long episodes.
The show's leading network, CBC, appears to be responding to fans' requests for more content, having recently extended the current season by five episodes.
The statistics for future seasons of Heartland offer us plenty of cause to be optimistic. For the first time, the show gets a high IMDb rating of 8.5/10 based on 17k votes, but there are other encouraging signals for the future.
These figures are hardly surprising given that the entire family can enjoy Heartland without worrying about obscene language, nudity, or violence.
Furthermore, Heartland was the seventh most-streamed series outside Canada on its main streaming channel, Up Faith and Family.
The show is an honored member of the service's streaming repertoire, according to Angela Cannon, vice president and channel manager.
"The fandom around Heartland is remarkable," she remarked. "Fans know that UP Faith & Family is truly the U.S. home for all things Heartland, and it's an honour and privilege to bring Heartland viewers the newest seasons of this fan-favourite series months before anyone else."
Heartland Season 17 Plot Speculation
With Georgie relocating to Brussels and Lyndy falling in love with a new horse at the ranch, Heartland season 17 has a lot in store. No matter what the upcoming season may deliver, one thing is sure: the cherished family drama will not disappoint.
As Amy's horse trainer's assistant, Lyndy will likely play an increasingly central role in the series, according to one plausible plotline. We will presumably see more of Lyndy and Xavier, aka Theo, the newest horse at the ranch.
The family's youngest member has already demonstrated her talent for working with horses, which has both alarmed and pleased her mother.
Lyndy's character will also develop as she begins elementary school and embarks on new adventures with her pals.
Amy is now receptive to
romantic relationships
, and it is only a matter of time before she finds a new partner, as Heartland season 16 revealed. This could be an existing character, such as Sam, for whom Caleb has already used his matchmaking skills or an entirely new character.
Tim and Jessica may also enter the next phase of their marriage and locate their place, much to Jack's relief.
Who knows, Lou and Peter may remarry, and Katie and Logan may cultivate a romantic relationship. We must wait and see!
What is In Store for Georgie and Quinn in Heartland?
In Heartland season 16, Georgie must make a difficult choice regarding an offer to ride in Brussels. While she mulls over whether or not to accept the offer, Quinn proposes to preserve their relationship.
The proposal renders Georgie dumbfounded. Amy wishes the entire family to gather in the jumping ring, but Lou interrupts her before finishing her sentence.
After the festivities, Quinn confronts Georgie about refusing to answer the query. While she expresses her affection for Quinn, she believes they are too young to marry and that a ring is unnecessary to confirm their relationship.
Quinn concurs with Georgie and suggests she travel to Brussels. She concludes that it is the best option for her. Georgie invites Quinn, but he insists she should do this alone.
Due to their long-distance relationship, Georgie's decision may demonstrate the strength of her friendship with Quinn. On the other hand, being separated by thousands of miles may prove more difficult than anticipated, straining their relationship.
We can expect that Georgie will gain confidence when she moves to Brussels to train. The decision may reignite her passion for show jumping and provide the impetus to refocus on her Olympic objective.
When Can We Expect Heartland Season 17 to Arrive on Netflix?
Patience is the key to pleasure for Netflix subscribers, as Heartland season 17 will not be available on the streaming service for some time. According to the most recent release schedule for May 2023, Netflix has confirmed that Heartland season 15 will become available for streaming on May 31, 2023. Due to the format, it will take some time for Heartland season 16 to appear on Netflix US following its debut on CBC. Heartland season 16 is scheduled to premiere on Netflix UK on May 17, 2023.
Keep up with Web News Observer for additional Heartland season 17 updates.
Heartland Season 17 Rating
Based on the data, we have several reasons to be optimistic about the upcoming Heartland seasons. The program has received 17k votes and an 8.5/10 rating on IMDb. Last year, Heartland was the fifth most streamed television show in the United States. The series' staggering 29,500,000,000,000,000 minutes of viewership dwarfed that of similarly popular programs such as Lucifer (18,300,000,000 minutes) and Squid Game (16,400,000,000,000 minutes). 
These numbers are not surprising because Heartland is suitable for the entire family without parents being concerned about obscenity, nudity, or violence. Heartland was also the ninth most-watched series on Up Faith & Family, the Canadian service's international counterpart. 
Where Can I Watch Heartland?
Depending on your location, Heartland can be watched on various platforms. Heartland can be viewed on CBC Television and CBC Gem in Canada. Watch Heartland in the United States on UPtv or UP Faith & Family. Heartland can be viewed on Netflix and Amazon Prime Video in the United Kingdom. Australia has access to Heartland via Netflix and ABC iview. Check local listings or streaming services in other countries to determine availability.
You Can Read More: Ratched Season 2
Frequently Asked Questions (FAQs) about Heartland Season 17
Check out some of the commonly asked questions on Heartland season 17.
Will there be a Heartland Season 17?
There will be, yes! Shooting for season 17 began earlier this month, and the first episode of the new 10-episode season will be the 250th episode of the show. Amber Marshall, who plays the lead in the show, said, "It's hard to think I've been in 250 episodes of Heartland.
Is Heartland returning in 2023?
Heartland season 16 will start on January 8, 2023; new episodes will come out every Sunday at 7 pm Eastern Time (ET). On February 5, 2023, the season should be over. Some pictures from the latest episode of Heartland, which was directed by Michelle Morgan and was very interesting.
Is Jack leaving Heartland?
Even Shaun Johnston, who plays Jack Bartlett on the TV show Heartland, was shocked by the quick turn of events. But the show's directors told him that his character would not be cut from the show. The event was meant to be a "bump in the road" to make the season-ending more exciting.
What year did Heartland end?
When it beat Street Legal's record of 124 episodes on October 19, 2014, the show became the longest-running one-hour written drama in Canadian TV history. Heartland has aired 249 shows as of February 5, 2023. This is the end of the Heartland season 16.
Subscribe to Our Latest Newsletter
To Read Our Exclusive Content, Sign up Now.
$5/Monthly, $50/Yearly