When will be Haikyuu Season 5 Released? [Cast, Plot and Latest Updates]
Listen to the Podcast:
Haikyuu season 5 is a popular Japanese anime and manga series about a high school volleyball team's quest to become the greatest in Japan. The series was conceived by Haruichi Furudate and debuted in Weekly Shonen Jump in 2012. 
The renowned manga series was also adapted into four successful anime seasons with the same name. Due to the relative success of the anime series, many fans ponder if there will be a fifth season of Haikyuu.
There is no Release Date for Haikyuu season 5! In August 2022, it was announced that the story of Haikyuu!! would be concluded with the publication of two films in 2023. The first film is titled "Haikyuu!!: Land vs. Sky," while the second is "Haikyuu!! : The Final Battle." According to reports, the films will depict the conclusion of Shoyo Hinata and his team's journey as they compete in their final matches to accomplish their goal of becoming the best high school volleyball team in Japan.
Now that we've discussed the status of Haikyuu season 5, it's time to delve into the specifics. If you are interested in learning more, please continue reading!
What is Haikyuu Season 5 About? (Spoiler Alert)
Haikyuu season 4 films will resume the story from manga chapter 293. As they are required to adapt all remaining chapters, both the Tokyo Finals Arc and Final Arc concerning Karasuno's participation in the Tokyo Nationals and beyond will be included in the films.
Regarding Haikyuu season 5, the narrative must be completely original if the series is to continue. A Haikyuu season 5 seems extremely unlikely, given that the manga will have been entirely animated, but it is impossible to predict when an anime will return.
Read More: Loot Season 2
Haikyuu Season 5 Quick Info
| | |
| --- | --- |
| Season:  | Haikyuu |
| No. of Seasons: | 4 |
| No Of Episode: | 85 (season 1-4) |
| Status: | Pending |
| Script Writer:  | Taku Kishimoto |
| Director: | Susumu Mitsunaka |
| Genre:  | Animation, Comedy, Drama, Sport |
| Voiced by: | Ayumu Murase, Kaito Ishikawa, Yu Hayashi |
| Production:  | Mainichi Broadcasting |
| Producer: | John Ledford |
| Music: | Yuki Hayashi |
| Country of Origin: | Japan |
| Origin Language:  | Japanese |
| Available Languages:  | Japanese, English |
| Next Season Release Date: | Not Yet Confirmed |
| Available On: | Netflix, Crunchyroll |
Haikyuu Season 5 Release Date
Haikyuu is one of the most renowned Japanese manga series, having been first published on April 6, 2014. This series gained immense popularity within a few episodes of its debut, and now it has Haikyuu season 5. The fans are eager to learn the Haikyuu Season 5 release date, as they are very enthusiastic about the fifth season. The Haikyuu season 5 is anticipated to premiere sometime in August 2023. However, these are merely conjectures. Therefore, we must wait for the official confirmation of the Haikyuu season 5 release date.
Read More: Moon Knight Season 2
Haikyuu Season 5 Plot
The upcoming Haikyuu! To the top part 2 or Haikyuu season 5 is anticipated to chronicle the events that occurred after this highly anticipated match between Karasuno and Nekoma, "The Dumpster Battle." Haikyuu season 4 concludes with Kenma and Kuroo discussing their impending match. Hinata is aware that it is difficult to captivate Kenma and arouse his interest in competition because he, too, is somewhat of a prodigy setter. Hinata promises to give Kenma a memorable match.
The season will also momentarily shift its focus from Karasuno to Fukurodani and continue the story arc of Bokuto. In Haikyuu season 5, Bokto's explosive play style and his prowess as Fukurodani's ace will be examined. If you recall Kageyama's attendance at the Tokyo Training Camp in Haikyuu Season 4 Part 1, you'll recall that all of the players there will be featured in forthcoming seasons.
How they fare as Karasuno's adversaries remain to be seen in the anime. There are rumours that Haikyuu Season 5 will cover the remaining matches of the Tokyo Nationals Arc based on the content of Season 4, but it is certain that Haikyuu will not end with Haikyuu Season 5.
I can't wait to see Kageyama's progression in assisting Hinata to escape the cage Kenma constructed for him, as well as the result of Hinata continually leaping high and dismantling Nekoma's tactics. Expectedly, Kenma's final few rallies will be marked by a great deal of determination to continue playing. Fans want to see a montage of everyone shaking hands and embracing after the event concludes.
Also Read: Beastars Season 3
Haikyuu Season 5 Cast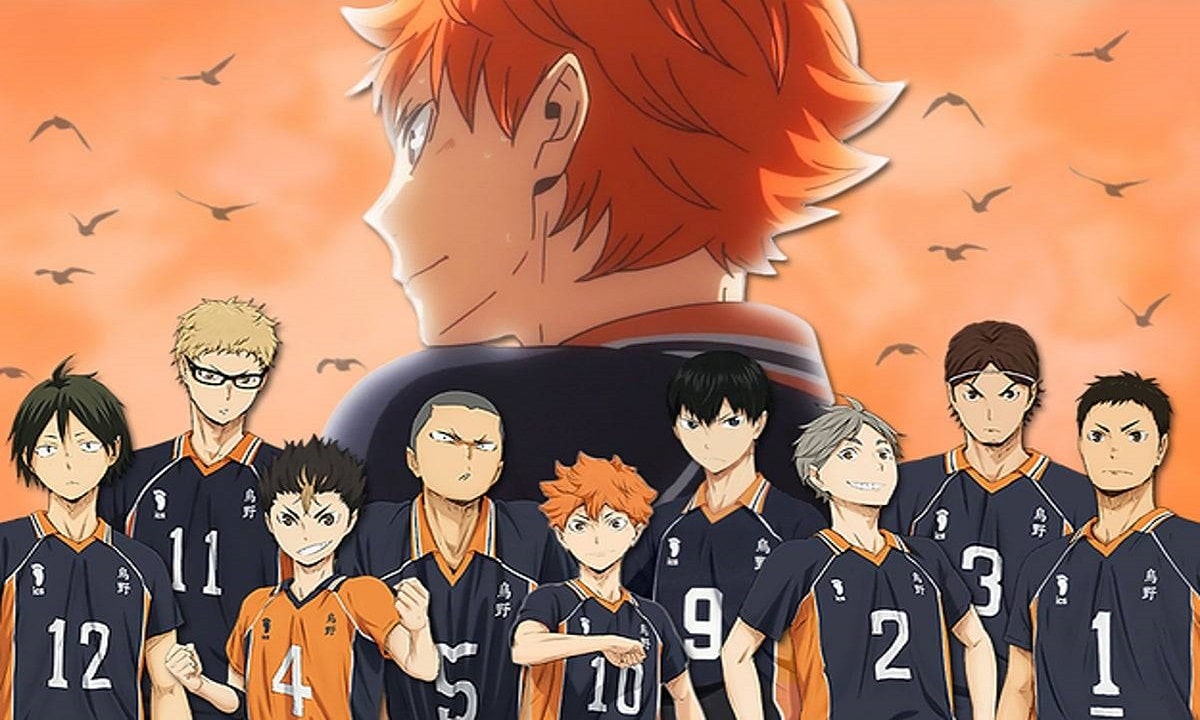 There could be voice artists in the two last Haikyuu!! shows are:
Ayumu Murase as Shōyō Hinata Kaito

Ishikawa as Tobio Kageyama

Satoshi Hino as Daichi Sawamura

Miyu Irino as Kōshi Sugawara

Yuu Hayashi as Ryūnosuke Tanaka

Yoshimasa Hosoya as Asahi Azumane

Nobuhiko Okamoto as Yū Nishinoya

Kōki Uchiyama as Kei Tsukishima

Sōma Saito as Tadashi Yamaguchi

Ishiki Masuda as Chikara Ennoshita

Kaori Nazuka as Kiyoko Shimizu

Morohoshi Sumire as Hitoka Yachi

Hiroshi Kamiya as Ittetsu Takeda

Hisao Egawa as Keishin Ukai

Natsuki Hanae as Kōrai Hoshiumi

Mamoru Miyano as Atsumu Miya

Kohsuke Toriumi as Kiyoomi Sakusa

Yūto Uemura as Motoya Komori
Haikyuu Season 5 Trailer Updates
The creators of Haikyuu! The top part 2 or Season, 5 has not yet released a trailer or even a teaser. A few weeks before the Haikyuu Season release date seems probable. If the rumours about Haikyuu season 5 airing in the Fall 2023 to Winter 2024 anime calendar are true, anticipate a teaser in the month of August 2023.
Read More: Taboo Season 2
Where Does Haikyuu Season 4 End?
With Karasuno's old rivals and allies Nekoma and Fukurodani present, Kuroo, Kenma, Bokuto, and Akaashi observe Karasuno High's match against Inarizaki, which brought its own surprises. Hinata has mastered the art of reception! Hinata has also received a great deal of attention from Miya Atsumu and Hoshiumi Korai, the latter of whom fuels Hinata's desire to become the Little Giant.
As new, stronger teams and more enigmatic individuals have appeared on the show, the eliminations to reach the quarterfinals of the Nations have become even more difficult. As Karasuno advances, its members continue to hone their skills with the aspiration of winning the Championship.
The plot of Haikyuu season 5 may already be apparent to fans of the manga, whose eight-year run concluded in 2020. The Haikyuu manga has concluded. For the anime, however, a great deal of content remains to be produced. Clearly, Haikyuu will not conclude with its Haikyuu season 5.
The official conclusion of the Haikyu manga occurred in chapter 402, and with Haikyuu Season 4 beginning with Chapter 207 and ending with Chapter 298, there is still a great deal of material to adapt — likely for a Haikyuu Season 6 as well.
Haikyuu Season 5 Rating and Reviews
Rating
Haikyuu is the finest volleyball anime currently available. The rating for Haikyuu on IMDB is 8.8, which is exceptional. The audience rating for Haikyuu is 91%, and the average audience rating on MyAnimeList is 8.45. PG-13 is the age rating for Haikyuu.
Reviews
The second-best Sports anime series I've ever seen. I was ecstatic to see this. The anime was excellent. A friend persisted in getting me to observe volleyball despite the fact that I am not a fan of the sport.
I eagerly anticipate Haikyuu season 5. If you need guidance, do not hesitate to commence viewing this video. I assure you that you will have no regrets.
Read Also More: Dorohedoro Season 2
Conclusion
This season of Haikyuu was split into two sections. It consisted of 25 episodes in total. The popularity of both sections of season four of the shonen anime Haikyuu surpassed that of the previous three seasons due to the insane character development and hype moments. Haikyuu season 4 provided us with many memorable and cherished experiences. One of them is winning the qualifiers, qualifying for the nationals, and advancing to the big leagues, where our group will confront greater challenges and discover something new. All of us were saddened by Hinata's setbacks, as he was unable to make his contributions.
Frequently Asked Questions (FAQs) about Haikyuu Season 5
Where can I watch Haikyuu English Dub?
In March 2022, the fourth season of the sports anime series "Haikyuu!! To the Top" will receive an English adaptation. All four seasons of the Japanese dub with English subtitles are currently available to stream on Crunchyroll. It cannot be verified when the English dub of Haikyuu will be available on Crunchyroll. Funimation has not yet added the title to its catalogue, but the English dub could arrive shortly.
Where Can You Watch The Previous Seasons of Haikyuu?
The series is available on Crunchyroll for streaming. Crunchyroll has all four seasons of the popular television series. Additionally, Haikyuu is accessible on Netflix and Hulu. Fans in the United States can purchase Haikyuu seasons through Amazon Prime Video.
Which Studio Is Making Haikyuu Season 5?
If you haven't already noticed, Production I.G is the studio that has animated all Haikyu!! episodes to date, and they've done a remarkable job. Production I.G is also responsible for other high-quality works such as Psycho-Pass and Ghost in the Shell, so it should come as no surprise that the series' animation has never been a source of complaint.
Since all OVAs, seasons, and the impending franchise film are animated by Production I.G, Haikyuu season 5 should also be animated by them if it ever happens, although not before the Kaiju No. 8 anime debuts.
How many Seasons of Haikyuu are there?
There is currently Haikyuu season 4. And each season includes between 10 and 25 episodes. The plot follows the Karasuno High School volleyball team as they strive to achieve their objectives. In addition, they compete vigorously with the constituents and strive to become champions.
Subscribe to Our Latest Newsletter
To Read Our Exclusive Content, Sign up Now.
$5/Monthly, $50/Yearly