When will be Blood of Zeus Season 2 Released? [Latest Updates 2023]
Listen to the Podcast:
Blood of Zeus Season 2 was officially announced over two years ago, but Netflix hasn't discussed it again. The company that made the show, Powerhouse Animation, may have been busy making other original shows, like Masters of the Universe: Revelation, which could be why the show didn't come out.
The company is currently working on Castlevania: Nocturne, but they've had a lot of time, so Blood of Zeus Season 2 shouldn't be too far away, even though there haven't been any updates on its development. Here's what you need to know about Blood of Zeus Season 2, like when it might come out and where you can watch it.
What is Blood of Zeus About?
The story is about Heron, who is part of a group living on the edge of Greece when the Olympian gods and the Titans are at war. Heron, who found out that his father was Zeus and knew dark secrets about the past, seems to be the only hope for humanity to win the battle against the forces of demons.
Part of the series is about an old war, an army of aggressive demons, and a dead giant. The other half is full of action scenes that are very well done. Jason O'Mara, Derek Phillips, Mamie Gummer, Claudia Christian, Elias Toufexias, Melina Kanakeredes, Jessica Henwick, and Chris Diamantopoulos are among the voice actors in the show.
Read More: Panic Season 2
Blood of Zeus Season 2 Quick Info
| | |
| --- | --- |
| Season:  | Blood of Zeus |
| No. of Seasons: | 1 |
| No Of Episode: | 8 (season 1) |
| Status: | Officially Confirmed |
| Script Writer:  | Charley Parlapanides, Vlas Parlapanides |
| Director: | Shaunt Nigoghossian |
| Genre:  | Action, Adventure, Fantasy |
| Voiced by: | Derek Phillips, Jason O'Mara, Claudia Christian, Elias Toufexis |
| Production:  | Powerhouse Animation Studios, Asia Minor Pictures |
| Music: | Paul Edward-Francis |
| Country of Origin: | United States |
| Origin Language:  | English |
| Available Languages:  | English |
| Next Season Release Date: | Not Yet Confirmed |
| Available On: | Netflix |
Blood of Zeus Season 2 Release Date Speculation
Blood of Zeus season 2 has not yet been given a release date, but Netflix has announced that it's on the way. On Twitter in December 2020, the streaming service said that more Blood of Zeus was being made.
Since then, we haven't heard much, but it's likely because the company Powerhouse Animation is still hard at work making the show. These are the same artists who made Castlevania and Masters of the Universe: Revelation on Netflix, so you know it will be worth the wait. With this in mind, it looks like the next season won't come out until 2024 or at the very latest, the end of 2023.
Blood of Zeus Season 2 Plot
It's important to know that the show's main character, Heron, and its main villain, Seraphim, Heron's half-demon brother, are both made up for the show and are not from Greek mythology. But most other people in the story, like Heron's father Zeus, come straight from the myths. Zeus is the most powerful god, and his brother Poseidon is the most powerful god of the ocean. But they also have a brother named Hades, who appears at the end of Season 1.
According to Greek legend, Zeus, Poseidon, and Hades killed their father, Cronus, the Titan, and split the spoils. Hades is in charge of the underworld, where Seraphim is going at the end of the first season. He tells Seraphim that the underworld is "far worse than you can imagine," but if he swears obedience to him, he can help him stay away from it. Season 1 opened up many doors, and the show's makers, Charley and Vlas Parlapanides, say that Blood of Zeus Season 2 will make the most of what has already happened.
Charley Parlapanides told Inverse that Season 1 is mainly about Heron and Seraphim and that their stories will continue in Season 2. "But we have a 20-page plan for Blood of Zeus Season 2, and it's mostly about Zeus, Hades, and Poseidon." He says, "Things that happened in Season 1 that really set up Season 2." We remember how the brothers split the world into three parts. The Parlapanides brothers have an overall plan for a five-season arc. There are a lot of Greek legends out there, and it's exciting to think about where "Blood of Zeus" could go from here. 
Read Also: Darwins Game Season 2
Blood of Zeus Season 2 Cast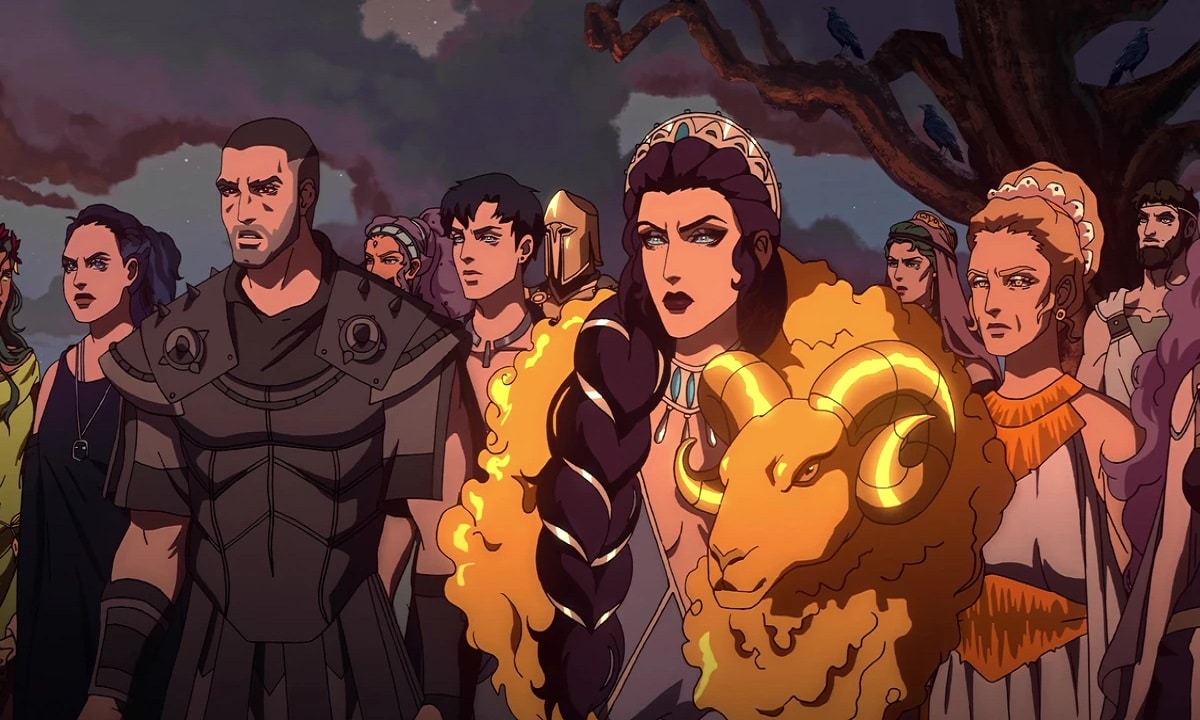 For season 2, we expect most, if not all, of the original Blood of Zeus group to come back. That means Derek Phillips, Jason O'Mara, Claudia Christian, and Elias Toufexis are in the lead parts, along with a group of godly co-stars.
The likely cast for Blood of Zeus season 2 is:
Derek Phillips as Heron

Elias Toufexis as Seraphim

Chris Diamantopoulos as Evios/Poseidon

Claudia Christian as Hera

Jason O'Mara as Zeus/Elias

Melina Kanakaredes as Ariana

Mamie Gummer as Electra

Adetokumboh M'Cormack as Kofi

Jessica Henwick as Alexia

Matthew Mercer as Hermes

Adam Croasdell as Apollo/Hephaestus

Jennifer Hale as Artemis/Clotho

Danny Jacobs as King Periander/King Acrisius

Matt Lowe as Ares

Fred Tatasciore as Hades

David Shaughnessy as Chiron/Dionysus
Which Studio is Making Blood of Zeus Season 2?
The first season's animation was easy on the eyes, but sometimes it quickly went from cute to deadly and bloody. The regular mix of different visual styles was a big part of the show's success, and it's excellent that Powerhouse Animation Studios will do the same thing again with Blood of Zeus Season 2.
However, this isn't the first time we've seen Powerhouse's beautiful art. Castlevania is an anime on Netflix that is known for its beautiful animation. Surprisingly, Powerhouse made it, so there's nothing to worry about there.
Blood of Zeus Season 2 Trailer
There is no trailer for Blood of Zeus season 2, and there won't be one soon. As soon as Netflix sends us a sneak peek or teaser, we'll ensure everyone sees it.
We'll let you know When we learn more about Blood of Zeus season 2. Watch for information and stories about the next episode of the fantasy action anime.
Blood of Zeus Season 1 Review
Critics liked the Blood of Zeus season 1. People will like the second season of Blood of Zeus a lot. At the end of the first season of Blood of Zeus, we see that Heron goes to the pot, traps all the souls of the Giants inside again, and then ends the fight.
Heron meets up with his friends the following day, and his demi-god half-brothers welcome him to Olympus. Seraphim's soul wakes up in the underworld, where its actual owner, Hades, gets the bident back. Hades tells Seraphim that he can stop being punished forever if he kneels to him, just like he did to Hera. Let's wait and see what comes next.
Also Read: The Wilds Season 3
Remind Me What Happened At The End of Blood of Zeus Season 1?
Here's what happened at the end of Blood of Zeus Season 1. Heron and Seraphim fight to the death over the pot in the final battle. Seraphim tries to get Heron to rise against the gods with him, but Heron won't listen. SOMEHOW Although he went to "get milk" when Heron was a kid and didn't return until he needed something from his son, Heron still loves his dad.
Heron then cruelly kills Seraphim with his newfound thunder skills. He is, after all, Zeus's blood. But Seraphim fans shouldn't worry! He isn't dead. Well, he is, but that doesn't mean much in the world of Gods. At the end of The Underworld, Seraphim's soul shows up. This is a sign that the gods will have more trouble.
At the same time, Hera is so angry that she is about to explode. She's had enough of her bad, cheating husband, so she chooses to KILL HIM to get a divorce. Zeus and Hera get into a huge fight, but because Zeus in Blood of Zeus is more of a "tragic antihero" than a "total dick," he gives his life so Hera can live.
Final Words
Blood of Zeus was announced in March 2019 as an anime series based on Greek mythology. It was released on Netflix in late 2020, but there has been no official announcement from Netflix regarding the release date of Blood of Zeus season 2. Powerhouse Animation Studios is working on another series for Netflix, Castlevania: Nocturne, which has a teaser and is expected to arrive in the summer of 2023. Fans will have to wait for an official announcement from Netflix.
Frequently Asked Questions (FAQs) about Blood of Zeus Season 2
Let's look at some commonly asked questions about the Blood of Zeus Season 2.
Where To Watch Blood of Zeus?
Blood of Zeus is a TV show that you can watch on Netflix. Netflix will also get the second season of the show Blood of Zeus.
Maybe Blood of Zeus will have five seasons, and all of them will be on Netflix. We'll put it here as soon as we hear something new about it.
How Many Episodes of Blood of Zeus Are There?
The first season of the TV show Blood of Zeus has eight episodes. We think that Blood of Zeus Season 2 will also have eight episodes. Let's wait and see what comes next.
Is Zeus Dead At The End Of Blood of Zeus?
At the end of Blood of Zeus, Heron and the other Gods on Mount Olympus are at peace but soon have to deal with the power void left by Zeus's death.
Subscribe to Our Latest Newsletter
To Read Our Exclusive Content, Sign up Now.
$5/Monthly, $50/Yearly