The 30 Best Ezoic Alternatives for 2023 [What You Need to Know]
Listen to the Podcast:
Do you want to know what the Best Ezoic Alternatives for 2023 are? Ezoic is one of the best options for Google Adsense because it allows you to make more money from your website through artificial intelligence advertising.
Today I want to talk about websites and how the platform you use, how you treat your users, and where you put your ads can make or break your site. No matter how good a photographer you are or how big your portfolio is, if your site doesn't meet the standards of readers and advertisers, it won't get enough traffic to pay for itself. If you're interested in this thing, you might want to think about Ezoic.
Ezoic is an option to Google AdSense that, among other things, lets you test ads and make them work better. You might want to switch from AdSense to Ezoic to make more money with your website.
What is Ezoic?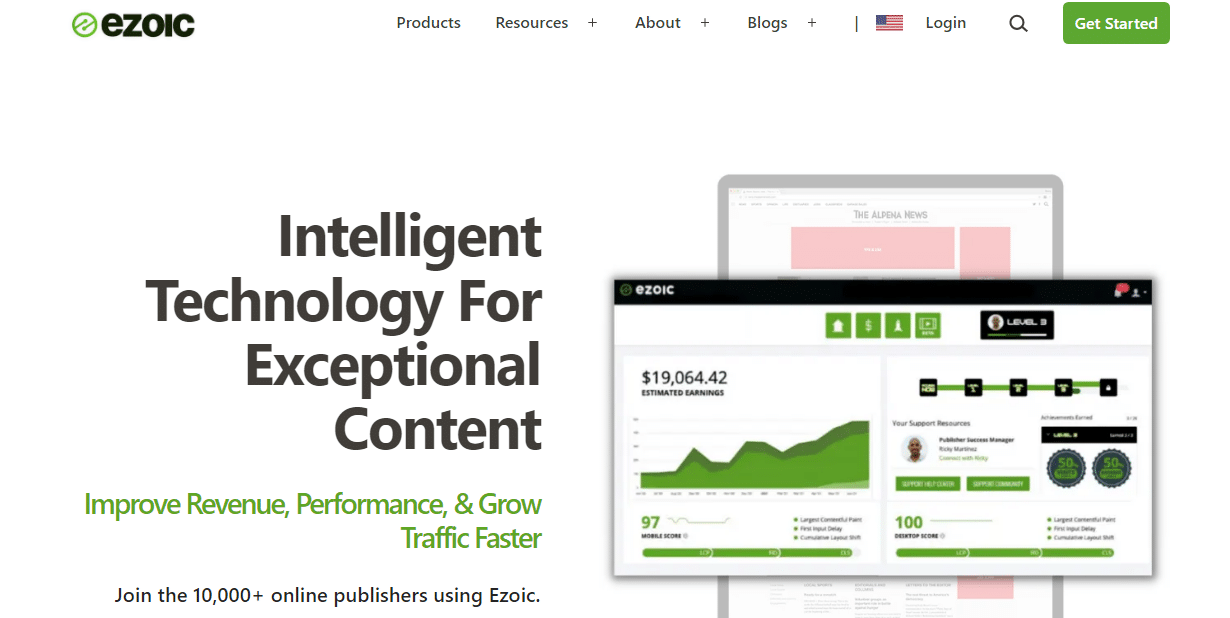 First and foremost, what exactly is Ezoic? This Google AdSense alternative is a
Google Certified Publishing Partner
, which means that while they compete with AdSense, they are supported by Google.
Ezoic bills itself as an interactive platform that is easy to use and allows any website owner to optimize their website. Dwayne Lafleur established Ezoic in 2010 after leaving Cubics. If you're unfamiliar with Cubics, it's a Facebook advertising network. Lafleur was the company's CEO.
Lafleur used his knowledge to establish a link between ad earnings and a site visitor's user experience, or UX. He believed that the better a website's user experience, the more ad income it might produce. This concept became the foundation of Ezoic. Google awarded Ezoic the Business in Innovation award in 2016.
Aside from being a Google-accredited Publishing Partner, Ezoic is also a Flippa, JW Player, and Cloudflare accredited partner. Ezoic also belongs to the Coalition for Better Ads.
Is Ezoic Better than Google AdSense?
Ezoic is superior to Google AdSense since it allows you to be paid per ad view, which AdSense does not offer. Furthermore, Ezoic will enable you to select the best-performing advertisements from a range of networks and display them, increasing your earning potential even further.
If you've never heard of Ezoic and are hesitant to move from Google AdSense, I strongly advise you to read my review. I'll explain all you need to know about Ezoic, including its features and how they can help your website.
Best Ezoic Alternatives for 2023
Here we will talk about the top 20 Ezoic Alternatives for search engines. Keep reading to know everything about those: 
1. AdThrive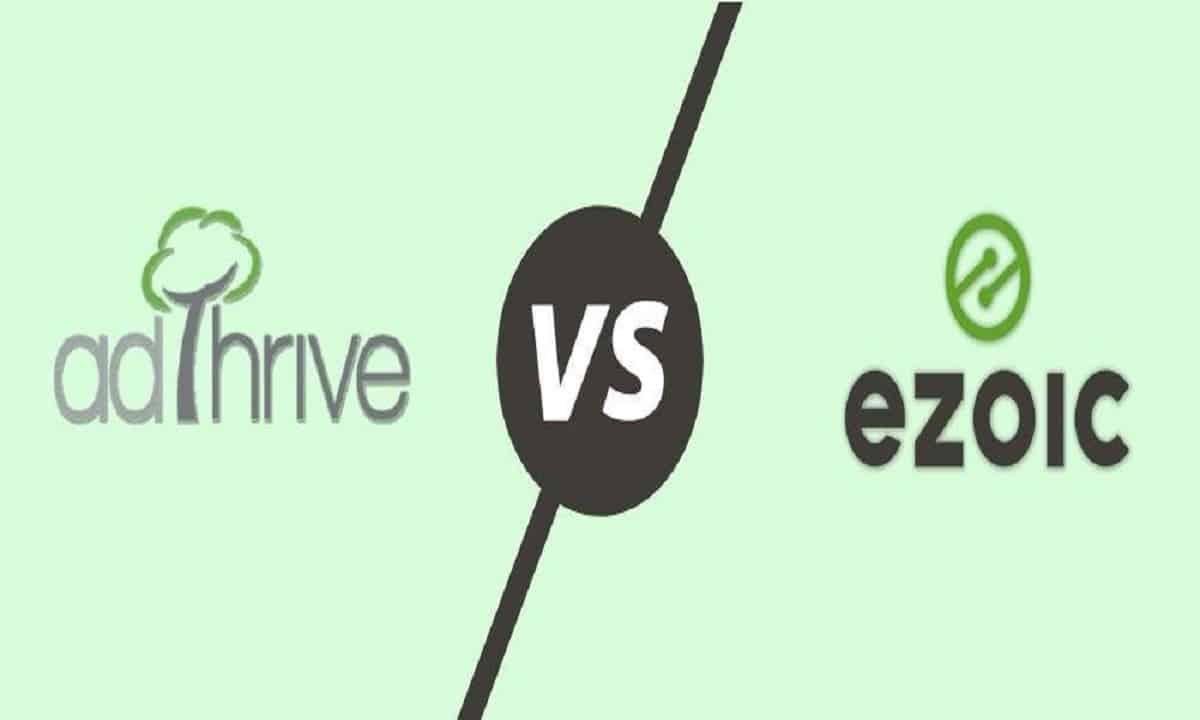 AdThrive offers premium ad management services that help publishers maximize their ad revenue. They provide a user-friendly dashboard and personalized support to ensure publishers get the most out of their ad inventory.
2. Mediavine
Mediavine is a full-service ad management company that optimizes ad placements and formats to increase earnings. They offer advanced reporting and analytics tools to help publishers track their performance and make data-driven decisions.
3. Monumetric
Monumetric offers custom ad strategies and placements to help publishers earn more revenue. They provide detailed reporting and optimization tools to help publishers identify and capitalize on trends in their traffic.
4. Sovrn
Sovrn offers ad management and optimization services, including header bidding and programmatic advertising. They also offer analytics tools to help publishers track their performance and optimize their ad revenue.
5. Google AdSense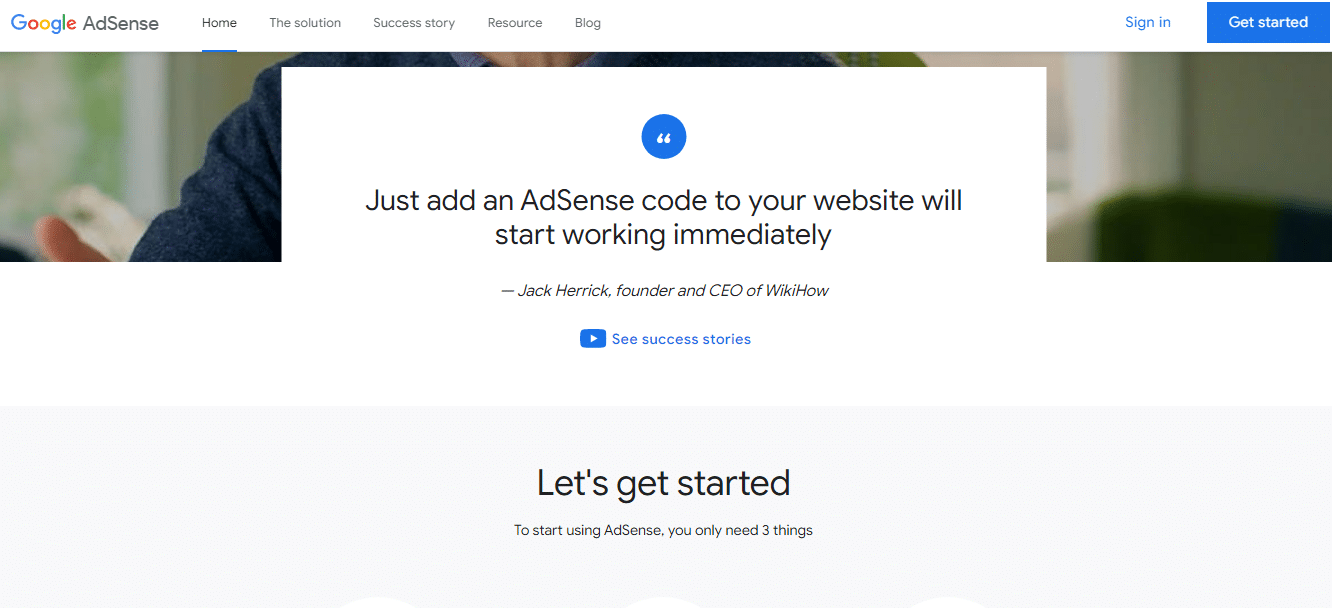 Google AdSense is a popular ad network that allows publishers to monetize their content with display, text, and video ads. It offers a user-friendly interface and easy integration with other Google services like Analytics and AdWords.
6. Taboola
Taboola, which focuses on native advertising, is another alternative to Google AdSense. This network can be utilized in conjunction with other advertising approaches, which means it can boost your present earnings without replacing your existing strategies. 
7. Inskin Media
Inskin Media collaborates with 260 publishers across 2 000 premium websites worldwide. Unlike Google AdSense, it helps with design and layout. Their HTML 5 framework enables innovative mobile and desktop ads with unique graphics and multimedia formats. This means you don't need extra steps to attract customers. 
8. Criteo
The Criteo network is present in over 30 countries and employs thousands of publications. It is a viable alternative to AdSense, but its standards are extremely stringent. As a result, it is not the best option for tiny websites or blogs. 
It can display various ad types, including display, native, and video advertising, and it can also avoid ad blockers. The payments are made monthly.
9. AdMaven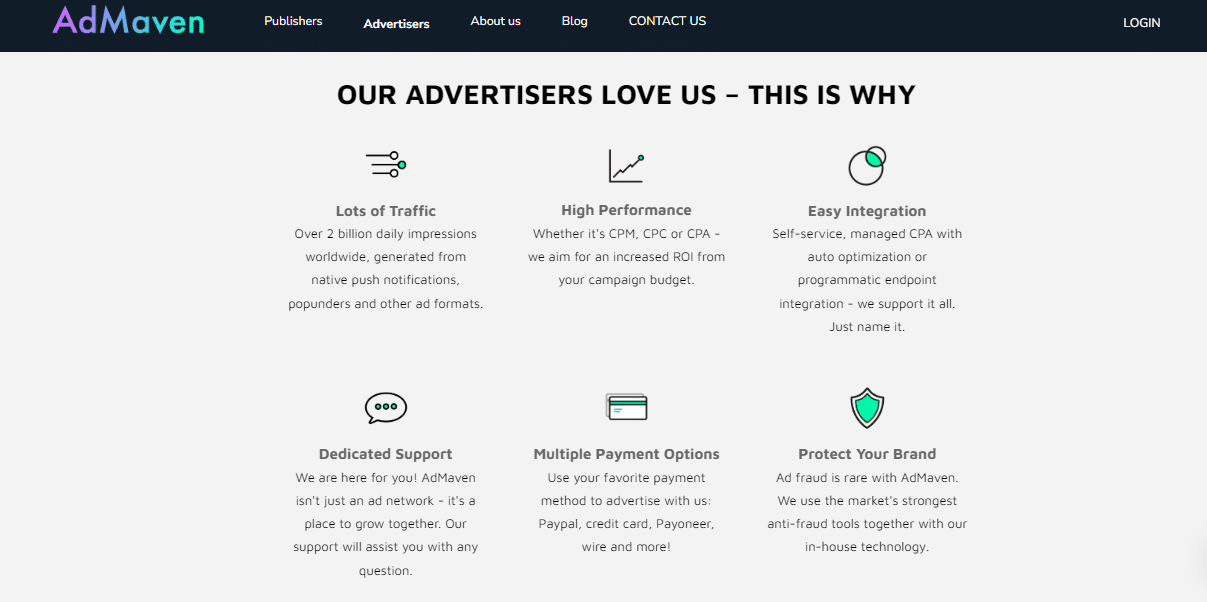 AdMaven is a network that sells over 5 billion impressions daily across numerous platforms as an alternative to AdSense. AdMaven is used by over 25 000 publishers. 
Banners, conventional Popups, lightbox advertisements, and interstitial ads are among the ad forms available.
This solution allows you to display advertisements even if visitors use ad blockers. Several payment options are also available, including PayPal, Payoneer, bank wire transfer, and Paxum.
10. SetupAd
Another amazing and profitable alternative to Google Adsense is SetupAd. This contextual
advertising network
 allows content creators to earn more money by displaying programmatic ads. It employs header bidding technology to connect ad inventory from publishers to over 15 supply-side platforms. 
Publishers will only be paid if they meet the €100 minimum threshold, and the first payment will be made 60 days later, with subsequent payments every 30 days; if the minimum threshold is not hit, Setupad will carry the revenues over to the following month.
11. Google Ads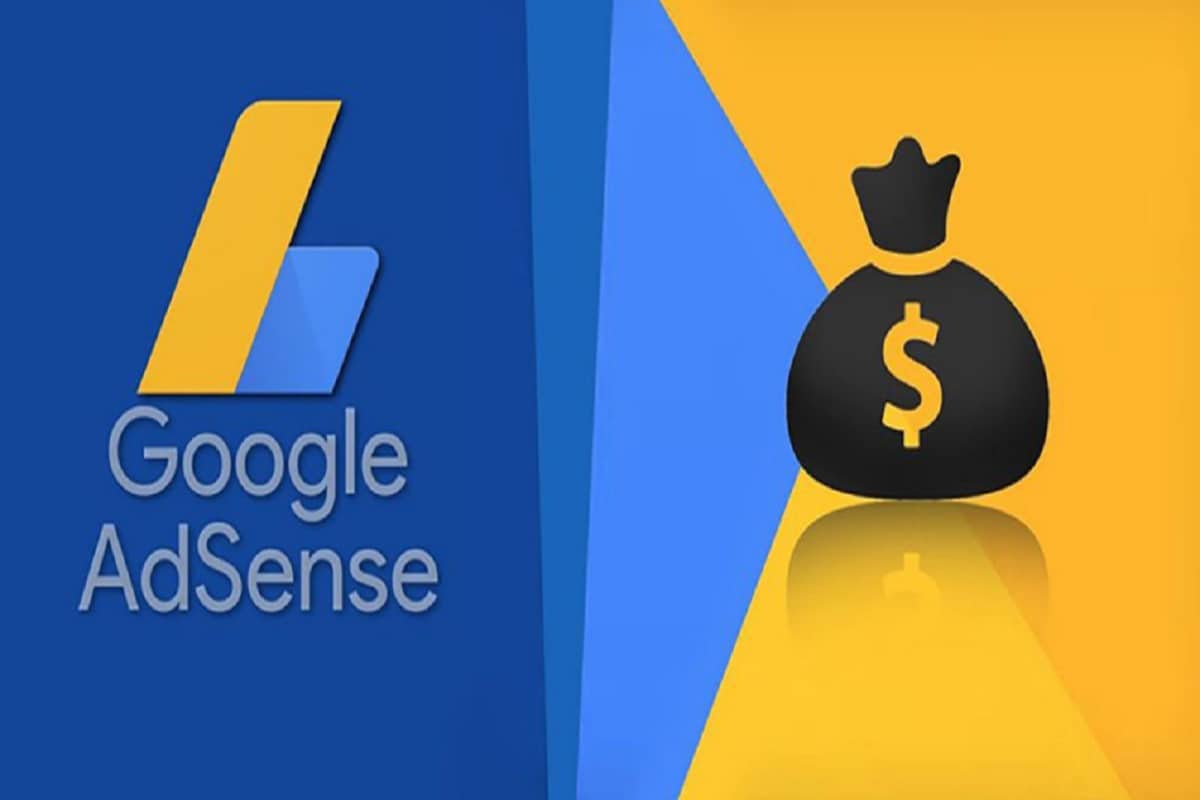 It enables users and businesses to advertise and attract audiences interested in their products and services through Google's Search Network and their partner websites.
12. RevenueHits
Google AdSense is a strong monetization tool for publishers and website owners. You can create revenue by displaying relevant adverts on your website and earning money when customers click on them using AdSense. Simply join up for an AdSense account and paste the code into your website to get started.
AdSense will then automatically display adverts related to your content, increasing the possibility of users clicking on them. It's crucial to note that AdSense has stringent restrictions about ad placements and content, so make sure you obey them to avoid account suspension or termination.
13. DoubleClick
DoubleClick is a digital advertising platform that allows advertisers to reach their target audience through various channels. It was created in 1996 and has become a market leader in ad-serving technology. DoubleClick's ability to offer ads to specific audiences based on their surfing behavior, location, and other relevant data factors is one of its key capabilities. This allows advertisers to provide more relevant and tailored adverts to their target demographic, increasing campaign effectiveness.
14. Google Adwords
Google AdWords is a strong advertising platform available to companies of all sizes. AdWords allows you to create and manage advertisements on Google search results pages. You may target specific keywords, demographics, and places with the platform, making it easier to reach your target audience. To begin using AdWords, register an account and launch your first campaign.
There are various ad forms to pick from, including text advertisements, image ads, and video ads. To increase your chances of success, carefully select your keywords and write interesting ad material. AdWords also provides several tools and data to help you track and optimize your campaigns over time. You can successfully boost your internet presence, attract more clients, and develop your business using AdWords.
15. Apple Search Ads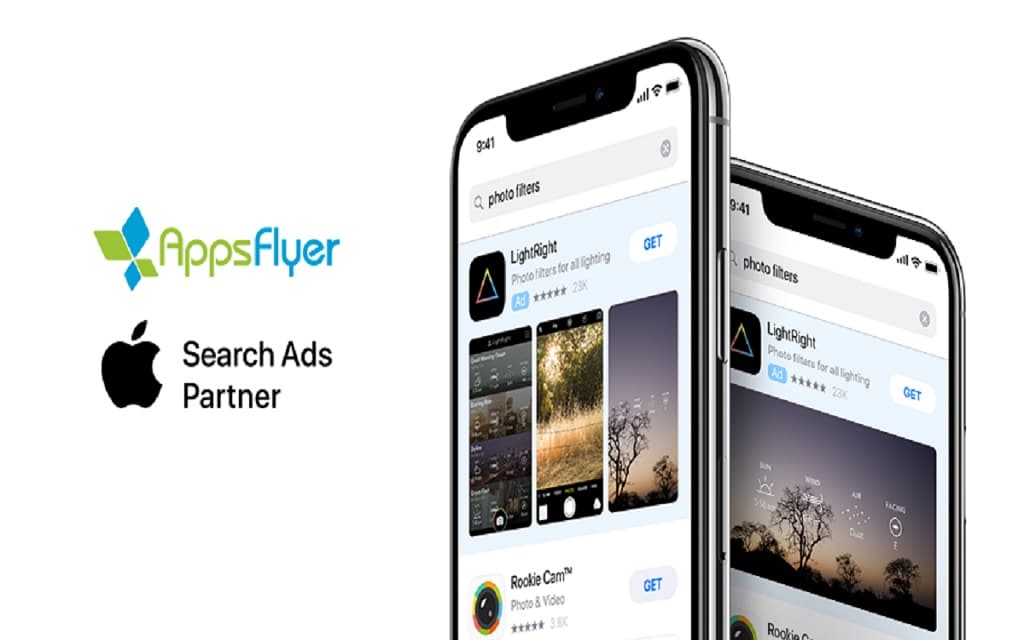 App developers and marketers can use Apple Search Ads to promote their apps and enhance their visibility in the App Store. You may target your advertising to specific audiences with Apple Search advertising based on keywords, geography, device type, and other factors. This guarantees that your adverts are displayed to the appropriate individuals in the proper time, boosting the possibility of downloads and conversions.
To begin using Apple Search Ads, you must register an account and configure your campaign. There are two campaign kinds: Search Ads Basic and Search Ads Advanced.
Search Ads Basic is a straightforward and user-friendly solution, whereas Search Ads Advanced provides more advanced targeting options and features. Once your campaign is up and running, you can track its progress and make changes as needed to maximize your ROI. Overall, Apple Search Ads is a useful tool for any app developer or marketer wanting to enhance the visibility and downloads of their app.
16. Media.net
Media.net, owned by Yahoo and Bing, is a competitor to AdSense. It is one of the world's largest contextual ad networks and is used by well-known businesses worldwide.
One of the highest-paying contextual ad networks is Media.net. They constantly collaborate with high-end publishers and only allow websites with high-quality content. Media.net is unlikely to assist you if you need to make more money rapidly with a low-quality blog.
Publishers must meet several conditions to be admitted into the contextual ad network. They also permit websites with exclusive premium content.
17. PropellerAds
PropellerAds is a well-known ad network that provides a variety of ad placements, such as banners, sponsored links, and push notifications.
The PropellerAds simple platform lets you get your campaigns up and running quickly with a streamlined ad maker. With a variety of targeting choices and real-time performance measurements, you can improve your campaigns.
PropellerAds also provides AI-assisted ad optimization, which fine-tunes your settings to maximize conversions for each ad without the need for personal intervention.
18. Skimlinks
Skimlinks is distinct in that it focuses on affiliate marketing. It works by scanning your blog for links to other websites. When a visitor clicks on a link that takes them to one of Skimlinks' advertising partners, the link is converted into an affiliate link, and you are paid 75% of the revenue. You make extra money when people buy things through your affiliate links.
Skimlinks are ideal for publishers who want to monetize their text content without (or with) display adverts. It also works nicely for product review articles, which frequently incorporate brand names. Skimlinks has an extremely low minimum payout of $10. However, payments are only sent every 90 days.
19. Infolinks
Because they specialize in in-text ad placement, InfoLinks provides an effective alternative to display ads. They match adverts with appropriate text snippets by looking for keywords in the body of the text. When a visitor hovers over this particular wording, an appropriate ad shows next to it.
Because there are more options for appropriate ads on blog pages with many words, in-text ads perform better.
With InfoLinks, you may monetize any old or new article. There is no setup fee, and there are no page view minimums. Once everything is in place, you can rapidly add in-text advertisements (or targeted display ads, if you like) and obtain insights from the reporting dashboard.
20. Bidvertiser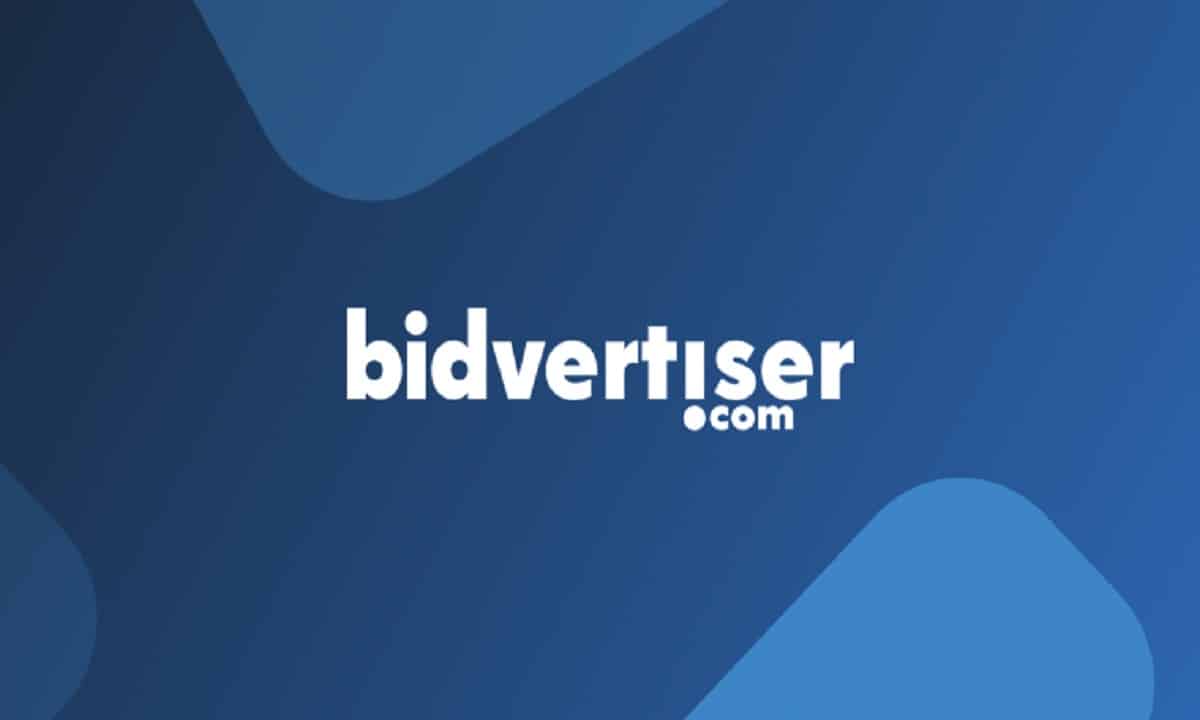 Bidvertiser functions based on a bidding campaign mechanism. Rather than automatically inserting advertising, Bidvertiser offers display ad space on your website to the highest-paying advertiser.
A system like this has advantages and disadvantages. If your site has enough traffic, advertisers will compete to outbid one other for space, and you may wind up earning considerably more from the auction than via AdSense. However, you may receive no bids if advertisers are unaware of your site.
Consider which of these categories your blog belongs to before attempting Bidvertiser. If the bidding system works for you, you'll appreciate Bidvertiser's simple ad customization tool, no permission requirements, and pay for clicks and conversions.
Remember that each option has advantages and disadvantages, so do your homework and select the one that best meets your goals as a publisher.
Ezoic Alternatives for Social Media
Here's a short listicle of Ezoic alternatives for social media:
1. Facebook Ads
Facebook Ads have become essential for businesses looking to increase their online presence. With over two billion active users, Facebook provides a vast audience for businesses to target through advertising. To create a successful Facebook Ad campaign, it's important to understand the platform's advertising features and how they work.
Firstly, businesses should choose the right ad format based on their advertising objectives. Facebook offers a range of ad formats, including image, video, carousel, and slideshow ads. Secondly, businesses should target their ads to the right audience using Facebook's targeting options. This includes targeting based on demographics, interests, behaviors, and more.
2. Amazon Ads
Amazon Ads are a powerful tool for businesses looking to increase their online presence and drive sales. With Amazon Ads, you can target specific audiences based on their interests, behaviors, and purchasing habits. You can reach customers at the right time with the right message. To get started with Amazon Ads, you must create an Amazon Advertising account and set up your campaigns.
You can choose from various ad formats, including sponsored products, brands, and display ads. It's important to carefully target your ads, select relevant keywords, and set a budget that aligns with your goals. You can also track your performance and adjust your campaigns to optimize results.
3. Instagram Ads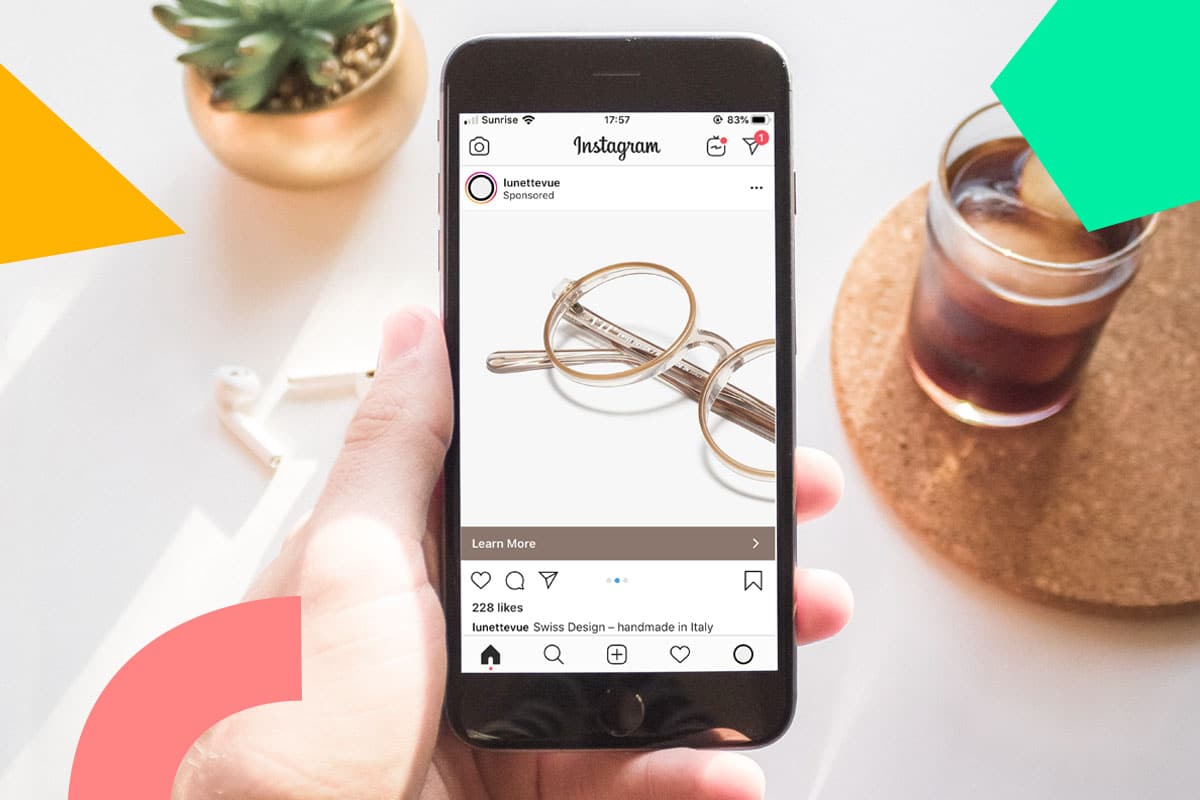 Instagram is one of the most popular social media platforms, with over one billion users, making it a perfect platform for businesses to advertise their products and services. Instagram Ads is the platform's advertising feature, which allows companies to reach their target audience and increase their brand awareness.
Advertisements on Instagram come in various formats, including photo ads, video ads, carousel ads, story ads, and explore ads. The possibilities for creativity are endless, and businesses can use these advertisements to share their content visually appealingly.
One of the significant benefits of advertising on Instagram is the targeting options it provides. Businesses can target their ads based on demographics, location, interests, and behaviors, ensuring they reach the right people at the right time.
4. Bing Ads
Microsoft Advertising, also known as Bing Ads, is often overlooked by businesses despite being in second place in terms of search engines. With a 9% global search market share, Bing Ads proves to be a powerfully underrated advertising tool. It may be ideal for businesses targeting PC users since PC-based searches account for 14.7 billion monthly searches and 653 million unique PC users.
Bing also offers attractive benefits, such as being displayed across multiple sites like MSN, Yahoo, and AOL, owned by Microsoft and Yahoo. Additionally, Bing's ad tools offer more flexible campaigns for businesses. 
5.LinkedIn Ads
Microsoft Advertising is a huge player in the digital ad space, operating partnerships with various media platforms such as Yahoo, AOL, and The Wall Street Journal. With their acquisition of LinkedIn in 2016, Microsoft developed a unique approach to integration through their Profile Targeting tool, allowing for targeting based on LinkedIn profiles. 
The tool saw an increase in click-through rates of 16% and a 64% increase in conversion rates during a trial period. Businesses can target audiences using Profile Targeting in three ways: by providing Microsoft with a list of companies, industries, or job functions.
6. Twitter Ads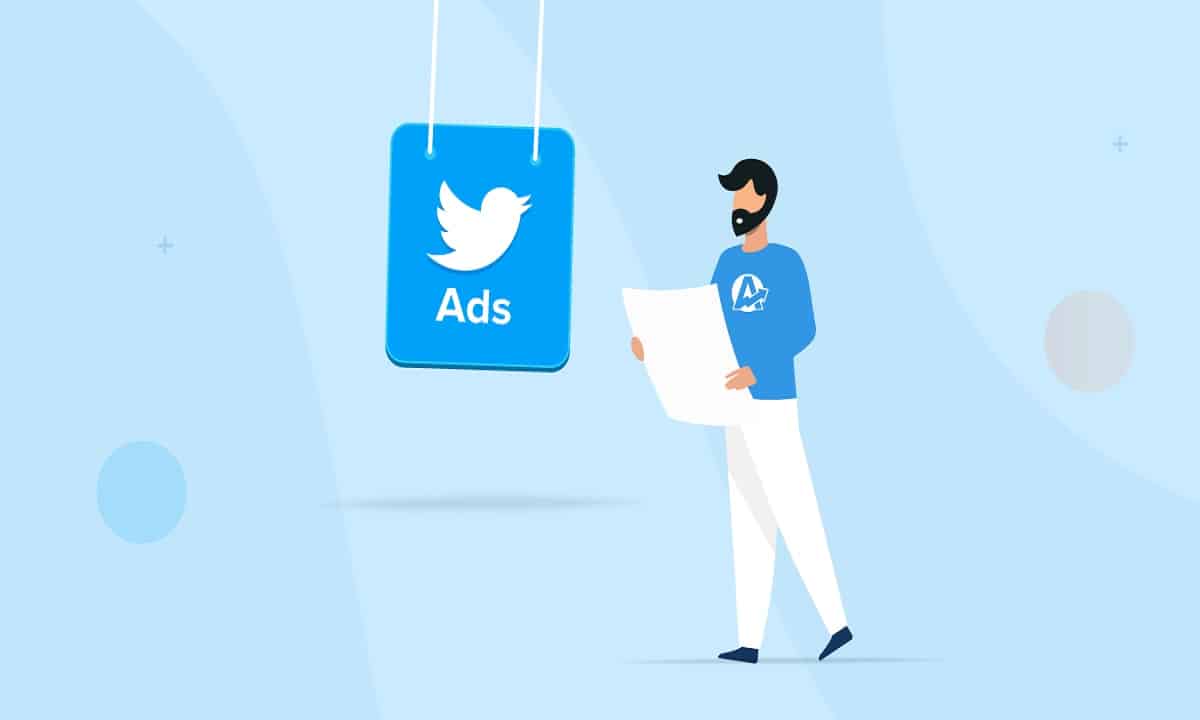 Twitter Ads may be a good choice for brands targeting audiences between the ages of 25 and 34, as nearly 39% of Twitter users fall within this range. With various ad types available, including Promoted ads, Follower ads, and Twitter Live ads, businesses can effectively gain traction and increase their followings on the platform. Twitter Amplify and Twitter Takeover are also great options for adding ads to video content and placing brands at the top of popular conversations.
In addition to targeting specific age groups, Twitter offers nifty targeting options for businesses seeking to reach their audience. From images and videos to carousel and text ads, Twitter Ads provide a range of options that cater to various marketing goals. With more than 330 million active users on Twitter, businesses have the potential to connect with a large group of consumers in their desired age range and demographic.
7. Pinterest Ads
Microsoft has unveiled a new feature, Import, for its suite Import tools, making it easier for advertisers to run campaigns across platforms. Advertisers can now import campaigns from Pinterest Ads onto the Microsoft Audience Network, with simplified and advanced import options available.
However, audiences will not be imported, and advertisers should use Microsoft's Audience Network Planner to identify the right target markets before launching a campaign. This addition follows the recent release of Performance Max beta and support for multimedia ads on the Microsoft Advertising Editor.
8. Instapage
Instapage is an ideal solution for marketers looking to create optimized landing pages for their campaigns. As a user-friendly platform, it allows even non-coders to quickly build high-performing pages that support multiple target audiences and campaign goals. 
The platform is more advanced than other landing page solutions on the market. It provides AI-powered content and experimentation, ad mapping and built-in analytics, making it a unified environment for all needs. Users enjoy flexibility in page creation and love the templates that result in fast-loading pages. There may be minor bugs when publishing to custom domains, but the team always works to remedy them.
9. Yelp Ads
In today's digital world, businesses must explore all platforms to reach their target audience. One such platform is Yelp Ads, a review site that offers a location-based ad format to connect advertisers with local customers.
Advertisers may contact consumers based on their search keywords, category interests, and leads with Yelp Audiences. The software also allows for audience segmentation and important performance statistic tracking. Yelp Ads can provide a good ROI for businesses such as home service professionals, doctors, and dentists.
10. Gamify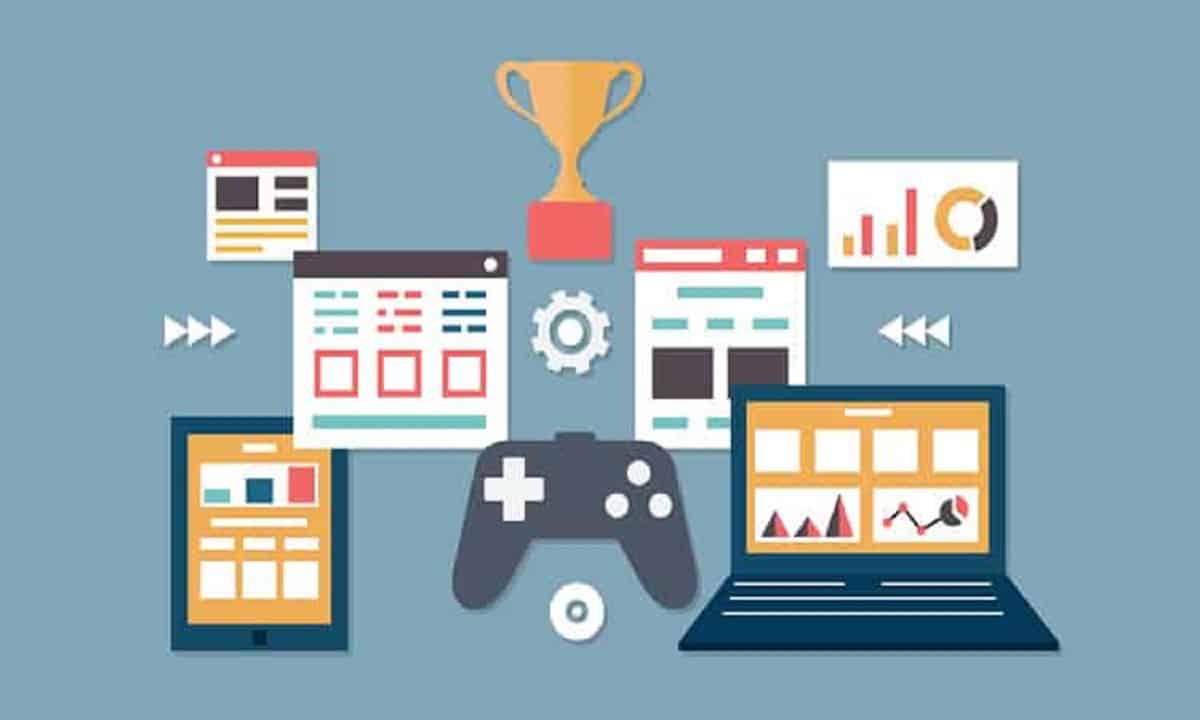 Bing Ads is a search engine that is often overlooked but has its benefits. Microsoft Ads, previously known as Bing Ads, has a higher ad click-through rate and a lower cost per click than Google. Additionally, the cost to acquire a customer is less with Microsoft Advertising. This post will guide readers through how to make more profit by investing in Microsoft Ads.
Gamification has become a popular marketing strategy that uses game-like elements to promote products and services. It creates a fun and interactive customer experience, increasing engagement and loyalty. People enjoy playing games because it pushes them to compete with themselves or others, and having a reward at the end motivates them. A virtual scavenger hunt or peek-a-boo game is an easy way to gamify your website and keep visitors engaged.
Final Thoughts
The abovementioned platforms are among the best advertising networks competing with Ezoic. Each of them has advantages and disadvantages. Some provide a large pool of advertisers with low entry requirements, but others prefer a more tailored approach.
Some provide a range of ad spots, advanced optimization services, a dedicated ad manager, and access to some of the most sought-after advertisers—but only if you match their stringent admission requirements.
As with any tool search, research is essential, so reading some of the posts on our monetization site is worth reading. It also doesn't harm to try out some platforms before deciding whether they're suited for your company. 
Publift assists digital publishers in making the most of their website advertising. Since 2015, Publift has helped its clients enjoy an average 55% increase in ad revenue by combining cutting-edge programmatic advertising technology with unbiased and ethical coaching.
Frequently Asked Questions (FAQs) 
Below we have compiled some of the most commonly asked questions on the best ezoic alternatives for 2023. 
Does Google own Ezoic?
No, Ezoic is not owned by Google. Dwayne Lafleur is both the founder and CEO of Ezoic. Lafleur started Cubics, the first display ad network for Facebook app makers, before he started Ezoic.
Is Ezoic Better Than AdSense?
This will depend on what your business needs. Ezoic may be just what you need if you need to get optimized ads to your site quickly and can pay the fees that such services usually ask for. But AdSense might be a better choice if you can be more open with your ad space or don't have much money.
Does Ezoic Pay for Impressions?
Yes, Ezoic does pay for ad views. On other platforms, like AdSense, publishers only get paid when a site visitor clicks on an ad. With Ezoic, however, publishers get paid every time a site visitor sees an ad, whether or not they click on it. Not surprisingly, this can make Ezoic the more profitable choice when planning to profit from ads.
How Much Can You Earn With Ezoic?
How much you can make with Ezoic depends on several things, such as your target group, the types of ads you run, the number of people who visit your site, the time of year, and whether or not advertisers are bidding against each other for your ad space.
Is Publift Better Than Ezoic?
This will depend on what your business needs. Publift is the faster of the two systems if you need to set up ad optimization quickly. Ezoic, on the other hand, has a wider range of ad styles and layouts.
Subscribe to Our Latest Newsletter
To Read Our Exclusive Content, Sign up Now.
$5/Monthly, $50/Yearly